Pig Blood Curd Taste Review and Cooking Guides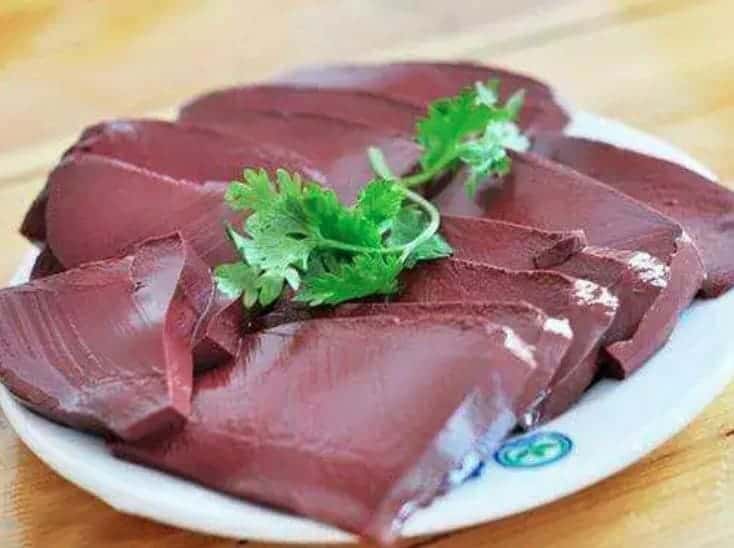 What is Pig Blood Curd?
Pig blood curd is a traditional, mineral-rich ingredient in China, Hong Kong, Taiwan, and some other Asian countries. It is also known as "blood pudding" or "blood tofu" and is a complementary ingredient for carbohydrate meals. Blood pudding has been used for centuries as a healthy food ingredient used in making snacks and whole meals as well.
Why Pig Blood Curd is Popular in Chinese Cuisine?
Pig blood curd is generally used because of its medicinal properties as well as a primary food ingredient. Blood tofu has become a significant food source over centuries when it was only used as a meal for Chinese individuals who could only afford to sacrifice poultry during Chinese festivals. As a means of getting the nutrients from this poultry bird, especially duck, the blood was saved and steamed with rice. Subsequently, the pig's blood replaced the poultry blood.
In modern-day China and other parts of the world, Pig blood curd is taken because of how accessible and inexpensive it is. Additionally, you can make it with different ingredients as well as eating it as a meal on its own.
What Does Pig Blood Curd Taste Like?
As its name implies, Pig blood curd is made from pig's blood. It is the solidified or congealed form of the pig's blood. To this end, the blood is collected in a container and allowed to sit for about 10 minutes. During this period, it solidifies and is cut into small pieces and heated in water at medium heat.
After this process, it is eaten either by itself, as a snack or in a soup. Pig blood curd doesn't have a taste of its own as it absorbs the flavor of whatever is used to steam it. Additionally, it is smooth, soft, and chewy; hence, you can eat it alone or in soups. Owing to its color, some individuals may use the pig blood curd to add color to their meals and even meat.
Additionally, pig blood curd may be grilled as a snack, which may take on a smoky or meaty taste mixed with the spices you used. In the western world, pig blood curd is made with oats and eaten as breakfast, as it becomes a healthy, crunchy snack. You can buy fresh pig blood curd in Asian markets and congee shops or even make it at home as the process is relatively easy.
How to Use Pig Blood Curd for Chinese Cooking?
As a result of its chewy texture, pig blood curd is used in a variety of recipes, either as a stick snack or a meal protein. People mostly pair it with carbohydrate meals like the famous Chinese rice meal or noodles. You can also decide to experiment with the pig blood curd and add to any meal of your choice because it has different health benefits.
Pig blood curd can be boiled, grilled, or fried to suit your various meal recipes. However, the most popular form of cooking is boiling it with other ingredients. This will make the blood curd more tender, smooth, and spicy.
One can incorporate Pig Blood Curd in your meals in various ways such as blood rice pudding, where the pig blood curd Pis made into a pastry with rice grains. Also, you can make pig blood curd congee, a meal of pig blood curd in congee.
Additionally, pig blood curb can be boiled with meat, eel, and bean sprouts to make a spicy soup while a less formal way of eating it is the pig's blood cake. This cake is made with steamed or fried rice, peanut flour, and the pig's blood served on a stick. Also, a famous western blood breakfast is the black pudding, which is the pig's blood and oatmeal made into a sausage.
Notes for Pig Blood Curd
#1 Do not consume too much
Pig blood curd may be a healthy meal; you should eat it in an optimum amount. This is because of the presence of iron in pig's blood. If taken too much, it could result in iron poisoning. Hence, it will inhibit the absorption of other minerals in the body.
#2 Do not mix with kelp or soya bean
Although one can add pig blood curd to a wide range of meals, you shouldn't consume pig blood curd with kelp or soya bean. If consumed, it may cause indigestion and, subsequently, constipation.
#3 Ensure that it is properly cooked
Pig blood curd contains some pathogens in it that could be harmful to the human body. Therefore, you should ensure that it is thoroughly cooked before consuming it. Additionally, ensure that there are air pockets or holes in the pig blood curd bought in the market.
Is Pig Blood Curd Healthy?
Pig blood curd has been a staple part of Chinese culture and even Taiwanese culture as it is eaten as a communal meal to strengthen family bonds. Additionally, the health benefits of this ingredient make it even more coveted. Although there are as many assertions claiming that pig blood curd is not healthy, it has more health benefits than not.
Consequently, this health debate is based on the amount consumed, the method of cooking, and the blood source. However, many health benefits can be gotten when you consume pig blood curd. Some are:
Pig blood contains trace elements like copper and zinc, which are valid for boosting the immune system and delaying signs of aging. Also, it is said to reduce diseases that often plague older folks.
Admittedly, there are a lot of mineral elements, especially iron, which is responsible for improving blood synthesis. Vitamin K is also found in pig blood and helps in promoting blood coagulation.
Pig blood curd is rich in protein and iron and has really low calories. Therefore, your intake of calories is controlled while your muscles are repaired easily.
Final Thoughts
Pig blood curd has been used for its health benefits and high protein content for hundreds of years by the Chinese as well as other western countries. Additionally, these health benefits allow it to be eaten by different genders and individuals of all ages.
Admittedly, it can be used to make pig blood curd cake, which is a snack. It can also be used in soups and incorporated in other significant dishes. Its taste is relative to the spice used in cooking it, and this allows you to use it in various ways.
---
Rate This Article