Poria Coco's Taste Review and Usage Guides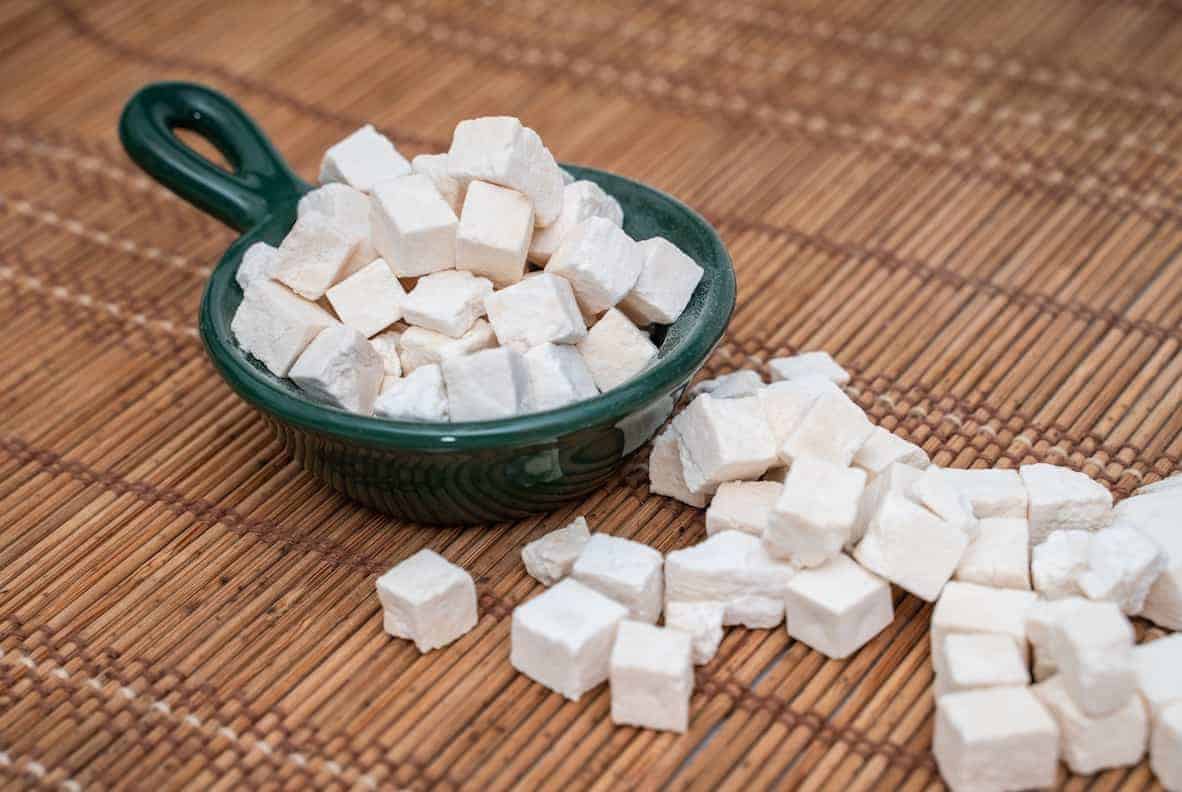 Why Is Poria Coco's Popular In Chinese Cuisines?
Poria Cocos isn't an everyday ingredient but has somehow managed to find its way into most Chinese dishes. Don't be mistaken; this is not your regular mushroom. Rather, it's a unique species with a long history of treating several diseases in China.
Despite the numerous health benefits that come with it, Poria Cocos is actually an expensive acquisition and only used by the higher class in China due to its high ticket cost. However, it's not as popular as other mushroom species and equally less tasty. Poria Cocos is mostly made into powder and is prepared as tea or used in congee.
What Does Poria Coco's Taste Like?
Poria Cocos is sweet but has a mild taste. Even though it's considered to be a mushroom, this herb is woody and similar to potato in appearance. The herb comes in several forms: pale, red, and white. However, the pale version happens to be the most popular in China.
Poria Cocos isn't just mild in taste but equally in odor. It's quite stringy, but that doesn't hinder its culinary use. In addition to its medicinal value, it's also used to add more flavor to dishes.
This herb is mostly made into a powder to spice up delicacies that are baked. The herb is considered to be a high-ticket ingredient used mainly by the rich.
Poria isn't readily available like other Mushrooms but comes in different forms. It's more popular either in powder or stuffed into a roll, which resembles cinnamon bark. You can do little with it in terms of preparation, but the taste may not be easy to adapt to if you're not particularly fond of mushrooms from the onset.
Even if you happen to love its presence in dishes, it's important not to overuse to minimize side effects.
How to Use Poria Coco's In Chinese Cuisines?
#1 Poria Cocos Tea
Poria cocos tea can be prepared with a number of ingredients. Since Poria has a neutral taste, it complements a lot of ingredients. However, it's more suitable for treating damp-heat syndromes like dizziness, cough, or palpitations. For this syndrome, the herb must be prepared with plantain seed, dried ginger, or cinnamon.
All ingredients used during the cooking process should be prepared together and allowed to infuse in water before serving. A color change indicates the drink is ready to be served. The presence of ginger gives the tea a strong taste but not too strong to overpower the sweetness of Poria Cocos.
#2 Sweet Poria Cakes
Sweet Poria Cakes is a popular cuisine in China but mostly known as steamed Fuling cake all over Asia. It isn't too difficult to prepare, and all its ingredients are easy to get. The taste of the cake depends on the amount of Poria powder and sugar used.
The sugar is added in the form of syrup while Poria powder is mixed with other dry ingredients just as you would do when preparing a cake. It's important to mix all its ingredients well to ensure no lumps are formed. The loaf is placed over boiling water and not baked in an oven. Ensure it's cooked over medium heat for approximately 20 minutes if you want its taste to come out perfect.
#3 Ba Bao Fan
Ba Bao Fan is a very popular medicinal dish in China. It's known as the Eight Treasure Congee in China. The dish is in the form of porridge and aids with digestion. Its constituent makes it easy to chew and digest, making it a popular option for the sick.
Ba Bao Fan is a mix of several ingredients, including grains, seeds, dried fruits, nuts, and herbs, which are all cooked in rice.
While there are several variations of this dish, the most common ingredients are the ones mentioned above. Your choice of ingredients for this dish depends on the condition you're trying to treat. If you're using grains like beans to prepare this dish, ensure it's soaked in water overnight to make it tender when cooked with other ingredients.
#4 Poria and red date congee
The secret that guarantees this congee comes out well is slow cooking. Ensure this dish is prepared over medium heat. Most Chinese prefer to cook all its ingredients over wood fire stove overnight to ensure the congee cooks slowly.
Ensure the ingredients are thoroughly washed and soaked. The amount of rice used depends on how creamy you want your congee to be. Less water gives the dish a porridge-like consistency.
#5 Eight Treasure Congee for the Spleen
This is another version of the eight treasure dish, but this time, it's suitable for people with spleen disease. Here, Codonopsis root and Rhizome are cooked in boiling water. The water used in boiling the root is used to prepare the rest of the ingredients.
Is Poria Cocos Healthy?
Poria Cocos is more healthy than traditional mushrooms. It may not be popular in the western world, but its medicinal benefits are known around China. The herb has a long medical history in China and is grounded into powder as a medication to be consumed daily. However, its price tag means it's used by only a few families.
This herb is known to contain a substance called Triterpenes, which is effective against Diabetes. Research carried out suggest that consuming 50 gram of Poria Cocos can reduce blood pressure level.
Taking a closer look at the chemical constituents of this herb, it contains caprylic acid, Lauric acid, and caprylate. These substances are known to possess antioxidant properties, which helps the body fight against diseases.
Poria Cocos is also effective in preventing stomach upset and aids digestion. Despite all the benefits listed above, it's important to know that using this herb for any form of treatment comes with side effects. Additionally, its health benefits aren't backed by scientific evidence, which indicates why caution should be taken when using this herb.
Best Top Poria Coco Products on Amazon
Final Thought
Unlike typical Mushrooms, Poria Cocos doesn't have a unique taste. It's better utilized in congee and teas, but the choice of ingredients it's prepared with depends on your ailment.
---
---
Rate This Article