Sea Cucumber Taste Reviews and Cooking Guides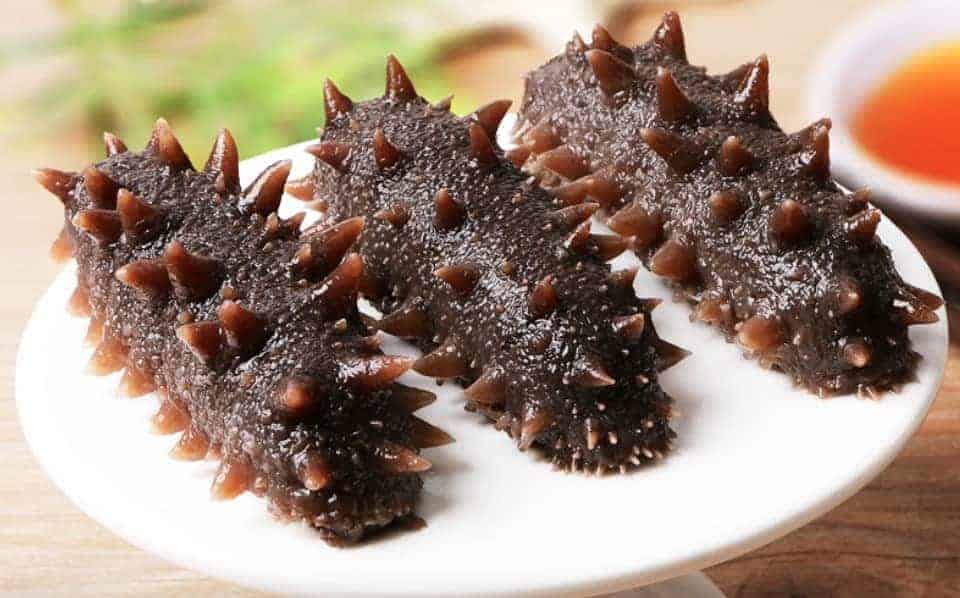 Top Best Sea Cucumber Products Based on Reviews and Price
Last updated on August 22, 2023 4:43 am
Why Is Sea Cucumber Popular in Chinese Cooking?
Sea cucumber has always been regarded as a delicacy in Chinese cuisine. In antiquity, it was only available to the nobility and rich merchants, and even today it remains a somewhat expensive, gourmet ingredient.
Other than its age-old prestige, the sea cucumber is greatly valued by Chinese cooking enthusiasts and locals for its unique consistency and a very mild taste. Not only is its flavor discreet, but it absorbs seasoning and sauces easily, which makes it a very versatile ingredient. It can be added into soups, stews and many other dishes to make them richer and textured without changing the taste.
While versatile, it also requires a lot of skill and effort to properly cook it. Because of this, it's much more common in restaurants and culinary events than the regular household's everyday cooking.
How Does Sea Cucumber Taste Like?
On its own, the taste of the sea cucumber can be described as very modest. In fact, when properly rinsed after preservation, they are almost completely flavorless except for a negligible hint of saltiness.
For this reason, they usually pick up their flavor from other ingredients like meat, shiitake mushrooms, and Chinese lettuce, just to name a few.
The unique texture of the sea cucumber also brings an exquisite mouthfeel to the dish. As you could guess from the way it looks, it has a slippery yet firm consistency, and sometimes a touch of crunchiness. Many people compare their texture to octopus or squid, although softer to bite into and, of course, more absorbent.
The texture can also vary slightly between the ten or so commonly sold species. Some are completely smooth on the outside while others have soft spikes that add a lot more character to it – if you can get past the appearance, that is.
The main factor defining how the finished product will turn out is the method you use to cook it. Most recipes rely on wet cooking methods such as braising, which keeps them jelly-like, but you can also give it some crispiness by stir-frying them.
How to Use Sea Cucumber in Chinese Cooking?
Since it's considered such a high-end ingredient, sea cucumber will no doubt steal the spotlight of any recipe that includes it. However, essentially tasteless as it is, the real art of cooking with it is crafting a seasoning or sauce that goes well with its unique texture and brings the dish together.
Don't be afraid to add a couple of strong-flavored ingredients like garlic, scallions, and ginger. All of these are very common when using sea cucumber in Chinese cooking. Most recipes also add broth or stock to give the sea cucumber flavor, although marinating them with slightly milder ingredients like shiitake is also a possibility.
When preparing to cook sea cucumber, it's important to properly rehydrate and rinse it. It has a very strong fishy aroma that will carry over to the plate unless you let it soak in cold water overnight, boil it with fresh ginger the next day, and repeat the process until it has no smell.
Here are a few ways sea cucumber is used in Chinese Cuisine:
Braising
A very popular method, cooking the sea cucumber slowly in the sauce allows it to absorb as much of it as possible and really take in all the flavor.
It can be braised whole, though most cooks prefer to chop them into strips so the taste spreads more evenly and the presentation is a bit more appealing to the general public.
In Chinese cuisine, it's usually prepared on a base of soy and oyster sauce along with other ingredients like scallions, rice wine and the ever-present shiitake mushrooms for a generally earthy, rich flavor with a hint of sweetness.
As a result of slow cooking, the texture will be very tender and slippery. Consider serving it beside some blanched greens, such as broccoli, to act as a counterweight to the sea cucumber's homogeneous look and feel, making for a more diverse and colorful dish.
Soup
While not often the main ingredient, sea cucumber can be added to a soup to give it an interesting texture and depth without altering its flavor. Chicken soup is a very common stock to use for sea cucumber soup, though the savory taste of pork soup goes great with it as well.
Ginger, garlic and several kinds of fungi are common ingredients to give the soup seasoning.
As the sea cucumber bits soak in the rest of the broth, they become very soft and once done they'll give it a very rich, hearty feel. You can add a bit of spice to the soup to make it into a perfect (if a bit expensive) winter meal.
Is Sea Cucumber Healthy?
Unless you've heard about its extensive use in traditional Chinese medicine, it may come as a surprise to you that there's actually a long list of health benefits related to eating sea cucumber regularly.
Nutritionally speaking, they are an excellent weight-loss food. They're very low in calories and about 50-60% of these are from protein. Apart from keeping your figure slim, a high protein diet will benefit cardiovascular health and improve your bone density.
They also carry a long list of rare beneficial substances, like phenol and flavonoid antioxidants that aid in reducing inflammation in several different tissues of the human body. Diets rich in antioxidants have been linked by many studies to a reduced risk of chronic bodily diseases and even serious neurological ones like Alzheimer's and Parkinson's.
Sea cucumbers are also loaded with substances called triterpene glycosides which have anti-fungal, and immune-boosting effects on the human body.
Additionally, recent studies have even found cancer-treating properties in sea cucumbers. Some species in Vietnam produce a chemical called triterpene glycoside. It proved to have a toxic effect on five of the most common types of cancer cells, including prostate cancer and breast cancer.
Final Thoughts
Sea cucumber is definitely not the easiest ingredient to work with. The time-consuming preparation it needs before cooking will definitely deter some people, but if you can spare the effort, this delicacy is a must-try for any Chinese Cooking enthusiast.
Sea cucumber is, regrettably, quite expensive in the vast majority of the world. So do keep that in mind if you plan to try your hand at cooking a recipe that includes them and is sure to make the most of it by sharing with friends and family.
Though it might not be the best ingredient to introduce someone to Chinese cuisine, as its look can be appalling to the unacquainted, there are easy ways to work around this. Cutting it into small pieces is the go-to solution for this issue, and your friends and family won't believe it when you tell them about it.
---
Rate This Article