Stinky Tofu Taste Reviews and Cooking Guides
Why We Love Stinky Tofu
If you've ever come across the stinky tofu, the first question that comes to mind is: why is it called stinky tofu or does it actually stinks? Without exaggerating, Chinese tofu has a strong smell that can be perceived from miles away.
Most critics have likened its smell to that of old socks and rotten cabbage. While the Aroma is one factor that attracts visitors to the meal for the wrong reasons, the taste is another thing that leaves them asking for more. It's often said that you can't have a bite of stinky tofu without going for another.
With just a bite, the smell becomes just a camouflage. Probably the most deceptive meal you will ever taste. For travelers, the stinky tofu isn't hard to find. The best version is served in most restaurants and food vendors in Hong Kong. Fortunately, you don't have to walk miles to search for restaurants that offer this meal as your nose will lead you straight to them.
What Does Stinky Tofu Taste Like
A lot of foreigners find it absurd that most people love stinky tofu. The sight of people enjoying this horrible meal in a restaurant makes them feel like throwing up. Although first-timers are unlikely to jump at the idea of ordering this meal on their first visit to China. They will certainly feel entrapped by the taste once they finally get a bite.
Even though the smell is nothing to write home about, the taste is one thing that keeps people asking for more. It's still a mystery that such a delicious meal smells so bad. However, nothing can be done since most of the smell comes from the way it's prepared.
Since stinky tofu is prepared in different ways, it's difficult to describe exactly what it tastes like. For most, it's cheesy-like in taste, but the skin tends to have an interesting texture. In the case of fried tofu, the skin tends to be crispy while the inside is tender and creamy like cheese.
In most Chinese restaurants, stinky tofu is served with a heavily spiced sauce to escape the smell. Regardless of what sauce is served with it, the smell is one thing that won't go away. So regardless of the location, expect your tofu to smell bad but taste delicious.
Those who enjoy the taste of stinky tofu admit that it smells really awful and that the attraction is in the taste rather than the Aroma. However, there's also a belief among fans that the stronger the smell, the testier the dish. In fact, the best-sellers are those who have a reputation for producing excessively smelly tofu.
Features of Stinky Tofu
Black vs Golden Brown Stinky Tofu
Most Chinese stinky tofu looks like charcoal briquettes. Originally, the color of stinky tofu is black but tend to change color when they're deep-fried. However, the black color of traditional stinky tofu is due to the addition of bamboo shoots during the fermentation process.
Recently, this ingredient has been omitted from most stinky tofu which explains the golden brown color most stinky tofu tend to have. The black tofu if well-prepared ought to be tender, and the black skin adds more crispiness to the outside, making it crunchy to eat.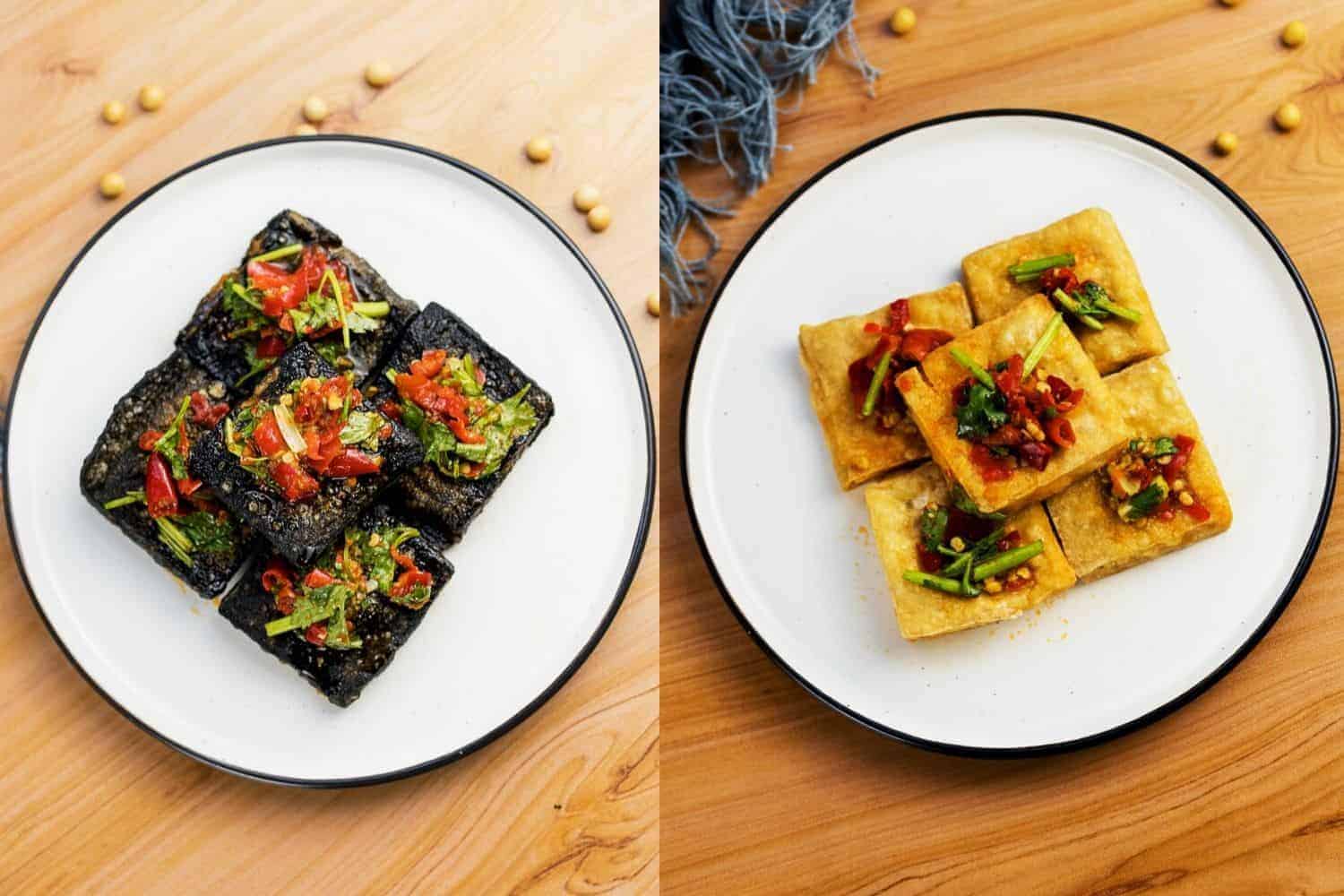 Taste Comes First
If it isn't stinky then it isn't stinky tofu. The stink that comes from this dish has become its trademark. Whether fried, boiled or grilled, the stinkiness is one thing that remains. Hence, when combining it with other ingredients, your primary focus should be to enhance its taste and not to eliminate its smell.
In the case of fried stinky tofu, the skin is very crispy, and firm tofu is preferred since it tends to absorb the brine faster. If you didn't use bamboo shoot during fermentation, your stinky tofu would be bright brown rather than black.
Tips for Preventing Odor
This stinky tofu is made from soybeans soaked in brine containing mushrooms and koji. The taste you get is quite different from stinky tofu soaked in vegetables. In fact, the Changsha's Stinky Tofu has a reputation for being the stinkiest tofu served in Chinese restaurants.
This dish is originally gray but turns white as it ferments. As you stir in the pan, you will notice a color change from white to golden brown. In a similar fashion, the odor becomes stronger as you fry. The only way to know if the tofu is ready to be served is when the surface has swelled. To escape the stinky odor, you can pour a garlic paste with pepper over the tofu.
Where to Get Stinky Tofu?
Since stinky tofu is popular all over the worlds. You can purchase well-packed stinky tofu in Asian supermarkets. Of course, it is a snack but not authentic, but it has a less stinky smell, which can be accepted by most people.
Here are the list of well-packed stinky tofu. They are some of the best based on their reviews and prices.
in stock
2 new from $12.99
as of January 22, 2021 12:45 am

Is Stinky Tofu Healthy?
Despite smelling like rotten cabbage and old socks, stinky tofu has a great flavor and numerous health benefits. This dish is prepared by soaking tofu in brine from fermented vegetables. The brine is composed of dried shrimp, herbs and green vegetables which accounts for the stink.
In addition to the nutrients contained in tofu, the brine provides additional health benefits. According to studies, a compound known as isoflavonoids is formed during fermentation and this compound increases insulin secretion thereby reducing its resistance.
Since Tofu is rich in protein that's low in fat, it can serve as an alternative to animal-based proteins which is high in saturated fat. To this effect, it will make sense to eat tofu rather than meat high in saturated fat since it can reduce cholesterol level. Tofu is a product of soybeans, hence, it has the tendency to reduce the risk of breast cancer.
Conclusion
Stinky tofu is a very popular meal in China. While you won't be tempted by its offensive smell, you will find yourself asking for more once you finally gather the courage to take a bite.
The taste of stinky tofu in Chinese restaurants to those prepared at home is quite different. No matter where you decide to enjoy this meal be rest assured that you will never get a distinctive taste like the ones served in China.
---
---
Rate This Article