Top 12 Best Fish Sauce – Taste Reviews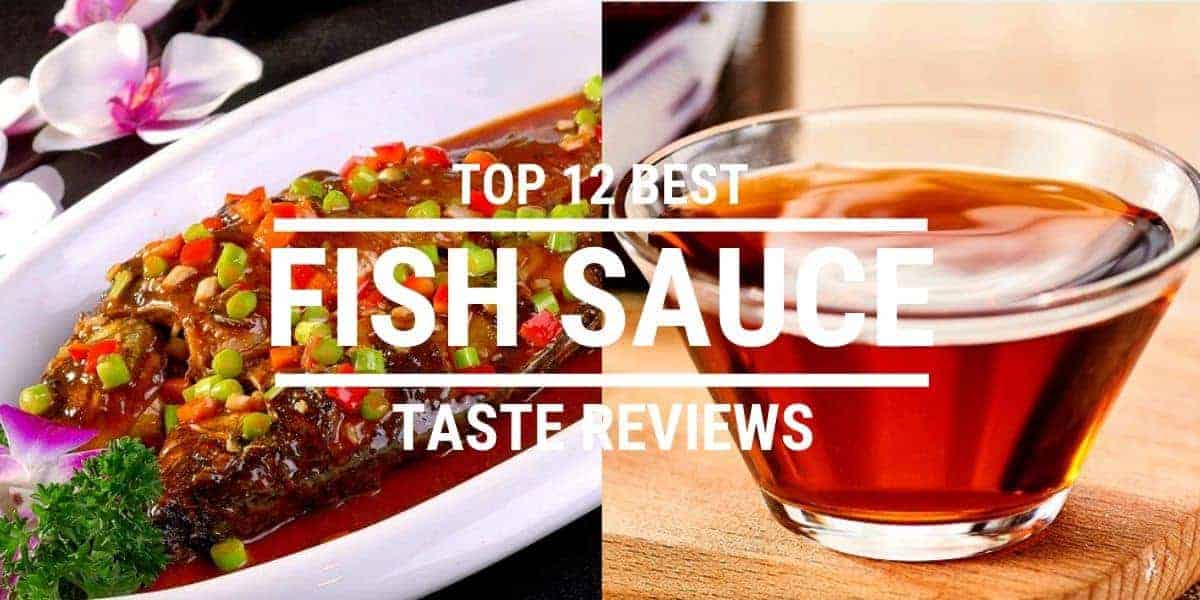 What is fish sauce used for
We all know the magic fish sauce has, especially in adding excitement in various Southeast Asia cuisine. This amber-colored condiment known to have an umami taste can interestingly turn any simple dish into something special. Choosing the right fish sauce for a particular dish is also crucial. Considering the umami-lifting and saltiness notes of fish sauce can enhance the overall taste of a dish. Recipes using fish sauce often has a fresh taste with a little sweet.
When cooking vegetables, you can add a kick of flavor and enhance the savory taste of delicious grilled fish and meats before serving it into the table. If you fall short in selecting the right fish sauce that can add the suitable flavor, depth, and character into a dish, you will only leave someone with great dissatisfaction.
So helping you find out the best fish sauce for cooking, here is our in-depth taste review of 12 best fish sauce in the market today.
#1 Red Boat Premium Fish Sauce
The most dominant taste you will distinguish from Red Boat's Premium Fish Sauce is a combination of "fish and salt" along with a touch of "sweet" aftertaste. According to Red Boat, a high-quality fish sauce must be greater than 30°N (standard of measuring nitrogen in grams per liter that relates directly to protein level). This will produce a "richer and more complex flavor" as the Degrees N becomes larger.
As we do the taste test, we felt an intense satisfaction on its "simple and not so complex taste". we can simply say that it has an aroma similar to oolong tea with a surprisingly slight combination of fish smell. Aside from that, you can quickly distinguish it having a "nicely salted caramelized onion taste" but with a "fish kick" which follows. Its sweet aftertaste also makes it desirable especially that it is a "natural taste" coming out of the salted fish and not added just like other brands do. This is so far the best fish sauce we have tasted.
#2 BLis Barrel Aged Fish Sauce
This fish sauce is actually made with Red Boat fish sauce. Its ingredients are stored and aged inside a charred barrel for as long as 7 months. This way of fermentation allows the fish sauce to become richer and taste even better. You can imagine Red Boat premium fish sauce tastes becoming a little stronger day by day while it is stored inside the barrels in a long time.
What makes it one of the best fish sauce is its "rich", "peaty", and "smoky taste". It also tastes so fresh, light, and vibrant which puts a huge difference compared to using other fish sauce brands. Between the wood and smoke from bourbon barrels, the hint of sweetness from maple, BLis turns to a deeply nuanced and rich-tasting condiment. It has a similar note with classic Vietnamese nuoc cham and others like vinaigrette and aioli.
Just like the Viet Huong Flying Lion, BLis Barrel Aged Fish Sauce also has a medium level of saltiness with Anchovies and sea salt as its main ingredients. It is ideal to use in cooking a good steak since it gives a little smoky taste that can bring out a great taste of umami. This is more special than Red Boat given that it provides a very luxurious taste. Some ways you can use it are for making Fish Sauce Caramel, Pok Pok Fish sauce chicken wings, and Grilled Rib Eyes with Mushrooms and Fish Sauce.
#3 Thai Kitchen Gluten Free Premium Fish Sauce
In every tasting review, Thai Kitchen Gluten Free Premium Fish Sauce receives solid marks. Other than being refined and fresh, it also has a slightly milder taste than our number one product in the list which makes it ideal for those who love Red Boat 40°N but wishes to have it in a milder version.
This fish sauce has a complex flavor mixing sweet, spicy, and tangy flavors smoothly. It is a Thai fish sauce where the taste of salted anchovies pressed carefully are emphasized. It also provides the "fundamental savory flavor" of traditional Thai cuisine. You can use it in place of soy sauce and salt to "add life to any dish".
We observed that it has a "good base flavor" that can emphasize the taste of its other ingredients. Apparently, this is one of the main reasons most people love to use it as a seasoning in place of salt or soy sauce. This quality fish sauce is also "gluten-free". You can use it for "spicy and sweet" tasting Thai dishes and other delicacies you want to intensify.
#4 Three Crabs Fish Sauce
Compared to other brands, Three Crabs fish sauce has a "muted smell". It is very interesting that the combination of anchovy extract, water, fructose, salt, and hydrolyzed wheat protein can result in a "slightly sweet and salty fish flavor". Out of curiosity, we tried to put a small amount in a salad dressing and in the sauce, it surprisingly added a "memorable flavor that satisfies". You can also use it as a seasoning in most of your dishes especially to add some "authentic oriental flavor" instead of salt or soy sauce.
Besides, it is relatively healthy since it does not contain MSG as most seasoning does. This fish sauce is savory and flavorful enough to make a simple stir-fry, soup, pasta sauce, and more delicacies to become better and tastier than ever before.
#5 Haku Iwashi Whiskey Barrel Aged Fish Sauce
This Japanese fish sauce is made of Iwashi anchovy which is characterized as a very fatty fish different from Thai and Mediterranean anchovy. It has a delicate and mellow texture and an "excellent flavor" combining "saltiness" and an "understated sweetness" in one bottle.
Since it is a fundamental Japanese cuisine ingredient, it is notable that Haku Iwashi Whiskey Barrel Aged Fish Sauce is refined, delicate, and subtle. It also has a note of umami and luxurious taste that makes it perfect as a finishing sauce.
But aside from that, we also want to emphasize that it has sublime flavors of vanilla and barrel. It is significantly balanced using the earthy tasting fermented soy which makes it ideal to use for making bread dips, salads, as well as Bolognese. Unlike other US products, this Japanese fish sauce is a little less salty.
#6 Tofuna Fysh Vegan Fish Sauce
Tofuna Fysh Vegan Fysh Sauce is not the typical fish sauce you can buy in the market. Given that it is a vegan product, this means it only includes vegetables and natural products such as seaweed instead of fish. This ingredient provides the same "ocean smell" in this Fysh Sauce and the "salty taste".
The way it blends three organic seaweeds on its tamari base emphasizes the "savory and umami" flavors of dulse, sea lettuce, and laver seaweeds. We also love how the "sweet and sour" taste of pineapple juice and rice wine vinegar produces a "memorable taste" that is "intensified by a hint of wasabi".
What we like the most about this Fysh Sauce is how it offers the same sweet taste without added sugar or fructose. It is also excellent how the sweet and sour taste of vinegar and pineapple blends together in a very harmonious way. This product is gluten-free making it ideal for those who are keeping a strict gluten-free diet.
In terms of its base, organic tamari is composed of organic soybeans, water, organic alcohol, and salt provides. It is worth emphasizing that this combination allows other ingredients to shine. You can use it for salads, stir-fries, marinades, as well as soups.
#7 Red Boat Kosher Fish Sauce
If you want to keep your all natural diet and you want to conform in Jewish dietary regulations of kashrut, try Red Boat Kosher Fish Sauce. Interestingly, it includes only two natural ingredients such as "sea salt and fresh black anchovies" making it 100% all "natural and pure fish sauce" product.
In terms of taste, it doesn't have much difference with the "nicely salted caramelized onion taste" of Red Boat 40°N Premium Fish Sauce. It is only subtle and less salty than the latter but the same savory and "natural taste" is still there. It also has the same "fish and oolong tea-like aroma" that can emphasize its umami taste. Like so, it is perfect for sauces, spicy foods, Brussels sprouts, meat, hot vegetables, poultry, and fish and everything you want to add a little saltiness.
#8 Golden Boy Brand Fish Sauce
For those who love a strong and salty fish sauce, Golden Boy Brand Fish Sauce is the most ideal fish sauce we recommend for you. It is significantly "more flavorful" than most of the other brands in the market but it has a "strong smell" that becomes "fishy" afterward.
But despite its smell, its taste is a little "sweet and bitter". We recognize it as a little milder than Tiparos brand which we don't include in our list. Aside from that, it also has a very attractive "light golden color" and it is considered as a "gourmet fish sauce" that you can use to "intensify" the flavor of your recipe. You can use it best on Thai and Vietnamese delicacies but feel free to experiment on other dishes that need a splash of "strong and savory" taste.
#9 Chung Jung One Premium Anchovy Fish Sauce Gold
Prefer having a South Korean fish sauce than the usual Thai or Vietnamese product? If you do, here's Chung Jung One Premiums Anchovy Fish Sauce Gold for you. It is a great substitute for Thai fish sauce but it has a slight difference in flavor that is easy to distinguish.
While most of the Thai fish sauce is stronger and richer in terms of saltiness, this one has a "mellow and deep taste" that isn't that strong to declare as salty. It does not have the same strong fish taste in which most Thai fish sauce has. Moreover, it is a great alternative to soy sauce, especially that it tastes not that sweet as most soy sauce products do.
Besides that, it adds a "lovely depth" to different food including stir-fry. More so, we think it would be nice to season blanched vegetables using this Korean fish sauce too. You can also try it on soups where the savory taste of sea salt and anchovies is essential. To give you some examples, you can use it for Ramen noodles and Kimchi that most of us love.
You can also be creative in using it. As a matter of fact, you can experiment by adding it in dishes that you think needs a little boost.
#10 Lucky Brand Thai Fish Sauce
This fish sauce can give a "nice flavor to" a salad without tasting much like anchovies. Despite its "watery and thin" texture, it works wonders on any dish by adding the refined taste of "salty aspect of anchovies" not the exact anchovies taste. But it does not give the same strong fishy smell like most brands. It is perfect for those who prefer "mild" fish sauce.
It also has a "less sweet" and "mellow salt fish taste" that allows you to be at ease in exploring more. Unlike other brands, it is a "little weak" in terms of "saltiness and aroma" which is not bad at all since other brands tend to overpower a dish in just a few drops. With Lucky Brand Thai fish sauce, even first-timers can experiment using it in their cooking. This fish sauce is ideal to use in Burmese, Laotian, Cambodian, and Filipino cooking too.
#11 Flying Lion Vietnamese Style Fish Sauce
If you haven't tasted this Vietnamese Style Fish Sauce yet, then we got you covered. It has a "very light smell" with "medium level of saltiness". More so, it is made with salt, anchovy extract, fructose, water, salt, and hydrolyzed wheat protein that allows it to provide a "smooth flavor" which is perfectly blended with a "pleasant sweetness".
Apparently, this makes it superior compared to other brands. It is good for different Asian cuisines including Thai and Vietnamese dishes where fish sauce are mostly utilized. It is ideal for Asian cuisines like stir-fried foods. Moreover, this fish sauce has a Vietnamese taste.
You can distinguish that it is made with fresh fish and it looks the perfect amber color that other brands tend to weaken or darken. For another thing, it has a relatively strong smell but not so pungent. It also provides a refine clean taste that is perfect when making dipping sauce combining lime juice, fresh Thai Chilies, and a little bit of sugar. Since it has a lighter flavor than other brands, it can lift the taste of other ingredients complementing them all together.
#12 Megachef Premium Anchovy Fish Sauce
Unlike other major brands, this premium sauce of Megachef does not contain "hydrolyzed proteins" as well as "other" ingredients that you can commonly found on a typical fish sauce. Other than that, we like how it "smells like the sea" and its "savory and sweet taste".
However, it contains a little bit more sugar than expected because it gives a "cloying sweet sauce" taste rather than being more like a "salted fish extract oozing with umami" similar to the taste of a typical fish sauce product. Furthermore, it is a good thing that it does not include much of the most particular ingredients that other brands add such as hydrolyzed proteins. However, it does include fructose and a "bunch of sugar" which makes it ideal for those who have a sweet tooth than those who have salty loving taste buds.
Conclusion
The best flavor is Red Boat Premium Fish Sauce. It has a deep and savory umami flavor, which adds strong umami to the food. It has an authentic Vietnamese sauce.
We ranked BLis Barrel Aged Fish Sauce as the second in the list because of its perfect combination of salt and fish taste in a whole new level. It is strong but not too strong that brings out the right depth, character, and flavor of anchovies. It also tastes like Red Boat premium sauce but has a very luxurious flavor because of the combination of bourbon barrel, wood, and maple.
Also, we ranked Megachef Premium Anchovie fish sauce as last because of its overpowering sweetness that drowns some characters of an original fish sauce. For people who love to explore with fish sauce in their cooking, it is best if they start with Lucky Brand Thai Fish Sauce.
But for those who are bold enough to bring out the best in their cooking, Golden Boy Brand Fish Sauce is what we recommend. People keeping a strict diet can also enjoy fish sauce using Red Boat Kosher Fish Sauce and Tofuna Fysh Vegan Fish Sauce. Bring out the richest flavors of hot vegetables, soups, meat, fish, and fried foods using these best fish sauce brands.
Disclosure: We may get an affiliate commission when you purchase products via links on our site. Although we may receive compensation, we only offer our 100% honest reviews, experience, and comments. Learn more.
---
Rate This Article