Top 8 Best Pizza Baking Cookbooks Reviews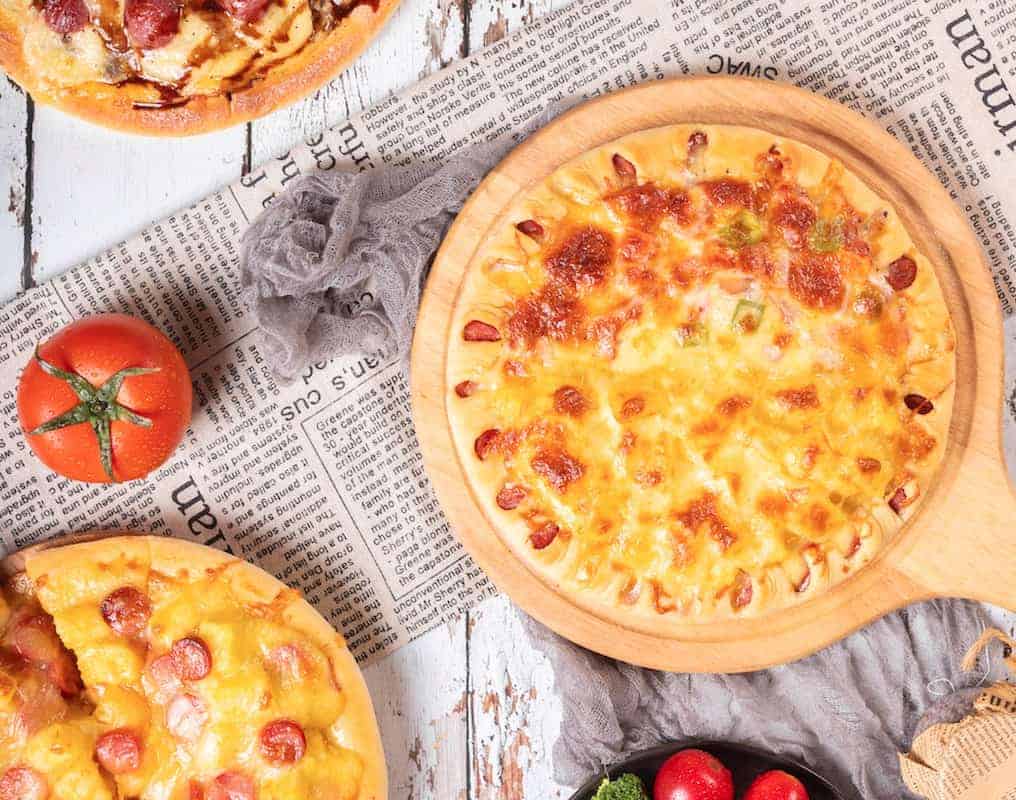 Many of us love pizzas. But, we think that it is hard to prepare them at home. Many of us think that love for pizza is in your heart. But, there is the real science behind what makes this dish so special to many of us.
Do you know that our taste buds play a major role in making pizzas delicious for us? Along with bitter, sour, salty, and sweet taste, there is one more taste known as umami. It is the taste that is known to signal savory flavors to our taste buds. We taste umami through our glutamate receptors.
Along with glutamate in the process of making pizza, the Maillard reaction brings flavor-forward, thereby giving the pizza its distinct flavor.
How to Make Pizza at Home?
Many of us think that it is really hard to make pizzas and we can taste them only at restaurants. Otherwise, we think that we can place our order for pizzas only at pizza outlets over the phone to get them delivered to our doorsteps. But, you might be astonished to know that you can prepare this great-tasting dish at home. How to make?
The right pizza baking cookbooks can provide the answer to this question. To help you choose the right cookbook, we have shortlisted some of them here:
Top Pizza Baking Cookbooks
#1 The Pizza Bible
From this cookbook from Tony Gemignani, you will get to know about the world's most-loved styles of pizzas. The book has been created as a comprehensive guide to making pizza that covers 9 different regional styles that include Californian, Chicago, Roman and Neapolitan pizzas.
As the book has been rightly titled, the book will teach you everything about Pizza. Not just recipes, the author has shared many pizza oven ideas to help readers like you to benefit.
The author is this book is a 12-time Pizza Champion. You will get the chance to learn many types of pizzas starting from fluffy Sicilian Pan Pizza with genuine well-cooked edges to go with every occasion and mood. It will not be an overstatement to say that this cookbook is a complete master class in making perfect and delicious pizzeria-style pizza at home.
Many readers conveyed that this book offers phenomenal education to anyone interested in pizza baking at home. Experienced pizza bakers stated that this book helped them bring about some betterment in their pizzas.
#2 Pizza School: A Kids Cookbook for Aspiring Pizza Makers
Even though the author of this cookbook Charity Curley Mathews has stated this cookbook to be the best for kids interested in pizza-baking at home, adults can also benefit from this book if they wish to learn the basics of pizza baking.
The author with the understanding that making pizza yourself brings a lot of fun has created this book to help kids and even adults trying out pizza-baking for the first time at home. This book will teach you everything required to start making pizzas yourself at home.
In addition to pizza baking recipes, the author has shared step-by-step instructions in baking great-tasting pizzas. Further, you will get the chance to read funny jokes and some interesting facts with every recipe shared by the author. Also, you will get some cool craft activity ideas all through the book.
Many readers praised that this book offers a collection of pizza baking recipes that are not just accessible but are also fun to read. Moreover, some readers stated that this book broadened their minds when it comes to pizza toppings by giving scrumptious ideas.
#3 Pizza Camp: Recipes from Pizzeria Beddia
This book offers a collection of recipes from Pizzeria Beddia with Joe Beddia as the author. The objective of the author of this book is to offer an ultimate guide to readers to achieve pizza nirvana at home.
The author holds the pride of being the chef, who prepared the best pizza in America as per the Bon Appetit Magazine. This cookbook is all about the cheese, sauce, and the dough that will help with making great-tasting pizzas at home.
The author of this book perfected in the pie-making craft from the Pizzeria Beddia in Philadelphia. From the experience he gained there, he has created this book that offers you the opportunity to learn about the methods and recipes in this old school book. The author will take you through the pizza-making process through this cookbook. You will get to learn the foundation for making dangerously addictive, satisfyingly chewy, and rightly crispy pies at home.
Many readers explained that this is a different pizza cookbook. There is a lot of fun aspect associated with this book along with great-tasting pizza baking recipes claims many readers.
#4 Mastering Pizza
This book from author Marc Vetri along with co-author David Joachim teaches the art and practice of handmade pizza, calzone, and focaccia to readers.
The authors have created this book as a revolutionary guide to making delicious pizzas at home. The authors offer a wide range of dough to help you perfect the part of pizza-baking at home irrespective of the type of oven or equipment you own at home.
The award-winning chef Marc Vetri is known for his precision-perfect pizza-making experience. He has taught this technique to everyone through this cookbook. The authors of this book have shared pizza baking recipes that are garnered from years spent exploring recipes in Italy and perfecting them in the United States. You will get to learn how to make a variety of base dough with varying hydration levels to make pizzas from this cookbook.
This book has got the honors of being a cookbook with a wealth of information by many readers. Also, many readers explained that this is a perfect book to learn the art of pizza baking for anyone interested in this form of art.
#5 Wood-Fired Oven Cookbook
Among the pizza baking cookbooks that we review here, this book is somewhat different. The reason is that this book from Holly & David Jones offers not just pizza baking recipes, but also many other recipes prepared using a wood-fired oven.
From this cookbook, you will get the chance to explore more than 70 recipes for baking desserts, cakes, roasts, bread, and pizzas in your wood-fired oven. The book is filled with recipes that are specially devised for your outdoor oven cooking interest. The recipes in this book are illustrated with more than 400 photos that make the book even more interesting.
The book covers each side of cooking a wood-fire oven. The author has given useful suggestions on where to construct your oven if you are planning to construct a wood-fired oven for the first time outdoors in your home. Even, the author has given instructions on how to season the oven and how to light your first fire. So, not just some great-tasting baking and pizza oven ideas, you will learn everything about wood-fire oven from this cookbook.
Many readers exclaimed that this book provided them the motivation required for setting up a wood-fire oven outdoors in their home. Also, many readers expressed that the author has shared great-tasting baking recipes that they prepared outdoors spending some valuable time with their family and friends.
#6 Perfect Pan Pizza
With Peter Reinhart as the author, this book will help you learn how to make perfect pizzas and pies at home using your regular cooking pan.
The Food Network named this book as one of the best cookbooks of the year. The author offers an in-depth guide to pan pizza in this cookbook. He has shared some achievable recipes to help you make pan pizzas in Roman, Sicilian, and Detroit style using your home oven.
The author of this book is called by his followers as a bread-legend. He has taught us how to prepare a perfect pan pizza at home in this book. You will learn how to make different styles of pan pizzas at home from this cookbook. The step-by-step photographs provided will help with easy cooking.
Many readers are of the opinion that this book is not a book for beginners. Many readers stated that they have finally learned how to make Sicilian pizza like an expert from this cookbook.
#7 The Elements of Pizza
Author Ken Forkish has unlocked the secrets of preparing great-tasting pies at home through this cookbook.
The book has been written by the author, who became popular through his Flour Water Salt Yeast cookbook. He is an IACP Award Winner and also the James Beard award-winner. He has gained popularity as one of the most trusted baking authorities. Through this book, he has proved that making amazing pizza is within the reach of each one of us.
The author of this book has broken down every step in the process of making pizza. Right from selecting dough and shaping it, you will learn suitable steps to follow to make great-tasting pizzas and pies at home with this cookbook.
Many readers said that they were able to learn authentic Italian dough-making process through this cookbook finally. Also, many readers state that this book taught them how to make delicious pizzas in different varieties.
#8 Flour Water Salt Yeast
This is yet another book that brought in all honors for the author Ken Forkish. The author has shared the basics of Artisan bread and pizza through this cookbook.
The author of this book holds the pride of being the most beloved and acclaimed baker from Portland. He is also a New York Times Best Selling author for his cookbooks. He has created this book that features world-class pizzas and bread and a wide range of schedules suitable for a home baker.
You will learn Forkish-developed recipes that were tested by the author in a home oven. The author has given clear instructions along with flawless formulas that will help you learn how to make the best artisan bread and pizzas.
Many readers feel that the author has focused on helping readers perfect the country rustic boule. Most importantly, the author has succeeded in his endeavor claims many readers. Many readers stated that they realized that they have been making bread at home wrong for so long and they identified their mistake from this cookbook.
Conclusion
To conclude, we found that the Wood-Fired Oven Cookbook is the best of all. The reason is that this book teaches many recipes that can be prepared in an outdoor oven. It will help many readers, who wish to spend their summers outdoor with family and friends preparing great-tasting recipes at home.
---
Rate This Article