Top 8 Best Stovetop Pressure Cookers for Chinese Cuisine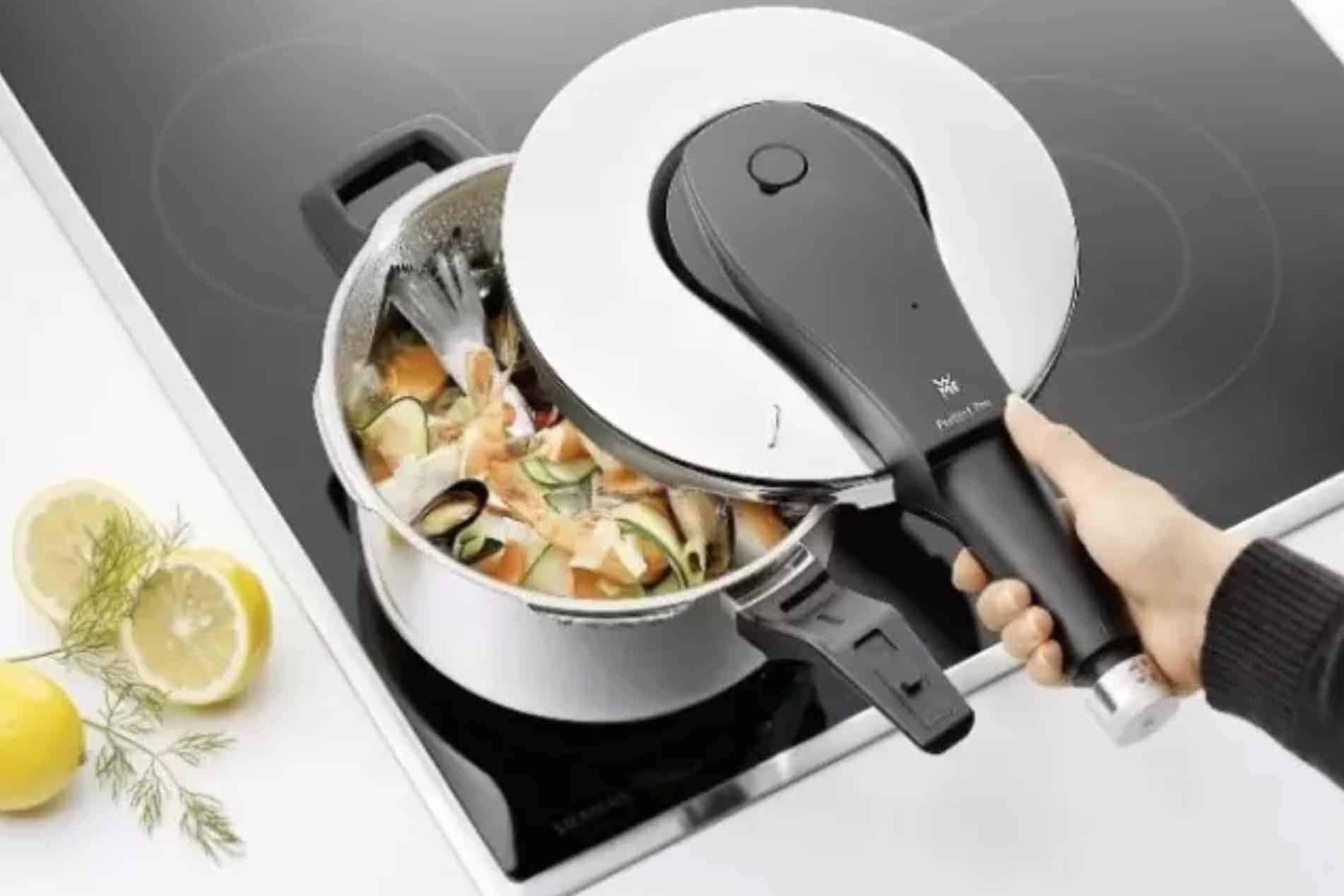 How to select stovetop pressure cookers for Chinese cuisine?
Without any doubt, cooking is an art. In earlier days, cooks and chefs used to spend hours in the kitchen. Even, their lifestyle permitted them to do so. But, in the present situation, we want everything to happen at a faster pace. The reason is that all of us are busy with our schedule. Even, the fast-paced lifestyle has contributed to the popping up of many fast-food restaurants.
As you know, fast-foods are not healthy choices. Thanks to the cooking appliances these days that help us with healthy and quicker cooking in our homes! Compare with electronic pressure cookers, the traditional stovetop pressure cookers help us to retain the nutritional value of the ingredients in Chinese Cuisine and maintain original taste. As it cooks faster besides retaining the nutritional value, it is obvious that every home these days have a pressure cooker handy. You can even use pressure cookers with hot pot recipes that make strong taste dishes.
Now that you plan to shop for a new pressure cooker for preparing your favorite Chinese dishes. Here is a guide to help you with the selection of the right cooker:
You are in the process of selecting the right stovetop pressure cooker for your Chinese Cuisine. At this juncture, here are some factors to consider in the selection process to end up with the best cooker:
What to know about the material of cookers?
As you know how fast a cooker can cook the dish for you, relies on the base material used. Not just the base, you should also consider the material used in the entire pressure cooker. When you choose a pressure cooker is made using durable high-quality stainless steel, you will benefit. But, the thing to remember here is that not all stainless steel is the same. Make sure to look for the label or the bottom stamp. If you find that it is indicated as 18/10 Stainless Steel, which means 18% chromium and 10% Nickel, you can go for it. The reason is that:
There is a benefit of selecting the cooker in the combination of nickel and chromium in the ratio mentioned above. It will make your pressure cooker stain and corrosion resistance. Even when you cook Chinese Dishes that are red or in other dark colours, there will not be any stains. The thing to remember here is that SS will be considered as SS only when it has at least 10.5% chromium. When you find that the chromium is more than this value, the cooker will be durable.
The addition of nickel in the percentage mentioned above will help with retaining the shine of the pressure cooker for long. Here, nickel also works to create a protective layer to the chromium.
Quick-release and accurate pressure indicator
When you find that the cooker has a pressure indicator in it, you need not have to check then and there whether the pressure has subsided after cooking. There are variants like a coloured marker and pop-up indicator available for you to choose.
For Chinese pressure cooking recipes, the pressure cooker that can reach 15 psi or Pounds Per Inch is the accepted standard. Do ensure that the pressure cooker you select will reach this level.
As you are searching for a cooker for Chinese cooking, you can consider opting for an appliance with a quick pressure release option. This option in the pressure regulator of the cooker will make your cooking even more interesting. With this option, the pressure will quickly release from the cooker, but it will retain the heat. When this happens, you can add other ingredients that will take lesser time to cook than the initially added ones. Then, you can resume the cooking with new ingredients added so that everything will cook well.
Safety features
The thing to remember here is that modern pressure cookers offer many safety features. For instance, in the case of over-pressure, modern variants will vent the extra steam from the valve stem. It will happen with an audible hiss sound. In case, the pressure continues to increase, the sealing gasket in modern pressure cookers will be pushed out. This will happen through a designed safety aperture in the lid. So, venting of pressure will happen safely in modern pressure cookers. So, look Chickenfor safety features like these to ensure safe cooking of your favourite Chinese dishes.
Size of the cooker
When it comes to deciding on the size of the cooker, you will have to consider different factors. For instance, you will have to consider your budget, storage space and the number of portions you generally prepare. The thing to remember here is that you can fill the pressure cooker only to two-thirds full for most Chinese cuisines. Most importantly, you should fill only half-full in the case of foods that froth or foam when cooking. When talking about the size, you should remember one thing for sure. Even the largest pressure cooker can cook smaller quantities of foods. But, larger amounts of food cannot be prepared in a small cooker. So, remember this and plan your shopping accordingly.
In addition to the factors mentioned above, it is better to consider the warranties and accessories you will get with the cooker. We would like to suggest avoiding non-stick. The reason is that the coating in a non-stick stovetop pressure cooker generally does not last.
Related article: Best Cheap Pressure Cooker: Price Comparison
Best Pressure Cooker for Chinese Cuisine
#1 T-Fal Pressure Cooker
This product is a 22-quart polished aluminium cooker. It comes with a pressure gauge dial. The cooker offers selective pressure control with three cooking-pressure options. They are 5, 10 and 15 PSI. The good thing about the safety aspect of this cooker is that it has an overpressure steam-release feature.
The rust-proof aluminium construction will ensure its longevity. The heavy-gauge and sure-locking lid system are added features. Even, the cooker has a pressure-monitoring device that has been built into the handle. The cooker comes with a couple of canning racks. They will hold 16 pint-size jars. In the case of half pint-size jars, the racks can hold 26 of them when double-stacked.
#2 Presto Stainless Steel Pressure Cooker
In Chinese cuisine, as you know, meat, fish, and chicken are frequent additions. These can be cooked at a faster pace in this pressure cooker. The excellent thing about this appliance is that it helps with tenderizing economical cuts of meat. The pressure regulator in this unit helps with maintaining the proper cooking pressure.
In addition to working as a stovetop pressure cooker, it can also work on induction and smooth-top range of appliances. The product comes with a 64-page recipe and instruction booklet. The cover-lock indicator in this unit will show you when there is pressure inside. Until the pressure is completely released, the lid prevents you from opening the cooker for safety. It comes with a special rack for cooking many foods at the same time without any intermingling of odours, colours and flavours. The product comes with an extended 12-year limited warranty. The helper handle in this cooker makes it easy to handle. In addition to being easy to clean, it is designed as a dishwasher safe cooker with a sealing ring.
#3 All American Pressure Cooker
In addition to being a pressure cooker, this unit is also a canner. If canning is regularly part of your Chinese cooking, this cooker will do wonders for you.
This pressure cooker is made out of hand-cast aluminium to ensure durability. It has an attractive and easy-to-clean finish. Further, the easy on-off cover helps with safe storage when not in use. For easy opening and closing, this cooker comes with positive action clamping wing nuts. The steam-gauge in this unit has been designed as an easy-to-read geared gauge. It has an automatic overpressure release mechanism and it has a sturdy phenolic top handle. It has a special metal-to-metal sealing system. The cooker does not come with any gasket to replace.
#4 Presto 8-Quart Stainless Steel Pressure Cooker
This unit comes with a Stainless steel steaming basket to cook different types of Chinese Food at the same time. But, there will not be any intermingling of flavors. You can use this product to try most of the Chinses recipe/instruction books. The cover lock indicator in this pressure cooker shows the pressure inside the cooker right at a glance. This will prevent you from opening the cover until the pressure completely subsides. The pressure regulator in this cooker helps with maintaining proper pressure cooker pressure. Effortless quick cool options in this cooker will help you complete your cooking task quickly.
The SS construction with a special tri-clad base will ensure quicker and uniform heating. It has been designed ideal for use not just in regular cooktops, but also smooth top cooktops. You can cook vegetables, meat, fish and chicken for your Chinese cuisine to perfection within minutes when you have this cooker handy. The economical cuts of meat can be quickly tenderized and cooked using this cooker.
#5 Hawkins Classic Aluminium Pressure Cooker
This Hawkins Classic Cooker has been designed as ideal for cooking to two people at a time. This small pressure cooker can make side dishes for your Chinese cuisine effectively at a faster pace. The small size makes it portable to carry as well. With matt finish base, this cooker is made out of virgin aluminium that is commercially pure.
With mirror-polished interior, this cooker features a "Goof-Proof" lid. This lid seals from the inside, thereby ensuring better safety. You can open the lid only when the pressure subsides. For optimum levels of speed cooking, the pressure cooker will automatically regulate the pressure. With long-lasting gasket and shielded safety, this cooker will stay with you for long. Further, it will help you effectively with your Chinese cooking.
#6 Mirro Polished Aluminum Pressure Cooker
This Stovetop Pressure Cooker has been constructed using rustproof heavy-gauge aluminium. It can hold 16-pint jars or 5 quarts jars. It is offered with limited 10 years warranty for the pressure canners and one-year for replacement parts. Along with a user guide, a cooking rack and recipe book are included in this product. The cooker has a reusable overpressure plug. Further, the sure-locking lid system and side gasket pressure release make this cooker safe to use.
It can maintain steady pressure with its three cooking-pressure options. The pressure canner has been constructed using rustproof heavy-gauge aluminium. It can hold 16-pint jars or 5-quart jars to cook the best Chinese dishes.
#7 NuWave stainless steel pressure cooker
The excellent thing about this pressure cooker from NuWave is that when you cook your tasty Chinese dishes, you need not have to use much oil. It can cook any of the Chinese dishes that are ideal for pressure cooking within minutes without any hassle. In addition to using in regular cooktops, you can use it in electric and induction cooktops as well. The cooker has been made using premium-grade stainless steel, which makes it long-lasting.
#8 Granite Ware Pressure Canner and Cooker
This pressure cooker has UL-certification to ensure safety. The hard-anodized aluminium construction makes it durable. It can hold 4-quart jars, 8 half-pint jars or 7-pint jars. This is a 12-Qt Canner with steamer trivet. You can adjust pressure when cooking your Chinese dishes on this cooker, which will bring you great results. In addition to being a cooker, it is also a steamer and canner.
Final Thoughts
As you look for the best Stovetop Pressure Cooker, we wish to suggest that you can choose either the second or the fourth product in our list above. Both these cookers have the best features that will make your Chinese cooking easier. The reason is that they will cook the meat and fish in the right consistency to use in your Chinese foods.
---
---
Rate This Article