Top 10 Best Vegetarian Cookbooks Reviews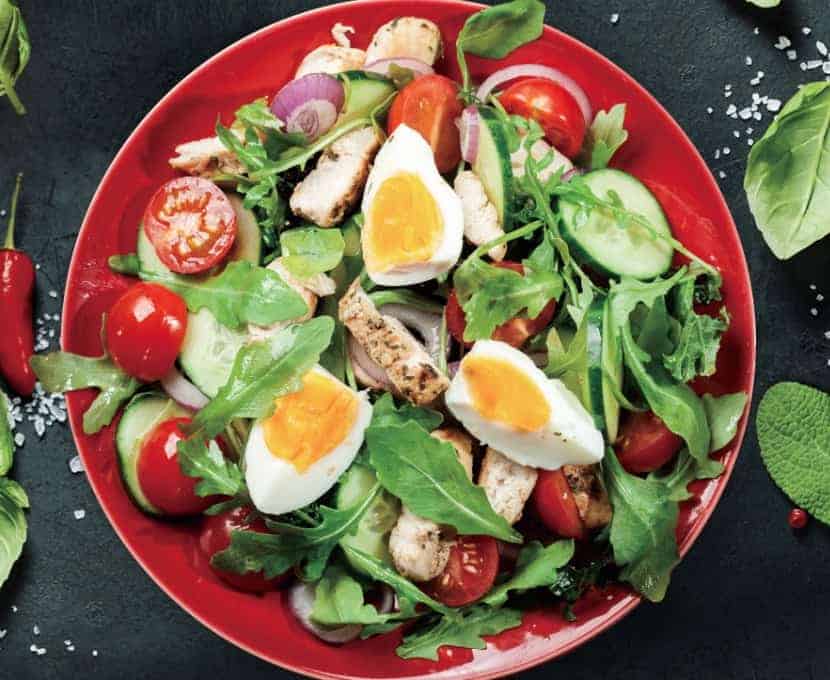 You might be aware of the quote "You are what you eat. So, don't be fast, cheap, easy or fake." So, you might be happy that you are following a vegetarian diet. When you are recommending your family to follow a vegetarian diet, you should be ready to prepare different varieties of dishes for them to taste, so that they will continue to stay with you in the vegetarian journey.
Nowadays, when many people are following a vegan diet without even taking dairy products, why not we follow at least a vegetarian diet by including dairy products in our diet? Thanks to the vegetarian recipes offered by different cookbooks available in this category!
With the help of one such book, you can make not just tasty, but also healthy vegetarian foods to your family. Here are some top choices as you look to buy the right vegetarian cookbook:
#1 The Complete Vegetarian Cookbook
This vegetarian cookbook has been created as a fresh guide to eating well by America's Test Kitchen. The book has more than 700 recipes for any person interested in preparing the best vegetarian recipes for their family.
Each one of us knows that consuming more grains and vegetables will bring a wide range of health benefits. However, we keep away because we fear that the recipes associating with them are complicated to prepare. Also, we feel that vegetables and fruits lack fresh flavor and appeal. In this book, the Test Kitchen with a team of authors has devoted considerable resources for creating a vegetarian cookbook. The recipes in this book besides being healthy are also tasty.
This vegetarian cookbook has a complete collection of flavorful vegetarian recipes that covers soy, beans, grains, rice, and vegetable mains along with salads, soups, snacks, and appetizers. So, you will learn vegetarian recipes under different categories.
Many readers have appreciated the fact that more than 300 recipes from this book take less than 45 minutes to prepare. Further, many readers are highly satisfied that in addition to vegetarian recipes, they are able to learn even vegan recipes from this book. Also, many readers expressed their excitement about the tricky cooking techniques that they learned from this book.
#2 Ultimate Veg: Easy & Delicious Meals for Everyone
This cookbook from Jamie Oliver offers recipes that are not just delicious, but also easy meals that anyone can prepare. The book offers complete American measurements to help readers cook with the right measurements.
This book has been written by Jamie Oliver, who is one of the best-selling cookbook authors of all time. He has packed this book with flavor-packed, delicious, and easy vegetarian recipes that will make cooking an enjoyable task for any person.
Right from simple suppers to family favorites, you will learn many recipes including dishes that you can prepare during the weekend for your entire family and friends. Examples of recipes that this book offers include Summer Tagliatelle, Super Spinach Pancakes, etc.
Many readers expressed their satisfaction with the clear photos and macros that this book offers for each recipe. Also, many readers stated that the ingredients used in the recipes in this book are easily buyable from the local supermarket.
#3 The Plant Based Diet for Beginners
As you are looking for a vegetarian cookbook, this vegan cookbook can help you learn vegan recipes that are known to bring even more health benefits as compared to vegetarian foods. This book from Gabriel Miller has a collection of more than 75 healthy and delicious whole-food recipes.
In addition to being good for your health, a plant-based diet is good for the environment and your wallet as well. As the name implies, this book is the right choice if you are a beginner in a vegan diet and wish to learn new and exciting recipes. If you are looking for ways to switch from eating eggs, dairy and meat products to consuming whole grains and other plant-based foods, this book can help you with this.
Your doctor might have recommended you switch to a vegan diet. Otherwise, you might have decided it yourself. Irrespective of the reason for this shift, this book can come as a handy guide to you. In addition to learning different vegan recipes, you can plan your preparation based on the nutritional value given for each recipe if you are diet-conscious. Even, the author has shared some useful tips to stock the ingredients required for the recipes in your kitchen.
Some readers recommend that this book should be bought immediately by any person interested in vegan cooking. Many of them claim that the recipes in this book are not just easy to read, but are also easy to follow. So, if you are a beginner in vegan cooking, this book can be the right choice for you.
#4 Vegetarian Instant Pot Cookbook
This vegetarian cookbook from Rachel Collins along with Illustrator Nancy Tillman and Editor Terry Ferguson provides you with 365 fast and easy-to-follow healthy plant-based recipes. If you have an electric cooker at home that you wish to use for healthy cooking, this book can help you.
If you are interested in instant pot cooking and particularly if you want to cook vegetarian recipes in your instant pot, this book can be your best companion. With more than 365 recipes, this book will help you stay in your vegetarian path by providing you a recipe for every day. Author Rachel Collins offers the best variety of well-tested and well-thought-out plant-based recipes in this book.
You will learn healthy vegan and vegetarian recipes from this book. In addition to providing some of the best recipes, the book also offers instructions on how to use the instant pot. It is a perfect cookbook not just for beginners in instant pot cooking, but also for experienced people.
Many readers appreciated the flavorful plant-based foods that this book offers. Also, many hailed the tips and tricks for instant pot cooking given by the author with easy-to-understand instructions.
#5 Plenty: Vibrant Vegetable Recipes from London's Ottolenghi
This cookbook from author Yotam Ottolenghi actually made him an international food celebrity. If you have already read and love books like On Vegetables, Smitten Kitchen Every Day, Forks Over Knives, and Plenty More, you will turn a fan of this book as well.
Plenty has a collection of 120 vegetarian recipes that features fresh combinations and exciting flavors. This book will be the choice for readers and foodies looking for a brilliant take on vegetables.
From this book, you will learn how to master the art of French Cooking following the footsteps of the author. The author has posted many restaurant-caliber recipes that can be made in every home. The visually-stunning photos in this book will help you choose recipes that impress you in the first instance when you see them in photos.
Many readers have commented that this book is the right choice for any serious home cook. Also, some readers feel that the book offers great new ideas to cook some tasty stuff using vegetables as ingredients.
#6 Vegetables Illustrated
This vegetarian cookbook from America's Test Kitchen again is an inspiring guide for people interested in preparing healthy vegetarian recipes with more than 700 recipes.
This book will teach you different types of vegetable-based recipes using different vegetables. For instance, you will get to identify 30 ways to cook broccoli and nearly 40 ways to prepare potatoes. The interesting and unique vegetable recipes under different categories will help you prepare different dishes for your family.
From this book, you will learn more than 700 recipes that you can prepare with 70 different vegetables. It means that even you can learn about veggies that you have not tried earlier.
Many readers appreciated that this book taught them not just vegetable-based recipes, but even they were able to learn more about vegetables. Also, many readers stated that this is a great choice for the followers of a plant-based diet.
#7 Bowl: Vegetarian Recipes for Ramen, Pho, Bibimbap, Dumplings, and Other One-Dish Meals
This vegetarian cookbook from author Lukas Volger offers a collection of vegetarian recipes for dumplings, bibimbap, pho, ramen, and other one-dish meals. You will learn a flavorful vegetarian version of these one-dish meals.
Understanding the rage created by one-bowl meal these days, Author Lukas Volger has shared many attractive recipes. With a bowl as an organizer, he has explored the possibilities for improvisational meals full of seasonal herbs and produces.
The good thing about the single bowl recipes shared by the author of this book is that he helps you learn recipes that you can prepare in no time. Most importantly, you will learn recipes that are friendly to your wallet as well.
Many readers have expressed their gratitude to the author for his creative, flavorful and fun options when it comes to preparing one-pot healthy meals. Also, they feel that they are satiated with the recipes as they are able to use fresh seasonal ingredients to make each bowl interesting and mouth-watering.
#8 Vegetarian Mediterranean Cookbook
Of course, naturally, each one of us wishes to live well. To help us, this book offers healthy and simple recipes. Particularly, the focus of this book includes Mediterranean vegetarian recipes.
A Mediterranean mealtime is an event that is accompanied by close friends and family. If you wish to plan for such a mealtime regularly with your friends and family, you will find this book helpful. As against many Mediterranean cookbooks that focus on meat-centric meals, this book offers vegetarian recipes. Above all, you will get the opportunity to find more than 100 recipes from this book.
This book has been created by the author to help you learn authentic Mediterranean vegetarian recipes. Even, the author has taught some simple shortcuts and ideas to make your cooking fun-filled and easier.
Readers feel that they are able to learn delicious recipes with easy-to-find ingredients from this book. Many readers stated that the author Sanaa Abourezk has a restaurant near their hometown. Like her restaurant, every recipe in this book helps them to prepare tasty food every time.
#9 Forks Over Knives
Right from the cover of this book, you will get to know that this book is the New York Times Best Seller. This vegan cookbook from Del Sroufe has more than 300 recipes to make sure that readers can get recipes for a year-long plant-based diet.
If you are looking for ways to lose weight or lower your cholesterol levels, it is better to cut down on oils, dairy products, and meat. But, how to have a diet free of these things, you will find this book highly helpful.
From this book, you will learn vegetarian recipes for breakfast. Not just recipes for breakfast, you will learn recipes under different categories like desserts, great grains, stuffed and baked vegetables, etc. The recipes you will learn from this book are not just simple, but also delicious and affordable as well.
Readers feel that this is the best book for those looking to lose weight. Even, those looking for the best health profile will find this book useful as stated by many readers.
#10 How to Cook Everything Vegetarian
This vegan cookbook from Mark Bittman as the name implies teaches how to cook everything vegetarian as the name of the book denotes.
This book offers the ultimate guide to meals that do not have any meat. The book features color photos for each recipe. About a decade ago, this cookbook made vegetarian cooking accessible to all as a breakthrough. Now, this book is offered as a completely revised tenth-anniversary edition.
The new edition has been entirely revised and reviewed to stay appropriate to today's cooks even though the first edition was released a decade ago. So, you will learn the updated recipes with ingredients that are highly accessible.
Many readers state that this book is a great starter cookbook for a person, who is a new vegetarian. Also, some readers feel that this is a must-have for any veggie-curious and vegetarian kitchen.
Conclusion
From reviewing the books above, we found that "The Plant-Based Diet For Beginners" is the best of all. The book as the name implies makes plant-based cooking hassle-free for new cooks.
---
Rate This Article