Top 8 Best Wok Cookery Books Reviews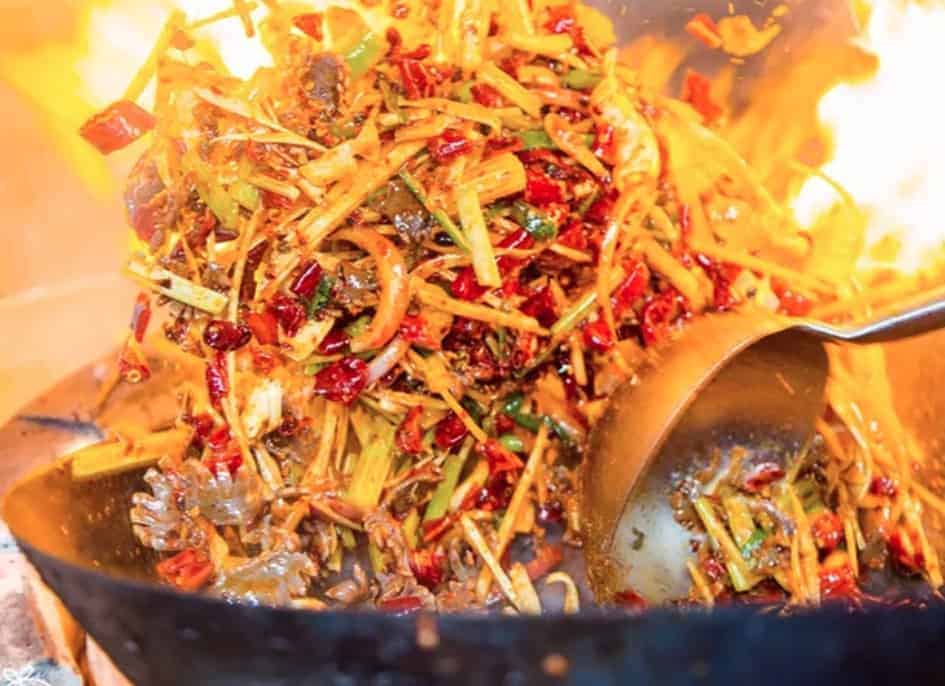 A quote reads "To eat is a necessity, but to eat intelligently is an art." If you are a person interested in helping your family eat intelligently, you can choose wok cooking as the right cooking method. But, are you wondering what does wok cooking mean? It is nothing, but cooking with the help of a wok. A wok is nothing, but a round-bottomed cooking pot used in China. Not just used, it is known to have originated in China. This cooking utensil is used in different Chinese cooking techniques like roasting nuts, making soup, stewing, searing, braising, boiling, poaching, deep-frying, pan-frying, steaming and stir-frying.
To help you learn different dishes to cook in a wok, you will come across different wok cookery books. Your question here will be how to select one. To make this work easier for you, we have shortlisted some best wok cookery books here:
#1 Wok Cooking Made Easy
As the very name of this book denotes, it has contents that will help you make delicious meals within minutes using a wok. It belongs to the "learn to cook series" written by author Nongkran Daks.
In this book, you will find easy-to-prepare and nutritious Asian wok recipes that are compiled especially for Western audiences like you.
From this wok cookery book, you will learn recipes like Spinach with Garlic Stir-fry that are not just easy-to-prepare but are also nutritious. The book has been compiled mainly for helping western audiences learn some mouth-watering Chinese dishes.
Many readers of this book feel that they are able to create delicious dishes for their family from the recipes give in this book.
#2 Essential Wok Cookbook
This book from Naomi Imatome-Yun has been created as a simple Chinese cookbook. Right from Dim Sum to stir-fry recipes, the book offers many other restaurant favorites as well.
As you are looking for wok cookery recipes, you can consider selecting this book for the following reasons:
This book has been created by the author as an essential guide to master wok cooking. Above all, the dishes in this book do not require additional oil, salt and MSG. In turn, you can gain the satisfaction of selecting a cookbook that will help you prepare healthy foods for your family.
From The Essential Wok Cookbook, you can lean:
Useful recipe tips for making your preps healthier besides saving time.
Even, this book will teach you how to swap ingredients to make your dishes even more healthy and tasty
You will learn some recipes that will help you finish off the cooking quickly just within 30 minutes or even lesser time.
Many readers feel that this book is an excellent choice among the collection of their books as it helps them to easily make American Chinese recipes.
#3 The Essential Air Fryer Cookbook for Two
As the name implies, this book from Gina Kleinworth teaches great-tasting wok recipes with measurements and ingredients ideal for two people.
Even though most people cook for at least a family of four, some people also prepare for two. For instance, newly-wed couples, who are yet to get kids will be preparing dishes for two. If you are one such person, you can consider buying this book, which will help you. Even, if you are a beginner to wok cookery, this book will come handy for you.
What will you learn?
This book will provide you with useful tips not just to get started, but also trouble-shoot temperature and timing when air-frying dishes.
The book offers more than 100 recipes. Examples of recipes include Apple Hand Pies and Crab Cakes with Remoulade.
As you are planning to prepare meals for two, you need not have to choose a book, where you will have to reduce the ingredients given to prepare for two people. This book will provide you with the right quantity of ingredients required to prepare the best Chinese dishes for two.
Of course, we know that you will be interested in learning what the real readers of this book will have to say about it before you shop. Many readers of this book are happy that in addition to useful recipes, they are able to gain a lot of information about different foods and ingredients from this book.
#4 Easy Chinese Recipes
When talking about wok cookery, the first name that gets to our minds is China. This book from the author Bee Yinn Hair provides the readers with different recipes starting from Kung Pao to Dim Sum.
You will accept that we become an expert in anything that we learn from our childhood days. This is what the author of this book is all about. She was brought up in a Chinese household in Malaysia. So, culture and cuisine were inseparable in her life right from her childhood days. Her early memories of aiding her mother in the preparation of fragrant and steamy Chinese meals have motivated her to write this book. So, you will get useful guidance from this book.
You will learn a lot of traditional Chinese recipes cooked using a wok like Crispy Shrimp Dumplings. Also, the author has provided her own improvized version of some of the famous Chinese dishes to bring a different experience to readers.
In this wok cookery book, many readers feel that they are provided with many useful tips that will make their wok cooking even tastier and healthier.
#5 Chinese Soul Food
This book from Hsiao-Ching Chou has been written as a friendly guide for homemade soups, stir-fries, dumplings and much more. The recipes of Chinese dishes in this book make cooking traditional Chinese dishes easier for all.
Apart from plenty of wok cookery recipes, you will get many useful tips from this book. The examples include how to cook rice properly, how to rightly use a wok. The purpose is to make cooking easier even for the busiest people.
The author has shared recipes for Chinese dishes that attract many North Americans like Garlic Eggplant. In addition to useful recipes that you can cook on your wok cookery, you will also get some useful tips for taking effective care of the wok. Also, from the author, you can learn how to properly cook rice in a wok and many such things.
Many readers of this book are highly happy that the recipes in this book are rightly streamlined. In turn, the fear of reading unfamiliar ingredients and techniques reduce.
#6 Wok Cooking Made Easy
When it comes to wok cookery, most cooks choose to stir-fry ingredients to make tasty Chinese dishes. This book is meant to teach you some mesmerizing stir-frying recipes in your wok.
When you choose this book to learn recipes to cook in your wok, you will be surprised with a long list of stir-frying recipes that will save you a lot of time and energy.
You need not have to think that with this book you can learn only stir-frying recipes. The author has shared many recipes based on different variants of stir-frying like velvet, clear, moist and dry stir-fries.
This book will teach you how to prepare stir-frying dishes like Dry-Fried Sichuan Beans. More than 100 stir-frying recipes will help you become a pro in stir-frying.
Many readers are highly happy that this book has taken them to the wonderful world of woking.
#7 Every Grain of Rice
This book from author Fuschia Dunlop has been identified as a must-have book for any person interested in preparing Chinese foods at home. Even, it will help professional and home cooks alike.
One of the important reasons that we wish to point out is that this book is from Author Fuschia Dunlop, who is a James Beard Award Winner. She is known for her cookbooks with clear instructions.
If you are interested in making some Chinese recipes as part of your regular diet, this book will teach you many recipes that you can rightly prepare in your home. Even, you will learn seasoning techniques to make the Chinese dishes even tastier for your family.
Many readers of this book are highly satisfied that they have bought the best Chinese book with clear instructions and pictures of varied Chinese dishes.
#8 The Food of Sichuan
This book is one of our choices because, it has won many honors from different sources, which stands as proof of its worthiness.
The author of this book is Fuschia Dunlop, whose book Land of Plenty, which is still one of the highest sold cookbooks, has revisited the land of Sichuan and has written this book. So, you can expect great recipes.
If you are a person interested in innovative cooking, this book can teach you how to re-create some of the classics like Gong Bao Chicken. The innovative ideas that the author offers will take your cooking to a new level for sure.
The great thing that many readers pointed out about this book is that it gives recipes that are hard-to-find elsewhere.
Final Verdict
From this review of different wok cookery books, we find that Wok Cooking Made Easy to be the best of all. The book aims at making wok cooking easier for any person. It is a must-have in the collection of cookery books with any person.
---
Rate This Article