How to Make Chinese Five Spice Powder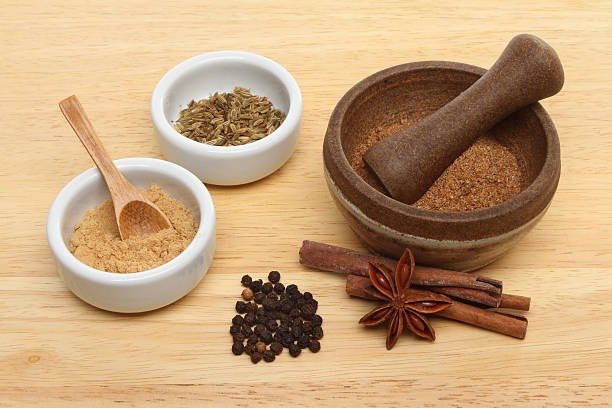 When I cook, I always look for adding a little twist to the plain recipes, and experimenting with ingredients is the way to go. One such spice is Chinese five spice powder. It is my go-to pick whenever I want to add a spark to my cooking. If you are wondering what on earth this spice is, don't worry.
Here, I'm going to tell you what exactly it is and how to make Chinese five spice powder. Let's dive into the flavors!
What Is Chinese Five Spice Powder?
It is a common spice blend used in Chinese and Taiwanese cooking. It is made from a combination of 5 types of spices that they use in China to cook the most savory dishes. The reason behind its name is the number of ingredients it has. The spices are star anise, fennel seeds, Szechuan peppercorns, cinnamon, and cloves.
These spices represent the five flavor groups: sweet, salty, bitter, sour, and umami/pungent. Moreover, there are several variants of this spice, but the standard one only contains the five spices mentioned above.
Other variants may use ingredients like turmeric, anise seed, nutmeg, ginger root, etc. In several regions of China, Cinnamomum Loureiro and mandarin orange peel are commonly used in place of cinnamon and cloves, respectively. This potentially changes the taste profile of this wonderful spice.
A small dash of Chinese five spice powder can add a different life to your dish. It is known for its unique, strong flavor and aroma. Since It is a mixture of different spices, it adds a different taste to food. According to Cook On Monday, you can always substitute Chinese five spice powder, If you do not have it at hand.
It has been utilized in Chinese cooking for thousands of years. But nowadays, it's becoming popular around the modern world since people are starting to explore more Asian food. I love its aroma, so I try to incorporate this magic of spice into most of my cooking adventures, and it never disappoints.
How To Make Chinese Five Spice Powder?
Now that you know how great this spice is, I'm sure you are fired up to know how you can make it. Making your own spice blend might seem intimidating at first but trust me, it's a straightforward procedure and actually fun.
Moreover, making your own spice blend saves your money and time, and you can enjoy wonderful flavors without having to buy another jar. So, here I've listed the necessary instructions following which you can easily make your own tasty Chinese five spice powder at home.
Step 1: First, you need to accumulate all the ingredients; I'd recommend getting whole spices because it will bring out the right flavor.
These are the spices you need to get:
2 tsp Sichuan peppercorns
5 to 6 whole star anise
1/2 tsp ground cloves
1 tbsp ground Chinese cinnamon
1 tbsp ground fennel seeds
Step 2: Now that you have assorted the ingredients, let's move forward. Take a dry skillet and place it over medium heat. Add Sichuan peppercorns to the skillet and heat them until their aroma is released. This will take around 3 minutes.
Step 3: Next, place the toasted peppercorns in a blender or spice grinder along with star anise and thoroughly blend them.
Step 4: Now, in this step, you need to refine the mixture. For that, use a fine-mesh strainer and pass the blended ingredients through it. Now, you'll have an even consistency.
Step 5: In the refined mixture, add ground cinnamon, ground cloves, and ground fennel seeds. Mix it well.
Step 6: Put the mixture back into the spice grinder or blender and grind them until they are very fine. And you are done.
Step 7: Lastly, transfer the ground spice into an airtight container. Store it in a cool, dark space until use.
What Possible Variations Can You Make To The Recipe?
Remember I told you before that the standard recipe for the Chinese five spice powder has several variations. By adding or substituting the ingredients, this spice can come alive with a unique taste profile. Well, In this segment, I'll be telling you about some of the popular variations that you can also try.
A popular version of this wonder spice comes from southern China. In this Saigon, cinnamon and orange peel are used in the place of traditional Chinese cinnamon and cloves. This creates a notable change in the spice.
Furthermore, if you don't have Sichuan peppercorns, the best possible alternative is black peppercorns. This substitute might dial down the heat a little, but it'll still be enjoyable.
Another stand-in you can try is ground anise instead of star anise.
How To Use Chinese Five Spice Powder
The implications of this incredible spice are enormous. You can enjoy its distinctive flavors in a number of dishes. The spice is a staple in many Asian dishes, and I'm going to highlight the number of other uses Chinese five spice powder has.
Some of them are:
A spice rub for barbecue
In dressings or marinades
As a glaze
To coat chicken or veggies before frying
In braised dishes
Add the depth of flavors of soups and stews
These are just a handful of examples; you can use this spice in any creative or fun way to enhance the flavors. So, give it a try, and I'm sure you won't regret it.
Conclusion
So, here I've given you everything you need to know about Chinese five spice powder. Now, you have an idea about different variations of this spice and some new things that can be done with it.
I have highlighted the benefits of this wonderful blend and how it can add depth and flavor to your dishes. Also, you can use the above-mentioned step-by-step guide about how to make Chinese five spice powder. So get cracking and happy cooking.
---
Rate This Article