7 Things You Have to Know About Chinese Wok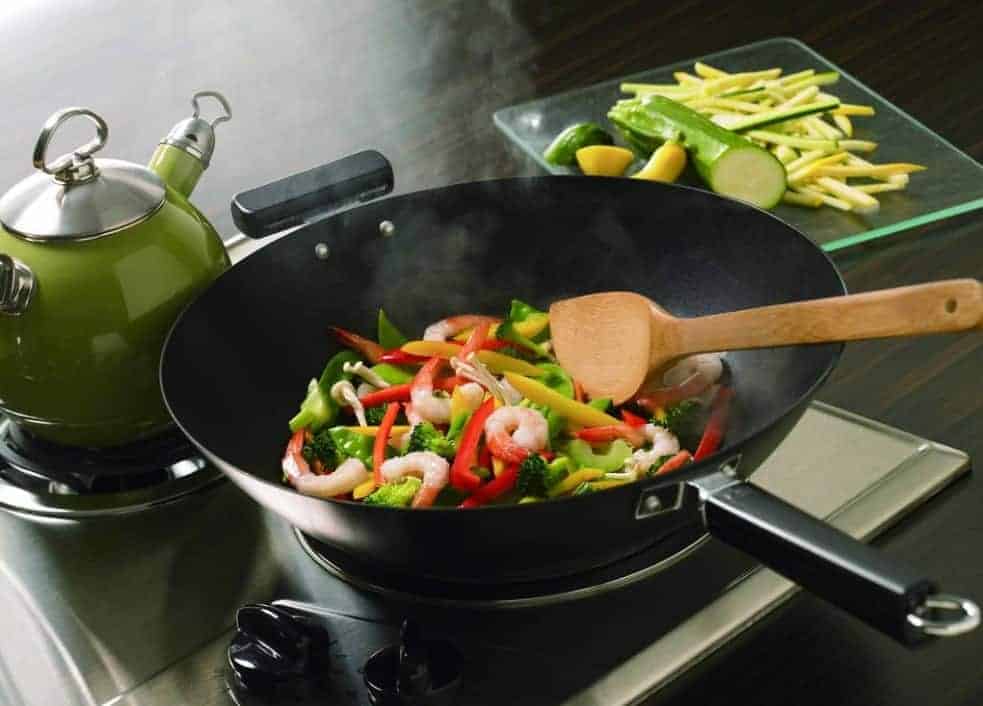 You don't have to buy a wok only for cooking Chinese foods. But these bowl-shaped woks have several main advantages — they spread heat evenly and use a little oil to fry deep. It is more efficient than a traditional fry pan. A good wok makes cooking Chinese food (and food from other cultures as well) much easier.
1 How to choose Chinese wok, such as flat or bottom round wok?
If you cook with a Western electric cooker, the best way to do is to use a flat base wok. Round bottom woks can damage the food ingredients by reflecting heat back. We can use a flat wok on gas stoves.
2 Choose the right wok that can protect your hand.
As we know, woks have two metal handles. You can lift in and out of the Chinese stove with these metal handles. Today flat woks are usually like a skillet with a long wooden handle. The long handle makes a moving and tilting the wok easy. Most wok has two handles, a big one and a small one. The round-bottom woks may have two small metal handle or a single long metal or wooden handle, following traditional wok design.
3 Never forget wok's lid.
Why I need a lid for deep frying? Because a wok lid or cover make your life much easier when you cook Chinese food. Usually, you need to cook food ingredients much time. So if you buy a wok with a lid, cooking would much easier since lots of Chinese cuisine need braised.
4 You should consider size issues.
Size matters woks are available in many sizes–restaurants can use woks with multiple feet across. You should choose the size of wok after considering these issues, such as your own cooking preferences, stove, the frequency of cooking, the amount you cook and your wok depth.
5 What kinds of wok are you going to buy?
Remember the motto: You get what you are paying for? A good wok usually is made of high-quality material. A cheap one is easy to be damaged, especially the coating material of the non-stick wok. There's no replacement for a good wok of carbon steel. It is not only relatively cheap but also heats uniformly. While many other woks–stainless steel, aluminum, and even copper–are available on the market today, Asian still often use carbon steel wok.
6 Does non-stick wok work as advertised?
Nowadays, many manufacturers offer woks with a non-stick coating with the current interest in fatty cooking. Whether or not a non- stick wok is good depends on the manufacturer's coating technique and how you will use it. If your stove is made of carbon steel, do not use non-stick coatings wok, because non-stick wok doesn't work well with it. However, try a heavy aluminum or copper wok if you need a non-stick wok.
7 Do not ignore wok maintenance.
Wok maintenance is very important. Before you use the wok, you need to take off the preservative oil. Manufacture put preservative oil on woks to prevent rust. You should replace it with a light cooking oil coating. After cooking, never ever forget to clean your wok if you want to use it for a longer time. Since you can always buy a variety of woks on the market today, many manufacturers do not give seasoning and cleaning instructions.
Rate This Article