A Beginner's Guide To Tea
Introduction
Tea was first cultivated in Asia, by the likes of the Chinese and Japanese, but was carried along by trading ships across vast oceans to reach foreign lands. Currently, there are estimated to be over 3000 varieties of tea and stands to be one of the most consumed beverages in the world, coming second only to water.
Looking for teas to try out? Not sure of the difference between White tea vs Green Tea? In this article, we will be exploring some of the more popular teas out there and their various characteristics and benefits.
Different Types Of True Teas
There are surprisingly only five types of True teas — White tea, Green tea, Black tea, Oolong tea, and Pu-erh tea. Fun fact, these teas all come from the same plant known as Camellia Sinensis, the only type of tea plant to exist. What makes them so strikingly different from each other despite coming from the same plant are the processes they go through after harvesting. This results in different flavor tones, colors, aromas, and properties.
Black Tea
Black tea is one of the more common True teas. Characterized by the bold, dark flavor and fruity aroma, Black tea goes through the most processing of the five teas to achieve their unique flavor profiles.
The dark color of this tea stems from the post-harvesting process that it goes through. Once picked, the leaves of the plant are crushed and left to fully oxidize. Black tea is usually sold in a blend containing other herbs, flowers, or spices, to create unique flavors and aromas. These blends are known as Flavored teas.
Black teas may also differ based on the region and conditions that they are cultivated in. Here are some popular variations: Assam tea with a malt-like flavor, Earl Gray tea which is flavored with bergamot or citrus fruit, and Masala Chai tea which is a blend containing various spices such as peppercorns and cardamom.
Benefits Of Black Tea
Black tea has many benefits such as supporting cardiovascular health as well as preventing oxidative stress. Over the years, Black tea has garnered more attention from the scientific community, who are working to find more benefits that they provide.
Green Tea
On the other end of the spectrum lies the Green and White teas. Green tea is prepared by lightly heating or steaming the harvested leaves to prevent the oxidation process from happening, keeping the leaves from turning black. What this produces is a lighter and fresher tea, with a greenish color.
Similar to Black tea, there are many variations of Green tea. Many of them can be categorized as having an earthly flavor and aroma as a result of the limited processing the leaves go through. Here are some popular variations — Bilochuan, with a stronger aroma and fruity-like flavor profiles, and the popular Matcha, which is savory and creamy.
Benefits Of Green Tea
Due to their popularity, Green tea is one of the most heavily researched teas. Studies have shown that Green tea increases alertness due to its high caffeine content. Apart from that, it is also beneficial for the heart and brain when consumed regularly. As one of the least processed teas, it's no surprise that it is touted as the healthiest tea.
Oolong Tea
Oolong tea lies in-between, with its partially oxidized tea leaves. This creates a flavor profile bolder than Green tea, but lighter than Black tea. A plethora of variations can be derived from just a single process. Da Hong Pao tea is one of the more oxidized variations, creating a richer flavor and aroma. On the other hand, Pouchong tea is minimally processed, resulting in a more delicate tea with subtle notes.
Benefits Of Oolong Tea
Oolong tea packs a punch when it comes to health benefits, contesting the likes of Green teas. Antioxidant compounds help fight against harmful radicals, preventing oxidative stress. Adding on to that, are its heart and brain health benefits as well.
Pu-erh Tea
No other True tea embodies luxury better than Pu-erh tea. Toasted to stop oxidation once harvested, the tea leaves are then aged like fine wine. The flavor of the tea largely depends on how long it has been left out to age. Older Pu-erh tea has a woodier flavor, with hints of fruitiness. Ripe Pu-erh tea is made from leaves that have been aged for months, resulting in a creamy and earthy taste.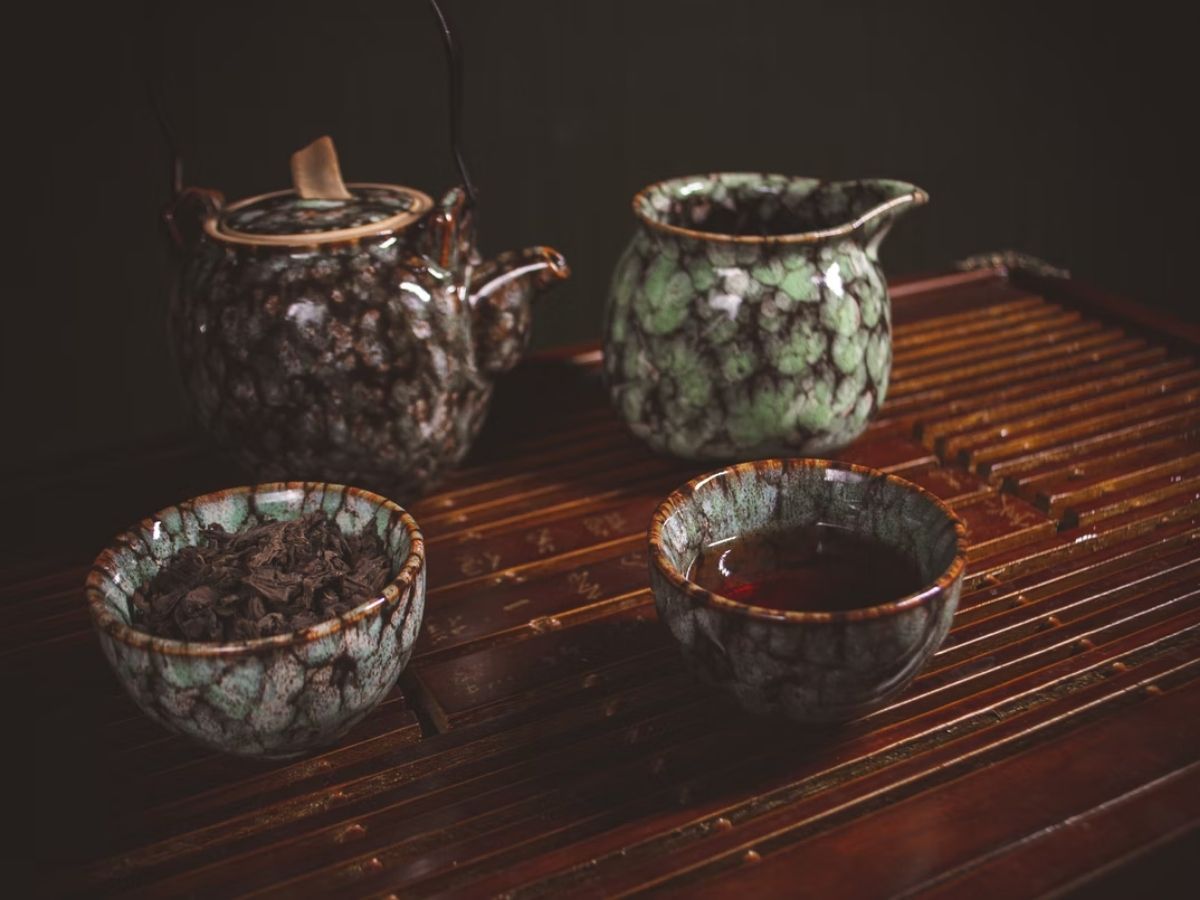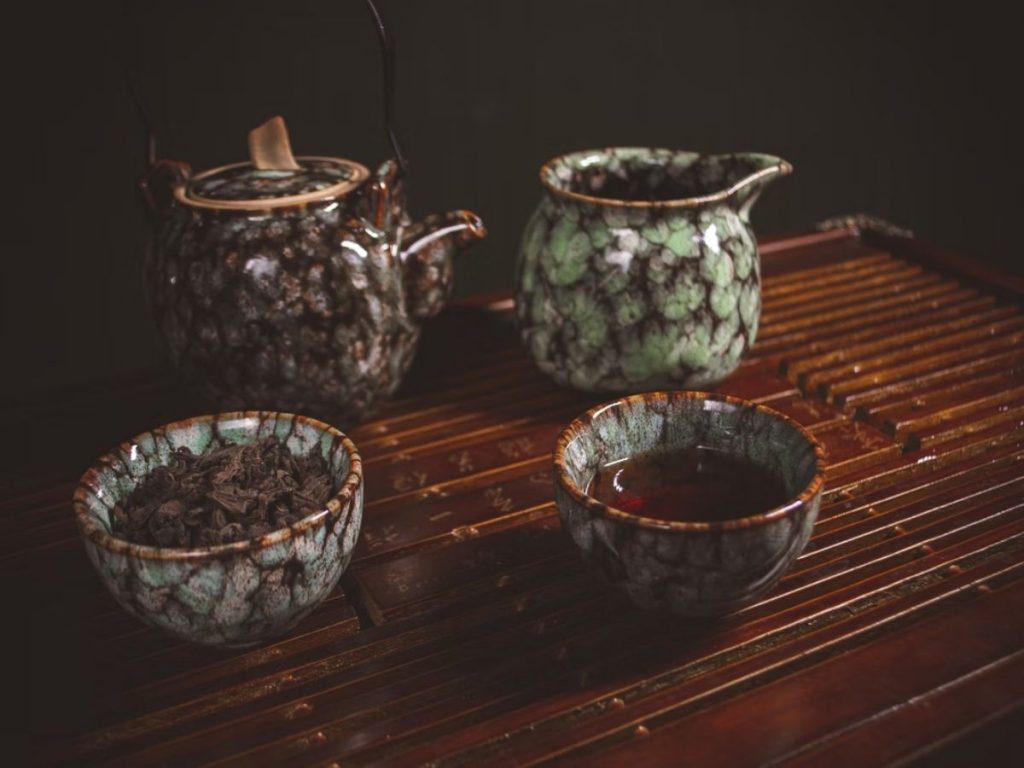 Benefits Of Pu-erh Tea
Pu-erh tea has not been as heavily researched, but studies suggest that it is high in antioxidant properties, supports heart health, and may provide some benefits for the skin.
White Tea
Similar to Green tea, White tea is the least processed tea. With a delicate flavor profile, White tea is characterized by its light and fruity flavor.
Benefits Of White Tea
White tea has plenty of antioxidants and catechins, to reduce the risk of inflammation and heart-related problems. Interestingly, White tea is also rich in fluoride hence can benefit your dental health too.
Different Types Of Herbal Teas
Herbal teas are made from infusing herbs, flowers, and spices with True teas. They make up the majority of teas and bring a plethora of benefits to the table. Let's go through some of them.
Chamomile Tea
Chamomile tea is one of the most popular Herbal teas. Brewed from the dried flowers of the Chamomile plant, it is known to be a therapeutic tea.
The Benefits Of Chamomile Tea
Chamomile tea is known for its relaxing effects, promoting better sleep and overall health.
Ginger Tea
Brewed from the root of the ginger plant, this tea is known for its strong spicy flavor.
The Benefits Of Ginger Tea
Ginger tea is known for its anti-inflammatory properties due to the compounds present in the ginger root itself. Not only that, it is suggested that it may also help with nausea.
Hibiscus Tea
Hibiscus tea is brewed from the hibiscus plant, widely found in tropical regions. This tea has a sweet yet tangy taste, perfect as an iced drink.
The Benefits Of Hibiscus Tea
This tea is said to be rich in antioxidants, good for your liver, and promotes healthy cholesterol levels.
Mint Tea
Mint tea is perhaps one of the most widely-known teas, derived from the leaves of the mint plant. With its strong taste and smell, Mint tea has similar benefits to peppermint oil which has been widely researched.
The Benefits Of Mint Tea
Good for the gut, Mint tea helps with digestive processes and relaxes the stomach, preventing problems such as indigestion and irregular bowel syndrome.
Rooibos Tea
Caffeine-free with a deep red hue, Rooibos tea is brewed from the fermented leaves of the Aspalathus Linearis plant. It is known for its earthy flavor, complemented by floral undertones.
The Benefits Of Rooibos Tea
Much like most teas, it is packed with antioxidants, protecting against oxidative stress in the body. It is also rich in minerals such as fluoride, magnesium, and calcium, which are all essential for good bone and dental health.
Conclusion
With the abundance of teas available for your choosing, there are plenty of options to suit your tastes and preferences. Not only that, these teas are packed with all sorts of benefits! With plenty more not yet covered in this article, we are sure that you will end up with a couple of favorites. That being said, no tea is a bad choice, after all, you can never go wrong with a cup of tea!
---
Rate This Article