10 Best Kitchen Carts Reviews and Buying Guide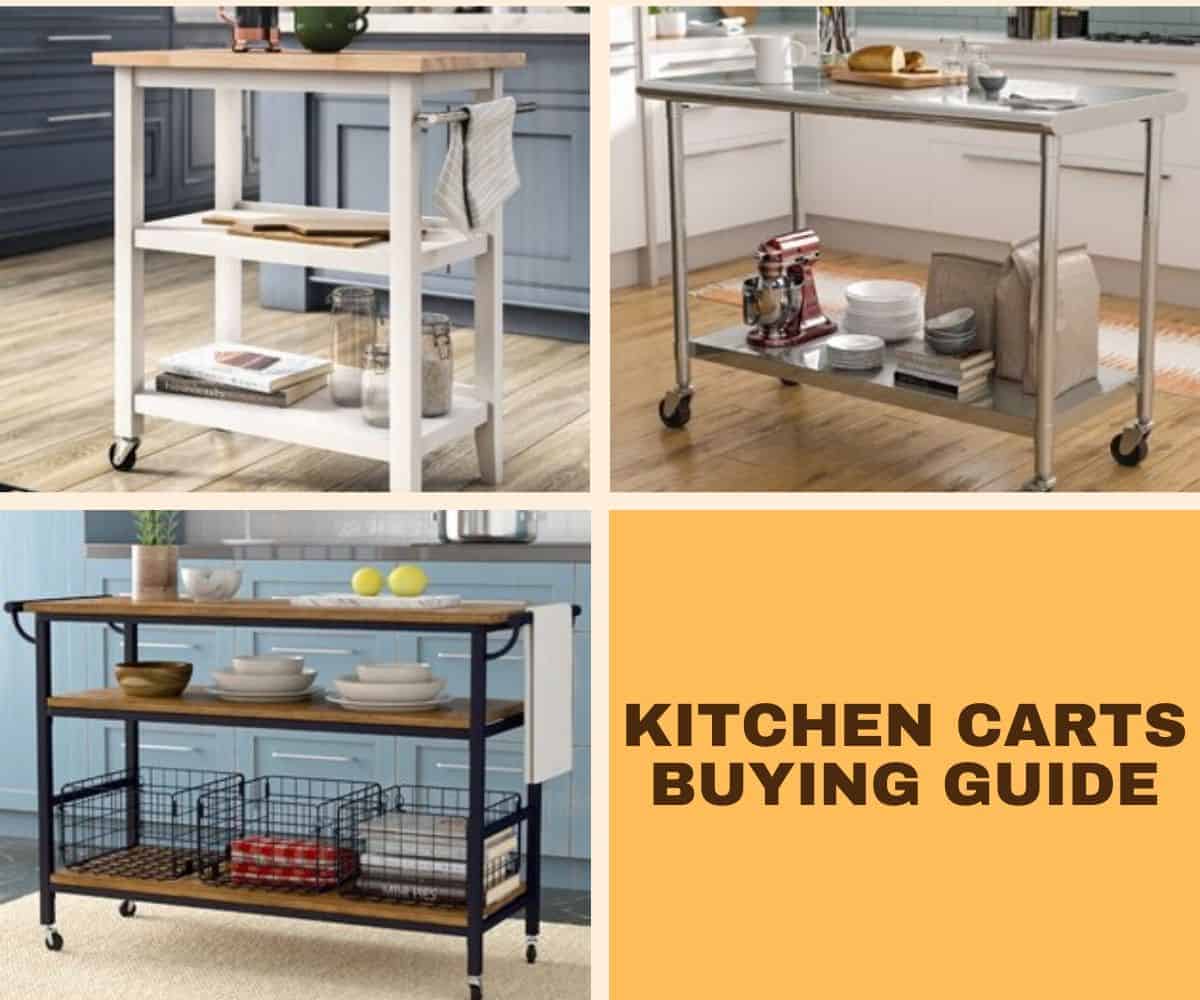 How to Choose a Kitchen Cart?
Have you ever observed that no matter what you do, the space in your kitchen is never enough for your activities? What is the possible reason behind that? Many people out there will respond by saying that the kitchen is too small. But that is not the case always. The main reason is that your kitchen has inappropriate furniture, especially a well, fitted, and smartly situated kitchen cart.
The kitchen space will never be enough without proper organization. To achieve this organization, a kitchen cart is of utmost importance. Choosing a kitchen cart is not the solution, but the best-fitted one.
Choosing the proper kitchen cart for your kitchen can be quite tasking considering the plethora of products out there. A kitchen is a delicate place, and you always want the best for it. Cart creates space for you and makes the daily activities of the kitchen smooth and interesting.
Quick Summary
1. Best-rated kitchen cart – Whitmor Supreme Microwave Cart with Locking Wheels
2. Best less-expensive kitchen cart – Amazon Basics Kitchen Rolling Microwave Cart on Wheels
3. Best kitchen cart with cabinet storage – Dorel Living Kitchen Island
4. Best small kitchen cart with storage cabinet – Winsome Wood Single Drawer Kitchen Cabinet Storage Cart
5. Best granite top – Linon Kitchen Island Granite Top
6. Best easy to assemble – Origami Folding Kitchen Cart on Wheels
7. Best drop leaf – Winsome Gregory Cart Kitchen
8. Best kitchen cart with spice rack – Homestyles General Line Mobile Kitchen Cart
9. Best stainless steel top – Linon Hudson White Kitchen Cart
10. Best slim kitchen cart – Yamakazi Home Rolling Kitchen Storage Cart
Top Rated Kitchen Carts
1. Best rated kitchen cart – Whitmor Supreme Microwave Cart With Locking Wheels
This kitchen accessory comes with a space-saving ability as it is perfect for minimal kitchen spaces and areas. In addition to this, it also boasts multipurpose functionality as it can be used for tableware, cookware, and other kitchen items. Its locking wheels are durable and lightweight making it easy for it to be moved about.
With its heavy-duty steel frame, steel shelves with chrome finish, and commercial grade locking wheel, this cart assures you of durability and premium satisfaction. It is also very easy to assemble, use and maintain and so a safe solution is provided to your kitchen storage problems. If you are ever in need of a quality kitchen rack for the best price possible, then this is the perfect choice for you.
2. Best less expensive kitchen cart – Amazon Basics Kitchen Rolling Microwave Cart on Wheels
Most people often like to use carts in their kitchen and sometimes outdoors but the cost of these accessories has always been a discouraging factor. However, this product combines quality and affordability into one and makes it possible for all classes of income earners including the low ones to enjoy the benefits of kitchen carts. It is relatively cheap, chrome plated and fitted with a removable wood top, and can hold up to 175 pounds in full capacity.
One amazing thing about this storage facility is that it combines style, convenience, and size to produce a storage facility that is easily accessible and highly relevant. It also has an adjustable height feature and its caster wheels make movement and transport convenient. To this end, it can provide premium storage for kitchen tools, utensils, and cooking materials.
3. Best kitchen cart with cabinet storage – Dorel Living Kitchen Island
This is a multifunctional island cart that is just right for small spaces and cooking areas. Its solid wood top is just perfect for placing items while the durable caster wheel makes for easy mobility and portability.
One thing that sets this kitchen accessory is the storage capacity which is chief among its numerous benefits. It comes with spacious storage options which include a drawer and a cupboard quite suited for both kitchen utensils and appliances. It is also designed with a towel bar and spice rack as an added form of convenience. When you desire ample storage, convenience, and a quality kitchen cart, this is the right choice for you.
4. Best small kitchen cart with storage cabinet – Winsome Wood Single Drawer Kitchen Cabinet Storage Cart
Size is always influential when considering kitchen storage options. This is because most apartments are small and therefore areas reserved for cooking may not be as wide as you expect. It is one thing to have a small cart, it is another thing for that kitchen accessory to come with ample storage features.
For this particular accessory, certain premium features give it advantages over similar items. One such thing is its small size which makes it easy to fit into most kitchens. Its compatibility is however not the only distinguishing factor as it also has ample storage options quite surprising for an item its size. These options include a side towel rail, a wide utensil drawer, and a two-door cabinet also fitted with a shelf.
It has a solid beech wood body and is fitted with lockable casters for easy mobility. So whether you desire to keep your kitchen utensils and appliances or certain food and cooking materials, this culinary item has got you covered.
5. Best granite top – Linon Kitchen Island Granite Top
It comes with a natural finish work which features an elaborate and elegant granite top designed to hold all kinds of kitchen items. It is also fitted with a wire storage basket which can be slid in and out and a fixed shelf. Storage is also a priority for this item as it comes with a wine storage rack that can hold up to four bottles at a time. In addition to this, it has a microwave and toaster safe where these appliances can be stored in good condition.
With a spacious pull-out storage drawer, chrome finish, and rubber locking caster wheels, you can be assured of premium satisfaction from this kitchen cart. You can easily use it to keep your food, cutleries, and cooking items safe at all times. Its granite top also makes it easy to clean and so it is easy to maintain.
6. Best easy to assemble – Origami Folding Kitchen Cart on Wheels
Island kitchen carts that are easy to assemble are not as numerous as they should be and it is even harder finding one that is of very good quality. The Origami Folding Kitchen however fits into both categories of good quality and easy assembly. Amazingly, this accessory is so convenient and easy that it can be opened and folded in about ten seconds. It also has a sturdy steel frame, a wooden top, and a towel bar at one of its ends.
Its caster wheels support easy movement so it can be whether indoors or outdoors. You are assured of a firm placement option as the item holds about a hundred pounds in weight. It is also easily collapsible and comes with a great space-saving feature. This multifunctional accessory can be a great pick when chosen.
7. Best drop leaf – Winsome Gregory Cart Kitchen
When thinking of extending your workspace within your kitchen without having to extend the kitchen itself, then this is the perfect pick for you. It comes with two drop leaves which are quite effective in providing extended workspace. As it gives you more space to work, it comes with ample storage options.
With a lower cabinet, an open shelf, two built-in side racks with a protective bar, and a large drawer for kitchen utensils, you can store as much as you desire without any stress. It also rolls easily with its two locking caster wheels and its composite wood finish makes it easy to maintain.
8. Best kitchen cart with spice rack – Homestyles General Line Mobile Kitchen Cart
With a paneled two-door cabinet, adjustable shelf, utility drawer, and a towel holder, storage is not a problem as far as this cart is concerned. Easy mobility is also provided with its two heavy-duty locking casters. It is also designed with sustainable hardwood and has a clear coat finish which supports durability as it prevents marring during use.
It is suitable for both indoor and outdoor use and is sure to give you the best value for any money spent on its purchase.
9. Best stainless steel top – Linon Hudson White Kitchen Cart
Stainless steel kitchen carts are often considered the best, coupled with those with steel tops as they tend to last longer. This accessory comes with a versatile design and stainless steel drawer pulls. It also has a stainless steel top which is sturdy, provides for easy placement, and is easy to clean and maintain.
It is most times utilized in serving appetizers to guests due to its smooth-rolling caster wheels which make for free movement. It also comes with various storage options for your food, utensils, and appliances and provides hidden storage features.
10. Best slim kitchen cart – Yamakazi Home Rolling Kitchen Storage Cart
When in search of a kitchen cart that fits your cooking space with no stress attached and still functions effectively, then this is the right choice for you. This lightweight multifunctional equipment is great for storing essential kitchen utensils, spices, oils, and other cooking materials that need to be within reach when cooking.
It has an open design which makes it possible for everything stored in it to be easily visible. It can be used indoors and outdoors as it has rolling caster wheels for easy transport. In addition to this, its sleek design makes it easy for it to fit into any available space without any inconvenience.
So no matter how limited your kitchen space is, you can always trust this equipment to fit perfectly.
10 Factors to Consider When Buying a Kitchen Cart
We researched and reviewed for hundred of hours, then we find 10 key factors that you should consider when choosing the best kitchen cart. This buying guide will provide you with tips on how to have funny and hitch-free moments in your kitchen. A smooth, comfortable, and smart kitchen is precisely the reason for coming up with this article.
#1 Sturdiness
This is the strength of the cart. Everyone is looking for a high-quality product. A cart should have this ability of resilience to specific forces. It is not appropriate if a cart moves on its wheel every moment you are working. One can achieve this by going for a solid and stable cart. A lightweight cart will not be steady, and it can be dangerous because the kitchen is where lots of other activities take place.
Obtaining a solid material can be achieved by thoroughly going through their product description. This will give you the overall detail of the cart and its external and internal features.
#2 Material Composition
Yes! A lot of materials are used in making carts. Many of these materials will not satisfy your needs. But carts made from wood, granite, and stainless steel are usually the best. They are strong and durable products. Also, carts made from these materials are easy to manage. Many buyers have given a lot of recommendations on these materials, and that is mainly because it gives them the best result.
The good thing about carts made from wood is that it has functions that many refer to as intermediate. It is not that heavy to be considered an immovable cart, and it is not too light to be considered a nuisance. So it is between the two extremes.
#3 Style
Carts come in different shapes and styles. Choosing the best means being acquainted with many other types. Many will tell you not to prioritize the chrome type because it is slightly lighter, though it is cheaper. But quality and durability are quite important.
Instead, you should consider the kitchen island and furniture when considering a kitchen cart. Also, you may consider a kitchen bar cart as a part of your home bar.
There are traditional, modern, contemporary, country, and transitional styles of kitchen carts. The traditional style carries medium to dark finishes, curved details, and graceful curves. The modern kitchen carts are based on neutral pellets and geometric shapes.
Similar to modern style carts, the contemporary ones carry geometric shapes, fine lines, a range of finishes, and textures.
#4 Consider Drop-Leaf Tops
These are formats that their extreme ends can be adjusted depending on the need. The advantage of this is that it gives you freedom, especially in smaller kitchens. You can keep down the leaves during the everyday routine, and when the need arises, you can gently pull it up for more area. However, this format is not convenient when it comes to the preparation of food. Its chief merit is to increase your tabletops.
#5 Dimension
This is another essential factor worthy of consideration. The size of the cart should reflect the space kept for it. This will save you from an awkward arrangement seen in many kitchens. When you keep the cart close to an island or kitchen table, the height of the cart and the island/table should be the same to avoid clumsiness.
If the cart is mainly for storage purposes, the one with multiple storage compartments will be the main target here. Apart from that, some carts are also collapsible for ease of storage. You can move it outside the house when cooking barbecue in summer. However, one should ensure that the size will fit what it is intended for.
#6 Pick The Right Surface
When one already has a table separately for dining and looking for a kitchen cart mainly for food preparation, then a cart topped with a butcher block should be your target. It will provide the best surface for cutting, and it is durable, too. Another exciting feature of this category is that the butcher block is leaky, and cleaning it is simply like wiping down on every use.
Having the right surface saves your time from unnecessary arrangements. For instance, when looking for heat resistance and more pressure bearing carts, one will go for stainless steel. However, the disadvantage is that you will have to look for an extra chopping board because the steel surface cannot be used for cutting.
#7 Ease of Mobility
When choosing the cart, this is yet another factor to be considered. Though it depends on your choice, experts, and people that have used this equipment continuously will always emphasize the easily mobile ones.
The ones with ease of movement are considered because not everything will be conveyed to the location of the cart all times, some other works in the kitchen may not be easy to move about, but when the cart is mobile, it is a plus. However, a good cart must not be freely mobile, as it may result in some form of accident.
#8 Ease of Maintenance
No doubt, ease of maintenance is considered since the filthy kitchen will not be healthy. An ideal kitchen cart should be very easy to clean when probably there is spillage of food or anything on it. When thinking of this, another thing you should consider is the environment. Do you live with your kids? If you do, you must avoid anything related to glass.
As mentioned earlier, wood material will be the best choice in such an environment. In this case, one must also choose the color that will match the environment. Many prefer white, but that's not a good idea because of meals and lots of other functions that are a potential source of stains.
#9 Storage
Even though carts that are exposed give you access easily to the pans and the pots on them, they are prone to dust. A big advantage of open carts is that they don't have doors that tend to interfere with one's mobility in the kitchen. On the other hand, carts with doors are excellent in keeping clutters, but be sure a good position is provided for it to open and close the doors easily without hindrance.
For people who are more inclined to carts that can serve as a bar as well, their perfect choice should be those carts that come with a caddy to hold bottles, preventing them from falling. Apart from that, the wine rack lets you showcase your wine collection. It is made in such a way that a bottle of any kind can comfortably settle on it. This is the type most used in public areas like hotels and restaurants.
#10 Versatility
This is what puts a specific product above others. In this era, everyone wants to purchase a product that offers more than it's supposed to. Some kitchen carts come with a breakfast bar that allows you to eat. Some carts also provide you with an option for hanging towels on towel racks.
Apart from that, some carts also have S-hooks to hang utensils for easy access and storage. If you want to save yourself from the hustle of going in and out of the kitchen to get the seasonings, a spice rack will come in handy.
Final Thoughts
Your kitchen storage would be limited in the absence of kitchen carts and so their relevance can't be undermined. When choosing them, however, you should always choose those of top quality. Overall, the Whitmor Supreme Microwave Cart With Locking Wheels is the best choice as far as quality is concerned. The Dorel Living Kitchen Island can also make a valuable addition to your kitchen.
Choosing the best cart is of great significance as that is the only way the constant issue of "my kitchen is too small" will be managed. By reading this article, you are already equipped with the necessary information to buy an ideal kitchen cart. The guide provided is in line with what many users find useful. It also accurately outlines the features of the cart that can be easily appreciated without any need for professionals.
Particular attention should be paid when it comes to factors such as the material, sturdiness, mobility as well as ratings. These factors are critical to the best and versatile cart. And don't forget about the style of your other furniture in the kitchen, such as a sideboard, accent cabinet, and kitchen bench. In case you are buying online, ensure that the given dimensions are accurate as it might look easy to buy from the internet and another thing to fit the cart into the provided space.
---
Rate This Article