10 Best Noodle Makers – Reviews and Buying Guide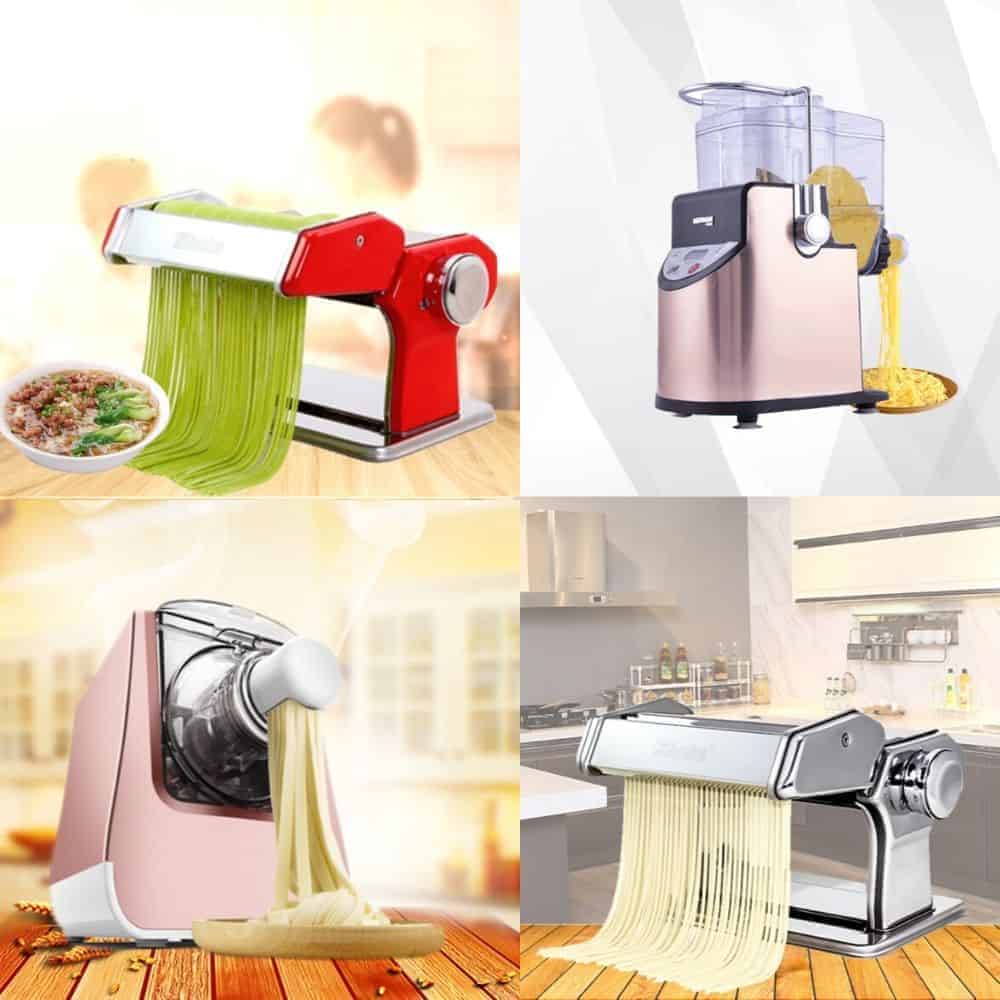 Why You Need a Noodle Maker?
You can get a pack full of noodles from the store anytime you want. They are easy to make and also tastes good. But only a true noodles lover knows the satisfaction of making home-made, fresh noodles. To many of you, this seems to be just extra work but for noodle lovers, it gives them some sort of happiness that we won't understand.
When making noodles at home, it can consume a lot of your time. But you can simplify your task with the help of a noodle maker. When the noodle is ready, you can simply add your favorite noodle sauce, such as Japanese noodle sauce and Asian noodle source, to make it tasty.
Like bread maker machines, a noodle maker is a machine that is designed to help your noodles hassle-free. It is easy to use a device that can be used by anyone.
If you like the sound of homemade noodles then you should get a noodle maker for your home. If you need help to choose the right noodle maker then you are in the right place. In this article, we will discuss the important benchmarks that you need to keep in mind while buying a noodle maker.
Quick Summary
1. Best Manual Pasta Maker – Marcato Atlas 180
2. Best Electric Pasta Maker – Philips Viva HR2371/05
3. Best Low Budget Pasta Maker – Gourmex Pasta Maker
4. Best Low Budget Manual Pasta Maker – Imperia Manual Pasta Machine
5. Most Aesthetic Noodle Maker – Marcato Atlas 150
6. Best High-End Pasta Machine – Philips Pasta and Noodle Maker
7. Best Heavy-duty Pasta Maker – CucinaPro Titania Pasta Maker Machine
8. Best Pasta Press – KitchenAid KSMPEXTA
9. Best Pasta Cutter – Weston Electric Pasta Machine
10. Best Pasta Roller and Cutter – KitchenAid KSMPRA Spaghetti Cutter
Top Best Noodle Makers
1. Best Manual Pasta Maker – Marcato Atlas 180
What sets the Marcato Atlas 180 apart is not its inherent versatility, but the ability to be precise and achieve the thickness of dough that suits you whatever the desired realization. However, efforts on your part are required.
This pasta machine is particularly light and compact. However, let us note its main flaw: there are no accessories provided, and you can only prepare three types of pasta directly with the product: lasagna, fettuccine, and taglioni.
If you want to go further, you will therefore need to equip yourself with additional pasta cutters. On the other hand, to limit the efforts required in use, you can combine this object with a Marcato Atlas motor, which is sold separately.
You can choose between 10 thicknesses, ranging from 0.2 mm, or 0.01 in, to 2 mm or 0.08 in. You can insert a 180 mm wide paste, or 7.08 in. By combining this with personal accessories, the possibilities are endless.
2. Best Electric Pasta Maker – Philips Viva HR2371/05
One of the great advantages of this product is that some of the components are removable, which makes maintenance much more pleasant and quick, especially compared to manual machines.
The other big advantage is that you don't have to put in any effort other than inserting the ingredients into the container. Indeed, a stirrer and a kneading tube take care of the rest. To vary the pleasures, Philips has included with its device a cookbook which can give you some ideas and ideas.
It takes 18 minutes for the appliance to prepare 450 g or 15.87 oz of pasta. This is a suitable amount for 2 to 3 people. The turnaround time is quite reasonable, although if you want to prepare a meal for the whole family, it will be necessary to plan.
You have three extrusion accessories, and you can make penne, spaghetti, and fettuccine. Two measuring cups are included for water and flour, as well as a cleaning brush and dough cutter. Like the main unit, the assembly is made of plastic. The general solidity can be disappointing, you have to be careful.
3. Best Low Budget Pasta Maker – Gourmex Pasta Maker
If you are on the hunt for low-price deals, then we recommend the Gourmex Pasta Maker manual pasta maker. It performs all the necessary functions to let you prepare your fresh pasta on a budget while delighting your taste buds.
In addition to being available at a very affordable price, this manual pasta machine is quite durable, thanks to its stainless steel structure. What's more? Its design is quite elegant, thanks to its chrome finish.
With the Gourmex Pasta Maker, you can make lasagna, angel hair, or ravioli. To let you choose the thickness corresponding to your recipe, this manual dough machine has 7 different settings. You can knead your pasta with the steel crank equipped with a pleasant handle.
Thanks to its double-cutting head, you can create pasta of different sizes. What's more, the utensil can be kept stable with the vise included with the set. You can fix it to the edge of the table for your convenience. The crank and vice are detachable for easy storage of your pasta machine after use. A recipe book is also included to guide you in creating your dishes.
4. Best Low Budget Manual Pasta Maker – Imperia Manual Pasta Machine
The Imperia Pasta Maker is a manual pasta maker that turns out to be quite affordable. However, note that the vise provided is not very effective: the object tends to tip easily, and the slight jolts greatly affect the quality of your pasta.
For optimal use, it is necessary to do it with two people, one holding the machine while the other uses it: it is frustrating and impractical. However, you can make spaghetti and fettuccine with the machine. Admittedly, these are two classics but we would have liked more. However, it is still possible to purchase additional accessories, but this automatically increases the initial purchase price.
While the bulk of the machine is chrome steel, there are a few less solid plastic components that can easily break if you get a little tough on it. Therefore, if you have regular consumption of fresh pasta, it is not the best choice: it is intended for occasional use.
5. Most Aesthetic Noodle Maker – Marcato Atlas 150
The Marcato Atlas 150 red pasta machine is undoubtedly one of the prettiest that you can equip your kitchen, however, its price is generally very noticeably higher than the gray model, without any gain in functionality.
Solidity is guaranteed however as the product is made of corrosion-resistant chrome steel, while the rollers are nickel-plated. A 3-year warranty can also reassure you about your purchase.
One small flaw with this pasta maker remains the limited versatility: you can only prepare fettuccine, spaghetti, and taglioni. If you want to go further, you need to equip yourself with additional accessories. The popularity of the machine allows a large number of choices: you can acquire up to 13 of them. Thanks to the rolling mill, you can choose a thickness ranging from 0.3 to 2.5 mm, i.e. 0.01 to 0.1 in.
6. Best High-end Pasta Machine – Philips Pasta and Noodle Maker
One of the big strengths of this machine is its ability to make fresh pasta in just 10 minutes, thanks in part to the extrusion force of its 200-watt motor. This feature also allows you to get noodles with a homogeneous texture.
To start the process of creating your pasta, nothing could be simpler. After incorporating the right doses of flour and water, all you have to do is press the button and the machine will mix, knead and extrude your pasta.
If you're worried about putting too much water in your recipe, the built-in automatic scale lets you weigh flour precisely and tells you the right amount of liquid to apply in your recipe.
7. Best Heavy-duty Pasta Maker – CucinaPro Titania Pasta Maker Machine
This is arguably one of the best manual pasta makers you'll find on the market for a low price. Made in Italy, this pasta machine allows you to make simple recipes. It may be the perfect utensil to prepare ultra-fresh meals for you and your companion or small family.
The device is sturdy thanks to the steel it is made of, and it is still fairly easy to use. The wooden handle of the crank gives you comfort and sturdiness when using this utensil.
After preparing your dough manually, you can make lasagna or cut them into the pasta you want to cook later. With this machine, it is very easy to prepare the dough with the thickness you want, for making spaghetti, or fettuccine, as well as classic lasagna. It is a device that is also easy to clean.
The Titania pasta machine includes a roller for preparing dough in the thickness you want, as well as two pasta cutters to obtain spaghetti or linguine.
8. Best Pasta Press – KitchenAid KSMPEXTA
Do you have a mixer in your kitchen and you are looking for a simple and compact solution to be able to make your pasta? Then opt for the KSMPEXTA pasta press from KitchenAid.
Although it is very expensive for an accessory, the KitchenAid pastry press fits perfectly with any stand mixer of the same brand, which is sold separately.
This accessory comes with six interchangeable shaping plates, allowing you to prepare spaghetti, bucatini, rigatoni, fusilli, or macaroni of varying sizes.
You have the possibility of making noodles of the desired length, with the included wire cutter and thus make different recipes thanks to this very compact equipment.
9. Best Pasta Cutter – Weston Electric Pasta Machine
The Weston Roma Express is an electric machine, so you don't have to turn a crank, among other things, but it looks and works very similar to a manual machine.
On this product, the very limited versatility can disappoint. Indeed, if you have two rollers, one for the spaghetti and the other for the fettuccine, they do not always prove to be extremely effective: it is often necessary to make adjustments by hand yourself.
Indeed, the primary purpose of this machine is normally to eliminate effort, since it is electric and operates with a 90-watt motor. It is a 120 V device designed for the North American market. It also has a particularly simple use: all you need to do is press a button, nothing more.
Apart from the cutting rollers, the quality is great: steel is the main material. The service life is good, but, regrettably, the warranty offered is very short: only one year.
10. Best Pasta Roller and Cutter – KitchenAid KSMPRA Spaghetti Cutter
If you already have a KitchenAid stand mixer, sold separately, then you can start making your spaghetti, fettuccine, or lasagna noodles with the KSMPRA Spaghetti Cutter.
The three small pasta machines use the energy and power of your stand mixer to quickly and effortlessly produce the pasta you want to make. Be aware of the noise that the device may cause during the process.
The rollers and pasta cutters in this set are sturdy and durable tools that are made of stainless steel. They have been designed for a clean and precise cut, with eight thickness settings.
A cleaning brush is also supplied with the set. The utensils are made of steel, so it is not recommended to wash them in water. Just let the pasta residue dry for one hour before cleaning the devices.
10 Things to Consider Before Buying a Noodle Maker
If you are buying a noodle maker for the first time, chances are that you don't have any idea about the device. But no worries, we have got your back. We have listed all the important considerations that you need to check while buying a noodle maker. Here you go with the details.
1. Dough making time
One of the important considerations is the time taken by the device to make the dough. No one likes to have soft and sticky noodles. You get such noodles when you use excess water to make the dough. The total time taken to prepare noodles can tell you whether they are gluten or not.
As you may have noticed, noodles taste better once they roll out of the device. If the machine claims to prepare the dough in 3 to 5 minutes then your noodles will be perfect. Also, they won't taste bad either. It is important because it highly affects the mouthfeel after steaming or stir-frying.
2. The Requirement of Additives
When you choose a good noodle maker, you get moderately elastic and hard noodles which are just perfect. One of the main advantages of making noodles at home is that you don't have to use any additives to make the noodles more elastic.
If the manufacturer asks you to add flavorings and gluttonizes then you know that the device is not worth it. The bottom line is that a good noodle-making device can get the work done by itself. It doesn't require any help.
3. The Material of the Noodle Maker
The next important thing is the material of the noodle maker. You are putting everything in the machine direction and then consuming it. Therefore, it is very important to check the material of the device. You need to make sure that the material used is food grade.
Some of the machines have their kneading rod rotating continuously while they knead the dough. The rod rotates quite fast because of which the machines gets heated up. Also, the outlet gets hot when the machine squeezes out the noodles.
The heating of the machine can leave an impact on the material that it is made of. However, that may differ based on the material used in the machine. For example, if the kneading rod is made of plastic, then it will release bisphenol which is a toxic substance. This substance can lead to brain cancer as well. In case, the noodle makes rod is made with aluminum alloy, it will release metals when the temperatures go up. This gets mixed with your noodles and thus, causing harmful effects on your body.
This is why you need to check the material of the noodle maker. A good noodle maker should be made of stainless steel material. It should be of food-grade. This is very important for your health.
4. Ease of Use
The main point of buying a noodle maker is to simplify your task of making noodles. The device should help you to make noodles faster and in a better way. You need to choose a model while keeping this in mind.
The most important thing you have to consider in this case is whether the noodle maker is an electric one or manual. In an electric noodle maker, the noodles are made automatically. All you need to do is put the dough in the machine and it will automatically squeeze out the noodles. It requires very little effort and also it's faster.
The second type is the manual one where you have to roll out the noodles by rotating the lever provided. This type of noodle maker requires more effort and time. So before you get your hands on a noodle maker, make sure that it's easy and convenient to use. Or else it beats the whole purpose of buying a noodle maker.
5. Speed
The speed of the machine is dependent on its type. If you are buying a noodle maker, it's obvious that you want to get done with the task as fast as possible. This is why you have to look for the fastest machine.
If you are using a manual noodle maker, it is going to take a lot of time. That's because you have to roll out the noodles manually. However, that is not the case with an electric noodle maker. This is an automatic option and therefore, it doesn't require much effort.
6. Noise Level
The next important thing is the level of noise produced by the machine. When making noodles, you don't want to disturb your entire family. You want to keep the process quiet and peaceful.
Every noodle maker has some sort of noise. But you need to make sure that the noise level is within the limit. When the noise level goes beyond the limit, it annoys. Different machines come with different levels of noise. Therefore, you should check it while buying the device. This will save you from getting the wrong machine for your use.
If your noodle making is shaking and making noise, it means that the material used is light which is causing the unstableness. This kind of machine is not good and you should avoid buying it. If you are investing money make sure that you get the right stuff for yourself.
7. Reputed Brand
Just like every other product even noodle makers have brands. It is always advisable for you to buy a noodle maker from a reputed manufacturer or brand. This will ensure that you are getting a quality item.
Good brands provide good devices. They will not risk their reputation by providing you inferior quality stuff. This is one of the main reasons why you are asked to purchase from them.
There are many reputed brands in the market. In case, you don't have any idea about the brands, you can do your research. Search for the brands that people prefer the most. The brand with the maximum positive reviews is what you should choose. This ensures that you are investing in the right item.
Buying a noodle maker from a reputed brand may cost you a bit more but that's worth it.
8. Ease of Cleaning
Once you are done making your noodles, you have to clean the device. This process often makes your kitchen or kitchen island really messy, which makes people frustrated. This is one task that we all hate. This is why you need to buy a device that is easy to clean. You need to make sure that your device has dishwasher-friendly parts.
9. Budget
Budget is always an important affair when it comes to buying something. Noodle makers are available in all price ranges. This gives you the option to choose your budget. Some machines are expensive while others are cheap.
The problem with the cheap noodle machines is that most of them are made with inferior materials which may cause harm to your health. This is why you are advised to opt for a noodle maker from a higher range. By spending a little extra you can get a good quality item for yourself.
10. Warranty
No matter what product you talk about, warranty is always an important part. When buying a noodle maker you must check the warranty period you are offered with it. The longer the warranty period, the better it is for you.
Getting a longer warranty period means you can stay relaxed for a longer time. If anything happens to your machine within the warranty period, you can get it fixed by the manufacturer.
Some of the brands provide you with longer warranty periods while others don't. Companies that give you longer warranty have confidence in their product. This automatically proves that their products are good.
Wrapping It Up
A noodle maker is designed to help simplify the task of noodle making. It speeds up the process and reduces your effort. Therefore, you need to look for efficient machines with all the right features. If you opt for a cheaper model then it beats the whole purpose of buying a noodle maker. Before you buy a noodle maker you should check all these factors to be sure that you are investing in the right machine.
Sometimes the simplest pleasures are also the most pleasurable: what better way, after a long day, than to come home and enjoy delicious pasta? It appeals to everyone, from the pickiest kids to foodies.
For this, the most obvious solution is to equip yourself with a pasta machine. From manual to electric and automatic models, we have introduced you to the best pasta makers, also called noodle makers. With these products, you have both controls over what you cook and what you consume.
Our favorite model remains the Marcato Atlas 180 pasta machine. Those who want an electric pasta maker can choose the Philips Viva HR2371/05.
---
Rate This Article