10 Best Snow Cone Machines Reviews and Buying Guide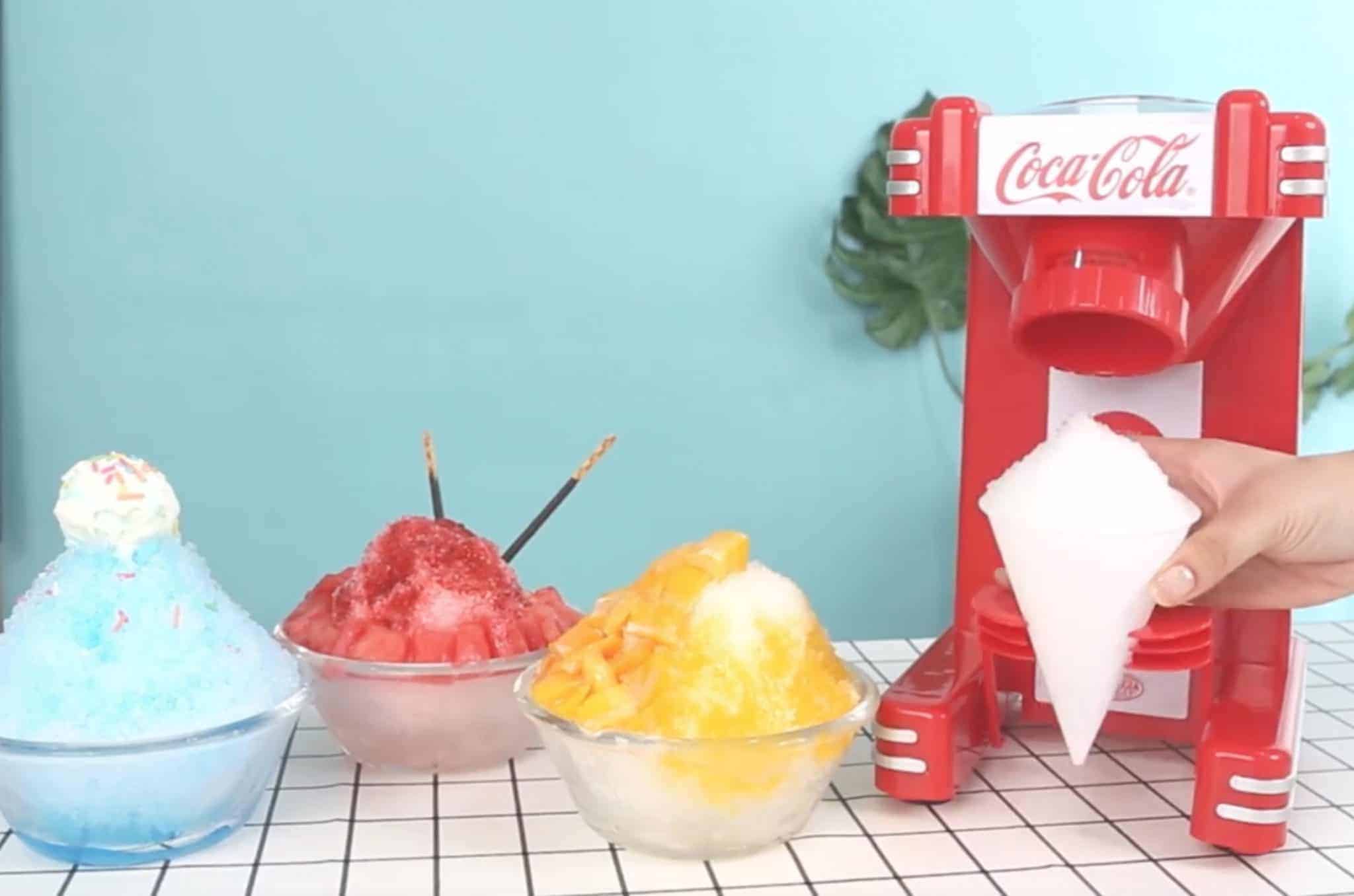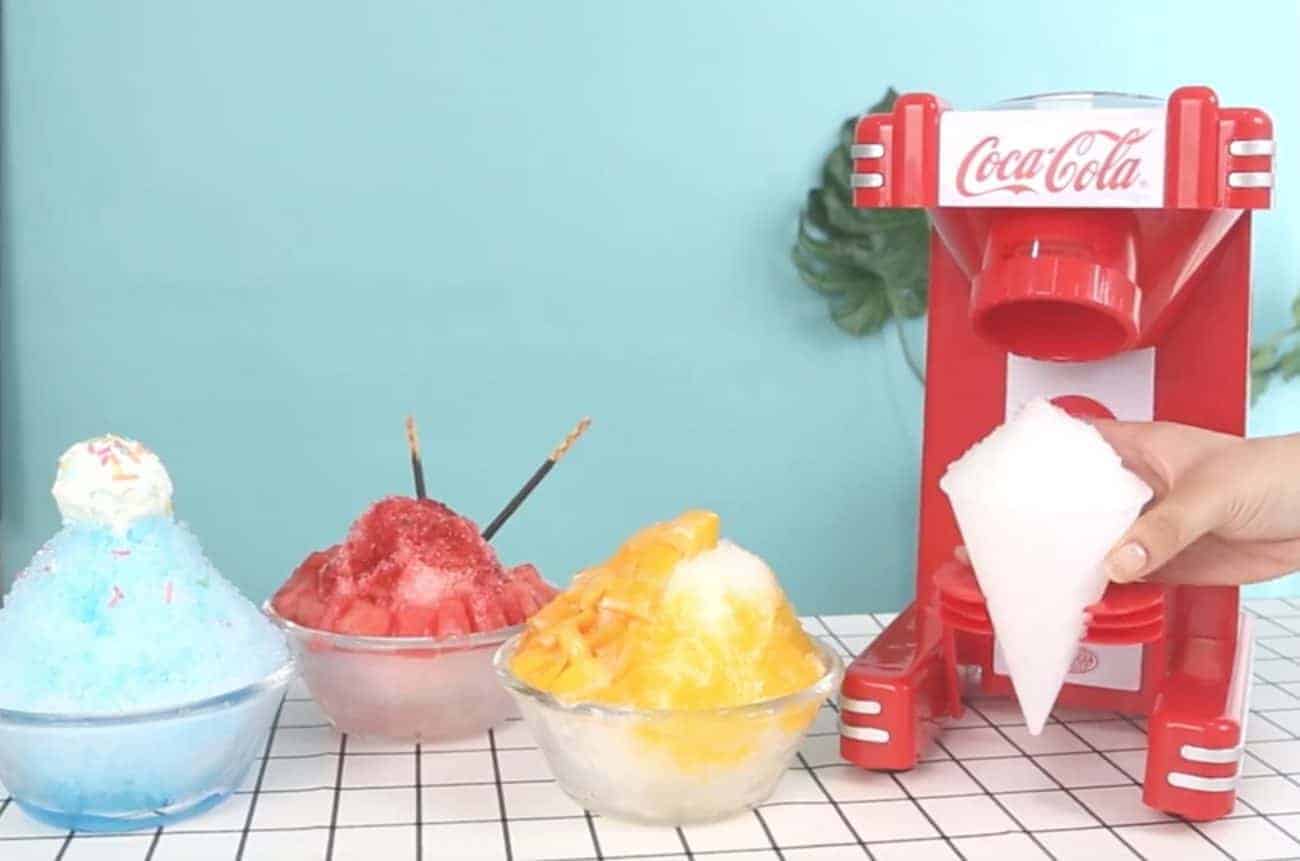 How to Select a Snow Cone Machine?
If you are a fan of icy smoothies or ice creams, then the snow cone machine is for you. Whether electronic or manual, this device that can crush ice cubes into fine particles is essential for your apéritifs, digestifs, and cocktails. There is a multitude of models of snow cone machines on the market. This, therefore, does not make it easier for the potential buyer to choose the best device.
Quick Summary
1. Our Top Pick – Little Snowie Max Snow Cone Machine
2. Best Countertop Snow Cone Machine – Cuisinart Snow Cone Maker
3. Best Compact Snow Cone Machine – Hawaiian Shaved Ice S900A
4. Best Budget-Friendly Snow Cone Machine – Nostalgia RSM602 Countertop Snow Cone Maker
5. Best Electric Snow Cone Machine – VEVOR 110V Commercial Ice Crusher
6. Best Big Snow Cone Machine – Nostalgia SCM550COKE Snow Cone Maker
7. Best Commercial Snow Cone Machine – VEVOR Commercial Ice Shaver Crusher
8. Best Retro Snow Cone Machine – Nostalgia CLSC1AQ Classic Retro Snow Cone Maker
9. Best Durable Snow Cone Machine – WYZworks Stainless Steel Commercial Ice Shaver
10. Best Multifunctional Snow Cone Machine – OKF Ice Shaver
Editor Pick Snow Cone Machine Reviews
1. Our Top Pick – Little Snowie Max Snow Cone Machine
This product delivers great flavors whenever and wherever you require it. The Little Snowie snow cone machine is inspired by commercial ice shavers and is a cost-effective way to enjoy premium shaved ice. The ice shaver will only work if the lid is completely pressed down, which means that my fingers will never come into contact with the blade while it is in use.
The blades have ten edges and are made of 301 stainless steel with an extra full hard temper for smoother, finer snow. This snow machine has 1000-watts of power and 2.7 peak horsepower, which means power and speed. This snow cone machine is also compact enough to fit on a counter in any kitchen. The Little Snowie snow cone machine is a versatile piece of kitchen equipment.
2. Best Countertop Snow Cone Machine – Cuisinart Snow Cone Maker
In seconds, this machine turns out sweet, icy and delectable treats. I prepare cones, frozen lemonades, slushies, and even party drinks with it. It's simple to use; I simply put in ice cubes then the machine rapidly shaves as much ice needed for 5 cones in less than a minute. Then, for cool, refreshing fun, top it all off the ice with syrup or juice.
It's small enough to sit on a counter but light enough to move around for events. The ice bin is detachable and simple to clear and clean. A pop-out tray can hold four cones for easy serving, and the set includes 12 paper cones and four reusable cones, as well as recipes.
3. Best Compact Snow Cone Machine – Hawaiian Shaved Ice S900A
This compact snow cone machine has a stunning design. Every serving of fine and fluffy snow is made sure by the precise stainless-steel blade and cylindrical ice blocks. This kit includes 25 snow cone cups, 3 black bottle pourers, 25 spoon straws, 2 round ice molds, and 3 ready-to-use pints of Grape, Cherry, and Blue Raspberry.
4. Best Budget-Friendly Snow Cone Machine – Nostalgia RSM602 Countertop Snow Cone Maker
This snow cone machine is ideal for parties or snacking. The Nostalgia RSM602 can contain up to 20 cones at a time, ensuring that there are enough snow cones to go around. This machine's precise stainless-steel blades work fast and effectively to grate ice cubes into yummy, fluffy ice. I also use the side shelf for prepping two snow cones and a variety of syrups.
This product is the ideal size for a kitchen top or a table which makes it much easier to prepare snow cones anywhere. The package includes two plastic snow cones as well as a scoop for serving snow cones. This machine is perfect if you're on a strict budget.
5. Best Electric Snow Cone Machine – VEVOR 110V Commercial Ice Crusher
This snow cone machine has a food-grade stainless steel blade, as well as a thick PC material ice storage box and non-slip rubber feet. This product uses dual blades, which provide twice the shaving speed and are more effective than a single blade. The quantity of crushed ice produced per hour is up to 180 kg. I discovered that pressing the handle increases the rate of crushing ice.
It has a smooth extra-thick PC storage box that keeps the entire box cool when stuffed with shaved ice. The VEVOR ice crusher is perfect for shredding large amounts of ice. Simply plug in the machine, turn on the switch, put in ice cubes, then pull the handle to make hassle-free shaved ice. It is sanitary, simple to clean, low-noise, and low-maintenance, making it suitable for most applications. Snowball machines are ideal for creating smoothies, milkshakes, and icy drinks.
6. Best Big Snow Cone Machine – Nostalgia SCM550COKE Snow Cone Maker
This Nostalgia SCM550COKE Snow Cone Maker can prepare up to 20 snow cones at a go, making it great for large gatherings. This machine's stainless steel cutting blades shave ice cubes into fluffy ice quickly and efficiently.
This unit is small enough to fit on a counter top or a small table. With this wonderful countertop unit, you can serve snow from the ice storage bin and prepare it on the nifty cone shelf.
7. Best Commercial Snow Cone Machine – VEVOR Commercial Ice Shaver Crusher
This snow ice maker machine, made of sturdy plastic and stainless steel, has the advantages of easy cleanup and an elegant appearance for long-term use. This snow cone maker has a reverse function in addition to the simple on/off switch. When the snow cone machine gets jammed by ice, it can change the direction of rotation.
A water outlet at the base allows melted ice to be quickly drained. For added security, there is an emergency button. Grooves on both sides allow for easy movement. The machine's powerful 350-watt motor, coupled with a 420 stainless steel blade, allows it to produce approximately 500 kg of snowflakes every hour.
This automatic ice shaver machine is easy to clean, elegant, and has a long service life. It is made of food-grade stainless steel and ABS plastic. The one-of-a-kind 420 stainless steel blade, which includes a spare easy-to-replace blade, is designed for low noise and high crushing speed. A rotary knob can be used to easily adjust the thickness of the ice. This ice crusher can shave ice blocks of various shapes, such as column ice, cube ice, flake ice, etc.
8. Best Retro Snow Cone Machine – Nostalgia CLSC1AQ Classic Retro Snow Cone Maker
This is a simple method for making yummy, fluffy snow cones. This product is compatible with all Nostalgia snow cone kits. This snow cone machine's precise stainless steel cutting blades work effectively to grate ice cubes into fluffy ice.
This product has a retro look that includes a front-mounted LED Power Gauge that tells you when the machine is prepared to start and when it's running.  This unit is the ideal size for a countertop or table, making it simple to serve snow cones wherever you are.
9. Best Durable Snow Cone Machine – WYZworks Stainless Steel Commercial Ice Shaver
This snow cone machine is built to last with a sturdy stainless-steel base, holding bowl and shaving blade. The On/Off switch has been protected with a waterproof cover to ensure safe operation and avoid any mishaps.
The smooth design is eye-catching, and it is unlike those found in typical machine designs. Simply place the ice in the hopper and push the handle to complete shaving ice. The powerful motor can churn out 440 lbs of shaved ice every hour. This machine also has dual stainless-steel blades that help shave ice.
10. Best Multifunctional Snow Cone Machine – OKF Ice Shaver
OKF snow cone machine makes fancy cocktails, as well as fresh fruit, shaved ice. The distinct three-blade design significantly increases work efficiency and allows the making of a large number of cones in a short period. The streamlined design and sleek colors are fitting for a kitchen or bar. The powerful motor allows it to run continuously for an extended period of time.
Some issues have also been resolved by the anti-splash design. When you use it, ice will no longer shoot out to the side or splash everywhere. The metal handle is also sturdy and durable, and because it conforms to the ergonomic design, pressing it will give a more comfortable feel, resulting in a more pleasing experience.
Top 9 Factors to Consider When Buying Snow Cone Machines
With this buying guide, we will try to facilitate your important task of choosing the best snow cone machine:
#1 The Type of Machine
First of all, you should know that there are two categories of these machines. You have the choice between the manual and the electric versions. The comparison should, therefore, be based on the following
The manual snow cone machines are often equipped with crank and non-slip feet. They allow the user to grind the ice cubes easily. They are very useful when you go out camping in the woods, for example. This is because it does not need electricity to operate. Its main advantage is that it costs significantly less than the electric model. Of course, there are no risks of shocks or high electrical bills.
The purchase of this type of appliance will depend on its capacity. Some of them, including automatic models, can hold up to 10oz fluid. For manual appliances, the capacity will depend on the number of ice the reservoir can accommodate. You will find on the market capacities varying from 10 to 15 ice cubes for each round.
As for the electric model, it allows you to obtain pretty crushed ice very quickly. The strength of this device lies in its efficiency and practicality. For professional use, it is better to turn to the electric types. Its ability to produce ice independently will allow you to take care of something else.
In addition, its speed and production capacity is rather important. These will allow you to satisfy a large number of guests and customers without exhausting your energy. However, if you have to go for this type, ensure it has a safety switch.
#2 Snowcone With Ice Shaving Ability
Versatility is always a plus when choosing virtually any kitchen or bar appliance. Why spend top dollar buying a snow cone machine and an ice shaving machine? For half the price and size of these two combined, you can easily get a machine that combines these features.
In fact, these types of machines are easily discovered from the product names. Then, all you have to do is choose by weighing their quality against other purchase criteria. Examples of these models of machines are the Hawaiian Shaved Ice and Snow Cone Machine and Little Snowie 2 Ice Shaver.
#3 A High-performing Device
The role of this device is to break large blocks of ice to obtain finely ground ice that you can then put in your drinks. A good model will be able to crush a large number of ice blocks in a minimum of time. In fact, a high-performing machine can crush up to 15 kg of ice cream in just one hour.
This criterion, however, only applies to electric types which are equipped with a rotating blade and motor. To get efficient results for commercial uses, choose a model with at least 400 watts and 1500 revolutions per minute (RPM). For household use, a 200 to the 400-watt model will suffice.
#4 Sound Level
The level of noise – measured in decibels (dB) – of the appliance is also an important factor to consider while choosing this type of device. While manual types make lesser noise, you will have to take into account the noise your electric snow cone machine will possibly make. The only downside with the electric device, and to some extent, the manual models, is that it is quite noisy when it works.
However, the noise comes mainly from the pieces of crushed ice and not from the device itself. You shouldn't be mistaken about this. But still, silent products remain the best, and there are types with special designs that silence the crushing sound.
However, you have to know that silent machines may not necessarily mean very powerful or high-performance machines. So, it's up to you to prioritize based on what your needs are.
#5 Size and Tank Capacity
For occasional use, you need a machine with a small tank of no more than 6 oz capacity. However, if you use the appliance regularly or if you need a large number of ice cubes, choose large machines that can take in more quantities. Some types can make more than 20 snow cones.
It should be noted that the general dimensions of the machine depend on the capacity of their tank. If you want to have a compact and silent machine, you will therefore only have a limited tank.
However, never purchase a professional snow cone machine for use at home. It will not only take up a lot of space; it will be costlier and noisier.
#6 Design
Even if the design of the device is not a strong determining factor in its choice, you still have to interior decor. In this aspect, you have many options to decide on, whether in the shape of the machine (compact, bulky, rounded, angular, etc.), in its general finish (stainless steel, plastic), and especially in terms of color.
Like all well-designed products, you will find chic snow cone machines, as well as elegant, flashy, fun, discreet, vintage models.
In terms of design, it would be ideal to opt for a compact device. This will fit more easily into the decor of your living room or your kitchen. And as mentioned earlier, these types are ideal for use anywhere outside the home.
The models built of stainless steel are also a good choice not only due to their aesthetic side but also for their practicality. These are much easier to maintain and are also much more robust.
#7 Included Accessories/Preparation Items
Many machines come with a specific number of cones while others don't at all. Although this may add up to the final price, it's always good to have a machine fully packed for immediate use. Professional snow cone makers often come with these additional accessories. For example, the Waring Pro SCM100 and Cuisinart SCM machines come with 4 reusable snow cone cups and 12 paper cones each. Others may offer 2 or no snow cones while others can have up to 25 cones.
Asides the presence or the number of snow and paper cones, there are other items to watch out for in the pack. These include the snow spoons, bottle pourers, and ready-to-use syrups for snow cones.
#8 Functionality/Ease of Use
A functional device is a device that is easy to use without giving you a headache. So for an electric model, the use of a single button is enough. You don't have to tire yourself to understand how the system works.
A metal crank, preferably stainless steel, guarantees easy use for manual versions. In addition, devices with a serving shovel are much more useful for hygiene and ease of use reasons. Ideally, your device should not have rusty parts. Otherwise, it will not only be a short-lived model, but it is not at all hygienic.
The level of noise produced by the device is not to be overlooked, especially in the case of regular use.
Besides, for more functionality, choose a model that has excellent stability. These are types that have non-slip feet or a base provided with a suction cup. This is particularly relevant when it comes to a manual snow cone machine.
#9 No BPAs
Safety is an important criterion in snow cone machines. The safety consideration has to be extended to both the machine construction and the supplied cones.
First, ensure that, if you have to choose an electric model, it is safe to use and include a safety switch for emergencies. Hence, ensure the machine is listed by ETL or other reputable global safety standards organizations.
Secondly, the dangers of Bisphenol A (BPA) have been widely documented ever since it began to be used to make resins and plastics since the 1960s. Research shows that when users are exposed to this chemical, they may develop fertility problems, heart diseases, male impotence, among other issues.
Therefore, ensure your preferred plastic model has no BPA materials on the parts that are in contact with the food and the supplied cups. Confirm that the model has the "BPA-free" tag. If you can't find this on the model or in its review, ask the seller or just move on to the next product.
Takeaway
A snow cone machine can be fun equipment to have. This piece of machinery is something you never knew you needed. A snow cine machine is perfect for families and kids love them. A snow cone machine is also perfect for gatherings. We've highlighted ten of the best snow cone machines you can get. When selecting the right snow cone machine, it is important to look at the size, the features, and the value for money.
This is one of the reasons the Little Snowie Max Snow Cone Machine is our top pick. Meanwhile, if you want to go for other options, you could take a look at the Hawaiian Shaved Ice S900A if you're searching for something compact and effective, or you could opt for the Nostalgia RSM602 Countertop Snow Cone Maker if you're on a tight budget.
The snow cone maker has gradually established itself as an indispensable device in our homes. To help you have the model that fits your needs, we have listed some criteria to consider.
Choose a manual type if your budget is limited and you just need a model for occasional use. If you need a professional machine, then the electric type is a no-brainer.
Look for a simple device that can also fulfill the function of crushing ice cubes. Remember that ease of use, safety, versatility, and functionality are key considerations that can give value to your money.
---
Rate This Article