6 Best Stovetop Steamers for Chinese Cuisine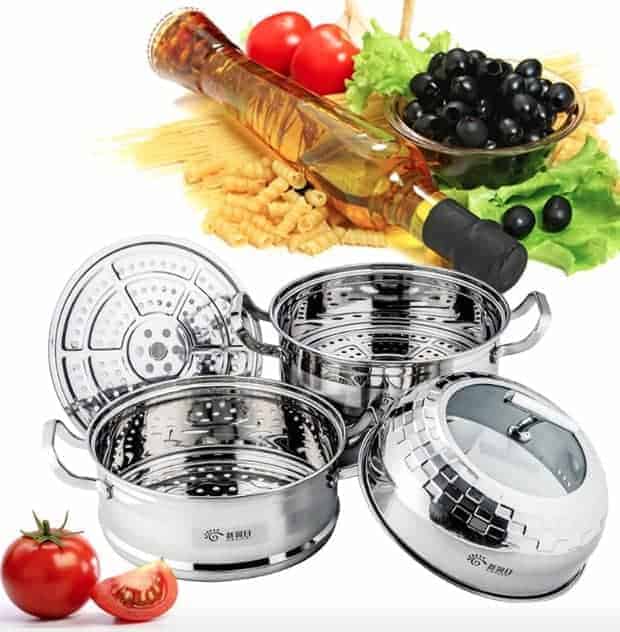 Aside from deep-frying and stir-frying, steaming Chinese food is also one of the main cooking methods used to prepare authentic Chinese cuisine. It is a very healthy way to cook your food as it allows you to prepare delicious meals without using oil or empty calories. You can steam food even if you have no range hood in your house because it almost has no oily smell. It also eliminates the need to constantly stir or mix, making it an ideal method for preparing soft foods that would otherwise break apart.
And because steaming food offers a lot of health benefits, it is no wonder the market is filled with a variety of steamers with different designs. With numerous such options out there, it can be overwhelming to pick the best one. Lucky for you, we will be giving you some pointers on how you can find the best stovetop steamers along with our top 6 recommendations.
How to Find the Best Stovetop Steamers for Chinese Cuisine?
Keeping a few pointers in mind before purchasing your steamer will help you find the perfect steamer. Here are some things you need to consider when it comes to getting the best stovetop steamers for Chinese cuisine:
1. Materials
The first thing to keep in mind is the material. Most of the food steamers out there are either stainless steel or bamboo-based. Both of these materials are proven to be durable and practical.
One significant difference between the two is that the bamboo variants tend to lose their color over time while stainless steel steamers don't.
It's also important to consider the material type because it affects the diversity of the steamer. For example, unlike bamboo steamers, stainless steel types are mostly oven safe. Also, if you go for bamboo models, make sure they're BPA-free and comes with at least two-tier layers. As for the stainless steel models, it should be of robust, high-quality material.
Whichever material you choose, it's best to get one from a reputable brand to avoid the chances of receiving an inferior quality product.
2. Capacity
This is another critical factor to note when looking for the best stovetop steamer for Chinese cuisine. If you go for the larger options, you'll have the benefit of cooking more than one variety of dishes at once. Besides the price of a stovetop steamer, It's also recommended to go for one with a higher capacity if you need it to prepare for the whole family.
If you are buying it to steam multiple dishes at once, bamboo steamers are an excellent option to go for, mainly because these models usually come with many tiers and different sizes. You can also get some stainless steel variants with larger quart capacity.
3. Ease of Cleaning
Steamers that come with multiple parts tend to be harder to clean, and so it's always best to get one that's dishwasher safe. Most high-quality steamers offer manufacturer warranties, so this is a useful feature worth looking for.
Best Stovetop Steamers for Chinese Cuisine
Taking into consideration all the primary requirements, here are our top 6 in-depth reviews of the best stovetop steamers you should check out.
#1 VonShef Premium Bamboo Steamer
First, we have this two-tiered food steamer from VonShef, which is crafted using 100 % natural bamboo. This is a versatile steamer with 2-layered designs and gives you the option of preparing more than one dish. Like most bamboo variants, you can use this product on any pan or pot, or even a wok.
Since it's made of 100% natural bamboo, the VonShef Premium is ideal for preparing a variety of Chinese cuisines like dim sum, flower rolls, Char Siu Bao, and Har Gau dumplings. It is water-resistant as well, so you won't have to worry about your food being soggy.
It also comes with two chopsticks along with 50 wax papers to give you an authentic Chinese culinary experience. But since each layer is only 2.5 inches tall, you can only prepare smaller sized meals. If you wish to prepare main Chinese dishes like Cantonese steamed chicken or Lotus Leaf Wraps for larger groups, you may have to look for other options.
Overall, the VonShef Premium is a decent steamer and can help you prepare restaurant-quality dumplings.
Pros:
● Affordable
● Ideal for dim sum, flower rolls, and other small-sized Chinese cuisines
● Durable and easy to use
Cons:
● Layer size is slightly smaller
● Not dishwasher safe
#2 Mockins Premium Stainless Steel Steamer
Prepare delicious Chinese restaurant-style steamed vegetables with this 3-quart steamer by Mockins. It is made with high-grade stainless steel so you won't have to worry about durability. Also, the aluminum coating at the bottom and its glass lid ensures that no matter what type of dish you make, it is thoroughly cooked.
You can also use it on any cooking surface such as portable stoves, induction stovetops, gas burners, and more. It features a two-quart steamer insert, making it ideal for preparing perfectly healthy steamed vegetables, steamed noodles, and even a favorite Chinese dish, the ginger-soy fish.
At just 4.5 lbs, it is quite light, given that it's made with a solid, high-quality stainless steel. However, it isn't dishwasher safe, so be careful while cleaning it.
Overall, Mockins Premium steamer is a highly durable product and is quite affordable.
Pros:
● Lightweight
● Evenly distributes heat
● Simple to handle
Cons:
● Steel stacking steamer
● Not dishwasher safe
#3 Cuisinart 77-412 Chef's Classic Steamer Set
The Cuisinart 77-412 is an all-around mirror-polished food steamer with a three-ply covered base and a stainless steel cover.
You can use it for cooking a variety of cuisines simultaneously. Plus, its steamer insert is big enough for you to cook 2-3 lbs of restaurant-quality noodles for the entire family. Steaming large-sized edibles like lobsters, crawfish, cauliflower, chicken, and more won't be an issue either. You can easily collect the steamed juice as the soup for later use. This makes it an ideal appliance for cooking various Chinese dishes.
It also features a cool grip handle so that it's easy to use. However, it isn't dishwasher safe and is slightly on the pricier side. That said, the quality and the versatility that it offers makes it worth the hefty price tag.
Pros:
● Durable
● Easy to use
● Ideal for making any Chinese cuisines
● Large enough to cook for the entire family
● Allows you to prepare multiple dishes simultaneously
Cons:
● Not dishwasher safe
● Slightly on the pricier side
#4 Cook N Home NC-00313 Double Boiler Steamer
Unlike the other models, the NC-00313 features a double boiler as well as a steamer. The product is quite affordable as well, and the features that it offers make it a good value for money.
It's made with stainless steel and is mirror polished, giving it a classy look. Each pan comes with two handles that are both comfortable and durable. The steamer insert features three steps that can fit one to four-quart pans/pots perfectly.
The bottom of the pot is layered with an encapsulated aluminum base that is meant to prevent hot spots and transfer heat evenly. You can even use it to make your hot pot. This ensures that your food is well cooked. The NC-00313 is ideal for making delicious Bai Tang Gao, which is a classic Chinese rice cake. You can even use it to melt chocolates for making truffles, cookies, and so much more.
Some users had trouble changing direction as the steam would blow out near its handle area. Besides that, the NC-00313 is a great stovetop steamer for preparing Chinese desserts and cakes. Plus, it's dishwasher safe and is compatible with all cooking surfaces – induction, gas, ceramic, etc.
Pros:
● Ideal for Chinese desserts and cakes
● Affordable
● Double boiler
● Durable
● Dishwasher safe
Cons:
● Slightly challenging to handle for some users as steam blows out from the handle area
#5 Cook N Home Steamer NC-00256
This is another all-rounder steamer from Cook N Home. The NC-00256 is a high-quality steamer that can function as a juicer as well. This enables you to extract juices from all varieties of vegetables and fruits.
It is crafted using high-grade stainless steel for durability and features an aluminum encapsulated base for even heat distribution. You also get water/cooking pan, steamer/strainer pan, lid, juice pan, and a hose with clamp.
While the NC-00256 is dishwasher safe, it's recommended to hand wash it to maintain it's shine and color. Also, it is compatible with all cooking surfaces, be it induction, gas, ceramic, halogen, electric, etc.
As a multi-purpose device, you can even use it as a standard steamer using its cooking pan. It is large enough for almost any recipes, including large-sized edibles like cauliflower, seafood, broccoli, corn, and even whole chicken. Prepare a mouth-watering Chinese steamed chicken with ginger and green onion, which is a popular delicacy in Guangxi and Guangdong.
Pros:
● Multi-purpose
● Easy to clean
● Easy to use
● Durable
● Large enough for a whole chicken
Cons:
● Requires potholders as the handles tend to get hot
● Expensive
#6 Oster Sangerfield Steamer
The Oster Sangerfield steamer is a simple, easy to use, 3-quart stainless steel food steamer and is a perfect option for those who are new to the steaming technique of cooking.
This steamer is not only great for steaming vegetables but can also be used to cook rice. With a dimension of 8x12x8(inches), the Oster Sangerfield Steamer is ideal for small gatherings and helps you save enough space on your kitchen counter.
Whether you want to make delicious dumplings or your favorite dim sum, the glass lid in this steamer will fit perfectly to ensure that the food is well cooked. You can also use it to make green bean noodles, aka "Bian dou men mian," which is a delicious and easy-to-make Chinese cuisine.
The Oster Sangerfield steamer is a decent hand washable product that will get most of your steaming jobs done efficiently.
Pros:
● Affordable
● Ideal for newbies
● Easy to use
● Durable
Cons
● Small size not suitable for large gatherings
Final Thoughts
The products reviewed are all great options, each with its own advantages and disadvantages. Ultimately, the product you end up going for will depend on your personal choice, needs, and your budget. That said, if you want a steamer that will help you prepare restaurant-quality Chinese cuisine, then The Cuisinart 77-412 is your best bet. It's large enough to serve a large gathering. It's also durable and allows you to prepare more than one dish at once.
Alternatively, if you want a more cost-effective steamer, the VonShef Premium 2 Bamboo steamer is the one to go for. It's easy to use, durable and is ideal for cooking small-sized Chinese cuisines like dim sum, dumplings, and flower rolls, etc.
Finally, if you're a beginner and is just finding your way around the cooking world, the Oster Sangerfield steamer is an ideal choice. It is affordable and does a pretty decent job of preparing simple, delicious Cantonese cuisines.
---
---
Rate This Article