Fish Maw Taste Reviews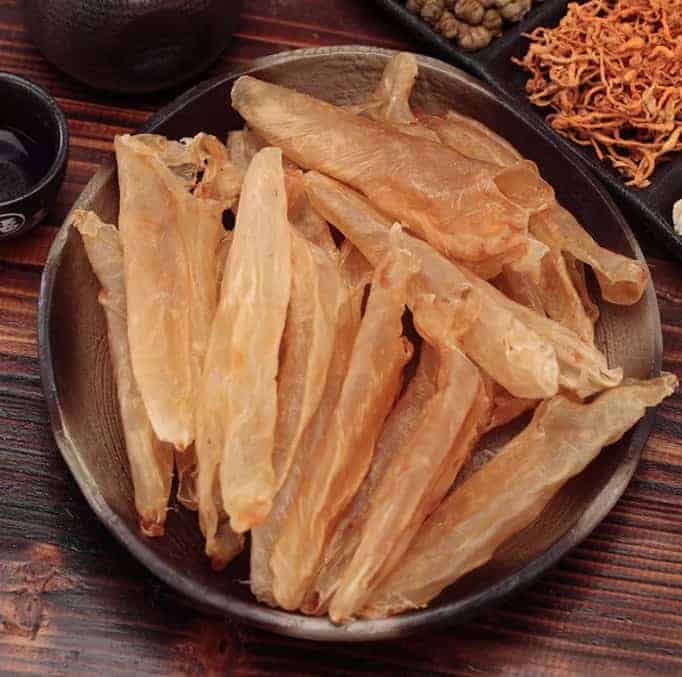 What is fish maw?
Fish maw, also known as Yu Piu or Fa Gau is the dried swim bladders of a large fish like sturgeon or croaker. This is one ancient Chinese delicacy that is known for its aesthetic purposes other than being a Chinese ingredient. Also, fish maw is among the top four sea delicacies in Asia.
Why Chinese love fish maw?
Fish maw is generally used to complement your dish because of its ability to soak up the flavors from your dish. Also, it contains collagen, which is known to enhance beauty by improving skin quality. Additionally, it is rich in protein while leaving out the fishy taste and smell that is common in fish products.
You can also add Yu Piu in special soups and any dish of your choice to enhance the flavor of your food while giving you the healthy nutrients. It is sold in large strips that you can cut in bits and add to your meals.
What does fish maw taste like?
Fish maw is made from the swim bladders of either the sturgeon, croaker or any other large fish which is usually dried or sometimes deep-fried. Regarding the taste of the fish maw, it is relatively tasteless. Hence, it is a complementary ingredient in many Chinese dishes as it absorbs the flavor from other components in the food. One will expect a fishy taste as it is part of a fish. However, it does not have this taste.
Yu Piu has a strong texture and therefore has to be rinsed and soaked in a bowl of water before using it. This will allow it to get softer and even expand more than its average size. As a result of this expansion, it is usually soaked in a bowl that will give enough room for expansion. Besides being a source of collagen, it has a low cholesterol level which makes it suitable for users of any age.
Fish Maw Uses in China
Fish maw is a popular and versatile ingredient in Chinese cuisine because of its ability to blend perfectly in any delicacy. Although fish maw is available in most markets, you will find them in two grades: Yu Piu which is the lower grade (quality) and Fa Gau, which is the higher grade (quality). As a result of their quality, their prices vary. Thicker fish maw is usually used because it contains more collagen than the others and will further improve the smell of your food.
As a result of the generally flavorless taste of the fish maw, you can use it in soups, porridge, and other broths. Also, you can decide to add an extra twist and get creative while using Yu Piu in Chinese cooking. This fish maw works effectively in adding an extra tang and intensifying the flavors in your dish.
There are various ways of including fish maw in your Chinese meals. The major method is cutting it in pieces and cooking it in a Chinese brown soup along with other ingredients of your choice. Also, fish maw can be stir-fried with oyster, mushroom, shrimp, or any other seafood to give a crisp seafood mixture usually eaten with a sauce.
Additionally, fish maw dishes are popular in Asian countries during special occasions, including birthdays, Chinese new year, or weddings. Fish maw soup is also seen in private dining and exotic restaurants, as well as grand banquets and dinners, served to dignitaries. Fish maw is suitable for all genders and ages as it could be seen as a therapeutic food. Therefore, fish maw herbal soup is usually encouraged for pregnant women, nursing mothers, and ailing individuals.
Tips for using fish maw
Do not fry large quantity of fish maw
Fish maw is normally dried when bought and could be fried for different recipes. However, frying should be only limited to small quantities. This is because when fried, it is likely to get rancid and develop a bad smell quickly. Therefore, fry only as much as you need at once.
Ensure to soak before using
Before you cook fish maw, you should ensure that you rinse it before using and soak it in a large bowl of water. Apart from softening and helping reduce the amount of dirt, soaking will help the fish maw to expand. Also, the size of the bowl should be big enough to accommodate the size of the fish maw after expansion.
Is fish maw healthy?
Fish maw is primarily used in cooking because of its texture and properties. It is still a significant source of protein and other nutrients that are beneficial to one's health.
For healthy skin: Fish maw is a major source of collagen, which is essential for improving skin beauty. Therefore, even pregnant women can consume it to help improve their babies' skin and their skin.
Blood circulation: The presence of collagen in fish maw helps invigorate the blood circulation of the consumers. Also, this further maintains youthful skin.
Kidney boost: The presence of the nutrients in fish maw helps in replenishing the kidney and also improves the stamina if adults and even children.
For anemic patients: Fish maw is usually recommended for anemic patients because of its nutritious properties. Additionally, it improves weak lungs and vitalizes general body functions.
Final Thoughts
Fish maw, also known as Yu Piu or Fa Gau is a complementary food ingredient that enhances the taste of your dish. It's been used by the Chinese for centuries, both by the elites and citizens. Additionally, it has been recognized for its healthy and mood-enhancing properties.
One can incorporate fish maw in soup or eat its meat to enhance collagen and skin health. Also, its aroma improves the quality of your food while giving you the necessary protein and other nutrients. You can also take fish maw in a stir fry form with other seafood.
---
Rate This Article