Goat Chinese Zodiac Signs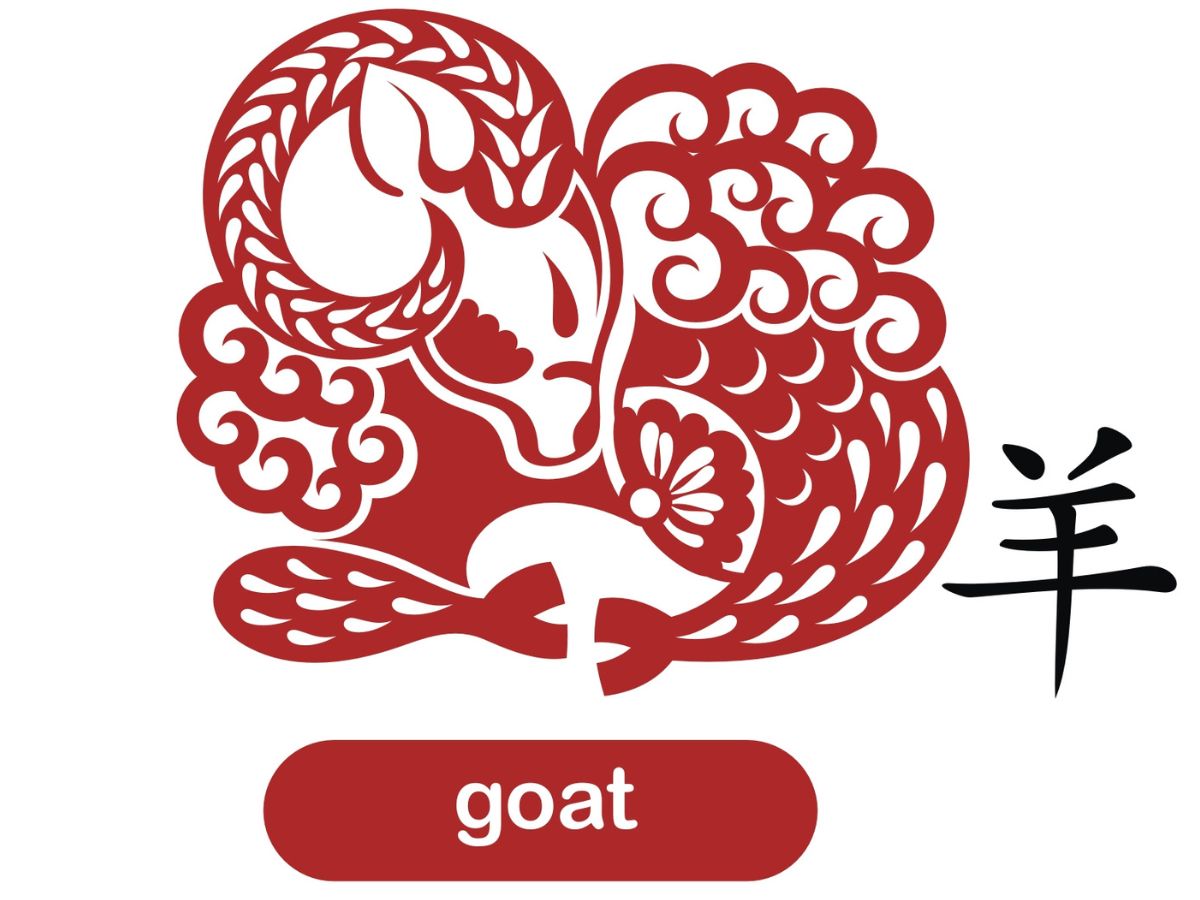 The zodiac system originated in China and has its ardent followers across the world, especially in Asia. Though it possesses similar attributes to the western zodiac system, the concept and the calculations are night and day.
The Chinese zodiac system uses the lunar calendar as its reference point. It divides time into a repeating twelve-year cycle, and various zodiac signs represent each year of this twelve-year cycle. So, in total, there are twelve Chinese zodiac signs, and each of them is represented by various animals and mythical creatures like a dragon.
It is believed that the year represented by any particular zodiac animal will have the characteristic features of the animal itself. It is possible to even premonition the future of the people born in a particular year by analyzing the year's zodiac sign.
Out of the twelve zodiac animals, some popular ones are tiger, goat, rabbit, dragon, etc. Each animal is represented in order, and references to the order can be found in Chinese folklore and legends.
What is a Chinese zodiac goat?
The goat represents the eighth zodiac sign in the Chinese zodiac system. The Chinese zodiac goat has always been associated with kindness, compassion, and purity in Chinese legends, and the people born in the goat years are also observed to be quite gentle. There are mentions of a one-horned goat who assisted the Chinese God of justice in the old legends.
The goat is associated with the earthly branch of the lunar calendar. It is represented between 1 to 3 in the afternoon every day. The last occurrence of goat years was in 2015, 2003, 1991, 1979, 1967, 1955, 1943, and so on. The next goat year will be observed in 2027.
The personality of the Chinese zodiac goat
Like the zodiac animal, goat people are very gentle, sweet, and kind. They maintain proper etiquette and hope not to break any rules in place. They remain with a benevolent heart even in the middle of hardships and suffering. Goats are featured by their thoughtful nature, strong belief in God, enthusiasm, and ardent interest in anything artistic.
Although goats appear to be subtle and gentle, they possess a strong heart enough to fight through all the maladies that come their way. Being quite introverted, they prefer to be in a peaceful and familiar environment rather than spending time with or making friends with strangers.
Their attention to detail and interest in following the rules make them highly reliable to others. As they do things thoughtfully and gently, people depend on him much for favors and help. They are quite brave and extremely energetic and generous too. At times, this general nature is taken for granted by many around the goats, and they are mostly taken advantage of.
Another major merit of the personality of the goats is that they are highly spiritual and unshaken believers. Nothing can shake their belief, and they abide by the rules set by their religion. They take care of money very seriously and do not spend it on unwanted matters. At times, this financial discipline turns out to be a habit of frugalism, and it would be better if they could avoid such extremity.
The shortcomings in the personality of the goats are innate pessimism, dependence on others, falling for the false praises of others, and essential shyness. The introverted nature of the goats may hinder the growth they deserve, and as mentioned before, the borderline frugalism can also make them unappealing to others. They also find it difficult to stand up for themselves when put amidst an argument. They prefer to keep silent so that the argument will get over soon.
The effects of elements on a goat year
The basic nature, behavior, personality, and fortunes of goats can change according to the element under whose influence they are in. Each lunar year is assigned with a mineral, which can alter and add many attributes to the people born in that particular year.
| | | |
| --- | --- | --- |
| GOAT YEAR  |  ELEMENT |  FORTUNE |
| 1967, 2027 | FIRE | The fire goats are extremely warm and compassionate. They are loyal friends and require a great deal of emotional support. |
| 1979, 2039 | EARTH | Honest and possess a great sense of justice. Blessed with smooth and steady career growth. But business and investment may not be their cup of tea. |
| 1931, 1991 | METAL | Down-to-earth and humble human beings. Always put others before themselves. Possess great artistic talents, especially in music and dance. |
| 1943, 2003 | WATER | Responsible individuals. Organized and systematic. Difficult to adapt to sudden changes. Soft on the outside, yet strong and bold on the inside. |
| 1955, 2015 | WOOD | Possess good social skills. Make great friends. Compassionate, self-reliant, sympathetic, focussed, and career-oriented. |
Men born in a goat year
The men born in goat years are true family men. They always put their families before anything and everything. They are genuine gentlemen in every social circle. They are great at listening and always try to bring up solutions to anyone's problems. The genuine warmth of their personality gains them a great number of friends.
They stay away from negative environments and rarely judge others. They keep their opinions on others to themselves and offer advice only if asked. But they happen to be borderline pessimistic. They tend to overthink things and happen to overcomplicate them. They keep on stressing over minute issues and create anxiety. Although they appear soft, gentle, and aloof, they are driven by the innate craving for attention and care.
Women born in a goat year
Women born in goat years are social butterflies. They are so good at meeting new people and making friends with them. Their attentive nature and caring make them admirable to many. They are very committed to their responsibilities and, thus, can be trusted with anything.
Although they can perform well if entrusted with something, their problem-solving capacity is not that great, and thus, they often tread the hard way to solve a problem. Goat women are extremely ambitious and aim for the stars. They yearn for a high standard of living and work hard for it.
They are very particular about having an organized and secure life and are very concerned about the future. They often worry over the future and feel insecure about themselves most time.
Lucky things for goat zodiac
Lucky colors: Green, purple, and red
Lucky numbers: 3, 9, and 4
Lucky directions: East, South, and South East
Lucky flowers: Primrose, Carnation, and Alice
Lucky Minerals: Emerald and Crystal
Unlucky things for goat zodiac
Unlucky numbers: 6, 7, and 8
Unlucky colors: Brown, gold, and black
Love and compatibility with other zodiac signs
Compared to the goat women, the goat men are observed to be unhappier in their relationships. They must pay great attention to their behavior, dress, etc., which can all have great significance in a relationship.
The zodiac signs that show great compatibility with the goats are rabbits, pigs, horses, and monkeys. Their union is believed to bring joy, prosperity, harmony, good fortune, and virtue to the family.
The zodiac signs that show hostility towards goats or are not compatible enough with the goats are dragons, dogs, and cows. Marrying these zodiac signs would inevitably end in a failed marriage with difficulties, disasters, sorrow, etc., to its credit.
Ideal careers and opportunities for goat
As goats are born nurturers and caregivers, they are mostly suitable for jobs in the service industry. Nursing jobs and caregiver jobs will be best suited to them. They are also born with immense artistic talents; thus, arts would be a natural career choice for the goats.
As they tend to get insecure over job security and all, it would be better for them to be placed in steady and secure jobs like teaching, which could offer a sense of security for the goats. It would always be better for goats to steer clear of high-risk areas like business and investment as it could affect their mental health with consistent stress and anxiety.
The upcoming year will bring good professional fortune to the goat women. Although the goat men will be blessed with opportunities like the women, they may find it difficult to achieve their efforts. Also, goat men are advised not to get involved in dangerous professional environments like industries, as they are likely to meet with accidents.
Health for goat zodiac
Goats are not very good at maintaining their health; thus, they are naturally prone to diseases. The situation will be the same in the upcoming year too. Chances are high for the goats to be affected with urinary and gastrointestinal issues. So, the goats are advised to keep dietary discipline and hygiene.
Chances are high pain and wounds from accidents, so overall safety is advisable for goats this year.
Wealth for goat zodiac
Although the goats are blessed with great financial opportunities in the upcoming year, the financial graph could have several ups and downs. Personal income may not have an expected growth, and the year's first half may witness more expenditure than income. The situation will improve by the second half of the year and despite the hardships, try not to be greedy over the financial opportunities.
Goat horoscope for 2022 and 2023
The year 2022 will present itself with great opportunities for the goats. 2023 also brings good fortune to the goats, but they may have a difficult time with their income and finances.
---
Rate This Article