Golden Throat Lozenge Reviews – The Best Cough Drop in Chinese Medicine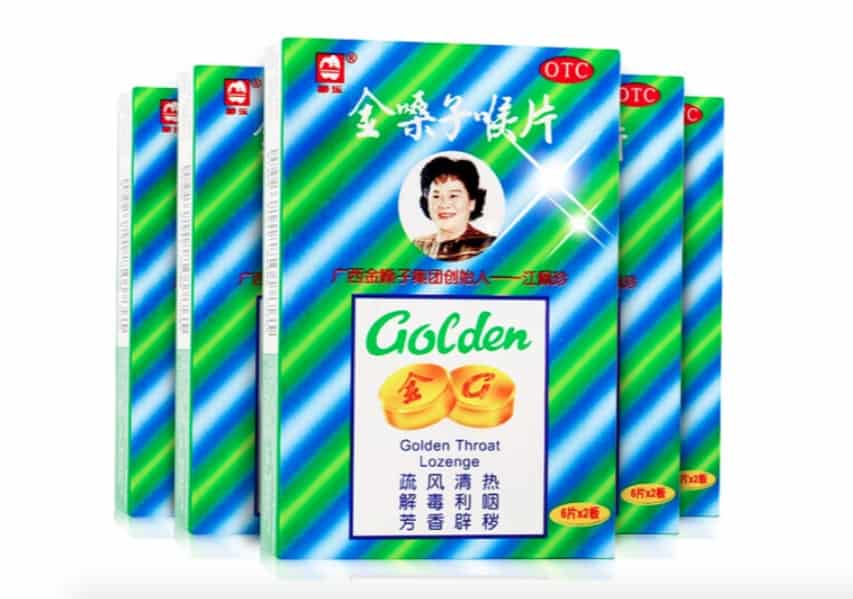 Editor's Pick Best Golden Throat Lozenge
Golden Throat Lozenge in Chinese Medicine
At times, disturbance in the throat happens in many of us. It occurs as a result of cold. Not just cold, it also happens due to some environmental factors. For instance, some external factors cause throat dryness and excessive cough. In these instances, we look for quick and safe relief. Thanks to the Golden Throat Lozenge created for clearing away throat disturbance. As this product is made using safe ingredients, it provides the best temporary remedy instantly for hoarseness in the throat.
What is Golden Throat Lozenge?
This is the former name of the throat lozenge, which is presently called Honeysuckle Soothing Drops. This herbal supplement is produced by Solstice Medicine Company. The pack encompasses 12 Lozenges. One pack will have 2 blister cards with 6 lozenges per card, thereby making a total of 12 lozenges.
Not just herbs, fruits are used in the making of this product. On a given day, 6 lozenges can be used to get the required relief. It is produced for temporarily relieving sore throat and cough caused by inhaled irritants and colds. Naturally, before you use this product, you will be interested in a review. To make your job easier, we have done a detailed review for you here:
What is Golden Throat Lozenge Used For?
This Chinese medicine, as the name implies, is a throat lozenge. But, can you expect more from this product other than soothing sore throat? Understanding the major benefits of this product will help you arrive at an informed decision:
6 Health Benefits of Golden Throat Lozenge
#1 Breathe Freshening
In some instances, we feel that we miss breathing freshness. It can happen at any time. Particularly, it can happen after we drink coffee, tea or other such drinks. Even, it can happen after a meal. At these times, we look for a remedy that can freshen our breath. During these instances, we can take the Golden Throat Lozenge for the best relief from an un-fresh breathe.
#2 Intrinsic Cooling and Freshening Properties
In addition to freshening breathe due to its freshening properties, this throat lozenge will also help with bringing a cooling effect on our breath. This is possible because this product has been created to dissolve in the mouth slowly.
#3 Improves Overall Throat Health
Golden Throat Lozenge is a product that has been created after thorough research. Particularly, it has been created by a renowned professor and biologist – Wang Yao-Fa. The product has been created to improve the overall health of the throat. It is a distinctive product that represents the accumulated experience of traditional Chinese cytological and science theories.
#4 Reduces Inflammation
At instances, sore throat happens as a result of inflammation in the throat. This Chinese medicine is known for its effectiveness in reducing the inflammation, thereby clearing the throat. Of course, it provides sore throat relief as well, which has been reiterated by many users.
#5 Reduces Dry Cough
This throat lozenge can provide the best relief to dry cough as well. Dry cough can create discomfort not just in the throat, but also in the chest area. By reducing dry cough, this product will bring down the discomfort in the chest area as well.
#6 Helps With Expelling Phlegm
You know that excessive phlegm can be the reason for cough and sore throat in some instances. To help relieve these things caused by excess phlegm, Golden Throat Lozenge works by helping with phlegm expelling. When phlegm gets expelled, we get a great sense of relief from cold as well as most of us would have experienced.
So, to get these benefits mentioned above, you can try using the throat lozenge. Now, you will be interested in understanding how this Chinese medicine works. Here are some details:
How Does Golden Throat Lozenge Work?
Thanks to the effective ingredients that are part of the Golden Throat Lozenge. They are responsible for the effectiveness of this product in bringing the benefits stated above. Let us throw some light on the effective role played by the ingredients in making this throat lozenge do its job effectively:
4 Major Active Ingredients of Golden Throat Lozenge
Honeysuckle Flower
This ingredient is effective in addressing upper respiratory tract infections. Examples of these infections include swelling of the brain, boils, fever, bacterial and viral infections, pneumonia, influenza including cold. Further, it is known for its antioxidant, antimicrobial, and antibacterial actions to reduce infections.
Even, the healing therapy of this ingredient makes it the part of many aromatherapy products. All these properties, make Honeysuckle flower an ingredient in Golden Throat Lozenge.
Tangerine Peel
We use orange fruit in our homes. You might have heard that the peel of the orange fruit is used effectively in many skincare products. It is used as an ingredient in Golden Throat Lozenge as well. This is called Tangerine Peel. It plays a role in Chinese medicine by helping with expelling excessive phlegm from your body.
Also, it is known for its effectiveness in treating infections. It means that it will treat the infections that lead to bad breath and freshens the breath. This is yet another reason for the addition of this ingredient.
Star Anise
The oil produced from star anise has substances like anethole, terpineol, and thymol. These substances in star anise help with addressing flu and cough. This is naturally the reason for its addition to the throat lozenge.
Peppermint Oil
Peppermint oil is known to bring many benefits. The reason for its addition in this Chinese medicine is that it acts as a flavoring agent in foods. Yes, due to this nature of this ingredient, it can bring mouth freshness, thereby addressing bad breath.
Not just these ingredients, many other ingredients in this product make it an effective throat lozenge.
What Do Customers Feel About This Product?
This is what some of the users of this Chinese medicine feel about this product:
Effective for Sore Throat
One user is highly satisfied with its taste and its effectiveness on a sore throat. After having used this lozenge for once or thrice, he was able to get a great sense of relief from sore throat. In fact, he says, it completely went away.
Effective for Cough-Relief
When talking about Golden Throat Lozenge one more user said that she got great relief from cough when she started to use this Lozenge. It is effective in relieving both cold-related and dry-cough she claims.
Must-have Drops
One person, who is a speaker and also a singer says that every speaker and singer should have this Chinese medicine in their bags. If they have some trouble in their throat, they can expect almost immediate relief from the issue with this lozenge. It means that there will not be any hindrance to their singing or speaking program.
Calms Down Cough and Sore Throat
One user, who was suffering from sore throat and cough for long had a very hard time once. At this time, one of her friends suggested she to use this throat lozenge. She was really amazed by the results. She started using this product, whenever she had to face a sore throat or cough as it gives instant relief. She is also highly satisfied with the taste of this mouth-dissolving lozenge that she claims should be kept handy in every home.
Mild herbal Relief
One user, who has tried different herbal remedies for cough and sore throat found this product to be effective. He says, in general, lozenges claiming to address sore throat and cough cannot be taken by all due to the strong sensation they create in the entire mouth. After having used many such products, he feels that this product besides working great also is gentle on the mouth. So, even kids can use this product without any fear.
Miraculous Sore Throat Relief
One user, who is a voice actor feels that this is a miraculous product for sore throat relief. This person suffers from an auto-immune disease that often creates a sore throat problem. But, he is able to get miraculous results with the help of Golden Throat Lozenge.
The effectiveness of this product is widely accepted by most users when we talked to them during our review.
Conclusion
In general, some people fear taking lozenges because they feel that they will be spicy. But, most users feel that Golden Throat Lozenge is a gentle product besides bringing effective results for cough and sore throat. Also, as safe ingredients are used, you can confidently choose this Chinese medicine.
The product is not for kids of less than six years and also for carrying moms. Otherwise, the product works wonders even by increasing mouth freshness. This product can be taken at the rate of six lozenges per day continuously for a week. It does not mean that it will take this long to bring the results. It means that if you feel that your sore throat continues, you can use it.
---
Rate This Article