Rooster Chinese Zodiac Signs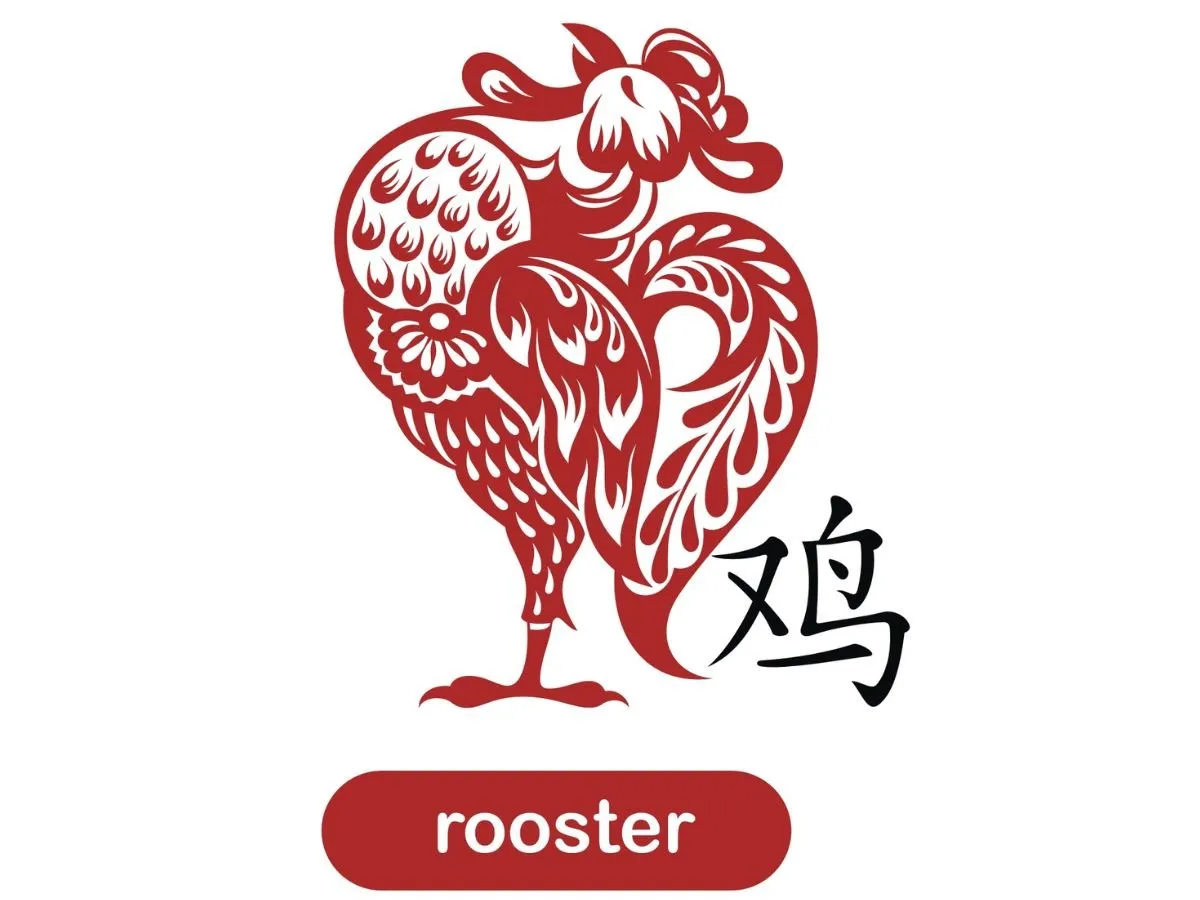 Chinese zodiac signs are trusted worldwide to know deep about the possible fortunes, ailments, and everything else that the future beholds for every individual born on the earth. It is an age-old belief system that involves the twelve chosen zodiac signs and subsections like elements, seasons, etc. For hundreds of years, people have been using the Chinese zodiac system in the hope of understanding what the future has on hold for them.
What is a Chinese zodiac rooster?
The Chinese zodiac sign system uses different animals to represent different zodiac signs, and out of the twelve such animals, the rooster is the tenth one. The order of the zodiac signs is believed to be fixed by the Jade Emperor in respect of the order that the animals arrived in a feast arranged by him.
Roosters have always been mythical creatures in Chinese folklore, and they are believed to possess extraordinary powers to fight against evil. This might be why the rooster is the single bird present in the zodiac signs, mostly consisting of animals.
The rooster zodiac sign is said to be associated with the earthly branch. On a day, the rooster sign is represented between 5 to 7 in the afternoon. The previous years considered rooster years were 2017, 2005, 1993, 1981, 1969, 1957, and so on. And the next rooster year is believed to be celebrated in 2029.
The personality of the Chinese zodiac rooster
The Chinese zodiac rooster can be characterized by enthusiasm, humor, honesty, conservatism, and strength. Although they have numerous positives, there are many flaws to their characters, like blind worship and arrogance. But despite the essential flaws that the roosters possess, they strive to be straightforward people with high self-esteem.
They are extremely serious once they have taken up a job and would like no one to take it lightly around them. Their decisive actions and constant yearning for perfection may sometimes create an aura of arrogance around them. But the patience and perseverance to do things the best way possible would take them much further in their professional and personal lives.
They maintain a modern outlook on society and are great at adapting to new surroundings. They have great social skills and would like to dress up for the occasion. They are good with the word and can easily influence any with their communication skills. They talk with brutal honesty and would like to compete with the best people and take pride in their achievements. The well-disciplined, thoughtful, and generous roosters are some of the most resourceful persons on the planet.
One of the major shortcomings present in the character of the roosters is their unwillingness to take the advice of others. Even though they are very keen to point out the best and worst in matters of others, they rarely accept advice from others or even agree to any of their criticisms. This character trait sometimes makes others conclude roosters as impatient, narrow-minded people with arrogance.
The effects of elements on a rooster year
Various elements like earth, fire, water, wood, metal, etc., are believed to have an impact on the character traits of the individuals according to the Chinese zodiac system. Thus, they have devised an effective method that incorporates both the zodiac signs and the elements in defining the personality traits of each individual.
| | | |
| --- | --- | --- |
| ROOSTER YEAR  |  ELEMENT |  FORTUNE |
| 1969, 2029 | EARTH | Possess great social skills. Trustworthy person. Hard work and luck make a perfect professional life for them. Many feel too proud over time. |
| 1921, 1981 | METAL | Focused and decisive person. Logical and reasonable. Many have difficulty in communication. Lacks social skills and needs constant efforts to make it better. |
| 1933, 1993 | WATER | Proud persons. But they do not show it off. Team player and thus enjoys much love and admiration at the workplace. Loves material things. |
| 1945, 2005 | WOOD | Sensitive people who crave attention. Dependent on others for emotional well-being. They are extremely fortunate people. |
| 1957, 2017 | FIRE | Highly disciplined people who have a zest to carry out duties promptly. They struggle with relationships but get better in the middle ages. |
Men born in rooster year
Men born in rooster years are known as highly organized individuals who are generous and helpful to others. Despite their consistent professional success, they have difficulty maintaining their emotions. They are always on an emotional rollercoaster that shifts from joy to sorrow in split seconds.
Time is extremely important to them, and they would like to have everything done in an orderly and time-bound fashion. They are not very fond of people who do things at the last minute or in an impromptu manner.  
Women born in rooster year
Women born in rooster years are extremely loving and caring. They are very down-to-earth despite the impression they are trying to give. Like the rooster men, they are also very particular about time constraints and discipline. They cannot stand people making mistakes, and would genuinely help them out of the mistake.
Although the rooster women also seek attention and appreciation from others, they don't make it too obvious and would like to portray themselves as a homey, less-competitive individual. Once provided with the right chance, they will unlock their true potential and make the best out of it.
Lucky things for roosters
Lucky colors: Gold, brown, and yellow
Lucky numbers: 7, 5, and 8
Lucky directions: West and South West
Lucky flowers: Hydrangea, Sword Orchid, and Cockscomb flower
Lucky mineral: Strawberry crystal
Unlucky things for roosters
Unlucky colors: Green, blue, red, and gray
Unlucky numbers: 1, 3, and 9
Love and compatibility with other zodiac signs
Generally, it is observed that a major population of roosters is leading an unmarried life. And a fair portion of the married roosters is finding it difficult to find the right balance between their professional life and their personal life. Thus, the roosters should provide great attention to their love life and courtship.
The most compatible zodiac signs for roosters are dragon, cow, and snake. A relationship with these zodiac signs would bring happiness, fame, glory, etc., to the roosters.
The worst compatibility of roosters is exhibited with rabbits, horses, and rats. A wedding union with these zodiac signs may bring suffering and difficulties to both spouses, and the relationship will lose its dynamics and soon become stagnant.
The roosters are advised to minimize the possibility of quarrels within the family. Talking openly and honestly to the spouse and sorting out the differences could take your marriage long.
Ideal careers and opportunities for roosters
As the roosters are disciplined and devoted persons, they bear the potential to make the best of their careers. They can take their career to unscalable heights by putting in their best work. The upcoming year is ideal for any young roosters who intend to try their hands on businesses or investments.
As the roosters have a hard time accepting and agreeing to the viewpoints of others, they would be good in careers that offer them a great deal of freedom and space. The fashion industry, politics, business, etc. would be some of such fields that the roosters could make a quick dime and be an overnight sensation.
Health for roosters
Roosters generally tend to maintain average health. They pull through their life without many ailments but are still not completely devoid of them. Thus, they have to be very careful with their fitness and health. If they keep a lazy eye on their health, they may have some kind of ailment. So, constant attention to health is inevitable for roosters.
The oversensitive personality of the roosters could also cause them mental distresses and stress-related ailments. Taking occasional breaks and de-stressing would be a nice way out for the roosters from the possibility of mental ailments.
The upcoming year is not very good for roosters in terms of health. It would be better if the roosters could watch for accidents. Roosters born in 1981 should be very careful not to have any kind of accidents, including fire or water hazards.
Wealth for roosters
When it comes to wealth, roosters are essentially very fortunate. They are followed by success everywhere they go, and even in business, they enjoy much profit.
In the upcoming year also, the situation will be no different. The roosters will be blessed to witness their financial assets accumulating one after the other. The stock exchange and investment business would be highly successful, but remember not to get too carried away in it and cause any unprecedented loss.
All financial transactions and dealings should be maintained in the vicinity of the law, and no chances should be taken regarding taxes or any law-related dealings.
Roosters Horoscope for 2022 and 2023
Although the year 2022 will fluctuate for the roosters, it would bring many positive results in their personal and professional lives.
In the year 2023, the personal life of the roosters is bound to hit new heights but is possible to have a difficult time with the professional life.
---
Rate This Article