The Best Gas Grills Buying Guide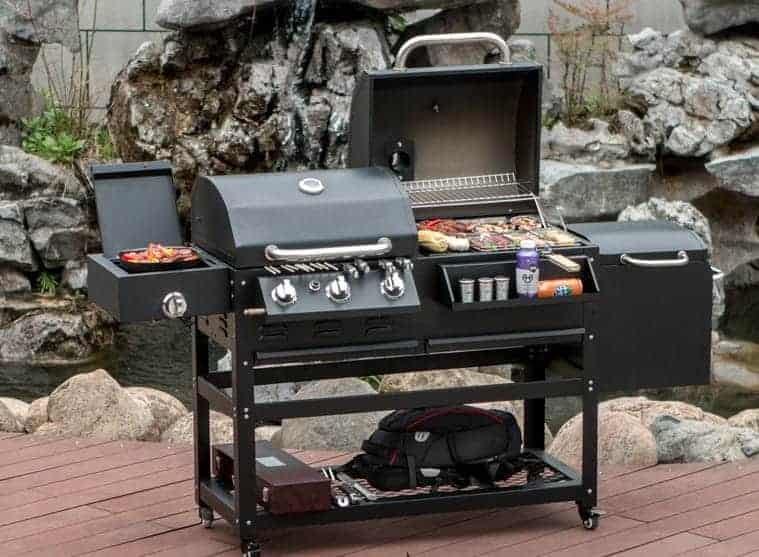 Top Best Gas Grills Based on Reviews and Price
Last updated on July 25, 2021 3:06 pm
When it comes to summer cooking, a backyard barbecue is something that most Americans wish to experience. This practice in the Western World these days is spreading to other parts of the world as well. In case, you plan to buy a gas grill, the thing to remember here is that the success of your dishes will greatly rely on the quality of the grill you shop.
How to Choose the Best Gas Grills?
Gas Grills are identified as the best choice for people looking for more space on their grill grates. Also, the easy-to-operate feature makes these grills the best choice against other alternatives. The alternatives for gas-based grills include charcoal grills, electric grills, pellet grills, and Kamado Grills.
When it comes to backyard grills, most people go for gas-based grills. The reason is that this type can be started quickly and also its heats up at a faster pace. Compared to charcoal grills, gas grills need much lesser clean up before starting the cooking process as compared to other grill types. However, if you are particular about the smoky flavor in your meat, you cannot get it with this type. But, the smoke flavor is possible in charcoal grills. However, you can continue to grill up all types of great-tasting foods including many tasty BBQ side dishes.
Also, gas grills come in varied sizes. As they cost more as compared to other types of grills, you should be prepared for long-term investment and should give the utmost importance to quality. With the right care and maintenance, a gas grill can last for years to come. Most model grills are portable and designed to run on propane. Refilling and replacement of tanks should be done as required.
Top 11 Factors to Consider When Buying a Gas Grill
If you have decided that your choice will be a Gas Grill for your outdoor cooking, here are some points of consideration that will help you in making the right choice:
#1 Size of the Grill
The size of the grilling surface is an essential consideration when you shop for a gas grill. With a larger grilling surface, it will be easier to knock out larger batches of food. When deciding on the size of the grill, you should consider the number of people to whom you will cook regularly.
Most people generally opt for the size of the grill around a 32-inch mark. The reason is that when you go for this size, there will be enough space to achieve cooking versatility. Also, built-in grills usually can save a lot of space.
When you go for wider grills, you will get more temperature zone options for cooking. For instance, you can cook some vegetables over a lower heat on one side and the other side you can sear a steak with high heat. If you wish to get the smoky flavor in your dishes besides cooking in a gas grill, you should have enough room to cook with indirect heat.
#2 Consider the Number of Burners
Decide the number of burners is the key to choosing gas grills, , just like choosing a gas stove cooktop and hot plate. When the grill has a couple of burners, you can prepare foods to quench the hunger of 4 people at a time without any hassle. On the other hand, if the number of people to whom you cook is 8, you will have to go for a grill with three burners. When you go for a unit with fewer than three burners, it might be difficult to get even heat distribution.
#3 Type of Gas
You might be wondering whether gas grills come in different types. You should consider whether you will need natural or propane gas. When you choose a unit that functions with natural gas, you should have a gas line in the location of your grill. Even though affordable grills do not have the natural gas option earlier, nowadays, you can find them.
Nowadays, natural gas conversion kits are also available to work even if you go for a grill that functions in propane gas, but has a natural gas supply in your home. Compared to smokers, natural gas grills will cost you less in the long run. Even, with this option, you can save trips to the propane store as well.
#4 Look Beyond Burgers
A fundamental gas grill will help you with cooking burgers and hot dogs. However, if you intend to cook sizzling steaks and fish with sear marks, you will have to look at a temperature range. The higher the temperature range, the better the grill will have the ability to cook different types of foods. In case, you wish to slow-cook large or tough cuts of meat, then you should go for a grill that will enable indirect cooking.
#5 Cooking Grid Materials and Thickness
When it comes to cooking grids, the top-quality stainless steel material is used. Not just material, you should also consider the thickness of the grill when you compare different grilling devices. As you can judge, the cooking grill is an essential part that gets a lot of wear and tear as years pass by. When the grids are thicker, they will stay longer with you. Even, they will provide better heat retention. Also, you will get bolder grill marks in the meat you cook in such grills as well.
#6 The Footprint of the Grill
In addition to the size of your cooking area, you should also compare the footprint created by the grill before shopping. This is an important consideration if you have a restricted space to place the cooking grill.
Most barbecue grills, such as gas pellet grills, come with side shelves that can either be attached or detached as per user requirements. For safety reasons, it is better to make sure that the grill sits 5-6 feet away from the surface and other inflammable materials.
#7 Heat
You might have heard about BTU Rating. It is the measurement of the quantity of heat produced by the burner. Like Kamado grills, when a gas grill has higher BTU, it does not mean that it will always produce more heat. It is just a factor to know the level of heat produced. It also determines the grill's size and how well it can hold and distribute the heat. So, you should not choose a grill just because it has a higher BTU Number.
Rather, you should compare the number with the shape and the size of the grill. Compact and smaller grills can even produce higher cooking temperatures with lower BTU.
#8 Keep Away From Infrared
When you compare gas grills, you will find that most of them come with infrared burners. These burners are for those intending to achieve intense heat to sear chops or steaks. It is better to avoid the grills with this type of burner. The reason is that they do not sear any better as compared to regular gas burners. Because of heat levels, infrared grills are hard to make barbecue sauce or Teriyaki sauce more aromatic.
Rather, you can go for models that can reach high searing temperatures and even can take you to low searing temperatures for indirect cooking.
#9 Consider a Grill with Flame Tamers
Otherwise called flavoring bars/plates, flame tamers are located between the cooking grids and the burner. They help safeguard the burners from grease and drippings. In turn, they will reduce flare-ups. Even, they can make the grease and vaporize. In turn, they will help with generating a smoky aroma to your meat. For outdoor gas grills, it is an essential factor to consider, because that can make safety. If you are choosing gas grilss as a part of an outdoor kitchen island, make sure it has flame tamers.
When the grill has more flame tamer coverage, it means that the heat will get diffused and rise from the burner reaching the surface of cooking. When you go for a gas grill with flame tamers with full coverage, you will get a more uniformly heated cooking surface.
The ideal flame tamers are generally built from either ceramic or stainless steel. It is essential to check whether the flame tamer materials can resist corrosion when you go for a grill with flame tamers.
#10 Burner Material
In addition to considering the number of burners and avoiding infrared burners, you should also be aware of other materials used for making burners.
Stainless Steel Burners are identified as the best. This type is generally made using a perforated tube. They generally last for several years to provide the best blue fire.
You will also come across gas grills with cast iron burners. These burners in addition to being solid will provide the first with the power that you desire to achieve. However, the material used for making these burners can rust quickly.
Another alternative you will come across is a tin burner. These are ineffective burners and they get rust within a year. Even, they do not help with achieving the desired amount of heat.
#11 Durability
Of course, gas grills are identified as the durable grills as compared to other variants. Moreover, the durability of the grill that you select will be decided by different factors. The factors include materials, metal thickness, and quality of parts used by the manufacturer. However, the major role is played by how well you take care of the appliance. With proper maintenance quality grills can last for long.
Wrapping It Up
A gas grill can make your cooking versatile in many ways. With the tips given above, you can arrive at the right grill that will make your cooking even more enjoyable for several years to come.
Most importantly, the right grills at a reasonable price can improve the taste and flavor of your dishes as well. Wishing you success in finding the right Gas Grill!
---
Rate This Article