The Best Kitchen Refrigerator Buying Guide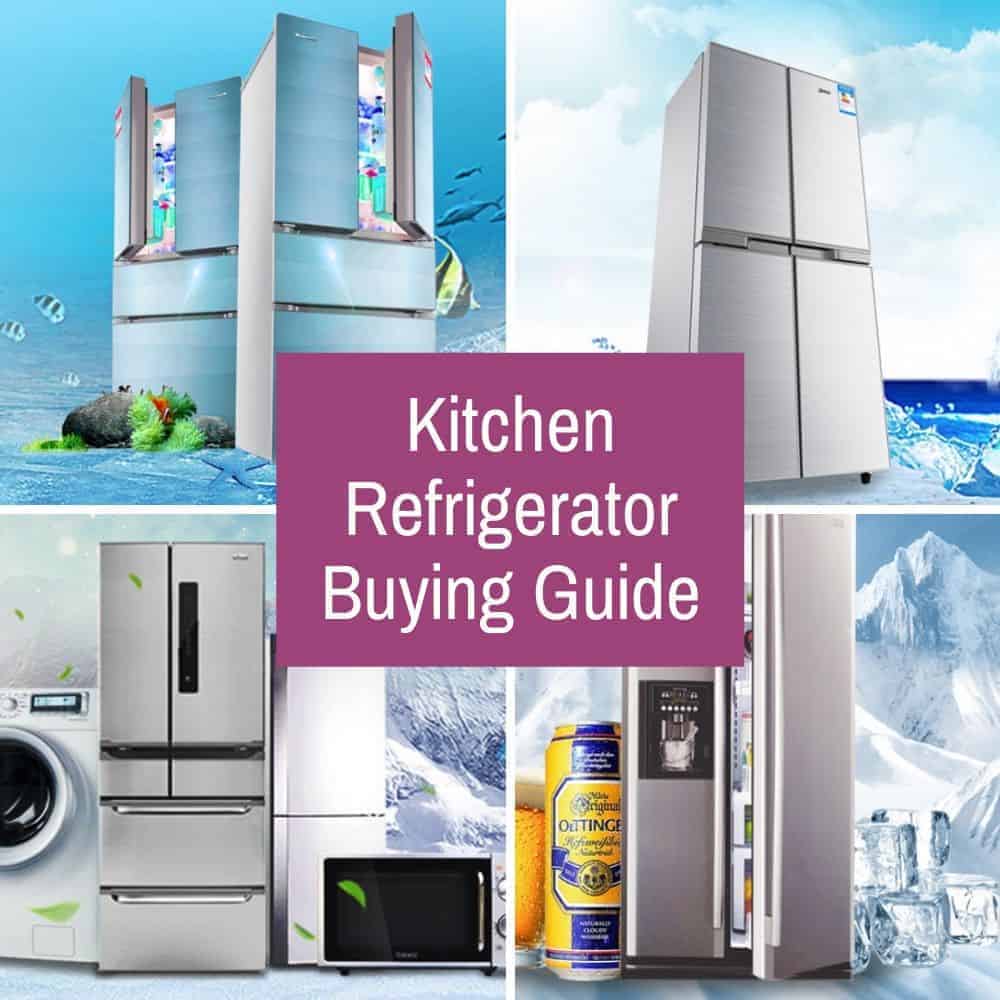 Top Best Kitchen Refrigerator Based on Reviews and Price
Last updated on November 21, 2021 3:56 am
How to Choose a Kitchen Refrigerator?
When it comes to choosing a refrigerator, options nowadays goes beyond depth and style. It calls for a great deal of passion and research to get it right. The price of refrigerators are now on the rise, but this comes with additional features that ensure the longevity of your food and drinks.
Depending on the needs of your kitchen or outdoor kitchen, it's possible to find a kitchen refrigerator that fits in. First, the refrigerator should be compact enough to pass through your kitchen door and should come with temperature regulating properties to preserve your foods. If your kitchen isn't too big, you would want to go for a refrigerator that doesn't occupy a lot of space or prevent free movement around the area.
Having accessed the pros and cons of having a kitchen refrigerator, we've streamlined our choice to those that possess all the features mentioned below. These criteria will guide you in choosing the latest models with sleek designs in addition to providing enough depth – making it easy for all your foods and drinks to fit in at once.
Related article:
Beverage Refrigerator Buying Guide
Side by Side Refrigerator Buying Guide
Wine Refrigerator Buying Guide
French Door Refrigerator Buying Guide
10 Factors to Consider When Buying a Kitchen Refrigerator
#1 Kitchen Size
Before choosing a refrigerator, you must put the size of your kitchen into consideration. Refrigerator sizes and handles are not static – they come in different sizes and shapes. The size of the opening where the refrigerator will be installed determines the style and collection available. You will want to consider it's depth and height. For instance, if you go for a French-door refrigerator, you will want to leave equal spaces on both sides while ensuring the door-swing won't cause any constraints to movement.
Not considering door depth and swing is one mistake most homeowners make, thereby ending up spending heavily on the wrong kitchen refrigerator. If your refrigerator is next to a wall, which is most likely the situation – you're to go for a refrigerator whose door will open up fully without hitting the wall.
Do consider the size of the kitchen island, and tables, benches, chairs, bar stools, and other furniture in your kitchen.
This way, you will know the amount of space that should be left between the wall and where your refrigerator lies.
#2 Storage Depth
A key factor to consider when buying a refrigerator is its storage capacity as well as the design of the interior. The interior size is measured in cubic feet with 4 – 6 cubic capacity representing the industry standard. However, when it comes to food storage, it becomes more tricky to arrive at the right depth. This is why the need of every individual needs to be taken into consideration. The first thing to do is to consider your eating, shopping, and food habits.
Are you a regular shopper who needs less space or once-a-month shopper who wants to maximize space? If you're a vegetarian, you will probably have lots of fruits and veggies stored in the lower cabinet.
Do you cook and store the remaining for the next day? Or do you cook according to the mouths you feed? Then pay close attention to the freezer size. If you do a lot of cooking and freezing, you will prioritize the refrigerator with a deep freezer configuration in addition to having several divisions.
#3 Lighting
If you've fumbled in the past looking for a bottle of drink in the dark, you're bound to prefer a refrigerator with lighting. This way, you don't have to turn on the kitchen light when you need to pick an item from the kitchen quickly.
#4 Color
If you've spent a lot on the interior decoration of your home, you may want the color of your refrigerator to match that of other fixtures in your kitchen. The color of a refrigerator can ruin or improve the appearance of your kitchen. For instance, having a refrigerator painted black in the midst of fixtures with a light color shade is likely to turn heads for the wrong reasons.
Depending on your taste, you might decide to match the color of the refrigerator with the color of the wall or go for a distinct color that complements the color of other appliances. As long as the colors are balanced, your refrigerator won't be a negative focal point.
#5 Types
In terms of types, there are four categories to choose from:
Free-standing refrigerator
Freestanding Refrigerators are the cheapest option and adjacent without any cabinet. However, when getting a replacement for an old freestanding refrigerator, don't assume that the new one will automatically fit into the space occupied by the previous one. It's best to analyze each of its features to decide if it's the best fit.
Built-in refrigerator
Built-in refrigerators are fitted into your cabinet. The most built-in refrigerator comes with front doors to match the space of the cabinet. They're likely to be 24-48 inches in width and could go up to 84 inches in length. These refrigerators have limited depth as its primarily designed for width. One advantage that comes with the design of the interior is that it's easy to see and pick an item.
Counter-depth refrigerator
Counter-depth refrigerators are similar to built-in refrigerator except that they're designed to fit into your cabinet rather than coming with a custom cabinet design like in the case of a built-in refrigerator. These refrigerators are aligned with your cabinet and are likely 24 inches in width.
Under-counter refrigerator
Under-counter refrigerators come with a compact Design – drawers at the bottom and swing doors that are designed to fit into a small kitchen. They function as a fridge for storing foods and beverages and typically designed to fit into a dishwasher.
#6 Style
Your choice of a kitchen refrigerator should be from the following options – Top freezer, bottom freezer, side by side, or French-door. With a top freezer, you will likely have to bend down most of the time to access the bottom shelves. Bottom freezer styles are the most preferred choice due to the convenience that comes with using it. The refrigerator is at arms level and bending down is only required when you need to access the freezer.
Side by side refrigerator comes with two compartments with a door at the center. The doors are that of regular refrigerator doors, but the design of the interior prevents the placement of large items.
A French-door refrigerator is similar to side by side except that they come with double doors aligned to each side of the refrigerator. French-door refrigerators might also come with a bottom ice freezer for storing your veggies and meat, but having two doors could be clumsy as you have to shut one before another.
#7 Performance
For those overwhelmed by the varieties available, narrowing down your options could come down to aesthetic as there are few refrigerators with a beautiful finish. Most refrigerators are painted in white, black and stainless. Refrigerators with excellent performance come in a stainless body.
#8 Water Dispenser And Ice Maker
Refrigerators with a built-in water dispenser or ice maker are easy to find but models that have both features are limited. If you want a refrigerator that has both an ice maker or water dispenser, french door or side-by-side models should be the best option.
However, there are a few disadvantages that come with using refrigerators with built-in dispensers. First, they're hard to maintain and prone to damages at the same time.
#9 Temperature Range
It's important to consider the temperature range of a refrigerator to determine its performance. The temperature of your refrigerator should be consistent all through the day to keep the items in it fresh. The optimum temperature a refrigerator should maintain ought to be between 37degrees to 0 degrees.
Secondly, you will want to look out for a refrigerator that holds its temperature when the power goes out for long. It's possible to see a refrigerator that automatically adjusts its temperature based on the type of food stored. This way, the temperature in each compartment in the refrigerator is different.
#10 Energy Consumed
It's better to go for a refrigerator that uses little energy in contrast to those that use high energy overtime. The less energy your refrigerator consumes, the more it's able to function even when there is a drop in current.
Other Factors
One mistake people make when shopping for a fridge is neglecting details about the interior. For instance, you want to ensure it's easy to open the drawer and also push it back. You may overlook the edges, but if there's any sign of scrape or scratch knuckles, the refrigerator is likely not durable.
In some cases, the refrigerator might not come with compartments for meat, dairy products, or cheese. Such a refrigerator is unsuitable for your kitchen, and no matter how aesthetically pleasing it is, it's better to avoid it.
Wrapping It Up
The first thing you should consider when choosing a kitchen refrigerator is the size of the fridge and if it will fit into your space perfectly. Most people tend to favor French-door refrigerator over other styles because it's fancier, but this comes with some loopholes in terms of depth.
For those who prefer refrigerators with depth, a side-by-side refrigerator might appeal to you. Still, if you want one that's designed especially for your kitchen environment, a counter-depth refrigerator should be high on your list. Overall, our advice on the features to consider when buying a kitchen refrigerator will guide you in choosing the right one.
---