40 Best Abalone Recipes in Chinese Cuisine
Abalone is an popular food ingredients in Chinese restaurant, especially in high-end restaurant. The abalone recipes we collected are the most popular among Chinese food. The recipes are easy, fast and you can make tasty and authentic abalone dishes at home.
This is a seafood soup with Chinese dietary therapy ingredients. It helps recovery and refreshment. It also has beauty functions. To achieve the delicate aroma, we blanched chicken wings and abalone to remove excess bad taste. And then fortified the taste depth with a soup bag which classically combines therapy ingredients – angelica, sealwort, and fleece-flower Root.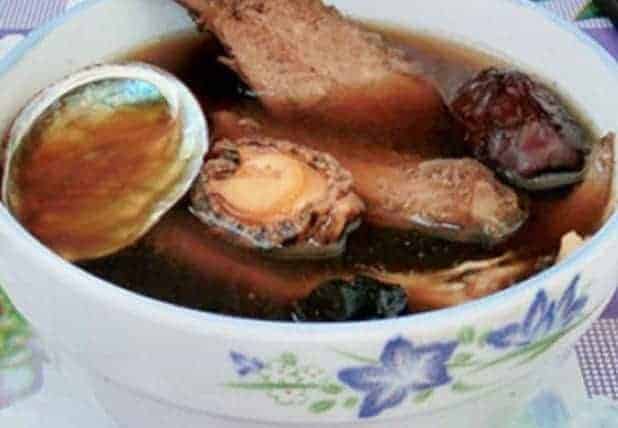 Stewed Abalone And Fish Maw Soup is one of most therapeutic soup in Chinese cuisine. Fish maw is perfect for nourish our body, especially for postpartum care. To make the soup delicious, we blanched fish maw and abalone separately to remove fishy taste and make ingredients tender. Then stew all ingredients for 2-3 hours before seasoning with only salt and chicken powder.
Simple is the best! To add strong sauce taste, we used board bean paste to brings salty and chili taste. We stir fry all ingredients as normal Chinese cooking way, but we replace salt and pepper with board bean paste. Fried ginger, garlic, and board bean paste until aromatic and red oil come out. Add abalone to stir-fry and bring thicken seafood favor.
Abalone Wax Melon soup is a must-have soup in summer. To boost its favor, we used olive oil to cook winter melon and other ingredients first. After drawing out excess moisture, we added abalone flavor water and abalone to simmer. Within 40 minutes, light and comfortable taste abalone soup are ready to serve.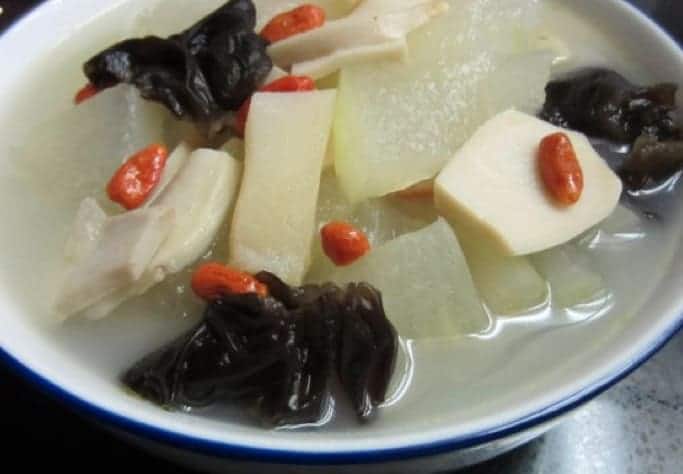 This authentic Cantonese seafood recipe is built for activating original food taste. Different from normal steamed dishes, we adopted traditional Chinese cooking seasoning-fried ginger and garlic- to enhance favor when steaming. We stir-fried minced ginger and garlic, place chicken and abalone on the top in proper order. After simmering, pouring rice wine to activate the fragrant aroma of all ingredients.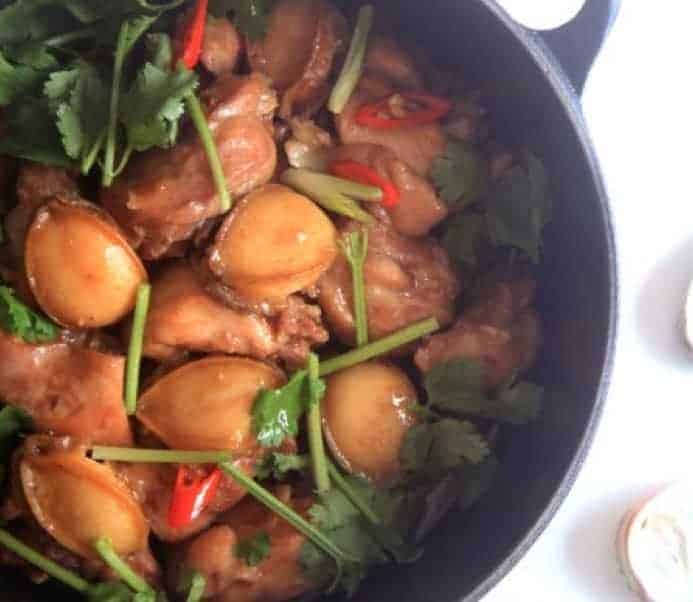 Steamed Abalone with Meat Pie is a light taste steamed dish that suitable for meat lovers. To make abalone and pork with a comfortable taste, we stuffed minced pork with abalone to mix seafood and meat taste. Then steamed no longer than 10 minutes. Seasoned with fish sauce, soy sauce, and chopped chili. The taste was light, fresh, comfortable with a little chili flavor.
This abalone salad has a fresh and tender texture. We found that it was the best cold dish that spread abalone flavor. Like other salad, we prepared all vegetable ingredient in advanced. Then blanch small abalone until slightly cooked. Last, simply mix them and season with soy sauce or light soy sauce to make a simple but fresh taste.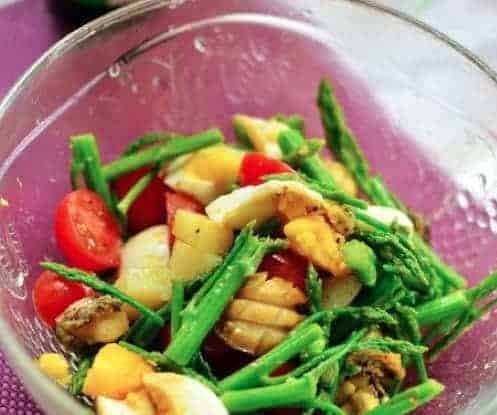 We design this dish for the foodies of winter bamboo shoots. It has a fresh, fragrant and crispy seafood taste. To make this comfortable favor. we blanch winter bamboo shoots and marinate abalone slices in advance. Then stir fry all ingredients and simmer with cooking wine to improve flavor. You will be glad you make this dish when starting to eat.
Traditional Chinese Sauteed dishes are often loaded with a strong taste sauce. However, we want a light and comfortable favor for abalone dishes. To create light and fresh taste, we use lily bulbs as the ingredients to bring a sweet and light aroma. The process is simple. Cut abalone into thin slices. After sauteing minced ginger, onions, and lily. Then add abalone slices to coat with the sauce.
We mix squid and abalones in this recipe to boost seafood flavor. To make preferred taste, we use shrimp paste, Shacha sauce, fish sauce, and soy sauce to make a unique sauce for this dish. After blanching main ingredients, simply stir-fry squid and abalone with the sauce create a thickened aroma.
To make soup has a deep aroma, we stew abalone with traditional Chinese dietary therapy ingredients, such as Chinese yam and straight ladybell root. Then seasoning with the only salt to make soup extracts with original ingredients aroma.
Steamed Abalone in XO Sauce is the best recipe that combines abalone and XO sauce, which provide a moist and strong taste. For perfecting mixture, we simply steam abalone to and make it juicy. For the sauce, we adopt the traditional Chinese cuisine approach to mix XO sauce with aromatic minced garlic. Then, pour the sauce over the abalone to bring a pleasant taste mixture.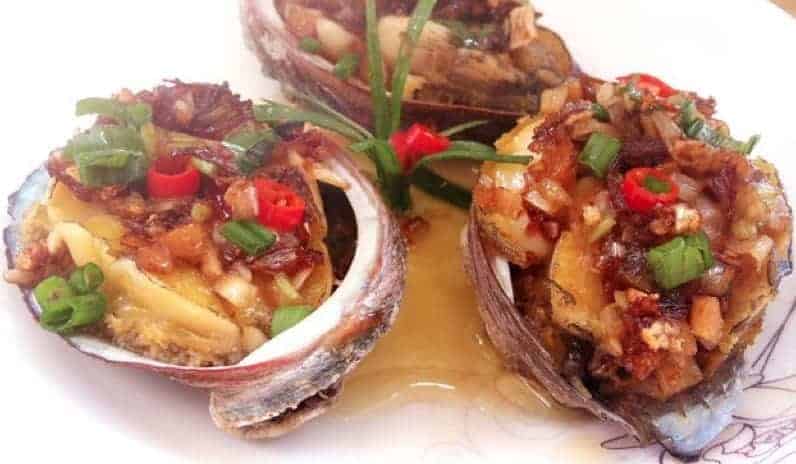 For a fully flavored abalone dietary therapy soup, we simmer cordyceps flowers, American ginseng, and dendorbe together. These tradition Chinese therapy ingredients have the function of skin beauty, improving an immune system and balance blood pressure. With the adjusted ingredients, we season the soup with only salt and abalone's original aroma. The fragrance lasts for hours.
We all love seafood, especially in ease and convenient way. This recipe just does it, maintaining the original taste of each seafood ingredients while adding a little hot pot's spicy and tasty. To make in a simple way, we blanch and steam ingredients until cooked, then boil in Hot Pot Base to add seasoned taste. Then place on the place according to the sequence. You will be amazed for its juice and favor.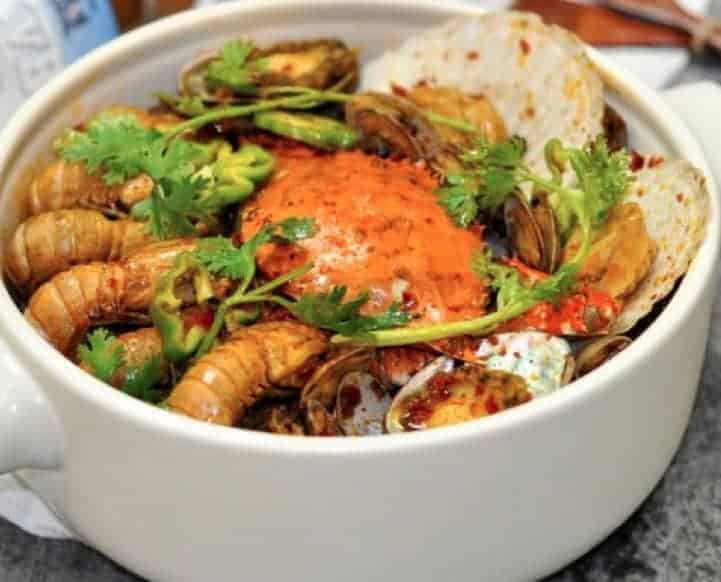 Stewed White Lotus and Figs with Abalone Soup is a functional soup that improves our immune system and is good for skin and liver. To make the soup healthy as well as medical functional, we adopt dried abalone to bring seafood taste. Red jujube, white lotus, figs are the main dietary therapy ingredients that add a little sweet and fresh taste. Then, simmer all ingredients for 2 hours to integrate all taste into a tradition Chinese abalone soup favor.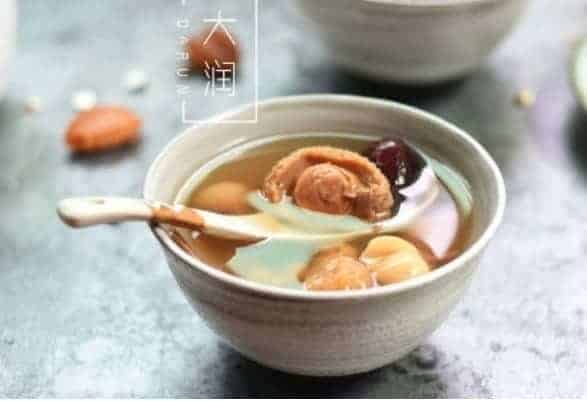 This Steamed Chili Abalone Recipe couldn't be easier. We steam abalone first, then make a sauce to enhance flavor. Last, pour over hot oil to activate the aroma of all ingredients.
This Abalone and Chicken Hot Pot taste is Hoisin flavor. It mixes sweet and salt. We never feel boring when enjoying this dish. This hot pot base is a dish that you can eat directly. After that, add water or chicken soup to make a hot pot. We found tofu, fried bean-curd sticks, meatballs and vegetables are best suitable for this hot pot base.
Braised Abalone in Tomato Sauce couldn't be easier. We processed abalone with green onions, garlic, and ginger to remove fishy taste. After carefully steaming the abalones, season with tomato sauce and seasoned soy sauce for seafood to bring a deep flavor. Then serve with balanced rapeseed flowers.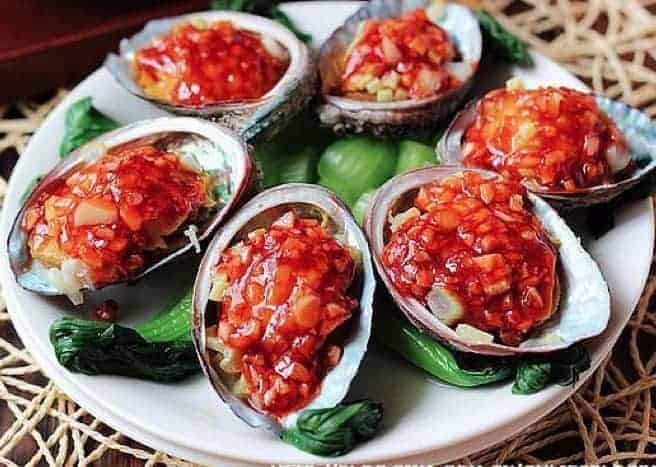 Simmered Abalone With Rice is a Cantonese dish available in many high-end restaurants. To make this dish at home, we found a few tricks to make abalone in a flavorful sauce. Boiling abalones with cold sauce to enhance taste, then thicken with starch to bring abalone's taste to the next level. When pouring on rice, it is appetizing that the taste is irresistible.
It's simple and delicious that you notice a congee mixed with abalone and shrimp. This recipe does just it. The congee infuses the seafood aroma with chopped abalone and shrimp. To maintain the original taste, in this recipe we use the minimum seasoning to bring an authentic flavor of fresh abalone.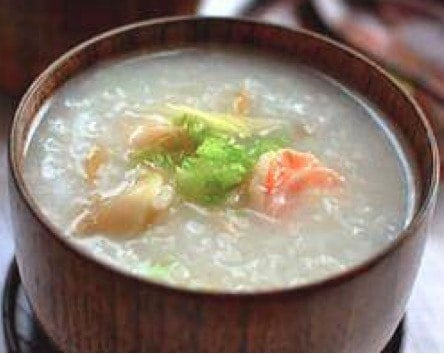 Abalone and Pok Ribs Soup contain nutrition that helps patients to recovery. To add deeply pork soup favored pork, we simmer all ingredients for 2 hours to ensure every ingredient spread its taste in the soup. This comforting abalone soup suitable for everyone.
Abalone is rich in protein. It does not have any flavor of itself. To enhance seafood flavor, we use the oyster sauce to bring taste to the next level. Chicken soup or chicken powder is another seasoning to boost flavor. After cook abalones in the sauce, thicken the sauce with starch and pour on the abalones, which make the dish juicy and enhanced taste.
Chinese Porridge is excellent for mixing seafood taste, because of its light and thicken taste. In this recipe, we boil porridge first. Then add other ingredients in proper order. Ginger and white pepper powder are the main seasonings that cover and remove the fishy taste of seafood. Then brief heating helps to mix up all ingredients flavor in the porridge to achieve perfect aroma.
This traditional Chinese pork belly recipe should result in seafood taste of juicy pork and tender abalone. We make the pork belly first in traditional ways. Adding abalone brings favor and juicy. When boiling until soup thickens, pork and abalone are coated with a thicken, clean, sweet sauce.
Stewed Abalone With Chicken Soup uses less seasoning to make a thicken seafood flavor chicken soup. To make chicken taste strong, we fry chicken meat first to make it tight. When boil chicken and abalone, the soup is white and mixed with abalone and chicken taste. This dish is light taste and suitable for seafood lovers.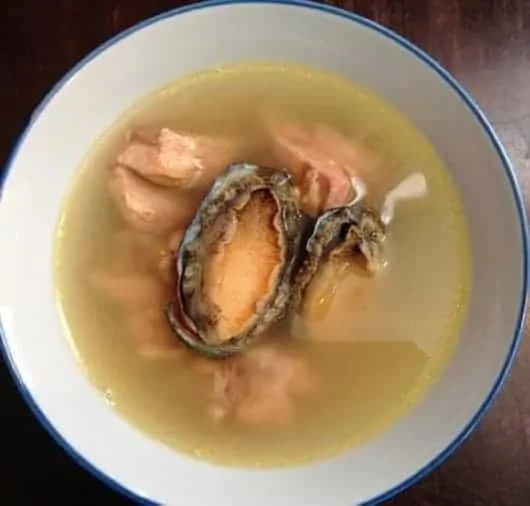 To boost the abalone taste, we use green onions oil to remove fishy taste and bring stir-fried aroma. In this recipe, we steam abalone first to make sure it is cooked without taste loss. Then mix light soy sauce, minced garlic, and salt for seasoning. Pouring hot oil is the last step, which brings all ingredients fragrant.
Steamed Abalone is easy, but it is also hard if you want to make a wonderful dish. We should use the fresh abalone for steaming. Then makes a sauce with scallion oil, which can remove fishy taste but keeps scallion taste. After topping the sauce on abalone, steam less than 8 minutes to achieve the best taste. Last, topping chopped green onions bring a pleasant lightness.
If you like chicken dishes, you can't miss this Abalone Taste Chicken Pot. For this seafood flavor dish, we make normal chicken pot first. Then use abalone as a seasoning to bring a sweet and fresh seafood flavor. All taste will be enhanced when cooking until juicy run clear. It gets flavor mixed and strong.
Stewed Potatoes With Abalone is a home dish that you can make every day. To product deeply flavored abalone, we add potatoes to simmer with abalone. Then use high heat to cook until soup almost runs clear. The favor of spice mixture and seafood stick with abalone, which taste is as twice as much as normal steamed abalone.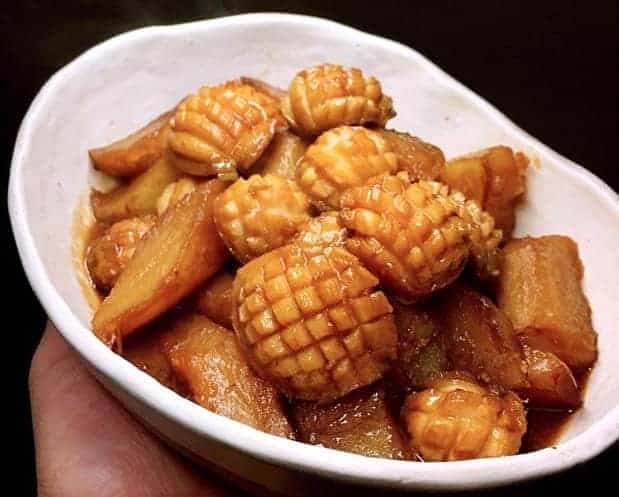 To enhance abalone favor, we adopt pork ribs soup instead of chicken soup. Strong aromatic pork ribs soup cover and improves the seafood taste. Instead of boiling, we use a pressure cooker to speed up the taste diffusion before overcooking the abalones. This recipe softens abalones meat with no fishy taste and losing seafood flavor. It makes abalone juicy and appetizing.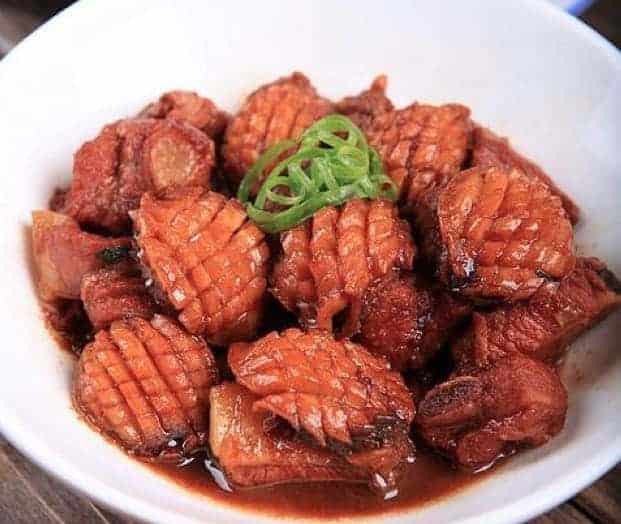 Sometimes fresh abalone is hard to buy, and it is relatively expensive. In this recipe, we make shiitake mushroom into abalone taste with the sweet taste of the oyster sauce. Also, by using soy sauce for coloring, the shiitake mushroom looks like abalone as well. Hope you enjoy this yummy vegan dish.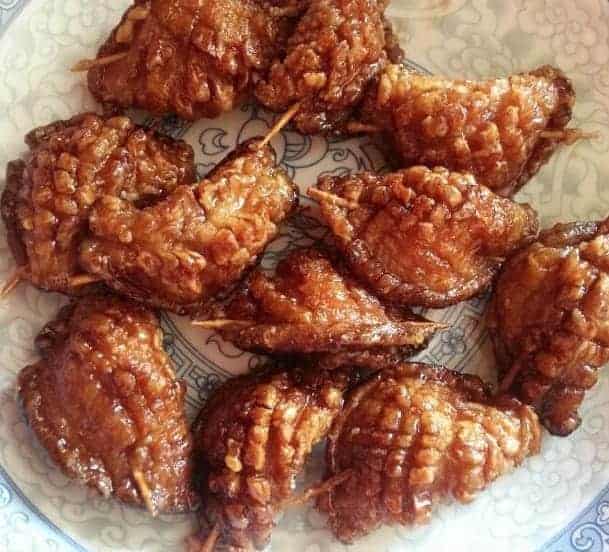 Braised Abalone is a juicy abalone dish with authentic Chinese cooking methods. It uses many authentic Chinese seasoning to enhance abalone favor, such as Oyster sauce, light soy sauce, minced garlic, and ginger. In this recipe, we boil abalone first and simmer with traditional seasoning to bring more taste, including spicy, sweet and freshness. You can't miss this dish if you are a Chinese cuisine lover.
It is an increased seafood flavor dishes. In order to main the original taste of abalone, we steam abalone in the least time to keep its freshness and tender. Then season the steamed abalone soup with oyster sauce and garlic to enhance the favor. Last, pour the seasoned abalone juice on the abalone to make an excellent steamed abalone dish. It has a strong seafood flavor without the fishy taste.
Golden Soup Abalone Recipe is a delicate dishes. It only uses the essence of the meat soup to cook abalone. We make meat soup from chicken, lean meat and pork ribs. Then only keep the soup to boil abalone. This fragrant soup mix with abalone favor, which is luxurious and appetizing.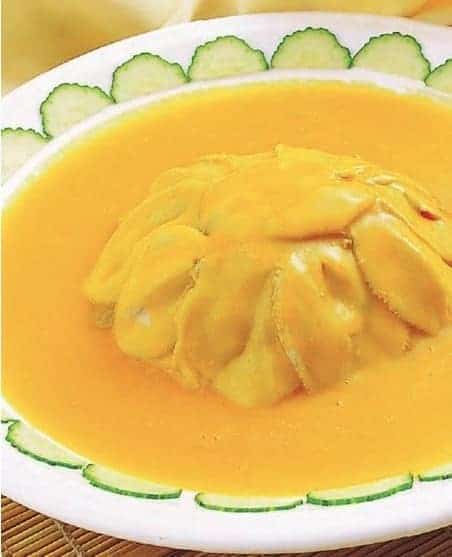 Braised Abalone Slice with Assorted Fruits is an easy abalone recipe that is yummy and attractive. We place assorted fruits as the decoration which can serve with the abalone. Broccoli and abalone are cooked together to make dish juicy and enhance the sweet taste.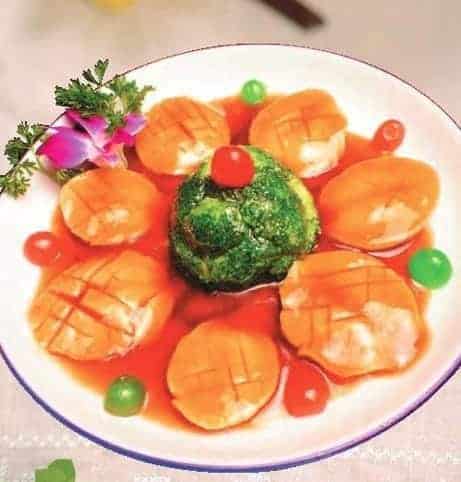 This dish is yummy with appetizing color and aromatic. To improve aroma, we add crab roe which is super aromatic and elegant. After making crab roe paste, simmer all ingredients to mix taste and flavor. With adding a little salt and chicken powder, the dish can keep the fresh flavor of crab roe and abalone taste.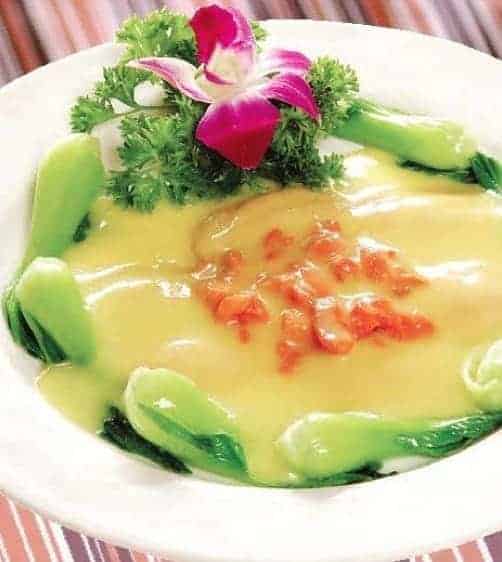 It is an easy and fast abalone recipe that suitable for abalone lover. In this recipe, we prepare all ingredients in advanced, then stir-fry until cooked, seasoning with abalone sauce which can enhance seafood flavor.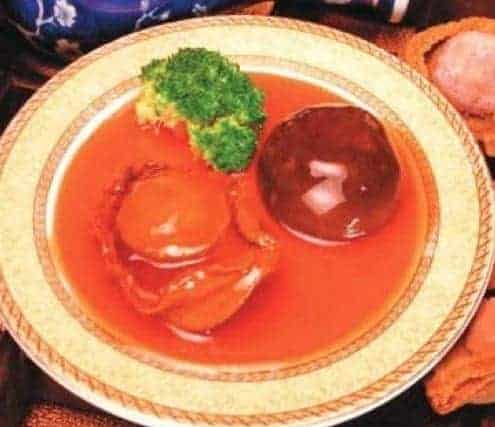 It is a seafood assorted dish that mix abalone and scallops. Cooking wine removes fishy taste so that the dish can maximumly keep the original ingredient taste.
An easy seafood recipe with bean vermicelli noodles.
Green pepper is rich in nutrition and Vitamin C. Abalone Mushroom are also nutrient-rich food material, rich in protein, vitamins, and minerals.
This stir-fried vegetable dish is simple, convenient, delicious and healthy.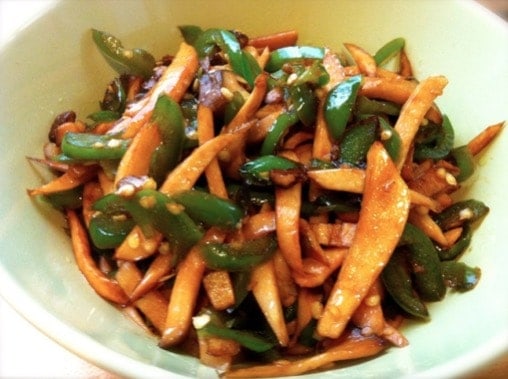 ---
Rate This Article