32 Best and Easy Fish Recipes in Chinese Cuisine
Fish is a must-have ingredient in Chinese food. These fish recipes are simple, easy, and fast to make authentic Chinese dishes at home. The taste can be similar or even the same as you have in Chinese restaurants.
Satay fish fillet is named ShaChaYuSi in Chinese. It uses croaker fish meat and cut it into strips. After blanching the fish meat, mix it with seasonal sauce. The taste is light, fresh, and juicy.
This soup has a light taste and comfortable aftertastes with the special ingredients – watermelon and cow gram. It is suitable for everyone, especially in summer.
The soup contains a rich source of dietary fiber. The fishtail has no fat and is a good source of protein. This fishtail soup is a perfect dinner if you are on a diet.
If you like salty fish taste and eating fish head, it dish is right for you. It has a strong salty fish fragrance without any fishy taste.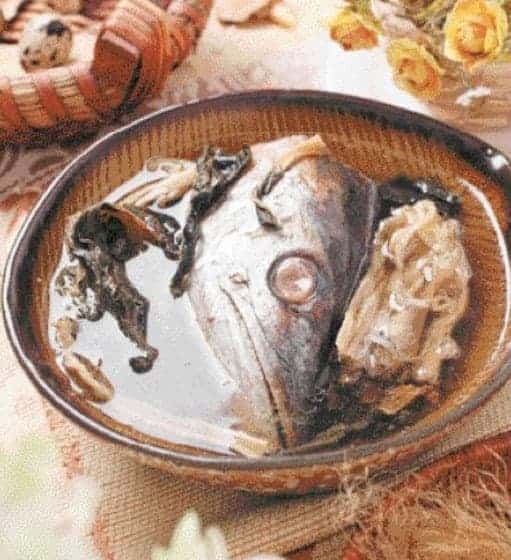 Staw mushroom makes the soup light sweet and full of mushroom's taste. Tofu also adds its bean aroma to the soup. The fish soup is milk-white and has a strong milk aroma.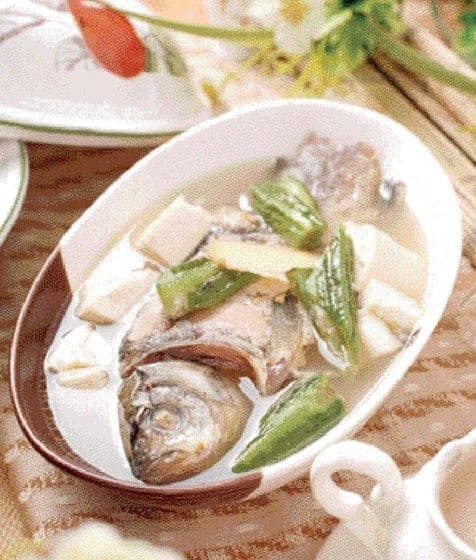 Dried Rehmannia root has a health and warm effect. It tastes better when stewing with lean pork. For this recipe, we add jellyfish to improve the freshness and seafood flavor. The soup is aromatic with strong rehamnia root and jellyfish flavour.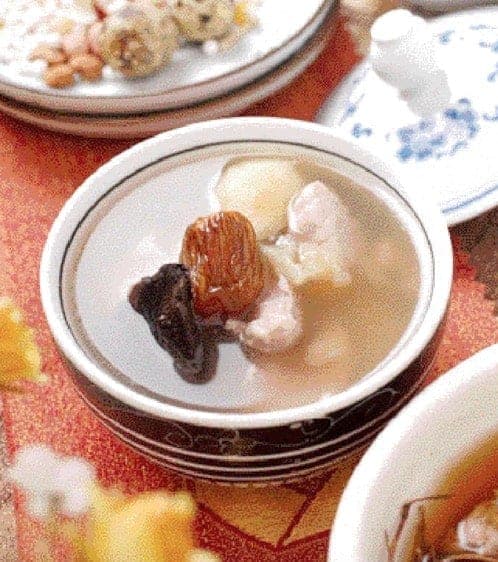 This pawpaw soup is good for skin health. It makes skin tender and refreshed.
Chinese medicine believes Malabar spinach has the function of decrease internal heat, which contributes to the balance of YingYang. The grass fish soup is perfect mixing with the aroma of Malabar spinach, you will love it.
Chinese medical believe sweet potato leaves can prevent cancer to some extent. To make sweet potato leaves a better taste, this fish soup combines the leaves' aroma. It is recipe is simple and fast, which can be a daily soup for everyone.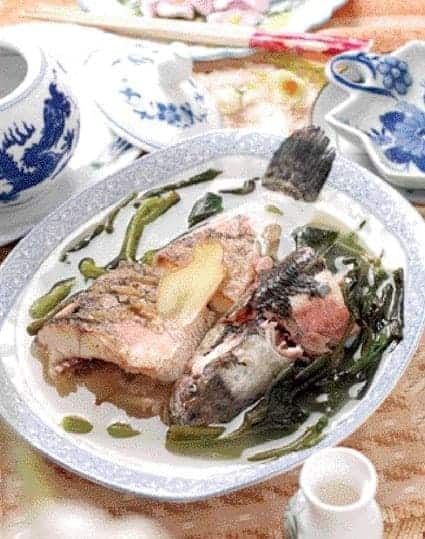 Pawpaw and peanut are ingredients for skin beauty. By cooking with fishtails, the soup is smooth and white. You can feel a strong and in-depth aroma after simmering.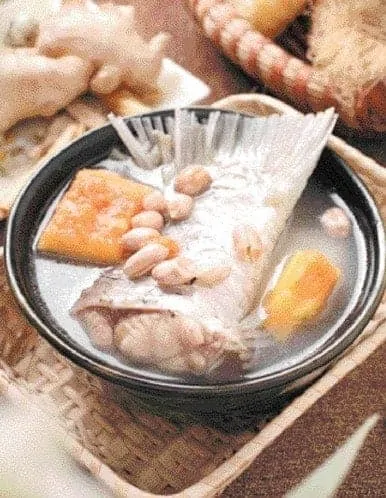 This fish glue soup is perfect as a supplement, especially expectant mothers, puerpera, and elderly people. The combination of pork tenderloin and fish glue offer a rich source of collagen.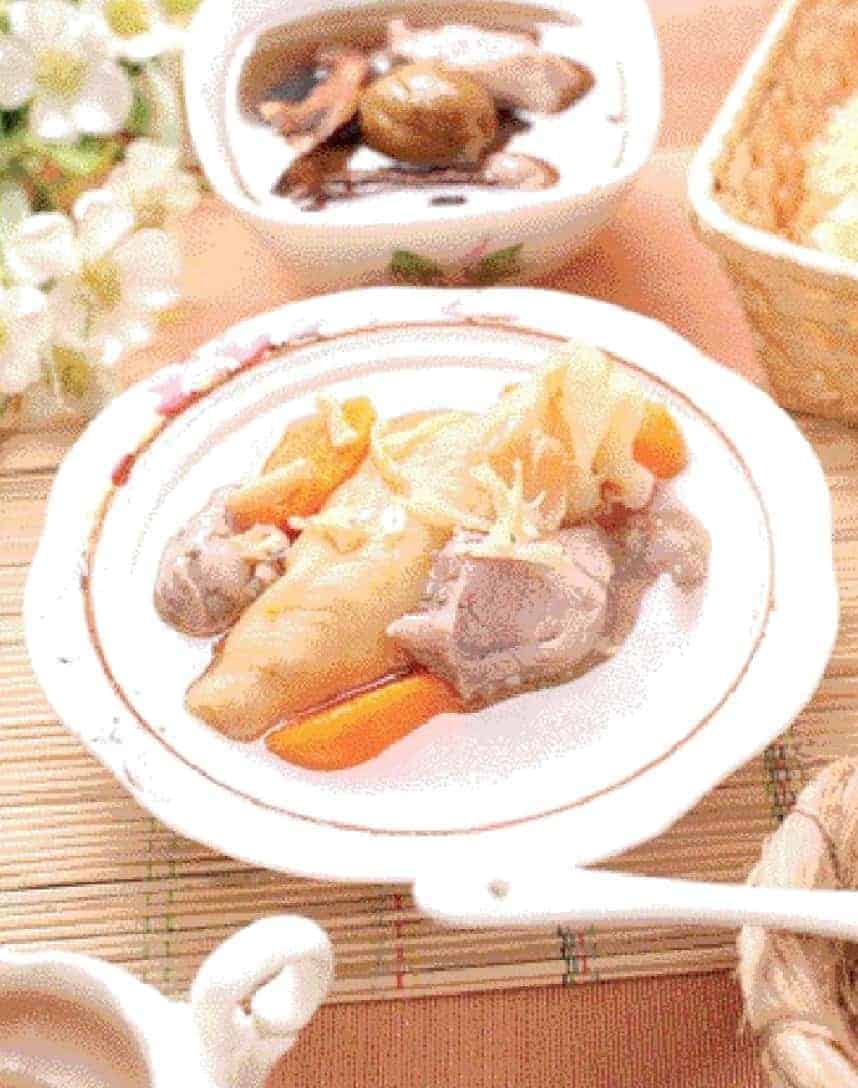 Solomon Seal and Adenophora Stricta are food therapy ingredients. They help to improve the immune system of our body. Also, drinking this soup regularly can prevent and cure cough and improve appetite. It is perfect for children or old people.
You can use most of the vegetables for this fish soup. The soup taste is well-designed with the pork bone. And dried tangerine peel brings a light sweet taste and remove fish smell.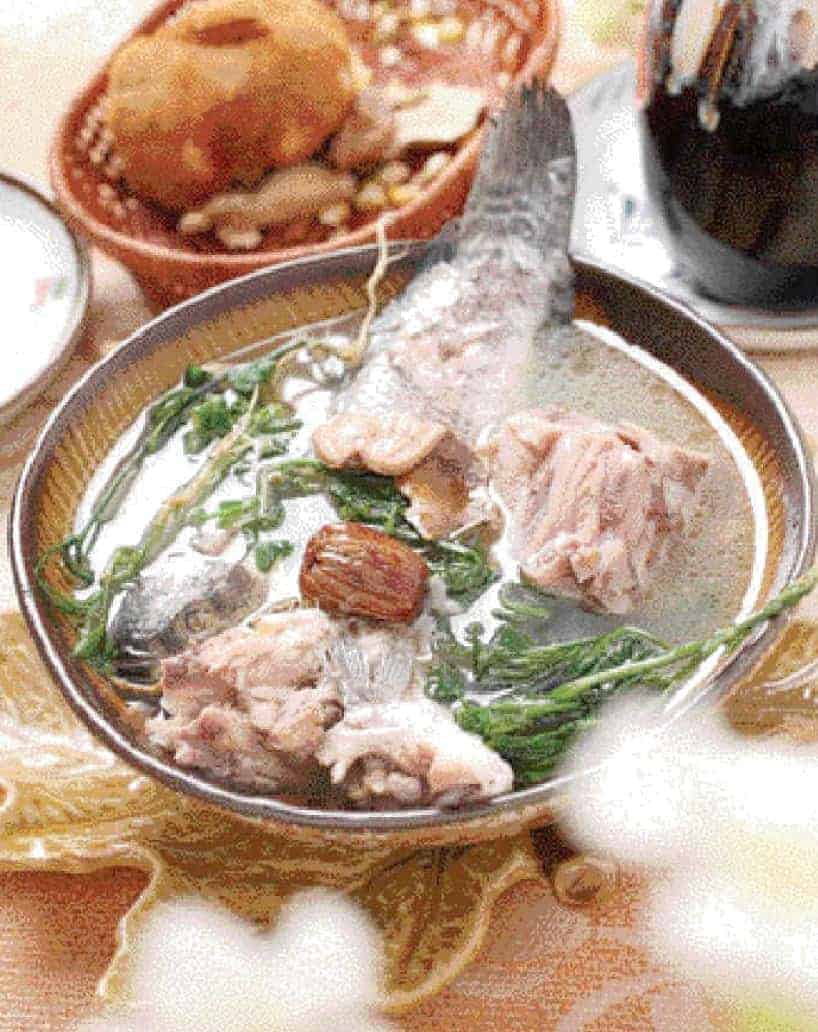 Catfish soup is fresh with no fishy smell in this recipe. Adding dried tangerine peel can improve overall taste – with a little sweet and sour flavor. Black bean and red dates also improve the healthy functions of the soup.
A perfect fish soup combines the nutrition of nut, apple, and fish meat. It is suitable for all ages.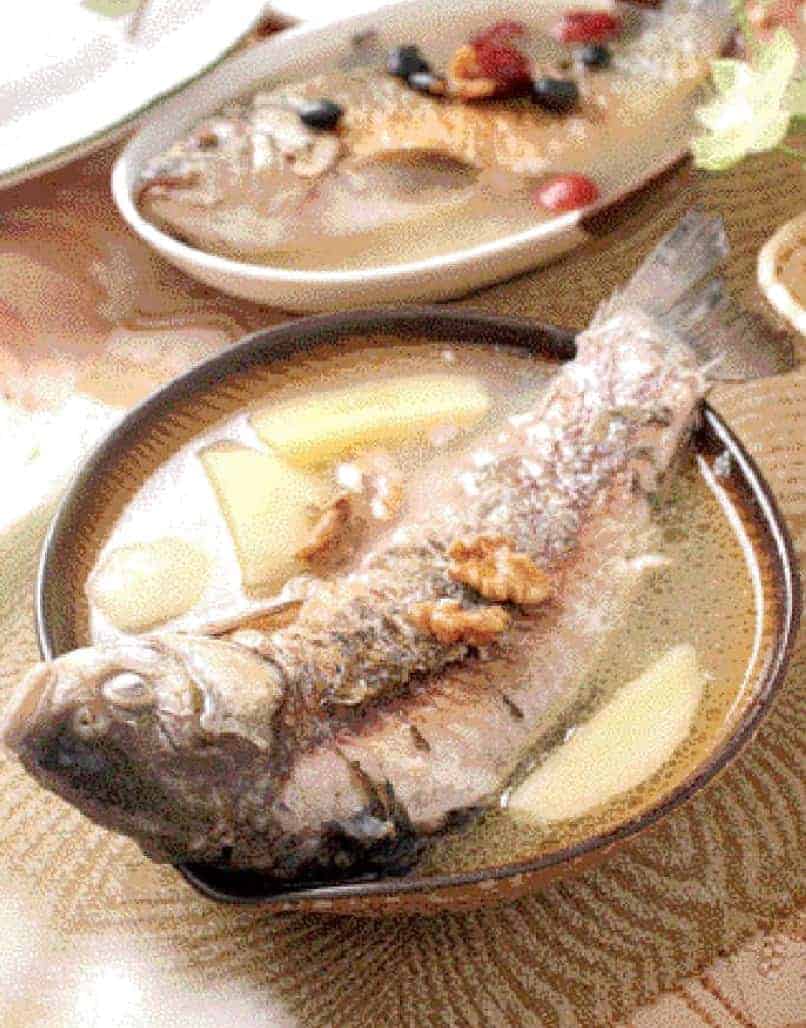 This apple fish soup combines both fruits and fish meat. The fish meat is juicy with an aromatic fruit aroma. Besides, the apple and snow pear has a special taste after stewing with fish.
This easy fish soup recipe contains cordyceps flowers and Polygonatum which are food therapy ingredients. The fish soup is white and aromatic, and it is beneficial for our skin beauty.
Pawpaw is rich in vitamins and nutrition. With the fresh fish soup, the soup is smooth and aromatic. This simple recipe brings a daily healthy dish.
We all wanted to have a nice fish hot pot which was milk white and has a strong flavor. Thus, after experience different fish and seasoning, we settled to carp fish fillets and salad oil. These two ingredients are the key to make soup aromatic. Stew along with the fried ham slices and shiitake mushroom slice, the soup has a dedicated meaty backdrop and a sweet-smooth mouthfeel.
To make a fresh sweet and sour fish hot pot, we settled on tomato sauce as the main sour seasoning. The hot pot is simple, after stir-frying all seasonings, pour into fish soup and adjust taste with cooking, sugar, and salt. Then put into marinated grass carp and bring to a boil. The hot pot will be ready instantly if you have prepared fish and ingredients in advanced.
To make a delicious fish heat hot pot without sacrificing soup taste, we sauteed fish heat until golden brown. Then fried flour in another pot to make a paste that can absorb soup taste as well as prevent fish heat overcooked. Pour into fish soup, rice wine, and other seasonings for stewing. The seasoning taste dissolved fully in the white soup and gave the fish head soup a silky finish.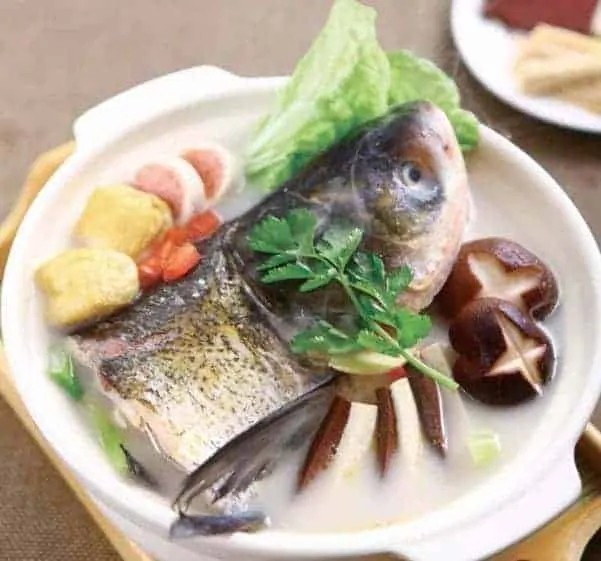 We wanted catfish remaining juicy and tender mouthfeel after stewing. To do that, we sauteed all seasoning ingredients over low heat. After removing excess moisture, add water and sauce to the pot and add catfish as the last ingredient. After 30 minutes of stewing, catfish was cooked with the best mouthfeel.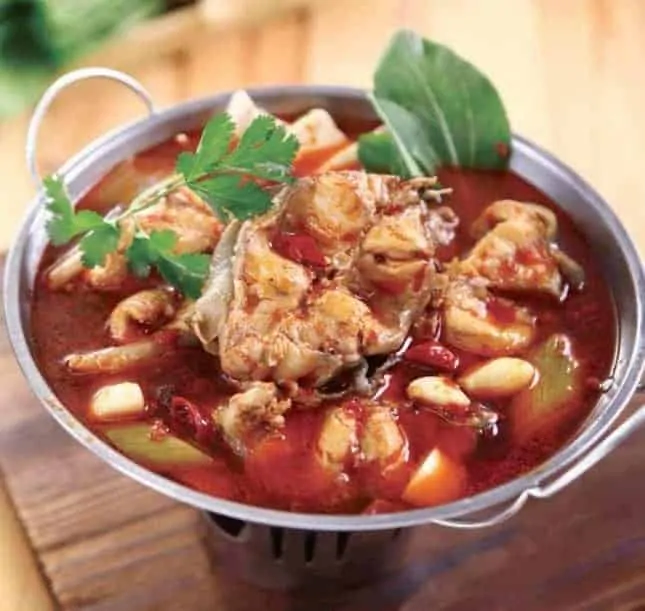 To make a perfect hot pot base for blanching fish fillet, we settle on pickled cabbage flavor soup base. The spicy and sour taste keep fillets fresh, tender and with a little bit chewy. Like other hot pot, we stir-fried all seasoning ingredients to remove excess moisture, then added fish soup to dilute the strong aroma. By cutting fish fillet into thin slices, fish fillet could be served in 20 seconds after blanching. No extra dipping sauce needs for this strong spicy and flavored fish fillets.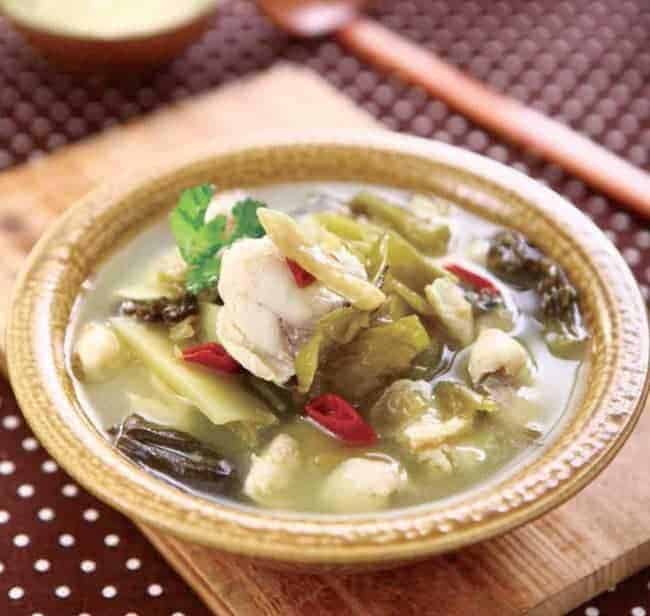 To make a wonderful fishball, we started with patting fish meat to make it chewy and tender. Then, mix with the marinade and keep stirring to make it sticky as a fishball. After scooping to fish balls, we blanched in 80-degree water to keep their shape and store their freshness inside. Last, decorate with coriander and boost aroma with sesame oil. The fish meat is chewy, light and fresh seafood taste.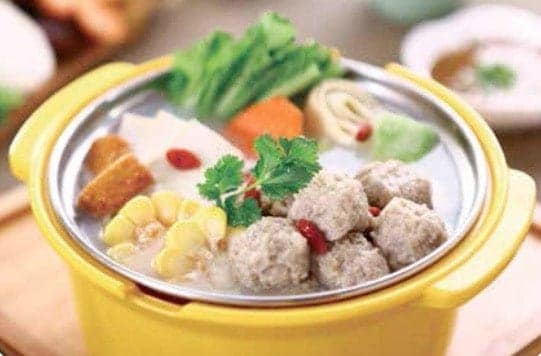 To make a white and aromatic fish hot pot soup, we blanched fish first to remove fishy smell and stir-fry to remove excess water. After simmering, the soup is white, fresh and a strong fish aroma.
To make fish filet fresh and tender, we started with marinating fish fillets and bone with cooking wine and starch. Instead of adding spicy taste with chili, we fried broad bean paste to brings a texture spicy aroma. Then pour into soup stock, sugar, fried Sichuan chili, and other seasonings. To maximum keep fish fillets fresh, adding fish fillet until soup reaches extremely hot. It's spicy and hot taste last-longer than most of the Chinese dishes.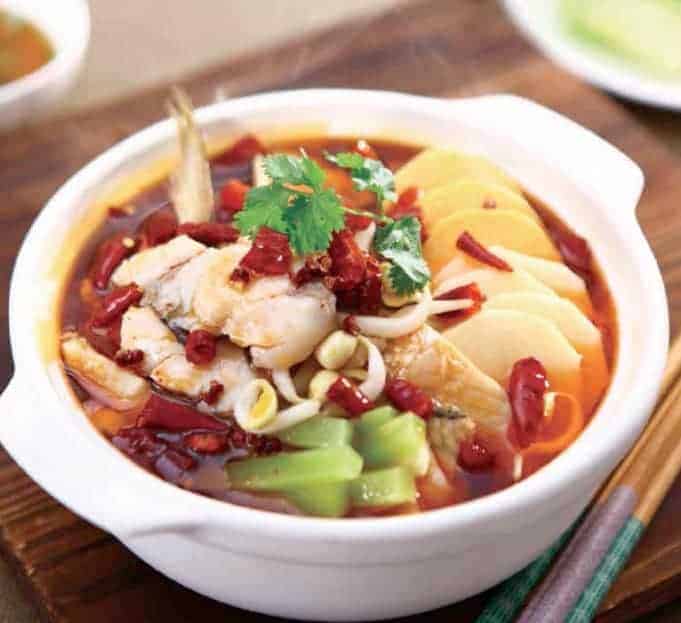 Stewed Abalone And Fish Maw Soup is one of most therapeutic soup in Chinese cuisine. Fish maw is perfect for nourish our body, especially for postpartum care. To make the soup delicious, we blanched fish maw and abalone separately to remove fishy taste and make ingredients tender. Then stew all ingredients for 2-3 hours before seasoning with only salt and chicken powder.
Butterfish's meat is a little tough. But it is still tasty and tender with this recipe. You can squeeze on a little lemon juice when you eat. It's appetizing.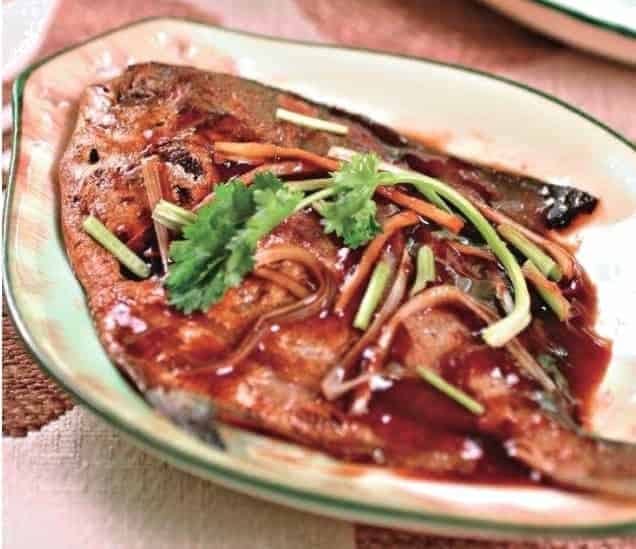 Chinese medicine believes hairtail fish is good for our stomach. It is rich in magnesium, calcium and other minerals, Fish meat is good for maintaining cardiovascular health and strengthening bones.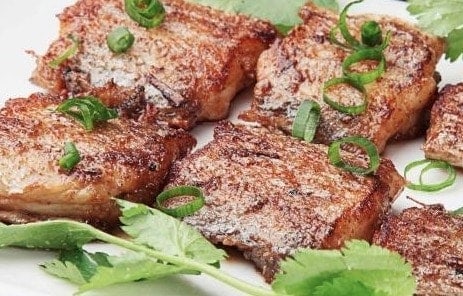 Chinese steamed bass fish belongs to Cantonese cuisine. It is one of the famous seafood recipes. Tasty steamed bass fish often require a high level of steaming skills. Heat level, steaming time and the freshness of the ingredients all are the key to this dish.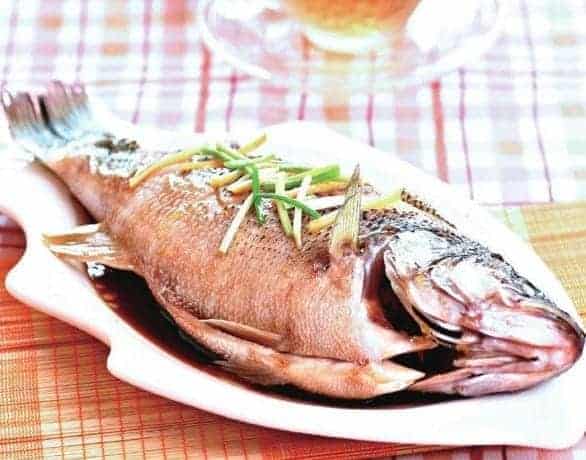 Codfish is rich in high-quality protein, vitamin A, vitamin D, calcium, magnesium, selenium and unsaturated fatty acids, etc. It is also good for the brain. Having codfish with kale is more nutrition comprehensive and balanced.
Sole fish meat is delicious and rich in protein. You can buy frozen sole fish slices since it has no thorns! Even little babies can eat it.

Simple and easy step for this recipe. No need too much seasoning. In the last step, use water starch to make the soup sticky and wrap fish meat. It is really yummy!
---
Rate This Article