Duck Intestine Taste Reviews and Cooking Guide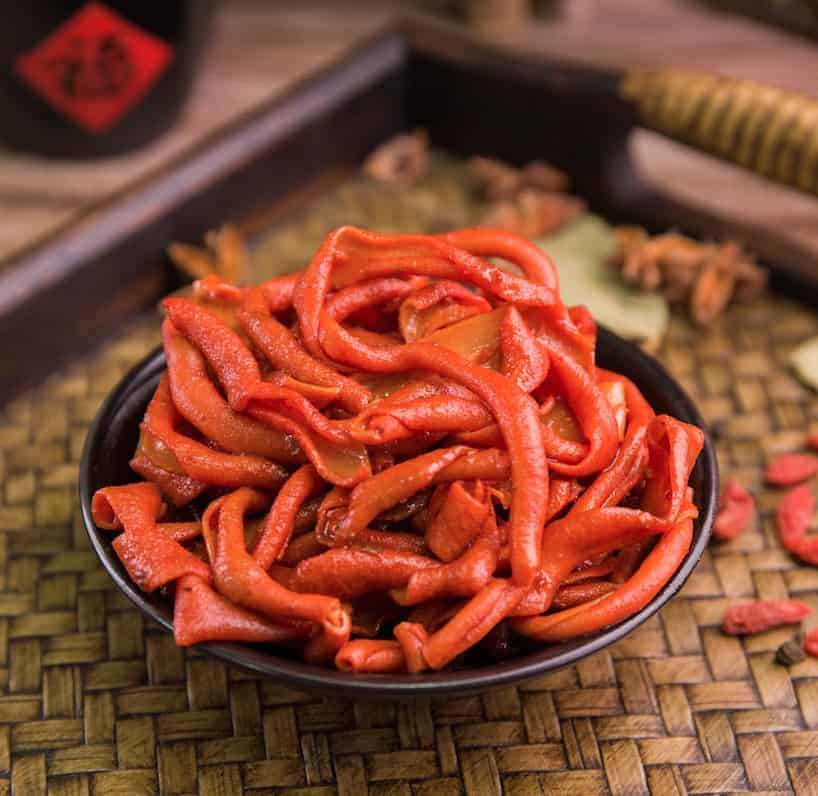 Why Duck Intestine Is Popular In Chinese Food?
The Chinese love for duck intestine goes beyond the act of not wasting food. It's considered a huge delicacy to the point that it's served to foreign visitors in China. As much as the Chinese have become synonymous with eating all kinds of meat, duck dishes are more prevalent in the city of Nanjing than any other part of the country. Here you will find anything duck: intestine, eggs, gizzard, salted duck, sausage, tongue, and kidney.
Duck Intestine is more textural than flavorful and will taste the same as the dish it's prepared with. Most times, it gets chewy, but when properly cooked, it could be a bit tender. The preparation process for duck intestine is time-consuming, which explains why most people try as much as possible to avoid it.
What Does Duck Intestine Taste Like?
The taste of duck intestine is entirely different from duck meat. In Chinese cuisines, duck intestine is either braised with sauce, roasted or deep-fried. However, neither of these methods improves their texture.
Provided they're properly cleaned, duck intestines are delicious, but it's texture remains a stumbling block. It's so chewy that it has been compared with rubber. Hence, a lot of work is done to ensure it gets tender, which most time involves cooking for long hours.
A like-to-like comparison will be with bacon. Their taste may be miles apart, but duck intestine and bacon have a lot in common in terms of texture. But, to ensure the taste of duck intestine is as acceptable as bacon, you have to add a lot of spices. Basically, duck intestine doesn't have a unique taste.
If you actually want duck intestine to taste like usual bacon, you have to do a lot of cleaning. If they're not cleaned properly, it tastes like poop, which ignites a certain feeling of having duck poop in your dish. With such thoughts, it's impossible to have a single bite.
If you have no issue consuming bacon, then duck intestine shouldn't be an issue for you either. However, if you decide to enjoy this dish in a restaurant, ensure the intestine is properly clean. If you fail to do this before taking a bite, you may not overcome the thought of eating duck shit, which will ultimately kill your interest in intestines in general.
How To Cook With Duck Intestine?
I can imagine how long it takes to get intestine from a duck. Even though you will need fresh duck intestine to get the best from any dish it's prepared with; you don't have to go through the trouble of cleaning the intestine if you don't want to. The pre-cleaned intestine can be purchased from stores.
If you are cooking with the ones purchased from stores, ensure they're white, light in odor, and also tender in texture. Duck Intestines that are darkened or has a bad smell shouldn't be purchased.
Chongqing Hot Pot
Duck Intestine is a popular sight in most Chinese hot pot. It appears like slices of salmon-colored meat except that it's thinner. The kind of ingredients used for Chongqing hot pot depends on the type of meat. For densely flavored meat such as duck intestine, the dish will be heavily spiced to eliminate the strong scent of the intestine.
This dish is prepared over medium heat since it is prepared with a lot of pepper. The spices mustn't be exposed to heat for long hours else; the pepper becomes mushy, which ruins the taste of the intestine.
The taste of duck intestine in Chongqing hot pot is quite mild compared to when fried. The magic of this dish is that it reduces the strong scent of the intestine without altering its flavor.
New Sanbeji Dish
"Three cups" or Sanbeji, as it's popularly called in China, is a dish prepared by combining three sauce with a chicken cooked in an earthen pot. The popularity of the chicken version of "three cups" is slowly on a decline.
Recent version of "three cups" uses the oddest combinations, which include duck intestine, tongue, and squid.
The addition of duck intestine into Sanbeji is pure magic. In this dish, the intestines are cut into large pieces, which can be mistaken for pork. Most locals suggest this is done to ensure the intestine absorbs a lot of flavors. Nevertheless, it still has a funky taste and a chewy texture.
The addition of squid also ups the tempo. Narrowing the ingredients down to just duck tongue and intestine would have robbed the dish of its unique taste. Honestly, those two aren't the tastiest meat. The tenderness of squid complements the chewy and crunchy nature of duck intestine and tongue, respectively.
Fried Duck Intestine
Fried duck intestine is the easiest way to enjoy this delicacy. If you want the intestine to be crunchy, you will have to boil in hot water thrice. On the third boil, you can add all the ingredients before frying.
The tenderness of the intestine makes it crispy, but this also depends on the kind of intestine used.
Is Duck Intestine Healthy?
Eating organ meat like duck intestine comes with sizable risk, but this is far less than its health benefits. All organ meat, regardless of the one you consume, contains a lot of proteins and vitamins.
In the case of duck intestine, there are still lingering concerns about the bacteria in it, especially if not properly cleaned. Looking out for a well-prepared duck intestine becomes mandatory for health reasons than satisfying your taste bud.
Duck intestine is a nutrient-dense food. Duck Intestine, in contrast with pig intestine, is actually low in fat and contains Vitamin B12, which helps with depression and also relieve stress.
Minerals like calcium and magnesium are also present in this organ. While manganese act as a powerful antioxidant that protects the body from free radicals, calcium, on the other hand, improves body function and is helpful to both joints and bones.
Final Thoughts
Duck Intestine can be crispy and crunchy, but this version is only enjoyed in Chinese restaurants. Preparing a crispy duck intestine at home can quickly become an impossible task, no matter how hard you try.
To ensure the intestine is crispy, cut the intestine into thin slices, and ensure it stays in the water for a very long time. After the first cooking phase, transfer the half-cooked intestine into cold water for a few minutes and finally back to warm water to apply all the seasoning. The natural way of preparing crispy duck intestine is to get a healthy and fresh-looking gut.
---
Rate This Article