Top 10 Best Cooking Wine – Taste and Reviews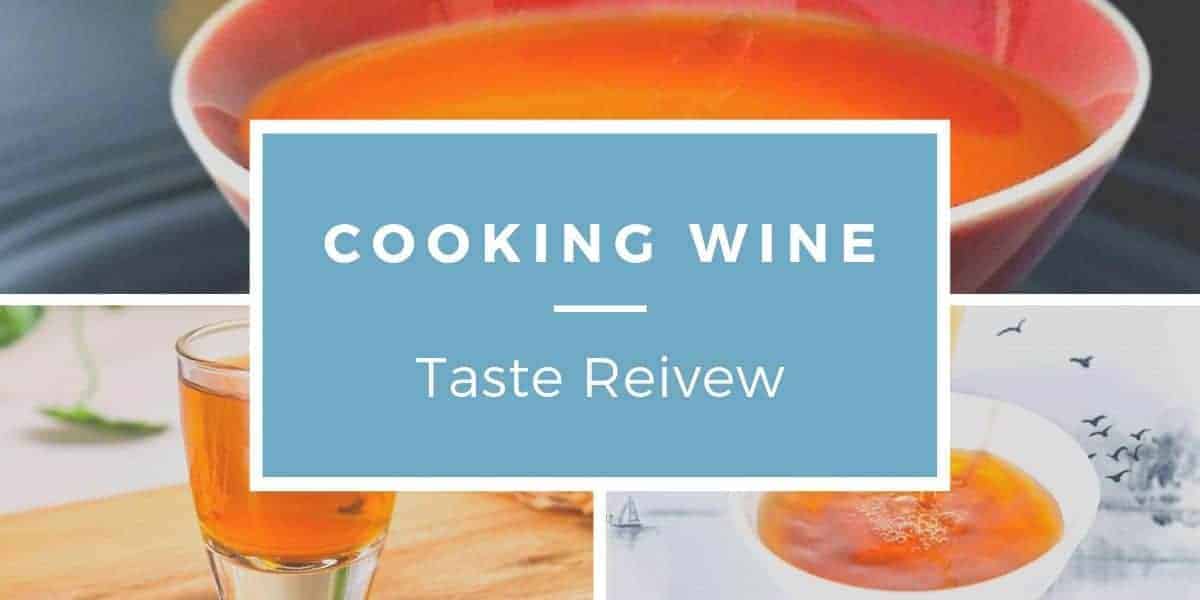 What is cooking wine?
Cooking wine is a kind of wine that isn't suitable as a beverage and exclusive for cooking. It adds flavor upon the recipe without the empowering taste of regular wine. Beginners in cooking use cooking wine to enhance the recipe's taste.
You can find many Cooking Wine Recipes that are tender and juicy.
Cooking Wines vs Regular Wines
Cooking wine contains less salt and, sometimes, preservatives. It has a longer shelf life without turning into vinegar. It is cheap and Chefs prefer using regular wine in cooking.
Regular wines have stronger contents that are also good for cooking. It has a higher alcohol content rather than salt and preservatives that shortens its shelf life.
Overall, the cooking wine is developed for cooking and the regular wines serve as a beverage. Sometimes regular wine can replace cooking wine to add more aromatic flavor.
Types of Cooking Wine
There are four types of cooking wine:
Rice Wine
The most popular rice wine is Japanese and Chinese rice. It tastes salty-sweet and perfect for glazes, meat marinade, and sauces.
Sherry wine
It originated in Spain. Sherry wine isn't only for flavoring the dishes but also enhances food coloring. It has a higher alcohol content.
Marsala wine
It is out of Sicily that has a nutty and caramelized taste. It lasts longer than the other types.
Sauternes wine
It is a white grape wine that tastes very sweet. It is the best pair of desserts.
10 Best Cooking Wines
Cooking wine is an effective ingredient to enhance the taste of each cuisine. Many chefs even prefer to use top cooking wines in completing the menu.
Wines are under beverages. However, some experts in cooking are really into wines in some recipes. Notably, a bottle of cooking wine is made to aid a beginner in preparing to develop a more tasteful and unique delicacy.
We've ranked ten cooking wines below as according to its effectiveness to flavor up a dish. It includes taste reviews and recommendations for cooking. Negative comments are added for you before buying them and know where to improve.
#1 Eden Mirin Rice Cooking Wine
Eden Mirin Rice Cooking Wine quickly fixes simple recipes. As said earlier, your Japanese dish cravings will be satisfied through this cooking wine. An example is a stir-fried dish, the black spaghetti top with teriyaki salmon and veggie soup. With only one tablespoon of Mirin, it'll bring a new sweet dish.
Mirin Rice Cooking Wine is naturally brewed rice that uses necessary ingredients instead of additives. It differs from the other rice cooking wine as it is organically made and offered at a lower cost. It tasted sweet with no sweeteners added but with low cholesterol, carbohydrates, and fat.
Complementing every Asian recipe is what this cooking wine doing well. This must be the healthiest cooking wine.
#2 Kikkoman Manjo Aji-Mirin Cooking Rice Seasoning
Japanese delicacies are undeniably delicious, and we can't get over it. Rice cooking wine is the best seasoning for Japanese cuisines such as teriyaki, tempura, and other Japanese recipes.
Manjo Aji-Mirin Rice Cooking Wine serves as a critical ingredient in making a teriyaki sauce to enhance its flavor. This golden syrup tastes sweet because of the glucose syrup and corn syrup added. Sweetness and salty taste are well-balanced that makes it appropriate for salad dressing. Further, it contains 8% alcohol content by volume.
There's a strong aftertaste besides its sweet taste. It is usual for a mirin seasoning. Mirin differs from sake as according to its higher sugar content and lowers alcohol content. Teriyaki will surely taste like mirin after the cooking show.
#3 Mitoku Organic Mikawa Mirin
We can't trust further than Mitoku Organic Mikawa Mirin Cooking Wine as it got a Diamond Award for excellence is mirin produced product. It takes 9-months to finally come up with this magical and authentic mirin cooking wine.
The packaging is as clear upon the product's goodness and versatility as a seasoning. It ends up with a mild sweetness flavor on prepared dishes. Only three significant ingredients are added on Mikawa Mirin Cooking Wine. These include koji or natural rice, water, and glutinous rice as a sweetener. It ends up with a golden liquid that gives a natural flavor for dips, dressings, soups, and even desserts.
The historical background of Mitoku Organic Mikawa Mirin is the best part of this product. Methods used back then are still applied by Sumiya family up to date.
#4 Holland House Red Cooking Wine
Drinking red wine is good for the health and so using it for cooking. Holland House is offering five types of cooking wines, and one is the Holland House Red Cooking Wine. The cooking wine has a classic burgundy aroma that is colored red. It is ideal for cooking as it gives light texture and soothing flavor like no other.
Use a lesser amount of salt in cooking as Red Cooking Wine contains 190mg of sodium per serving. It has no sugar content. It enhances the taste and aroma of every meal in a healthier way. This cooking wine works excellently on soup, meat stews, beef, and pork. Marinating cuts of meat must last up to 24-hours to boost the desired tender and taste.
#5 Soeos Chinese Shaohsing Rice Cooking Wine
This 640ml Chinese Rice Wine passed on traditional brewing process that hails from fermented brown glutinous rice. Shaohsing wine tastes with slightly sweet yet more salty and robust alcoholic flavor.
It is traditionally used as cooking wine and not a beverage for its strong alcoholic content ranging from 15-20%. An only small amount is added in every recipe as alcohol. The end recipe, therefore, doesn't taste strong but its better.
Chinese restaurants use this secret ingredient in every cooked dish to add delicious flavor and fragrance. It gives an extra complexity to broths and other noodle recipes. Recipe samples such as Mongolian Beef, Kung Pao Chicken, and Cashew Chicken use Shaohsing Cooking Wine as a fry sauce.
#6 Holland House Cook Wine Marsala
Holland House Cook Wine Marsala 16 oz. is the best choice for sautéing. Marsala flavored cook wine has a food-friendly flavor with a tweak amount of hazelnut. Per cup of Marsala cook wine contains 1.5% or one teaspoon of salt or and hence reducing the salt amount in cooking is recommended. You'll experience a balanced taste and aroma on every drop. Anyway, it is a gold-colored cook wine.
Cook Wine Marsala is a perfect pair of every menu. In just one drop, there'll be a taste difference, and it'll bring every recipe to the next level. Mainly, dry Marsala renders nutty flavor and caramel-taste that refines marinades, sauces, and other unique methods. It can be used in cooking seafood, meat recipes, and for dressings.
#7 Iberia Red Cooking Wine
Iberia Red Cooking Wine is entitled only for cooking. The package is visible in saying, it's not for a beverage. This red cooking wine is acceptable to any dishes such as meat, vegetables, sauces, and unique cuisines. It tenders meats, highlights dish flavorings, and gives a finishing touch for every serving.
1 and ½ percentage of seasoned salt and 12% of alcohol are part of its ingredients. You'll smell a natural aroma amid cooking. A touch of sweetness is placed on every dish with Iberia red cooking wine.
Its red color is maintained even after being cooked, which adds up beauty on a dish. One bottle of cooking wine lasts long.
#8 Reese Sherry Cooking Wine
Reese Sherry Cooking Wine is the first US made cooking wine. Storing it in room temperature is necessary to sustain its effectiveness. It is under the "sherry" cooking wine that means it costs cheaper. Italian dishes are the primary target of this cooking wine.
It produces sweetness and adds little bitterness on foods as it contains a higher percentage of alcohol content of about 18%. It provides more fruity taste. Sherry Cooking Wine is best for cooking roast dishes and soups. Also, this cooking wine can be a replacement for wine in marinating meats.
Natural ingredients are its contents. It includes sherry wine, salt, and a small amount of sugar. It is packed and fully sealed with a 12.7oz bottle.
#9 Kikkoman Ryorishi Cooking Sake Seasoning
It is another Japanese styled cooking wine. It came from rice and other necessary ingredients. It has more salt than sugar content and hence cooking requires a lesser amount of salt.
It is comparable to mirin with lessening the sweetness. The alcohol content makes cooking wine more effective in absorbing flavors. Moreover, it removes unpleasant smell on meats or fishes. It is also perfect for the more delicious marinade and sauce.
The company uses FDA-approved plastic bottle as the package of the cooking wine.
# 10 Goya Red Cooking Wine
Do you have plans in cooking Mexican and Latin cuisine? Look no further than Vino De Cocinar by Goya. This cooking wine is an Italian-made spice which makes it suitable in preparing those cuisines mentioned above. It is red wine comprising one and a half percentage of salt and 12% alcohol by volume. With those contents, Goya Red Cooking Wine isn't appropriate as a beverage.
Goya Red Cooking Wine consumes too much carbohydrate and calories in any food recipe. These can significantly affect dieters, especially for those practicing a ketogenic diet.
Every container of 25.4oz renders 25 servings. Buying a more substantial bottle is more cost-effective than a bulk of smaller bottles. 4-packs per purchase are available.
---
Conclusion
No doubt, a wine specifically a cooking wine could be a life-saving savor for a dish.
Using a cooking wine in preparing a saucer will not make you drunk but amaze on how good it enhanced a dish. Certain foods add up cooking wine to its recipes such as marinade meat or fishes, sauce, dressings, and vegetables. Amount added is all up to the cooker's technique.
Look no further than the best cooking wines in the market as those above. Make every dish with better taste and be known for its unique aroma. Imitating restaurant-like food recipes will now be more relaxed with cooking wine. You can finally taste many Asian and other nation's food delicacies with the help of just a bottle of cooking wine.
We're excited to hear from you in the comment box section. Hope you'll enjoy inventing your recipe with a drop of cooking wine.
Disclosure: We may get an affiliate commission when you purchase products via links on our site. Although we may receive compensation, we only offer our 100% honest reviews, experience, and comments. Learn more.
---
Rate This Article