51 Best and Easy Shrimp Recipes in Chinese Cuisine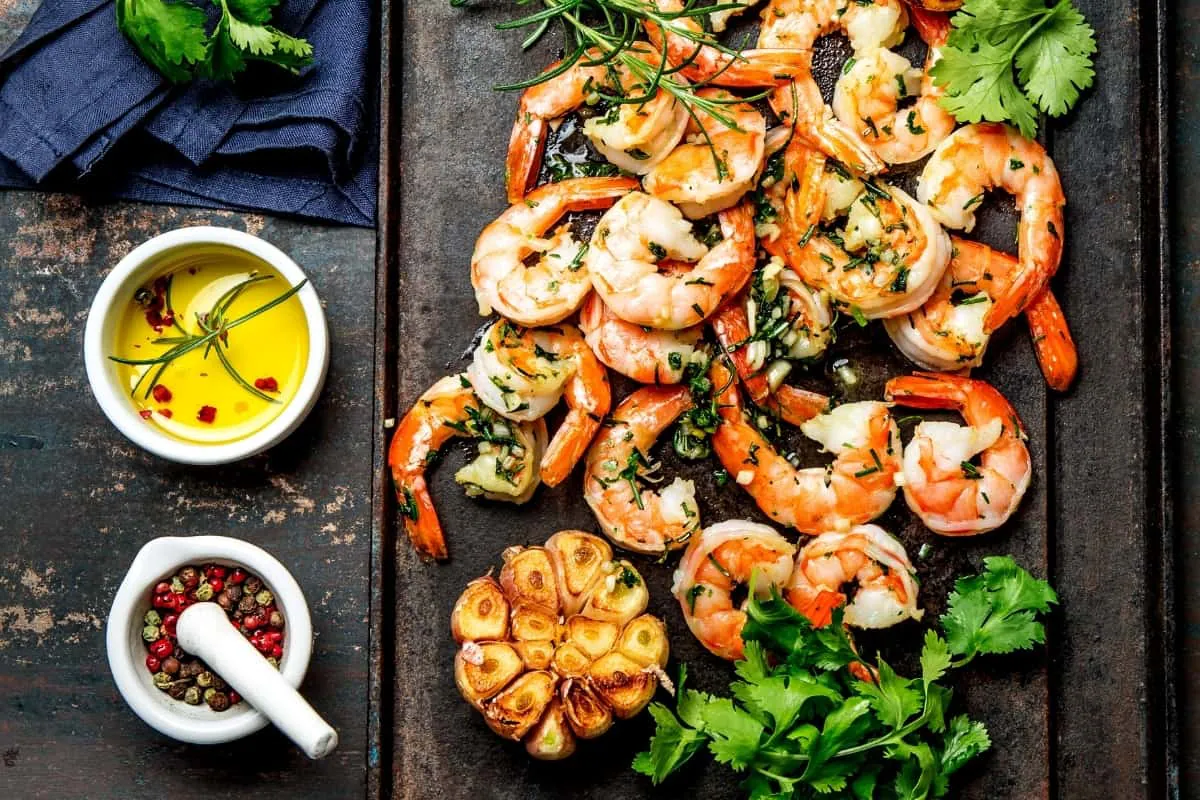 Shrimp is a popular food ingredient in Chinese cuisine. The shrimp recipes are really tasty for every cooking method, including braising, stir-frying, steaming, and blanching. Here we collect popular shrimp recipes, they are the best recipes – easy, tasty, and nutritious.
It is a traditional method of making Chinese shrimp pastry. Kneading dough is the key to make the pastry taste better.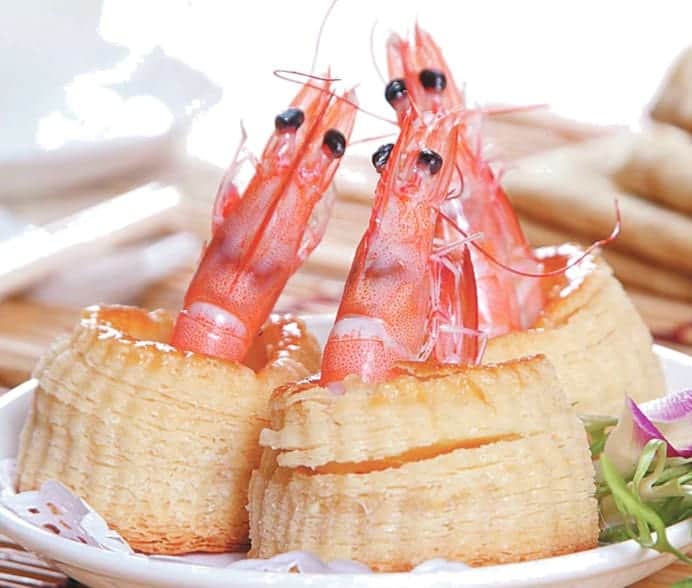 This fried shrimp is attractive with a crispy mouthfeel outside. With one bite, you can feel a juicy and tender shrimp meet with a fresh seafood taste.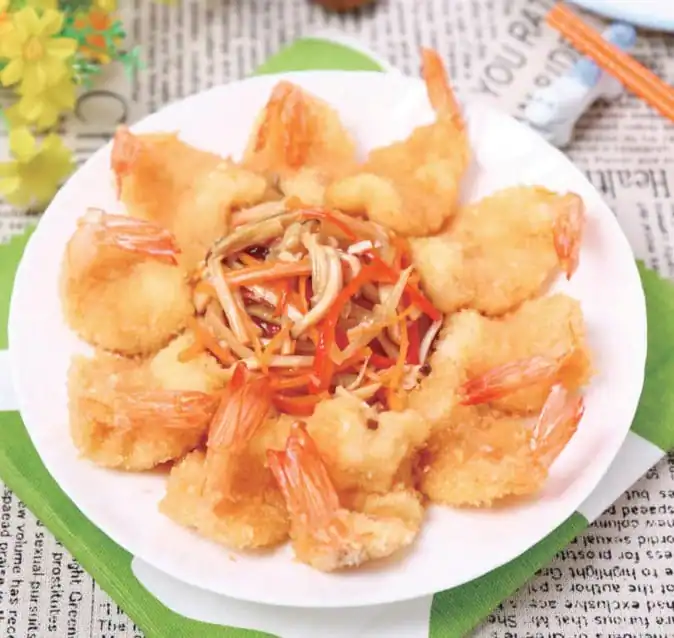 This stewed is named Tongan FengRou in Chinese, which is a famous Fujian cuisine in China. The pork is so soft that it almost melts in your mouth. To make it taste better, use streaky pork with pork skin. Thus, it can have a textured flavor.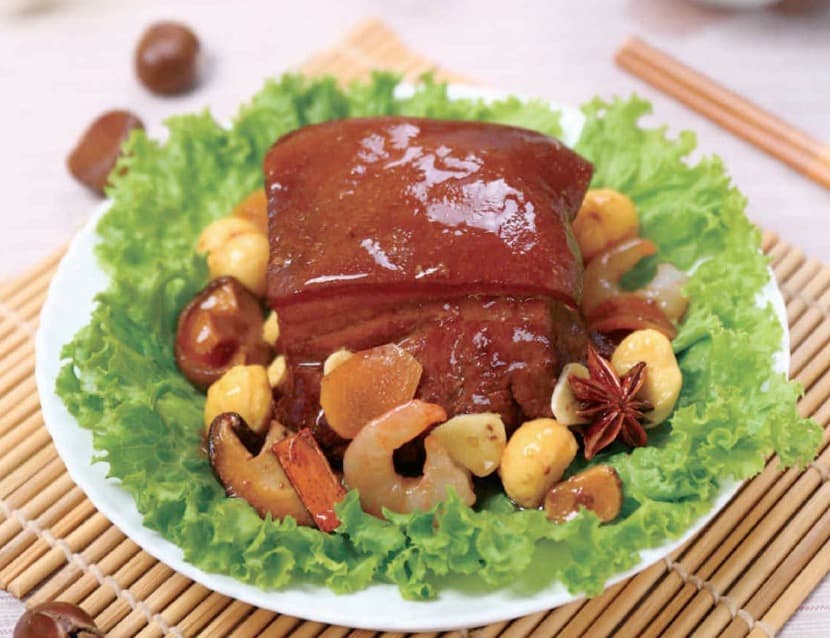 For a nutrition balanced snacks, this dumpling is second to none. It contains spinach and shrimp, providing various nutrients and vitamins. Besides, it is colorful, fresh, and tasty, which is a perfect snack in Chinese dim sum.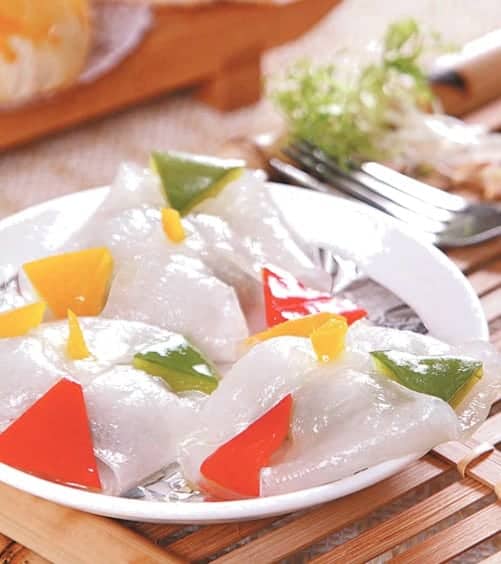 If you love coriander aroma, you definitely should try this shrimp dumpling. By adding coriander into the steamer and steaming with dumplings, the dumpling can have a full of coriander aroma. This aroma can be perfectly mixed with shrimp aroma.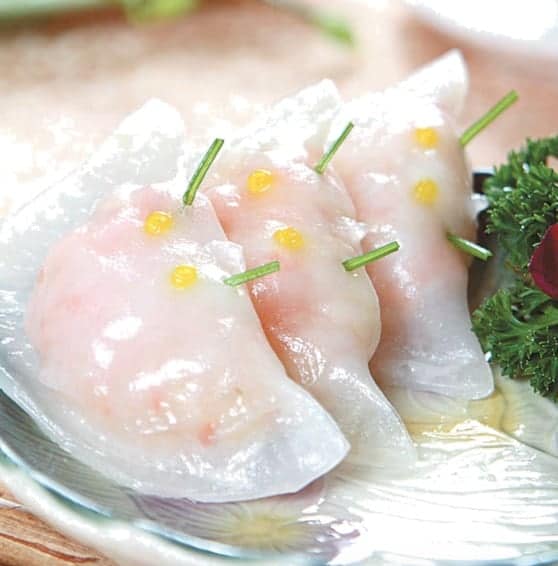 This easy shrimp dumpling is perfect for seafood lovers. By adding streaky pork, the shrimp paste can taste better with more meaty juice.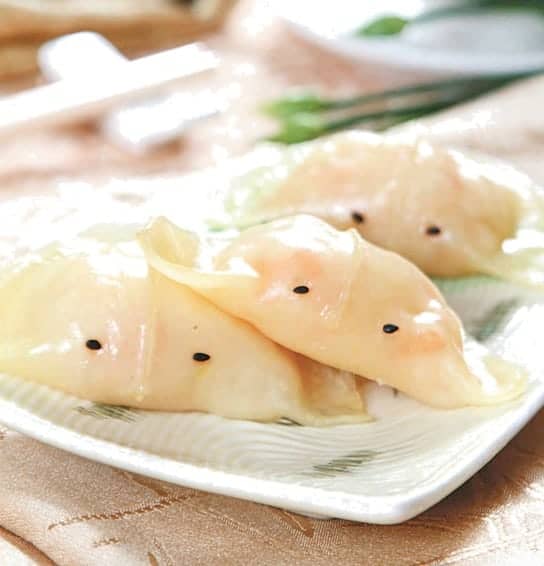 For perfect seafood and pork bun, this bun's stuffing has a well-tested combination. It boosts shrimp and pork aroma with coriander. You will love these juicy seafood pork buns.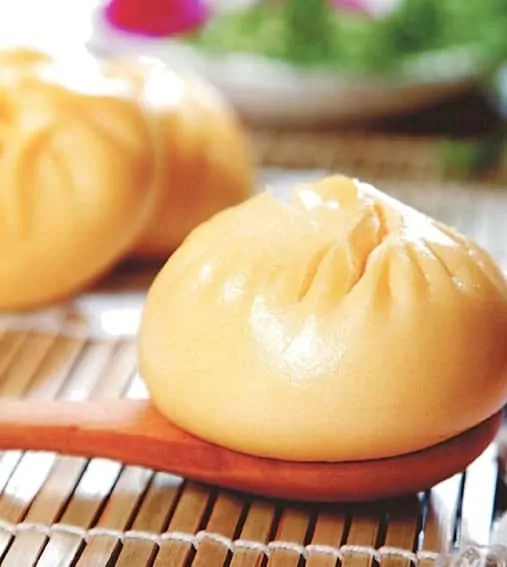 This shrimp dumpling is an art of Chinese cuisine. The shrimp ball coat with crispy dumpling skin, which is really appetizing. The meat is tender and full of meaty juice. You will be amazed by the taste and mouthfeel of this special shrimp dumpling.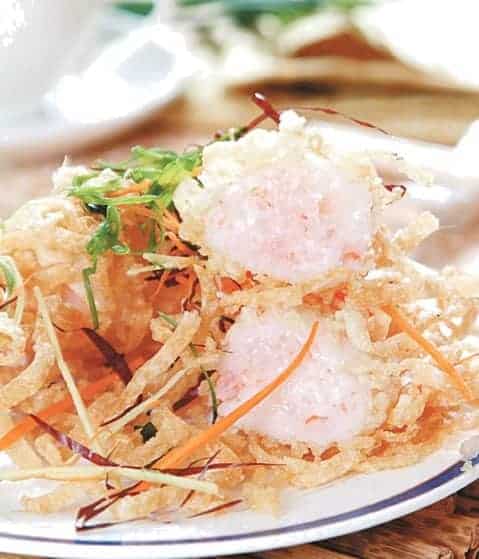 Do you love shrimp and crab's aroma? This shrimp and crab meatball is a perfect combination. With the chili flavor from sweet chili sauce, the taste is special. You will fall in love with this crispy, tender and fresh seafood taste.
Shrimp Dumplings is a main dish in Cantonese dim sum. The stuffing contains shrimp and pork, which product a juicy and seafood aroma dumplings. The taste is light and fresh, so in order to make authentic shrimp paste, use fresh shrimp and pork.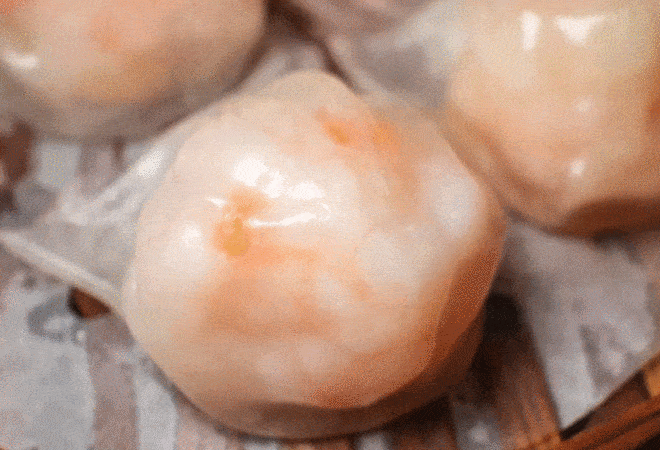 For fortified shrimp favor, we have tested and found that board bean paste can add chili taste as well as enhance shrimp's freshness. In this seafood recipe, we fried broad bean paste and all seasoning ingredients first, then pour into soup stock. After seasoning, adding shrimp to simmer is the last step. It maximally keeps the original seafood aroma and makes the soup taste with a sweet finishing touch.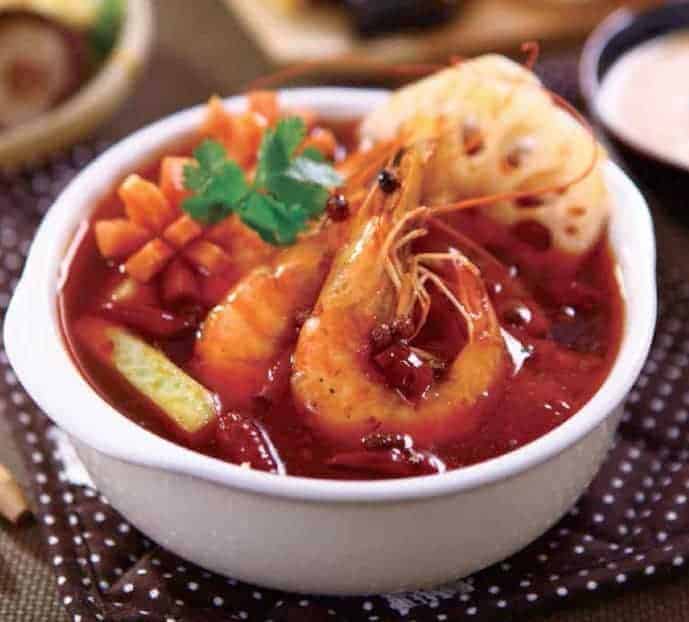 We want the hot pot base to have a yummy shrimp flavor without any fishy taste. To achieve the taste, we fried Sichuan pepper, garlic, ginger, cooking wine, and other seasonings to make a strong aroma. Then pour into soup stock and fresh shrimp to add a flavourful taste. When enjoying the hot pot, only shrimp taste, and a perfect combined seasoning soup taste.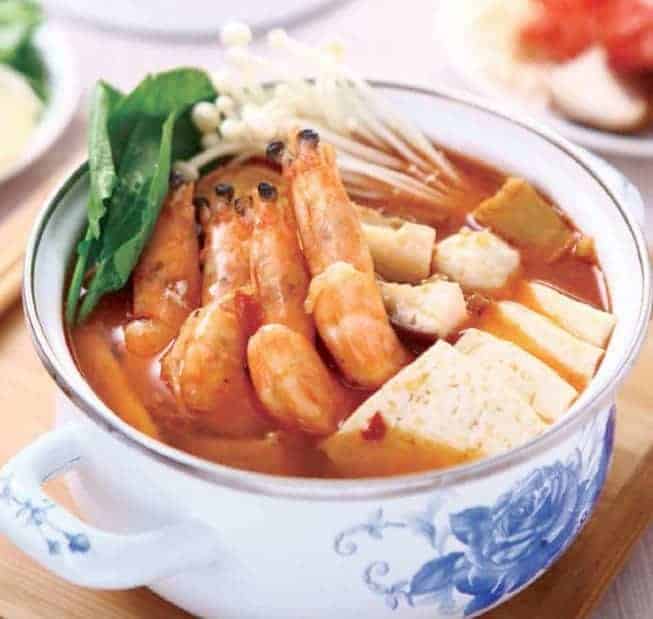 It's simple and delicious that you notice a congee mixed with abalone and shrimp. This recipe does just it. The congee infuses the seafood aroma with chopped abalone and shrimp. To maintain the original taste, in this recipe we use the minimum seasoning to bring an authentic flavor of fresh abalone.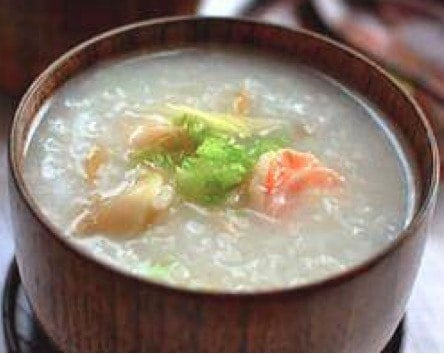 A home recipe that most of the Asian family make every day. Shimp is a rich source of vitamin and mineral. You can add chili paste if you like spicy food.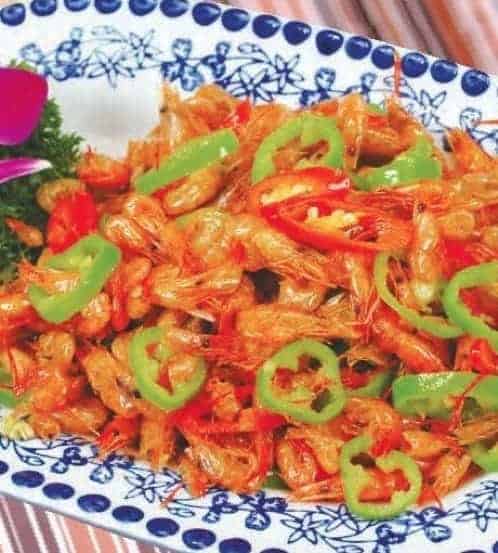 Sauteed Shrimp With Tender Corn is a fresh and sweet seafood dish. It mixes with assorted vegetables, such as asparagus lettuce and corn kernels. The corn kernels bring more sweet taste, which makes shrimp fresher.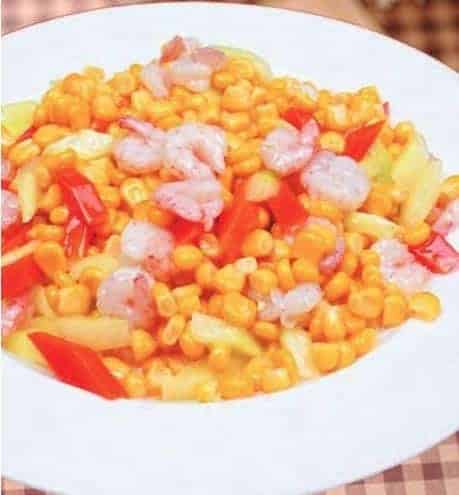 Fried Shrimp With Kale Borecole is an easy home recipe. Kale borecole and garlic sprout are the vegetables that bring more juicy to shrimp. Prepare all ingredients in advanced then fry over high heat until aromatic. It's an easy way to keep freshness and fragrance.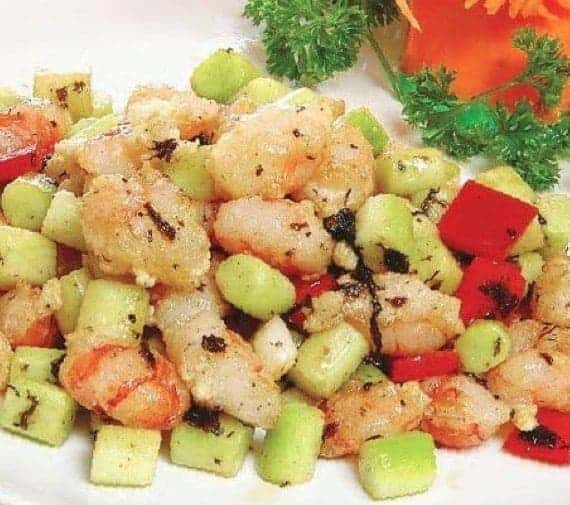 Crispy Garlic Shrimp Recipe is a really aromatic seafood recipe. It contains crispy garlic which is a delicious snack for most people. Tender shrimp mix with crispy garlic, which offering appetizing taste that you cannot irresistible.
Fresh seafood taste is the key to this dish. Ginkgo nuts are the main ingredients to add ginkgo flavor to shrimp. Other ingredients, such as cucumber and peppers, are to enhance the taste during cooking.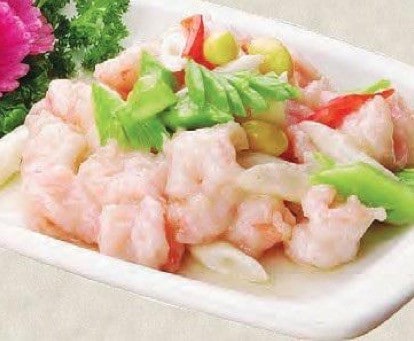 Water Chestnuts Flavor Shrimp is an easy recipe that mix chestnut fresh flavor and shrimp. The process is simple – fry all ingredients then add seasoning. Its taste has seafood flavor mixed with sweet water chestnut taste.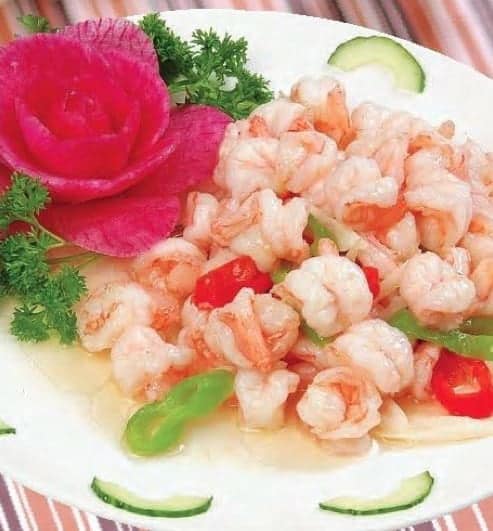 4 easy step to make a good-looking shrimp dish. Cucumber and carrot are raw and bring green and red color to the dish. While fry shrimp separately to prevent overcooking.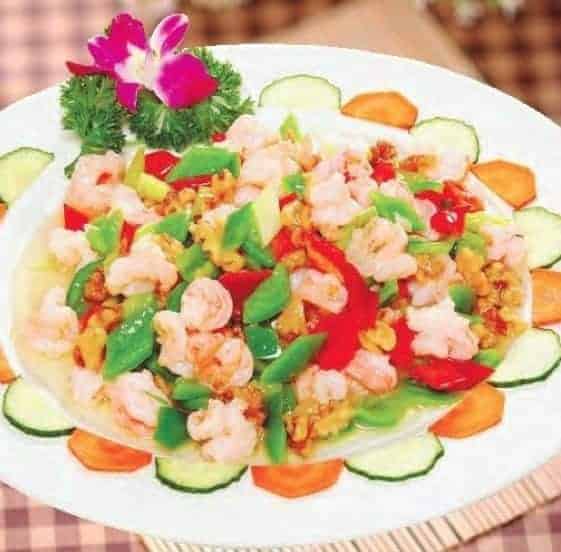 This dish contains ginseng and gingko nut which are the most healthy ingredients in Chinese medicine. Shrimp is light taste, mixed with fresh ginseng and gingko nut. It improves our immune system and recovers from illness.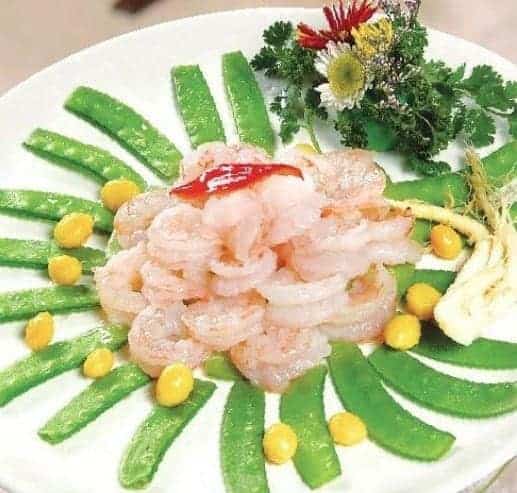 It is a super fast recipe, you can enjoy tender shrimp and crispy nuts in no time. Most ingredients are ready to eat without cooking, such as pine nut, ginkgo nuts, and cucumber. All you need to do is to cook the shrimp and mix them together. It is a balance of tough and tender ingredients with delicious and crispy taste.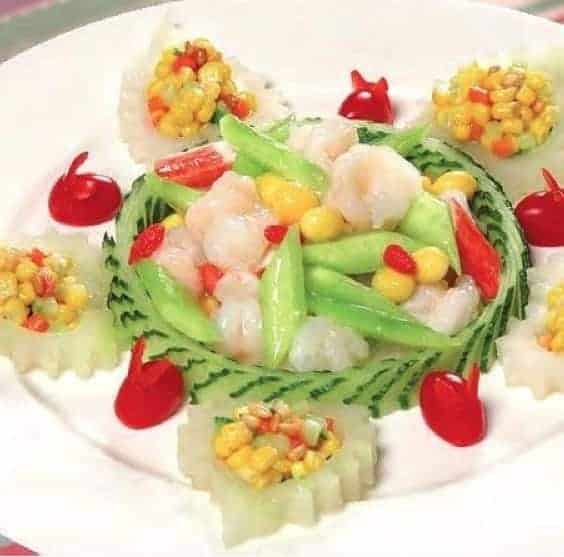 Stir-fry Eggs and Shrimp is an easy dish for daily cooking. Eggs and shrimp are the main ingredients. It contains rich protein and unsaturated fatty acids.
Tired of braised shrimp in restaurants, we develop a special shrimp dish. We coat shrimp with starch and egg white, which make sure shrimp flavor is covered and protected. Then stir-frying until fantastic smell.
Fried Shrimp And Winged Bean Recipe is a super easy dish, you can make it with 15 minutes. It needs less seasoning to make a sweet, juicy and mild spinach-like flavor.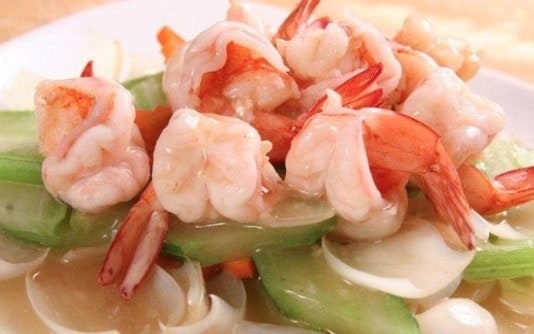 Fast and simple shrimp and vegetable dish. You can make this seafood dish perfectly, even you are a newbie. The taste is light with snow pea scent.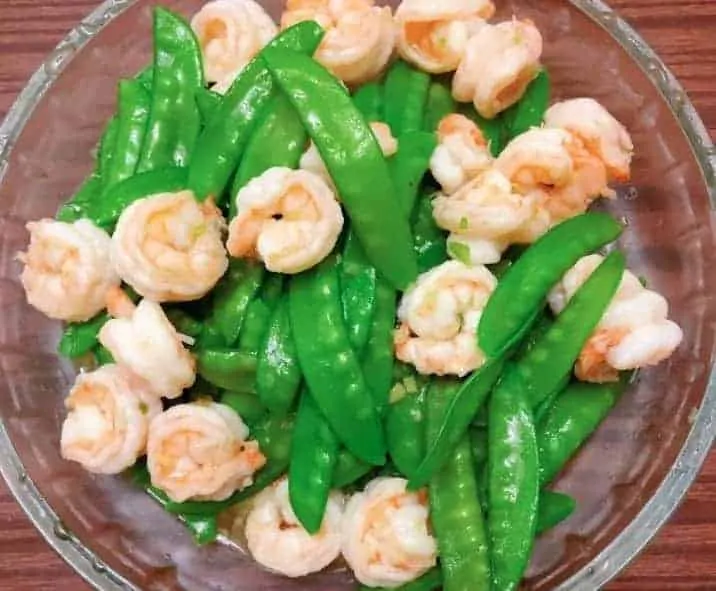 This dish is designed for Crown Daisy. The shrimp paste and bean curd are the best ingredients to integrate with crown daisy flavor. Add crown daisy in the last cooking step to main its taste and nutrition.
A talented seafood dessert. Shrimp and cuttlefish is the main ingredient and serve with tofu. This dish is designed for seafood lovers and for the people who love elegant food.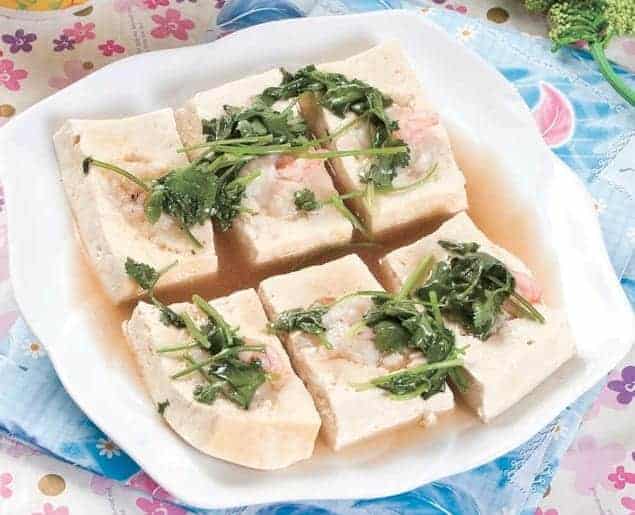 Rape flowers are rich in Vitamin C and tasty. This dish brings a strong seafood taste from shrimp and spread its flavor over the rape flower. It also seasons with shiitake mushroom winter bamboo shoots to add more variety flavor.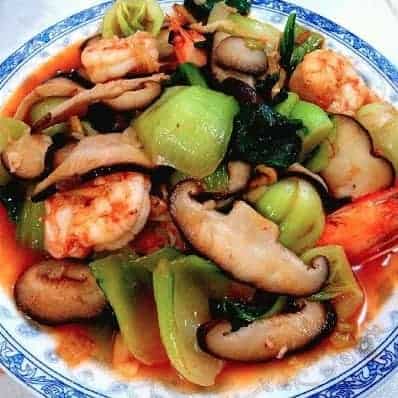 Lily and asparagus offer vegetable fresh smell, while shrimp offer tender and seafood taste. A wonderful combination of seafood and vegetables. In this recipe, we blanch each ingredient separately. Then mix them together through stir-frying. This process enables all ingredients are fresh and have an original taste.
Fried Shrimp With Assorted Fungus contains shrimp, black fungus and snow fungus. It is light taste with tender and juicy fungus. This recipe uses a few tested kitchen tricks to ensure flavorful and well.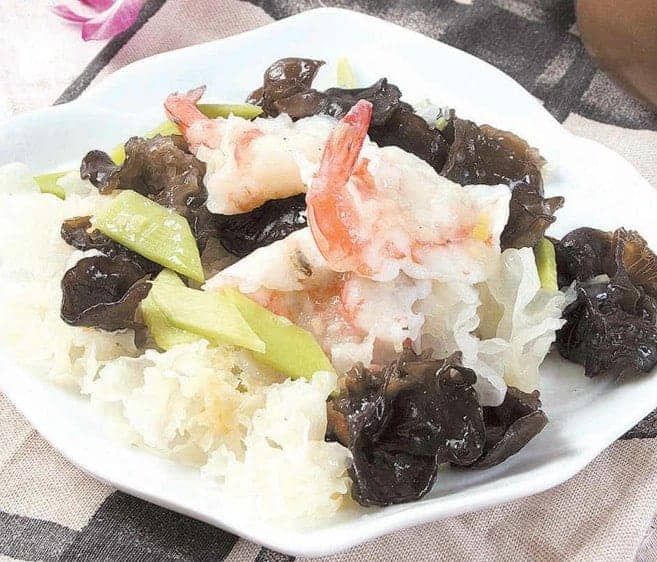 Stir-fried Mantis Shrimp With Cabbage is a healthy dish with fresh seafood and vegetable taste. First, cook mantis shrimps and cabbage separately, then mix them with egg white. With this process, cabbage spread juicy over shrimps.
Marinated Mantis Shrimp is a Northeastern Chinese cuisine. It cold in Chinese northeastern area, people love alcohol. Mantis Shrimp has a strong Chinese liquor flavor. The light taste mantis shrimp mix with strong alcohol aromatic, which enhance the fresh seafood taste.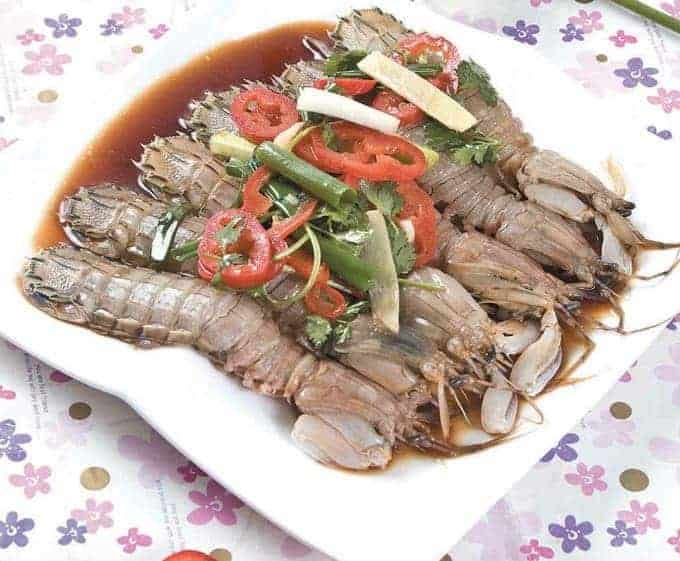 Assorted Seafood Flavor Shrimp is a cold dish that uses the well-tested method to keep original food ingredient taste. It has a mixture of taste, including shrimp, squid, and coriander. The taste is sweet, salty and with a lasts long fresh seafood taste.
Cashew and shrimp is a fast and easy dish. Tough and crispy cashew mix with soft and fresh shrimp. It is super yummy and a must-try dish for foodies.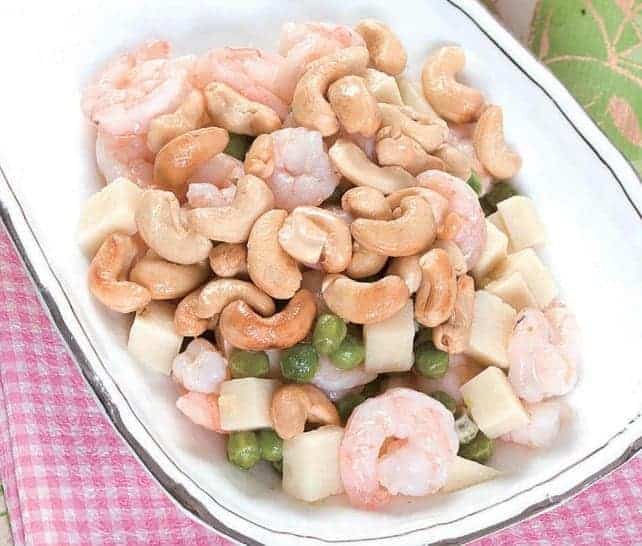 Shrimp With Assorted Vegetable contains green peppers, red peppers, and cucumber. It is a healthy seafood and vegetable mixture. You can feel the fresh taste of each ingredient among a mixture of flavor. It is shrimp salad of Chinese cuisine.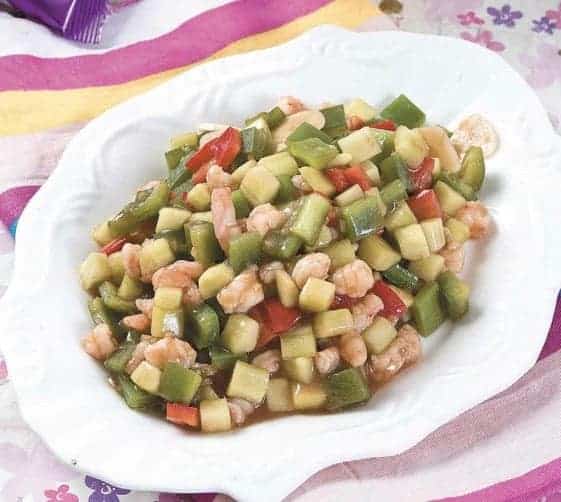 This is a royal dish in the ancient empires period. In A Dream in Red Mansions, Chicken Skins And Shrimp Meatball Soup is a favorite dish of the prince. The dish is rich in nutrition and especially good for the skins. Chicken skins is a source of sulfur chondroitin which prevents the loss of collagen.
Stir-fried Shrimp with Mix Vegetables use all cheap ingredient to make an excellent shrimp dish. The dish is colorful and a mixture of seafood and vegetable. And it is so delicious and nutritional so you cannot imagine it is a fast, simple and cheap dish.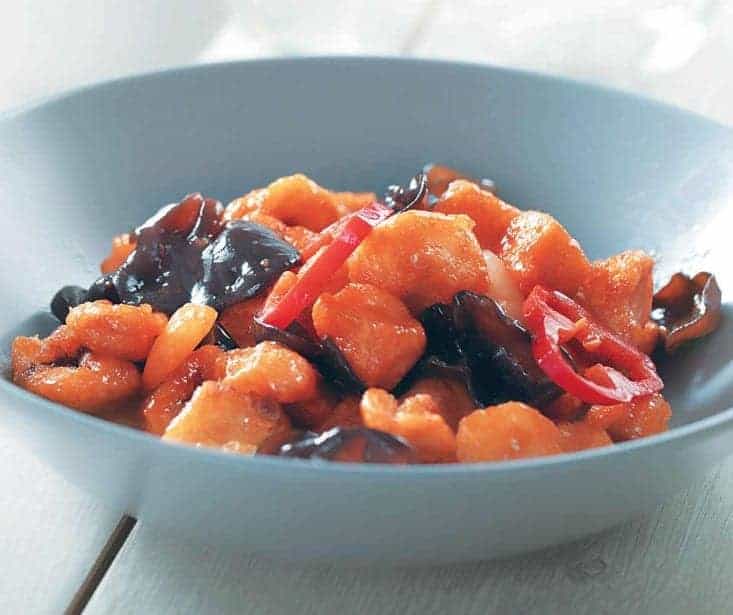 Spicy Braised Shrimp has a thick taste with rich nutrition. Shrimp is juicy with a little spicy. The recipe maximumly keeps the seafood flavor and mix it with Sichuan pepper to improve its taste thicken.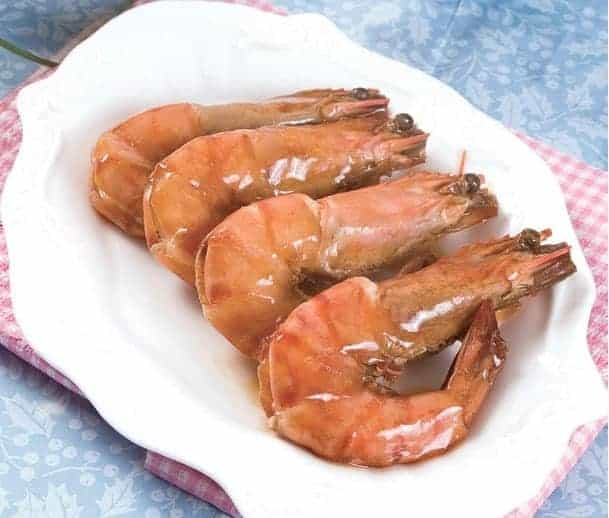 Fried Shrimp and Lettuce is a daily dish in China. A mixed white and bright green color of this dish is really attractive-yummy, healthy and easy. Both ingredients are tender and smooth, which is irresistible for every foodie.
In Chinese cuisine, the best cooking method for green beans is stir-frying. A little overcooking can make green beans super tasty, even better than meat. Shrimp paste is the main seasoning in this recipe, which makes the dish full of seafood taste. The best mixture of vegetable and seafood flavor.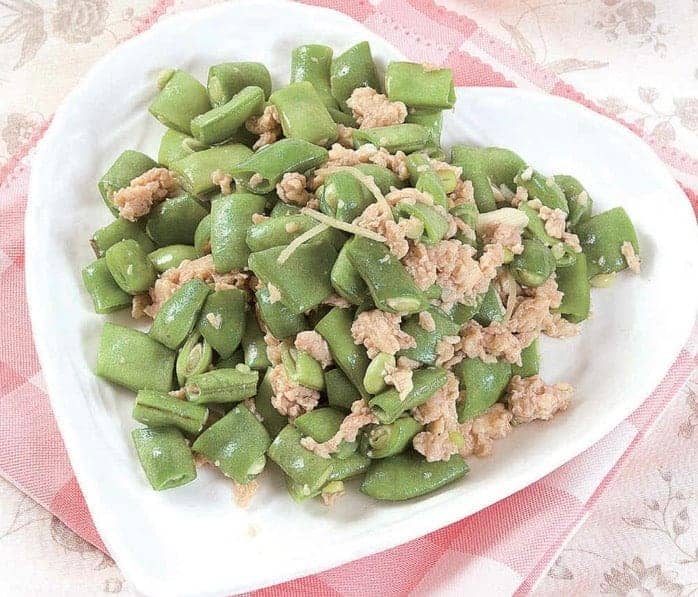 Luffa shrimp soup is popular in summer because luffa has a special ingredient-saponins, which can balance yin and yang in Chinese medicine. It also makes you feel comfortable and relieve, especially when you in the environment. Shrimp brings a sweet and fresh taste in this soup. These two ingredients combination have been developed and tested by millions of people.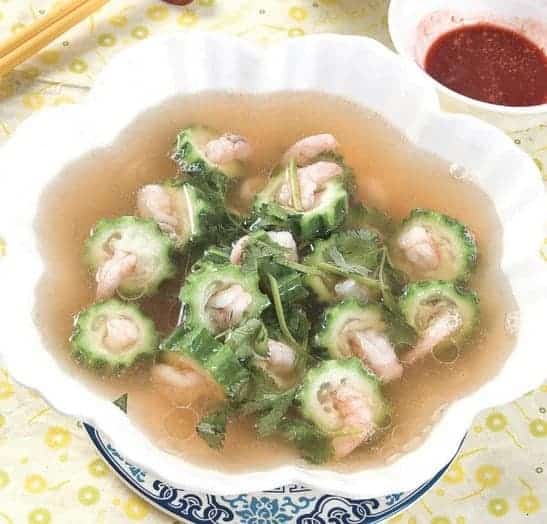 Steamed Eggs is tender. This dish adds shrimp and vegetable to enhance the aromatic and flavor. Chinese calls these three ingredients as "three treasures" because all of them are healthy ingredients and benefit for our health.
Simple shrimp recipe. This dish maximumly keeps the original taste of shrimp. This steaming method is suitable for all kinds of shrimp.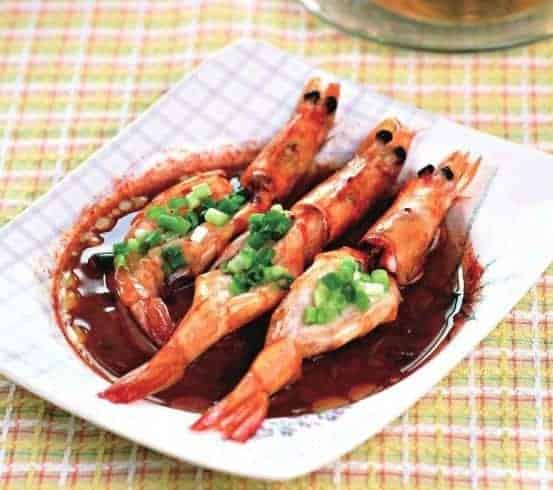 In China, leeks are male enhancement vegetable. Chinese believe it benefits our kidney and provides rich vitamins.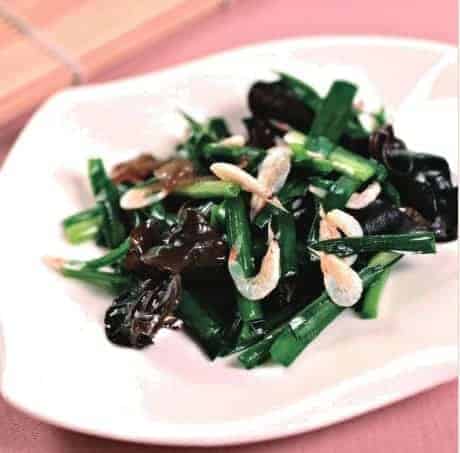 A dish you can find everywhere in China, no matter at home or in a restaurant.
Shrimp contains zinc which is a benefit for male function. Cashew nuts are rich in unsaturated fatty acids, which can soften the blood vessels. It is beneficial to the prevention and treatment of cardiovascular diseases. A healthy recipe definitely.
Chives is a male enhancement ingredient. It can provide rich folic acid and dietary fiber. Also, shrimp and eggs are the best sources of good protein. This dish is rich in nutrition and benefits for our liver and kidney.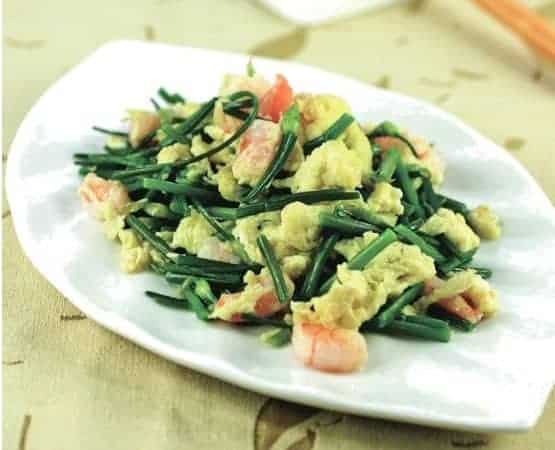 Steamed eggs, also known as the "egg soup" in the north. In order to make steamed egg tender and smooth, read tips before cooking!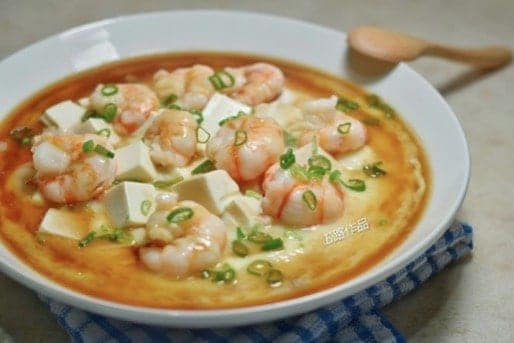 Super easy seafood with fried eggs. The recipe keeps the fresh taste of shrimp. A home dish for seafood lovers.
Shrimps, carrot, and corn are healthy food and contain rich nutrition. This Colorful Fried Shrimp dish is not only attractive but also rich taste and nutrition.
Wonton Noodles Soup is a traditional Cantonese snack. It is made of bone soup with a strong soup aroma. The wonton has a smooth and chewy mouthfeel, which has a long-lasting after taste.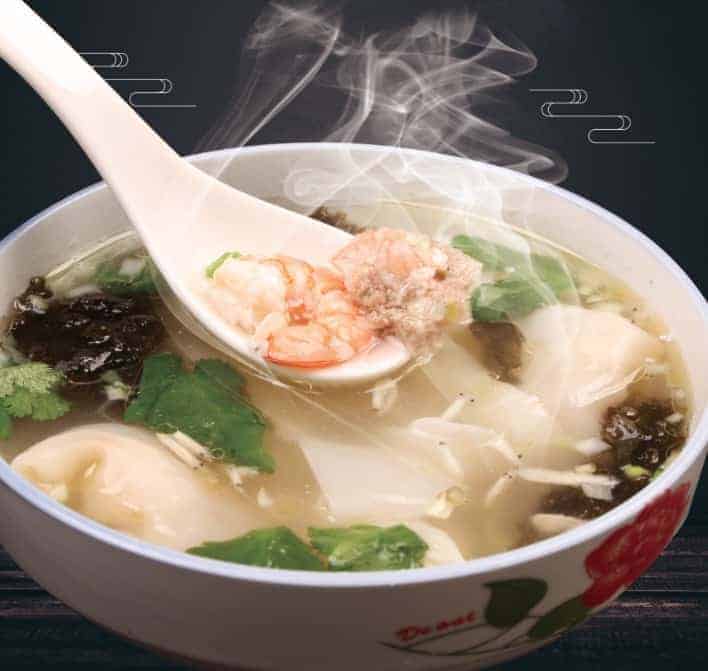 ---
Rate This Article