Fish Skin Taste Reviews And Cooking Guides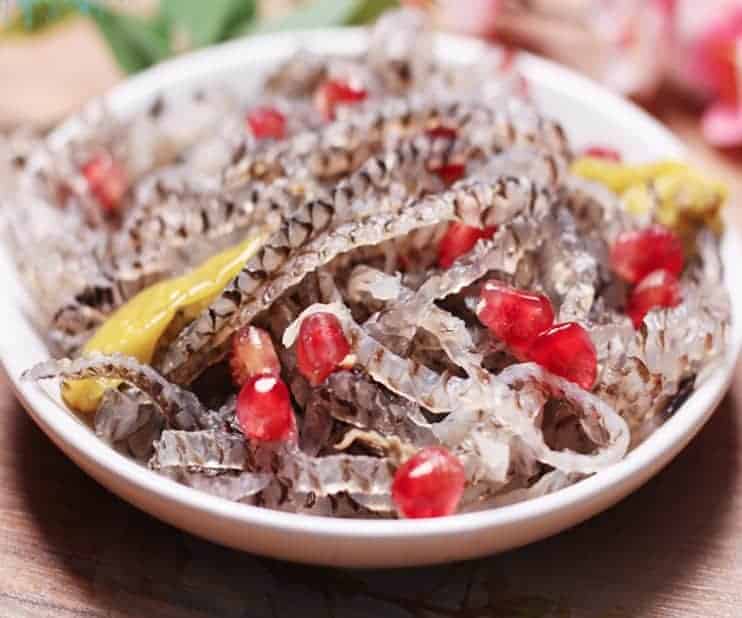 Why Fish Skin is Delicious in China?
Most fish are prepared with the skin on and sauteed to present beautiful skin on the dish. However, when served, most people prefer to rip the skin off than enjoy the crispy taste it has to offer. While eating fish skin isn't on most people's diary, there are tons of flavors in the skin, which makes it irresistible and even more nutritious than the main fish especially in the case of salmon.
Fish skin is mostly eaten as snacks or used as a filling, but it tends to get soggy if not prepared the right way. However, if you want to enjoy fish in another dimension, crisped skin on a fillet is something you should try.
What Does Fish Skin Taste Like?
When fried, most fish skins are crispy, but no matter how they're spiced, there are certain fish skins that don't seem to taste good.
For instance, the skin of tuna fish is thick, tough and pricky rather than crispy. Fish with a mild taste like swordfish and monkfish also have thick skins that are leather-like in texture. The tastiest fish skin is that of salmon. It's delicious when cooked, fried, or roasted.
Salmon skin is also the most nutritious part of the fish. While the skin contains both Omega-3 fatty acids and protein, the main fish contains just the latter. Hence, if you want to incorporate both nutrients into your meal, you should prepare your meal with both the skin and the main flesh.
Taste aside, it's important to know where your fish is coming from before deciding to cook with it. The skin of fishes is exposed to several environmental pollutants which poses a lot of health hazard to the consumer. If you intend to cook with fish skin, avoid using wild fish or those from farmed since they tend to be reared in a polluted area and are exposed to dangerous chemicals and antibiotics.
Secondly, before using fish skin, ensure its thoroughly washed with luke-warm to get rid of mucus on the skin, especially when using deep-water fish.
How to Use Fish Skin in Chinese Cooking?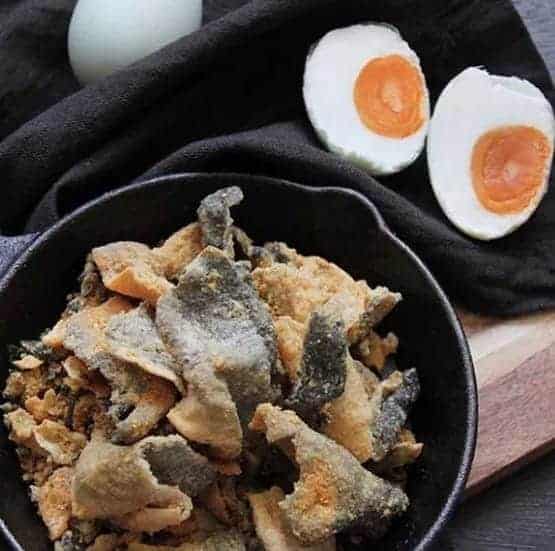 Deep-Fried Fish Skin with Egg Yolk
For this kind of dish, the fish must be prepared with the skin on. It's important to use many egg yolk since this is where the dish flavor comes from. Hence, most of the work is done on the yolk to ensure the taste is perfect. Most times, the yolk tends to stick to the skin in the form of a sauce.
To ensure that the sauce sticks, vegetable, and butter are added to the egg, which also gives it a liquid texture. For those preparing this dish at home, the most challenging part lies in arriving at a sauce that forms a glue with other ingredients. The addition of butter and vegetable won't make the dish oilier. They're meant to serve as an adhesive. Without these two ingredients in the dish, the sauce and the fish skin will be a separate unit which will ruin the dish.
This meal tastes better when eaten hot, especially right after it's deep-fried.
Fried Fish Skin Chips
If you've tasted potato or plantain chips but still want a different flavor to those, fish skin chips will be an excellent choice. This seafood chips isn't a popular dish in the western world but is widely eaten as snacks in China.
Fried Fish Skin Chips are sold in shops and are packaged in air-tight bags. Rather than going through the trouble of preparing your crispy fish from scratch, you can simply get one or two of these bags for your cooking.
Before picking any pack, ensure you access the chips. Generally, chips that are darker in color are likely to be made from old oil which may ruin your dish. Most times, fish skins that are light, thin and evenly coated with batter are of the best quality.
Baked Salmon Skin
As earlier mentioned, salmon fish is highly nutritious. Both the flesh and the skin are packed with a host of nutrients, hence, none of its parts should be wasted. The skin is eaten as a snack, used as fillings in sushi rolls or salads. By using the whole, you ensure nothing goes to waste.
To ensure it comes out perfect, ensure you pat the skin dry before marinating or risk having a soggy skin.
Where to Buy Fish Skin?
For fresh fish skin, they are sold in retails, especially Chinese or Asian Market. For fish skin snack, they are available from both retail and a lot of online platforms. Here are some of the best fish skin products listed on major platforms.
in stock
6 new from $18.01
as of May 10, 2023 5:33 pm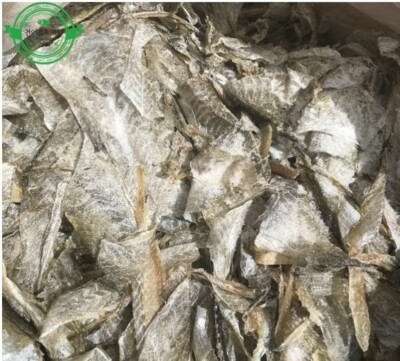 Is Fish Skin Healthy?
Eating fish skin is okay but ensure you cook it well since it contains mucus which can be hazardous if ingested. However, if you decide to fry, roast, or steam, most of the germs will be eliminated, making it more fit for eating.
Secondly, there are fishes with finger-like scales; this should be removed before it's cooked. These scales usually leave large holes which may be clogged by germs.
When it comes to the health benefits, there's little to it so even if some people claim its super healthy, you're not getting a lot of nutrients from the skin alone. Like the main flesh, fish skin is more of protein and heavily cross-linked; hence, it's no surprise that it isn't easily digestible.
Apart from this, several nutritionist claim fish skins from saltwater fish is an unlikely source of collagen. This collagen which is a product of protein helps retain the skin's elasticity, improves the skeletal system as well as the blood vessels. As we age, our skin loses its ability to produce collagen, which makes fish skin an essential supplement in our diet.
Conclusion
What most people fail to understand is that fish skin is just as important as the flesh. If prepared well, the skin is edible, and there's nothing to be afraid of. But there are fish skins which are pale, tardy and fatty to taste. Such skin never gets crispy which is a bit disappointing for those who would like to enjoy crispy fish skin as snacks.
---
Rate This Article