80 Best and Easy Pork Recipes in Chinese Cuisine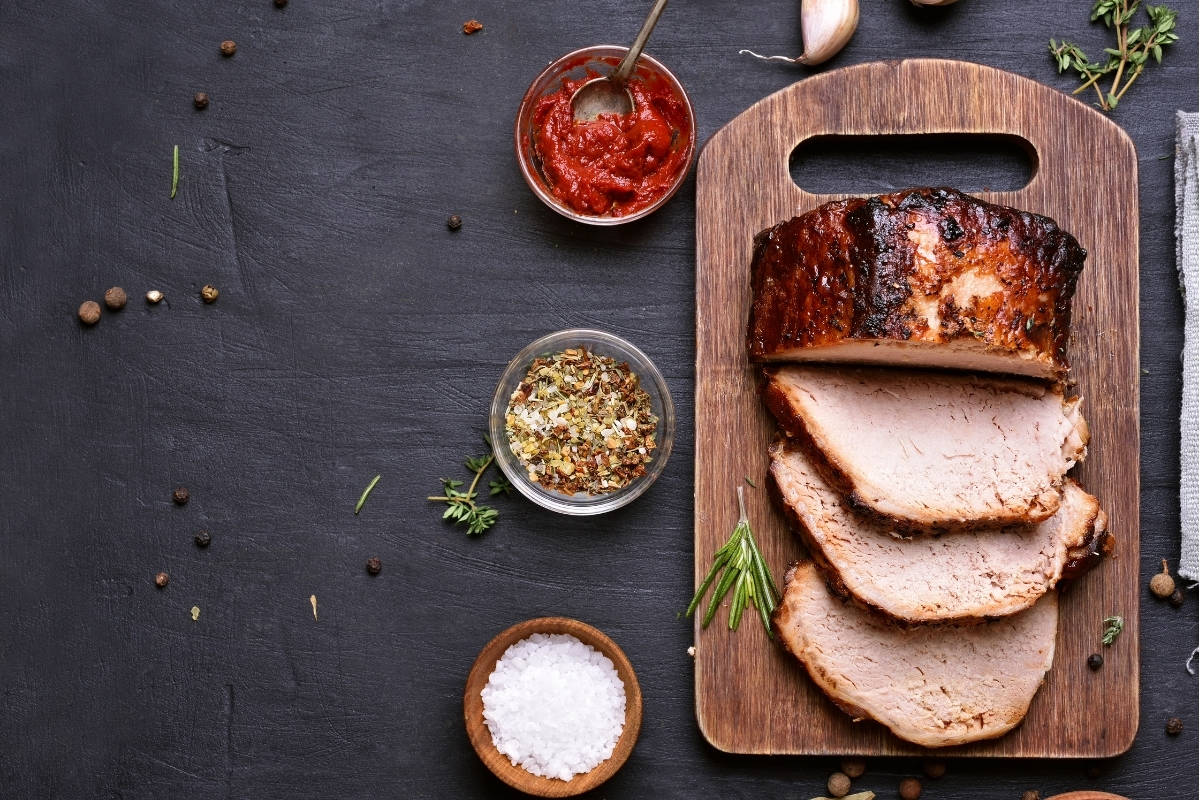 Pork recipes are the most popular in Chinese cuisine. Pork can be fried, braised, stir-fried, stewed, and even steamed. Follow these simple and easy pork recipes to make delicious pork dishes at home today!
This recipe combines the aroma of streaky pork and shrimp paste. After frying the pork, it absorbs the juicy and taste from the sauce, which brings a strong aftertaste for the meat.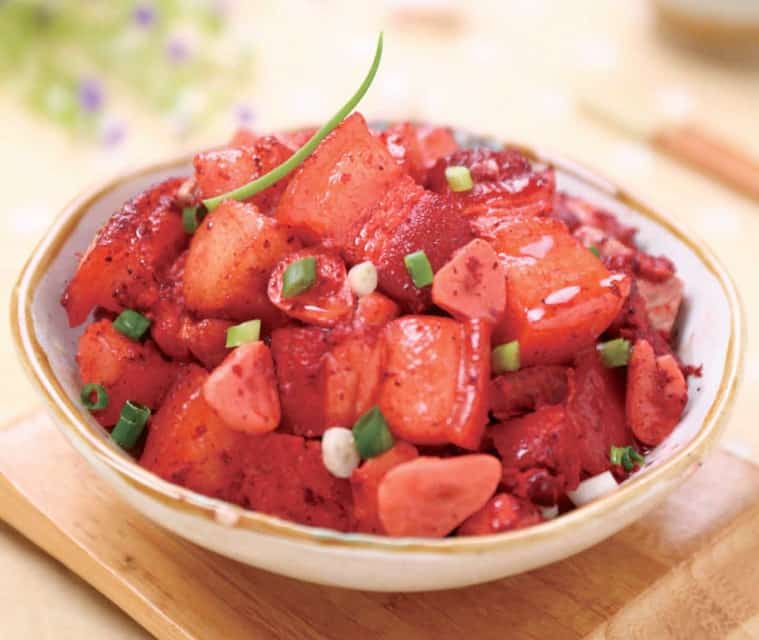 This Fujian Zongzi is special with its juicy pork. To make this zongzi, we cook pork, glutinous rice, and onion separately. Then mix them together with reed leaves which can bring more aroma into zongzi.
This stewed is named Tongan FengRou in Chinese, which is a famous Fujian cuisine in China. The pork is so soft that it almost melts in your mouth. To make it taste better, use streaky pork with pork skin. Thus, it can have a textured flavor.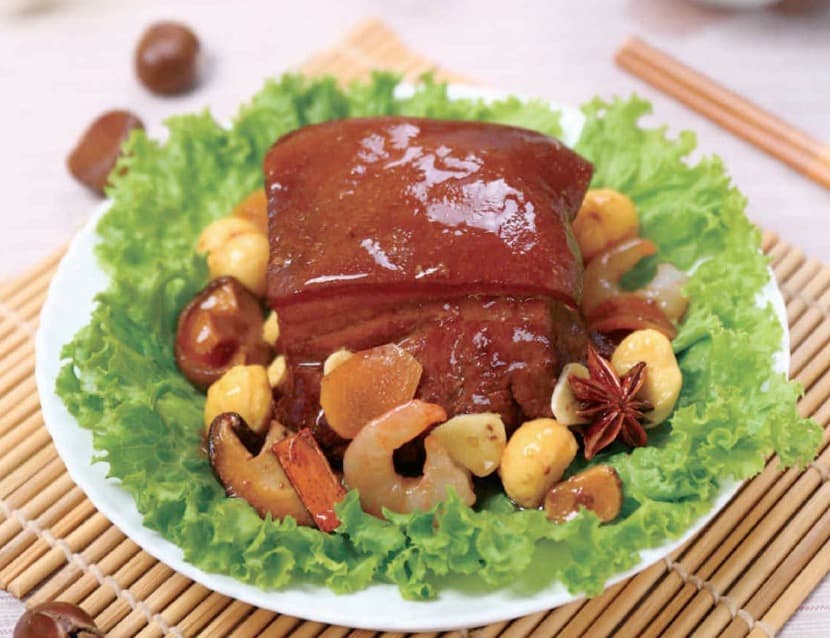 To have traditional fried pork ribs, we marinate the pork ribs into cornstarch and egg liquid. Then fry over small heat until cooked. Use high heat to cook to make it more crispy, then add it to the seasonal sauce to make the meat taste deeper and juicer.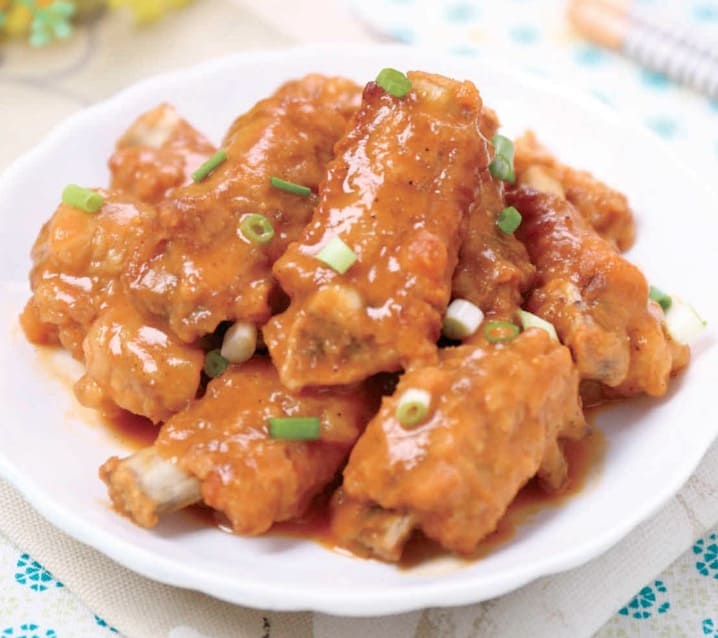 To make this dish, we fry lychee and water chestnut until golden brown. Then add sauce to stir fry pork. When it is done, add lychee and water chestnut to stir-fry and mix the aroma together. The taste is so special that you will never forget.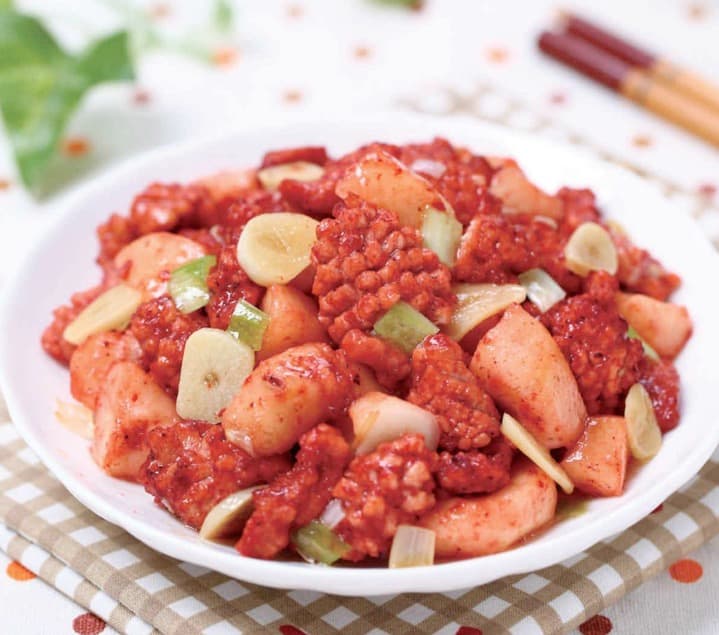 For this traditional Chinese pork liver recipe, we marinate pork liver into light soy sauce, cooking wine, and seasonings. Then fry pork liver until cooked. Fry pork liver again when garlic and ginger are cooked. Mix them together and top with green onions and chili oil for decoration.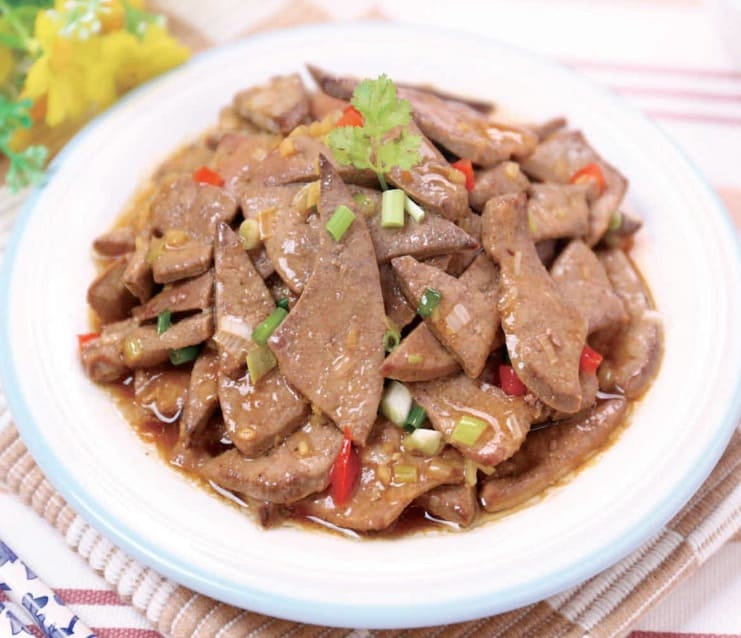 We adopt tradition Chinese food methods to make this dish. We marinate the pork before frying. Then use lard to fry pork and seasoning separately. When it is done, mix them together and add ketchup, chicken soup, and all seasonings to stew until soup thickens. The pork is finger-licking good that you can never forget.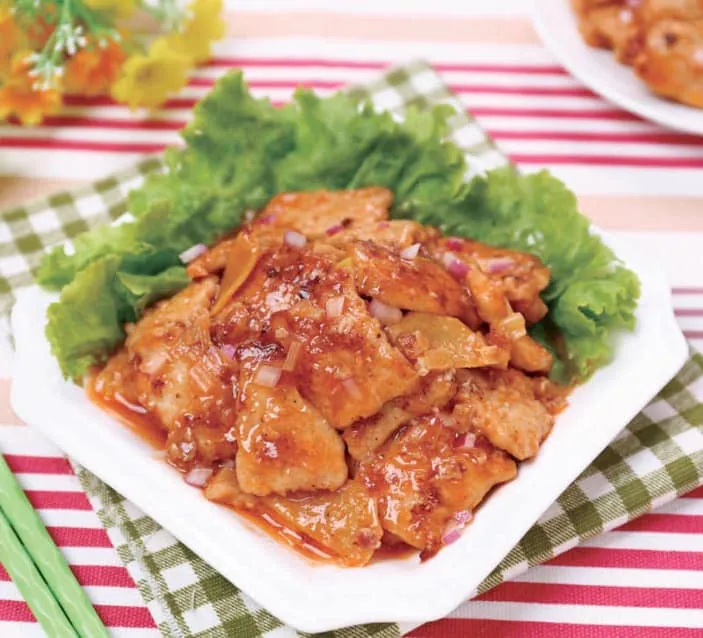 To make pork crispy outside and tender insider, we blanch and stew the pork in seasoned sauce, then coat with egg liquid before frying. The pork is really soft, chewy, and juicy after frying.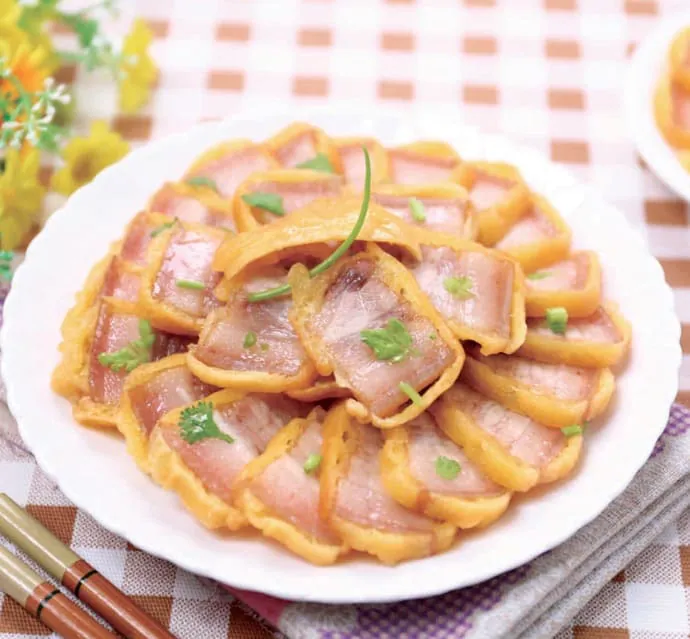 This tomato juice pork chop is sweet and sour. It uses natural seasoning, such as tomatoes, to add the main taste. To make the mouthfeel better, we use the traditional Chinese marinate method to make the pork taste deeper.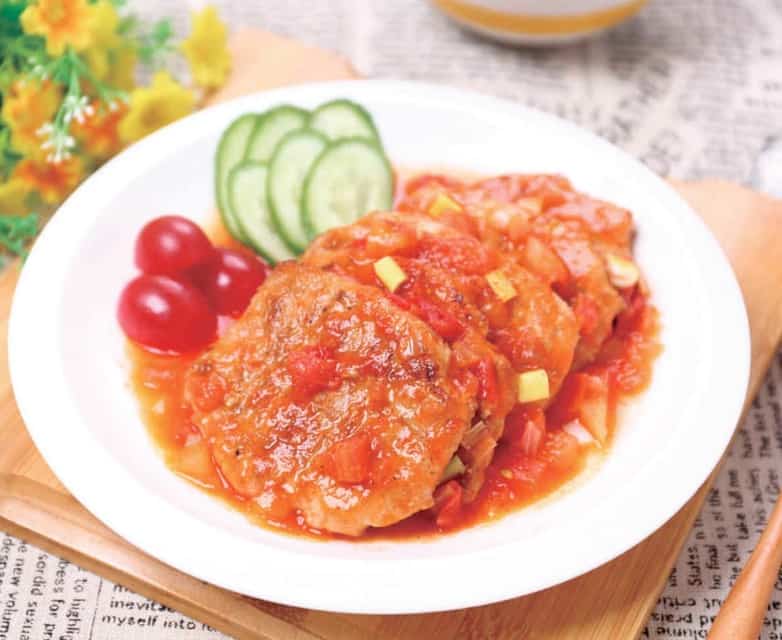 This pork bun is special with mulberry flavor. By adding mulberry powder into the dough, it adds a light fragrant of mulberry leaves, which make buns smell good and taste well.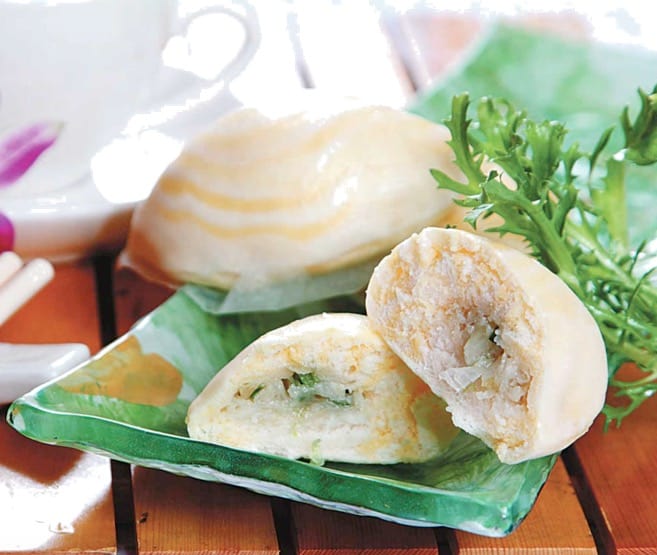 This special oyster sauce char siu pork is made of original steamed char siu pork. By adding oyster sauce, the pork is in an appetizing color. It is juicy with a light sweet endless aftertaste.
Shumai is named Shao Mai in Chinese. It is a mush-have snack in Yum Cha. It has thin dumpling skin and strong meaty taste. The making process is simple and easy because you can purchase shumai dumplings from any Asian market and make your own shumai.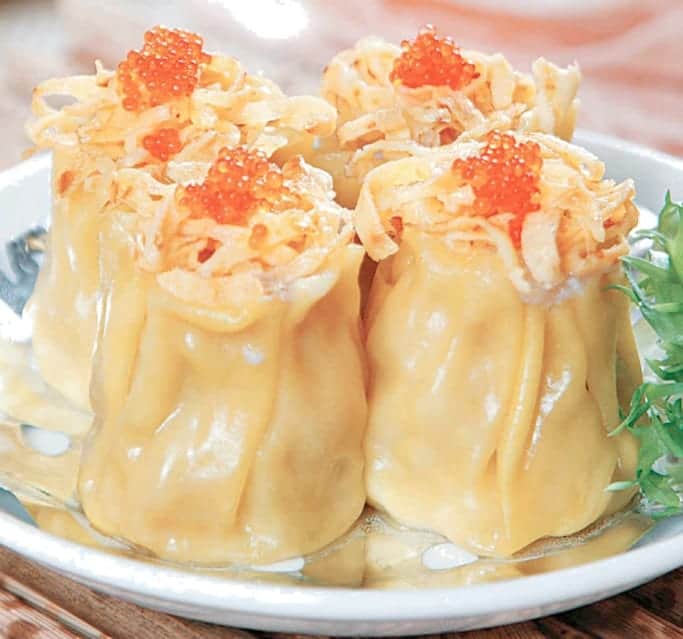 Fried pork dumpling is called Xian Shui Jiao in Chinese. It is quite different from normal dumplings because the stuffing should be cooked before wrapped by dumpling skin. It has a crispy mouthfeel and a juicy, favorable stuffing.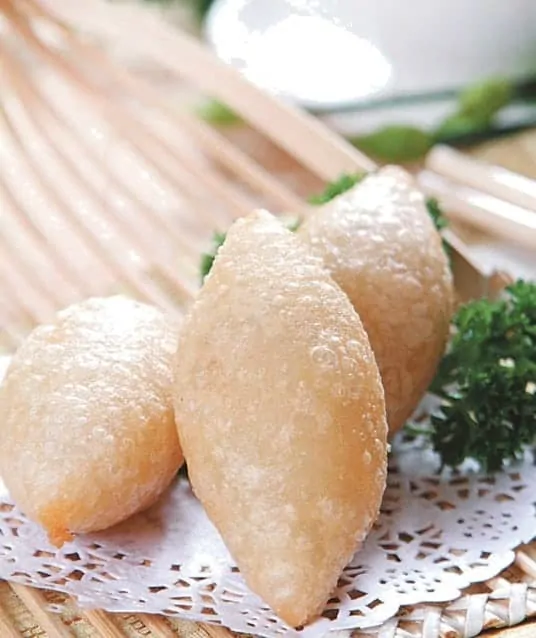 This dumpling is special with its transparent skin. For its stuffing, it uses water chestnut and minced pork. By adding leeks. the stuffing has a perfect meaty aroma that everyone will love.
This is a create traditional Chinese dumpling recipe. With the decoration of carrot, sweet corn, and crab roe, the dumpling is becoming more lovely.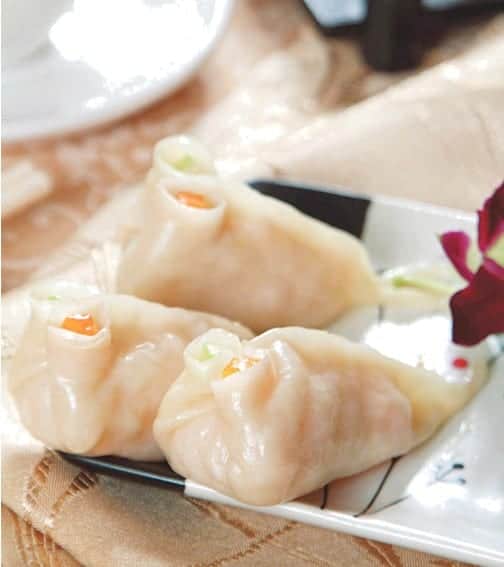 This leeks and pork dumpling is a popular snack in every Chinese restaurant. It fully utilizes the leek's aroma. When leek's aroma mix with pork, it has a full of health and special fragrance that everyone will love. This perfect combination has been tested for hundreds of years. It is always the best!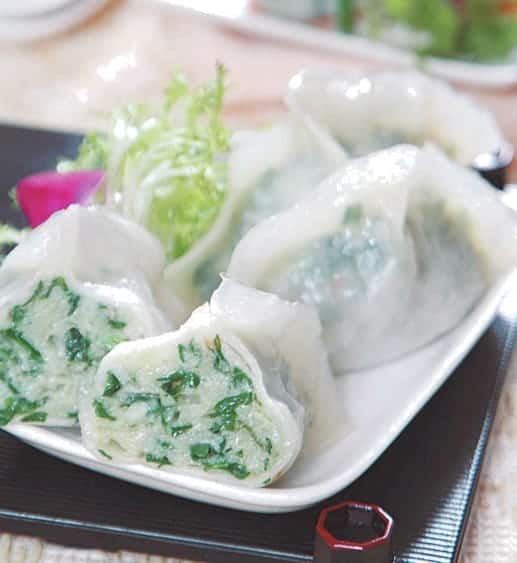 Fresh pork bun is an easy bun recipe, but it is also a big challenge for your cooking skill. Kneading the dough is a technical thing that you can make the dough fine and tender. And the freshness and quality of pork can highly affect the last taste after steaming. Thus, carefully knead the dough and select the best pork for this recipe.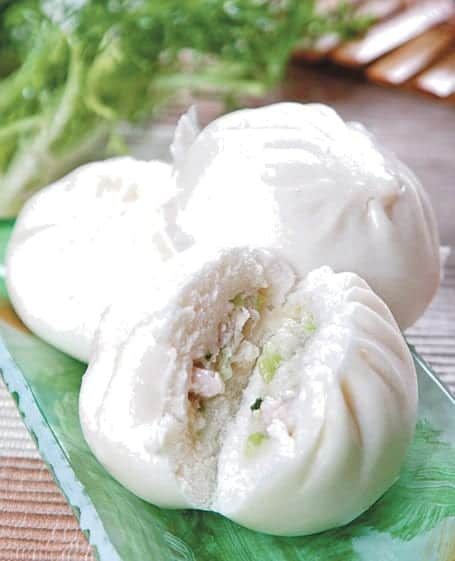 This sausage and pork bun has a strong taste flavor. It is suitable for meat lovers. Because of meat stuffing, the buns are full of juice and aroma.
This steamed pork bun is simple and easy. However, the taste is second to none. You can have a full of meat juicy with one bite.
This coriander pork bun has a strong coriander light smell. By adding pork as the ingredients, the stuffing is juicy and full of meaty fragrance. It is perfect for breakfast or afternoon tea.
This crab roe pork bun (Ba Bao Dai, in Chinese) is an elegant traditional Chinese dessert. It is offered in many high-end restaurants with caviar and truffle paste. With this recipe, you can do it at home. You will definitely love these little buns because of its shape, appearance, and taste.
This jellyfish soup contains a rich source of protein and vitamin A. The pork adds a strong meaty background and jellyfish is juicy with full of meat flavor.
Pawpaw is rich in nutrition and help to weight loss. This soup can be used as a weight control diet because it offers enough sources of protein and vitamins. Also, it has less calories if you choose the pork ribs only have lean pork.
Chinese medicine believe eating pork kidney can benefit for our kidney. Besides its health benefit, the soup is a little sour and sweet. And pork kidney has a crispy mouthfeel which is yummy.
Solomon's seal and hawthorn have a weight loss effect. When simmering with pork tenderloin, you will feel none of the bitter taste from Solomon's seal. The soup has a deep taste and meaty background.
Chinese medicine believes the Rehmannia root has a supplement and healthy effect. When simmering with pork trotter, the nutrition can fully dissolve into the soup. The soup is full of nutrition with a tasty meaty background.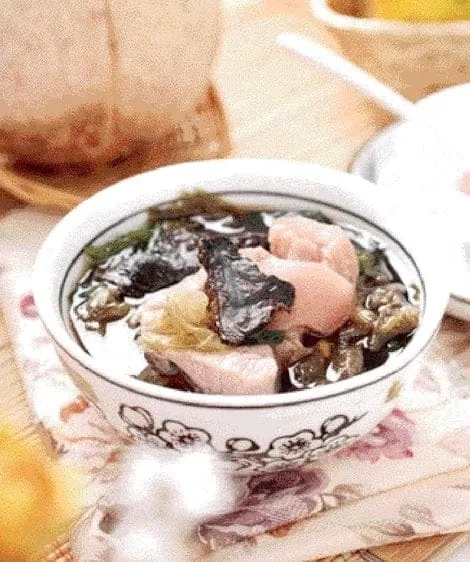 The soup combines cucumber and pork tenderloin to offer a balance of meat and vegetables. Drinking the soup can make us a light comfortable feeling. It is a perfect daily soup in summer.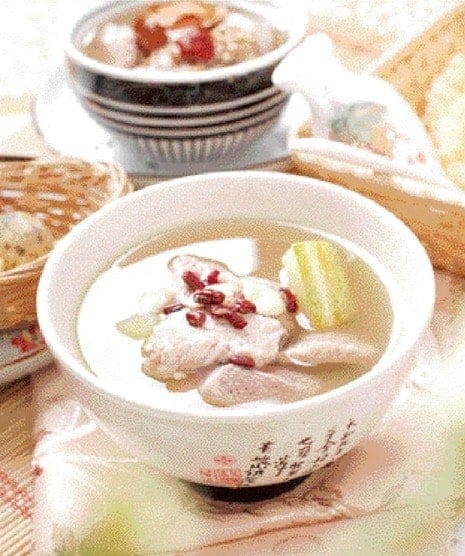 This towel gourd soup has weight loss functions. It contains nori and lean pork to provides rich source vitamins and protein for daily health. You will have a comfortable feeling after having a sip of the soup in summer.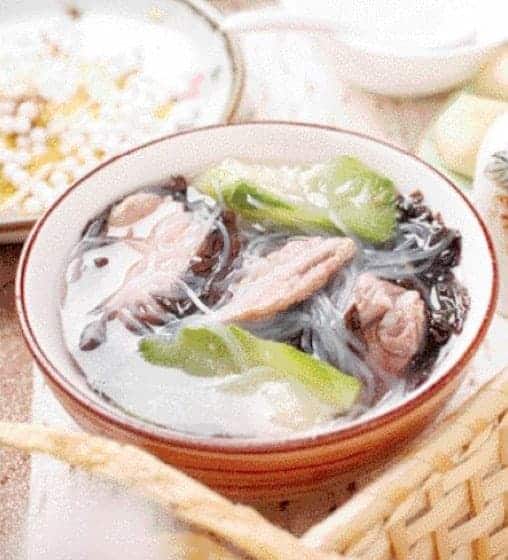 Mung bean can clear our body's hot and blood pressure. This pork ribs soup combines kelp and mung bean, which offer a perfect combination of vegetables and meat.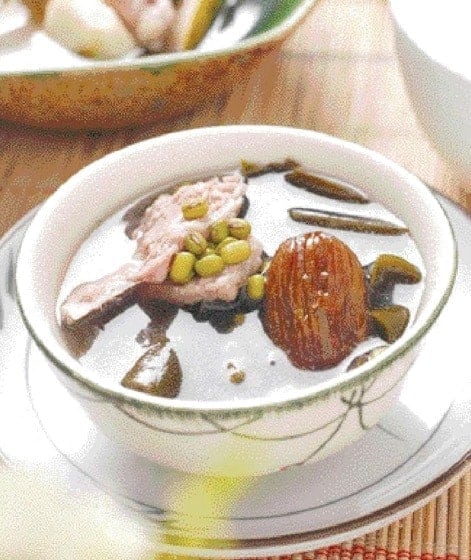 This soup has an effect on the weight loss feature. It offers enough nutrition and protein for dieting purposes. If you want to have fewer calorie intake, all you need to do is to remove excess floating oil. The soup is healthy with strong pork meat background.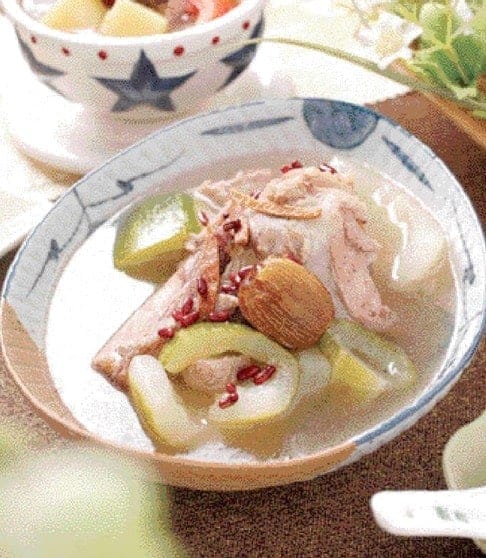 This pork soup is sticky and full of pumpkin aroma. If you love pumpkin, you will love this soup definitely.
This pork bone soup has meat and vegetable, which achieves a nutrition balance. You can have this healthy soup every day and it will help to keep fit.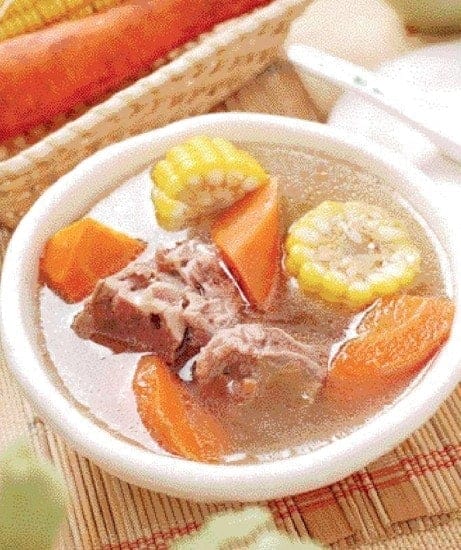 This soup has a special health effect for addressing urinary tract infection, prostatitis, and urination pain. Both plantain herb and pork tripe are key ingredients. This dietary therapy has been tested for hundreds of years, which is popular in China.
Corn silk has a special effect on weight loss. In Chinese medicine, it can balance Yin and Yang to achieve a comfortable feeling. With lentils and pork soup, nutrition is easy to be absorbed after simmering.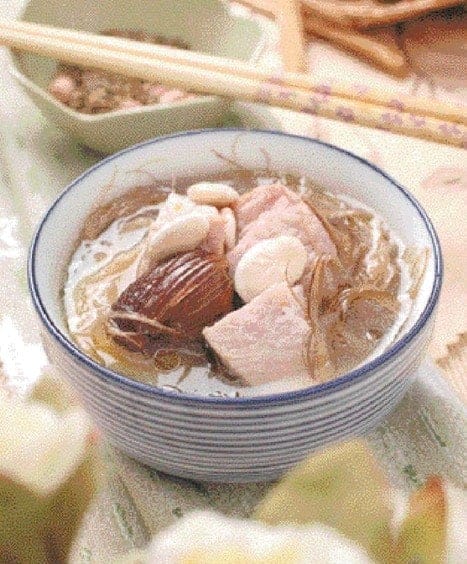 This soup is light sweet with conpoy flavor. Also, with pork tenderloin, it has a strong meaty background. The soup is fast and easy, suitable for a daily drink.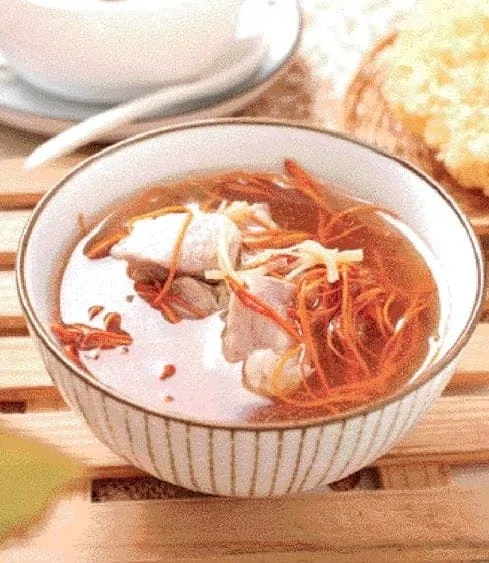 The soup has a weight loss effect, because it offers a rich source of dietary fiber and essential daily nutrition. You can feel a strong seaweed aroma during drinking.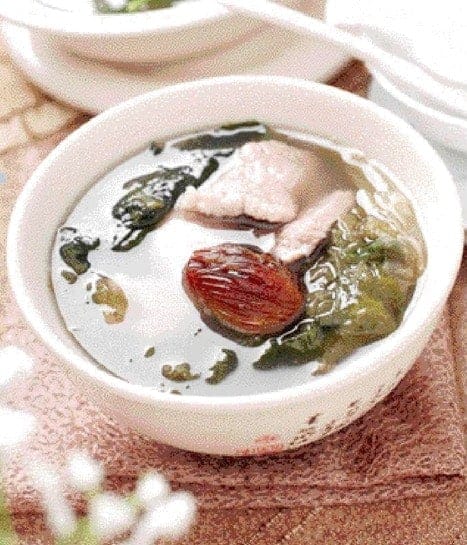 This is a daily soup for most families. It offers rich vitamin D as well as dietary fiber. The key to the soup is to use pork leg bones and stewing for long hours. It might be time consuming, but when you try the taste, you will know everything is worth.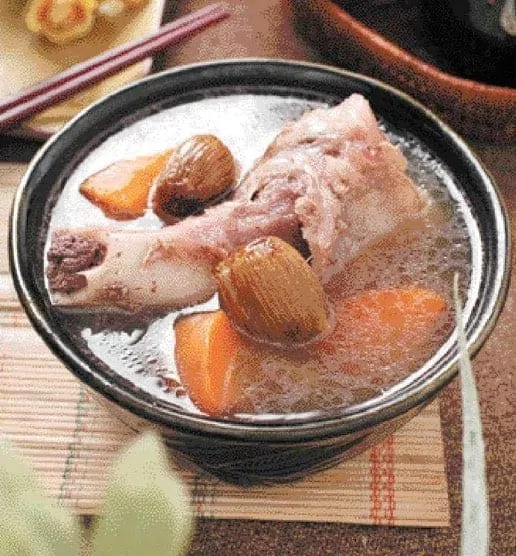 Pork rib combines with cucumber to achieve a wonderful balance of meat and vegetable. Making this soup is fast, easy and inexpensive. And it provides sufficient nutrition. Thus, it is a good daily soup that you can enjoy every day.
The soup is sweet and fresh, it has a strong pork ribs smell. It is perfect for who love bean sprouts. Both green bean and soybean sprout can be used for this soup.
This pork trotter soup is special with the favor of dried turnip. To make a better taste, choose the dried turnip that tastes good. The soup has a light sweet turnip aroma, which is really appetizing.
Luffa soup is an ideal soup in summers. It makes people feel comfortable and refreshing. When combined with pork ribs, it is nutritional with rich in protein.
It is a perfect combination of vegetable and meat soup. With the bamboo cane, the soup is sweet, fresh and comfortable. And the carrot is soft and almost dissolves into the soup. The soup is nutritional and has a long-lasting meaty taste.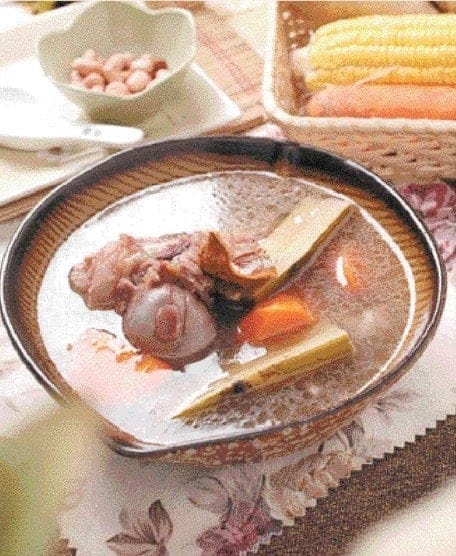 The soup contains Rehmannia and sophora flower, which benefits for skin beauty. These are Chinese dietary therapy ingredients that have health benefits. Although its original taste is a little bit bitter, the pork tenderloin soup effectively cover and remove the herbal taste. You will love this soup.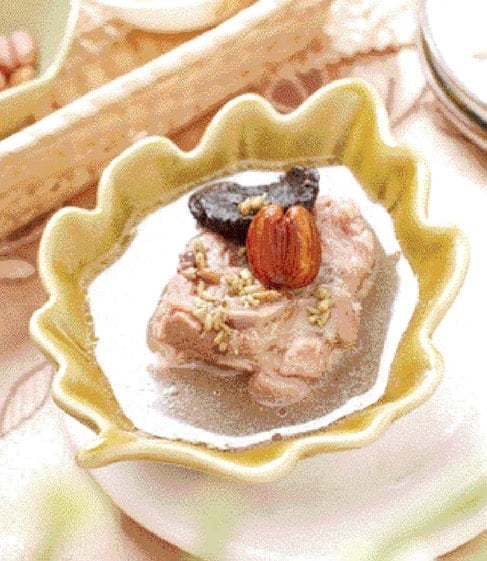 This pork ribs soup is a perfect calcium supplement. After adding kelp, the soup has a good combination of vegetables and meat. It is a healthy soup for everyday meals.
This soup contains purslane, which has a light laxative feature. Also, Chinese medicine believes this soup can clearing heat and detoxicating.
This fish glue soup is perfect as a supplement, especially expectant mothers, puerpera, and elderly people. The combination of pork tenderloin and fish glue offer a rich source of collagen.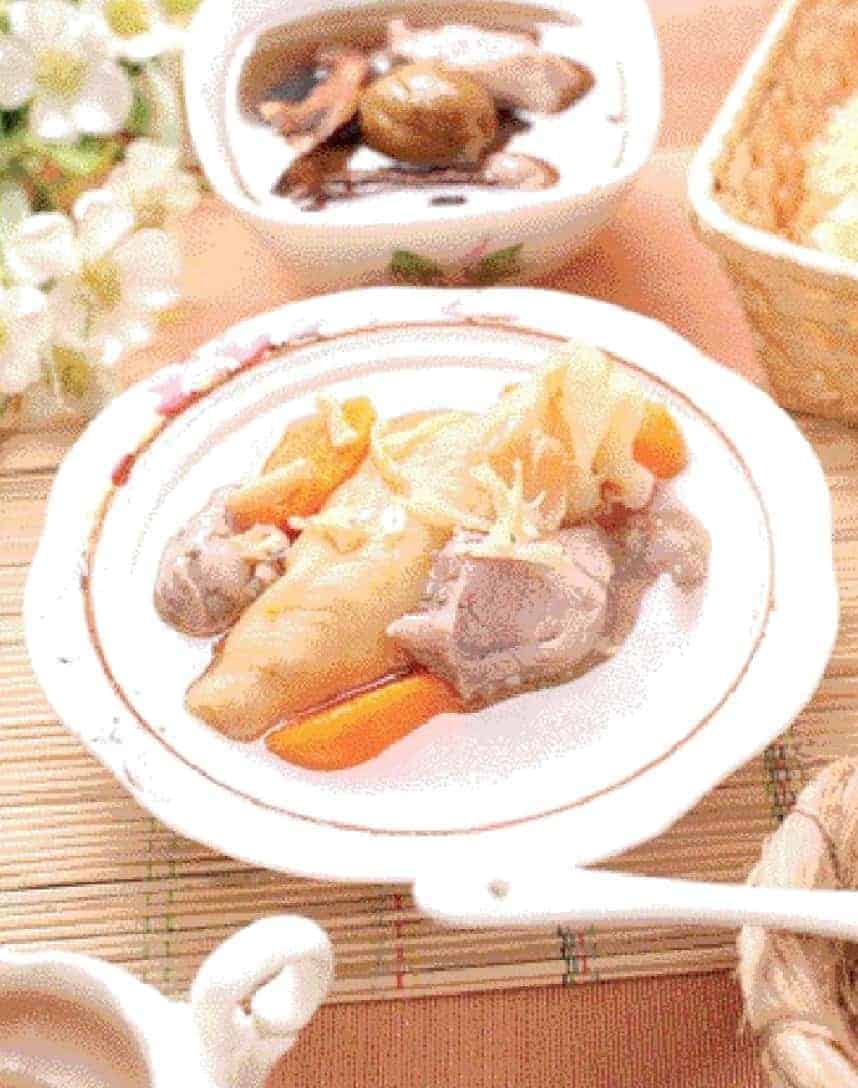 This pork ribs soup is rich in protein, and it contains lotus root which speeds up the absorption of the nutrition. If you are a meat lover, you definitely will fall into love with this healthy and sweet soup.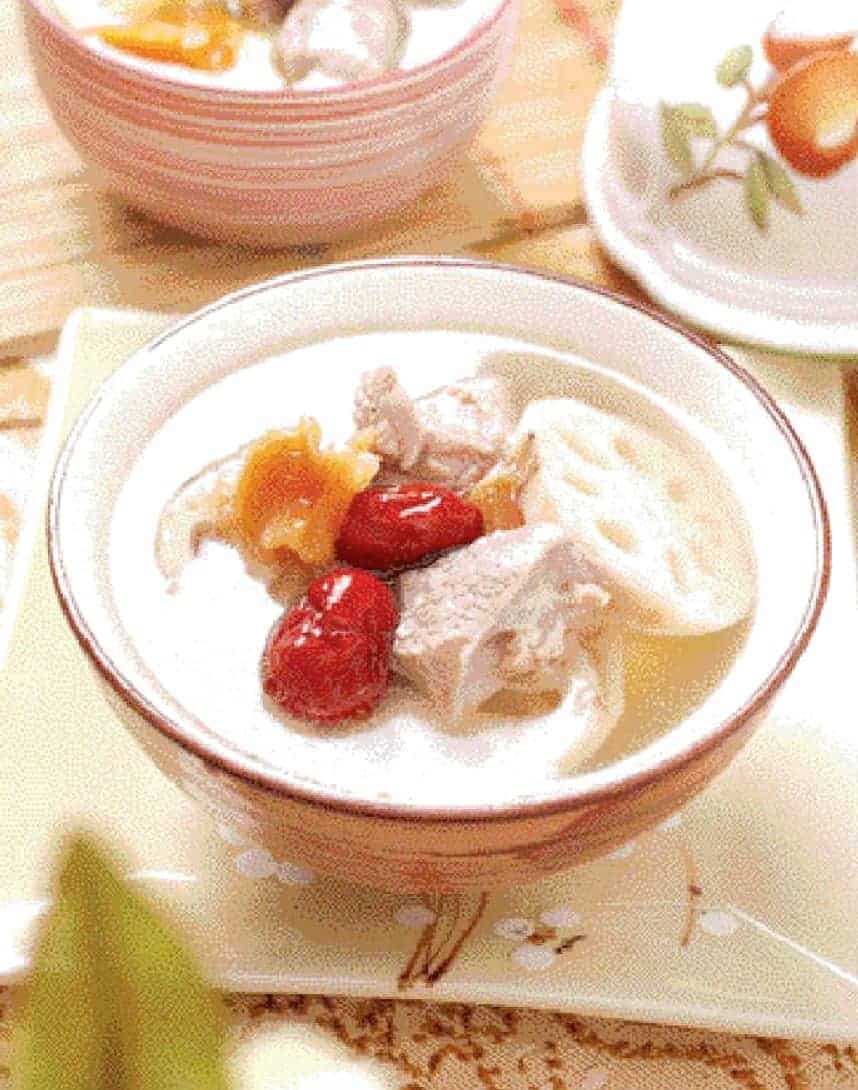 This pork soup mix with seafood flavor, which offers a wonderful taste for seafood lovers. Adding nori makes the soup more nutritious and yummy.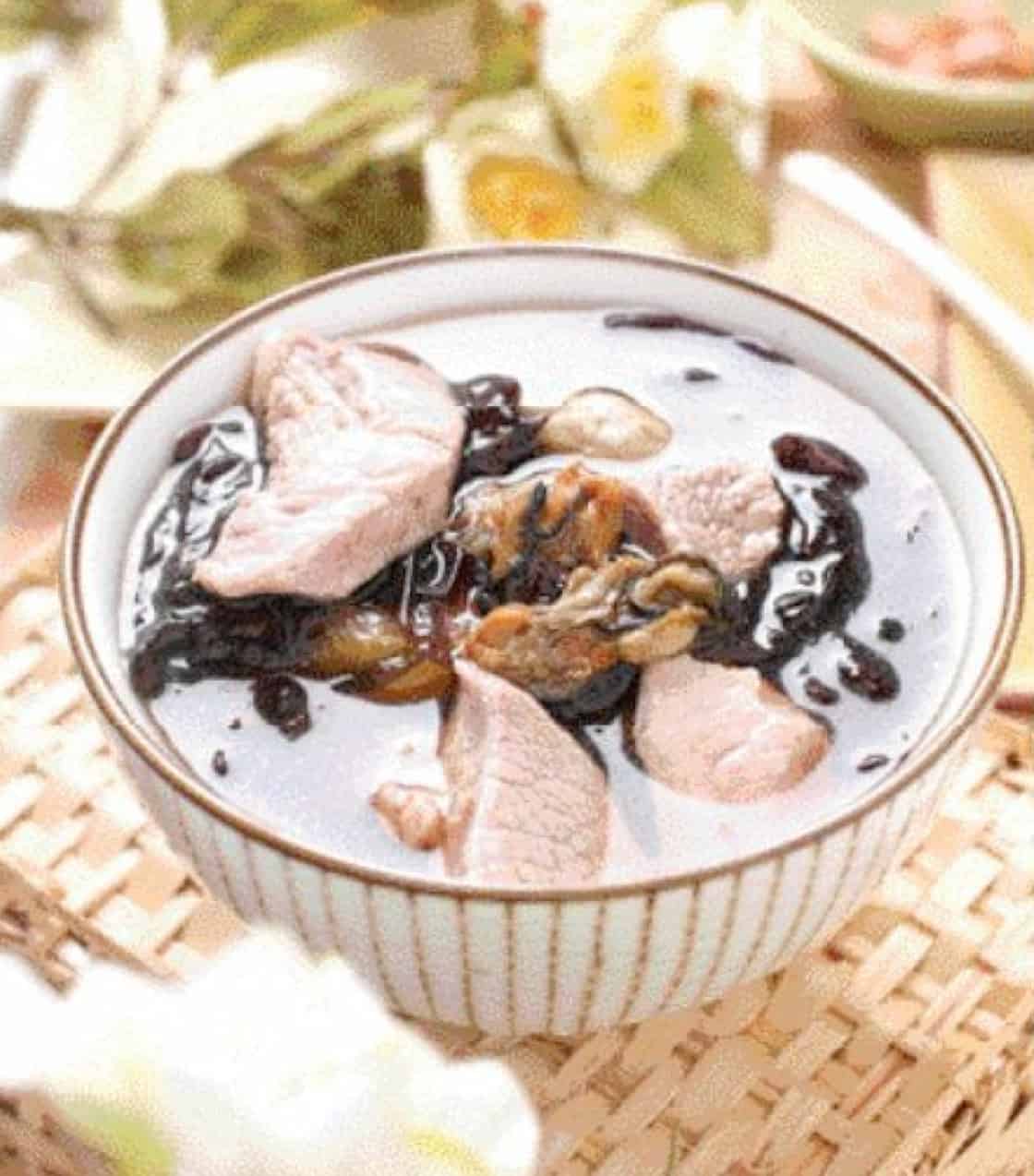 Shiitake mushroom brings an aroma for smell and taste, which is a key for this easy pork ribs soup. The process is really simple, and it is a wonderful daily soup.
Dried oyster is the key seasoning that brings seafood flavor to this soup. While white fungus and almond add herbal effect. Pork and dried tangerine peel dissolve its flavor to make soup with a sweet and meaty background.
This pork soup contains beauty ingredients – wax gourd and job's tear. These ingredients make our skin healthy, smooth and bright with minimum cost. Enjoy the soup every days and see amazing effect within 1-2 months.
Lotus root has a lot of health benefits. This pork soup enables the nutrition of lotus root to dissolve into the soup and help your body to absorb nutrition.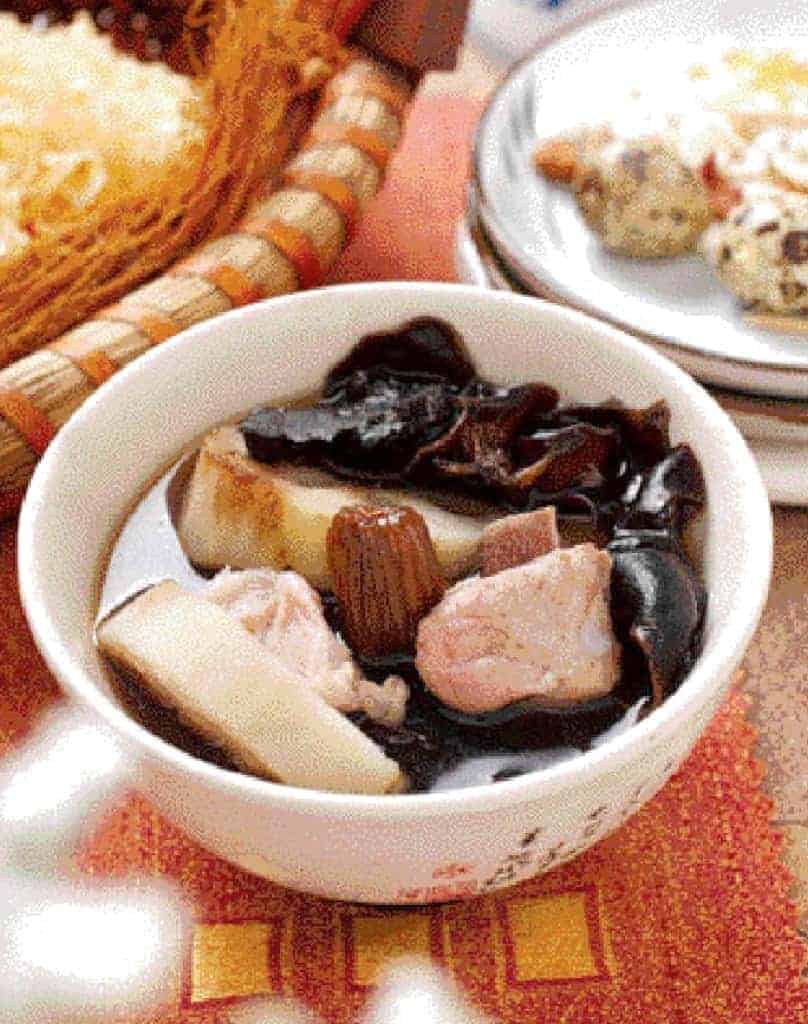 This soup mixes the flavor of oyster, pork and pickled vegetable. It has a special sweet, sour and fresh soup taste. If you love pickled vegetables, you will definitely love this pork soup.
This pork blood curd soup is good for our lung health. Adding leeks can boost the soup aroma. It is a common dish in China, but its taste is second to none. This perfect ingredient combination is tested for hundreds of years, you definitely should try it.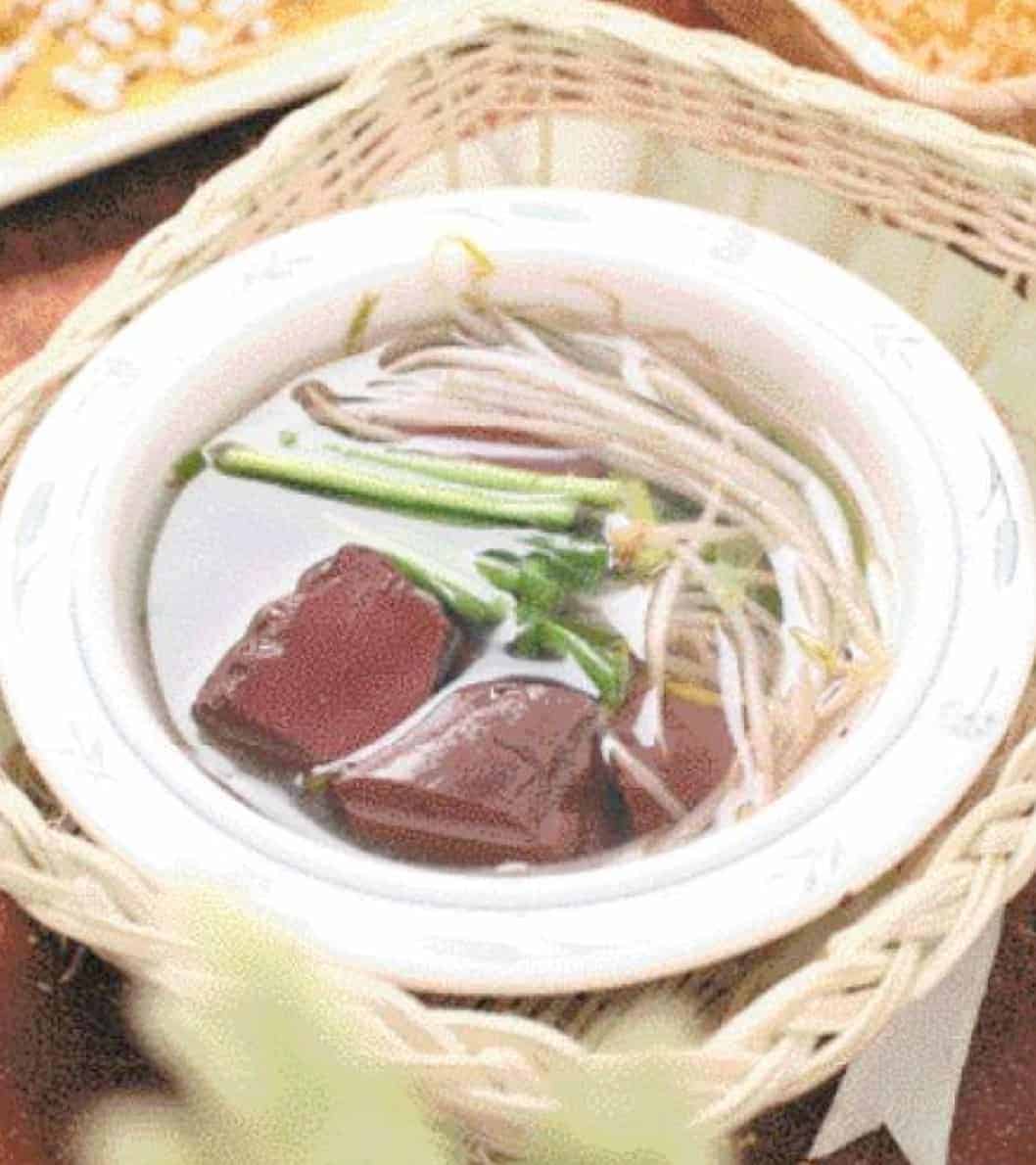 Fructus Cannabis is a special ingredient of Chinese medicine. It benefits our blood and intestinal health. Pork trotter often need to be cooked for a long time in order to make it soft. Cooking longer can also ensure the soup dissolves more healthy ingredients of Fructus cannabis and angelica, which can boost the health function of the soup.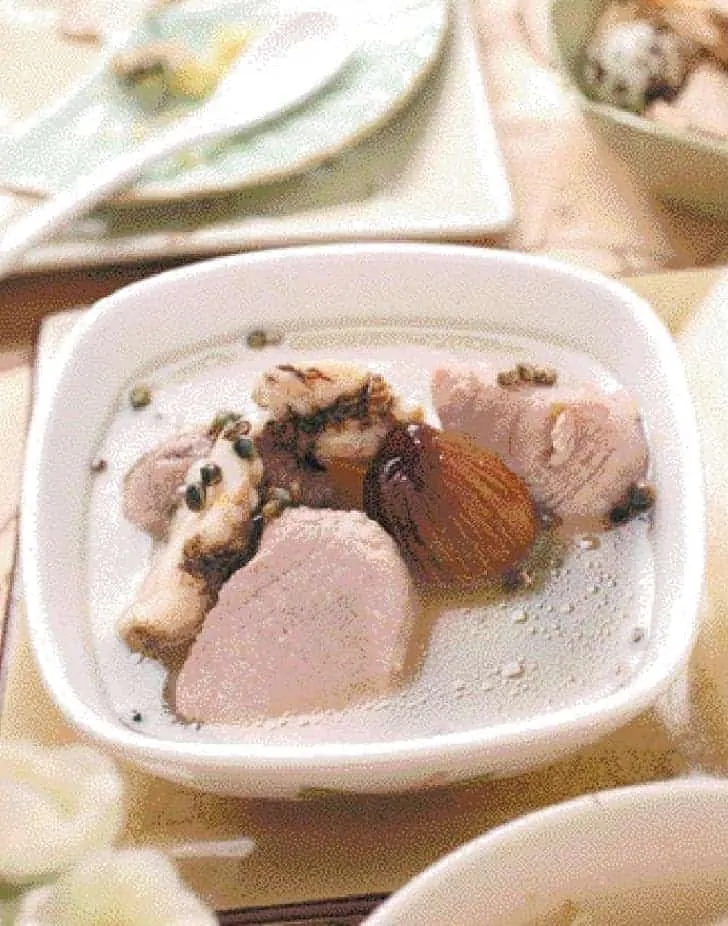 Polygonum multiflorum, platycladi seed, and Rehmannia are food therapy ingredients. With the aroma of pork, the soup is full of traditional Chinese spice aroma. You can enjoy the tasty and healthy soup with this simple recipes.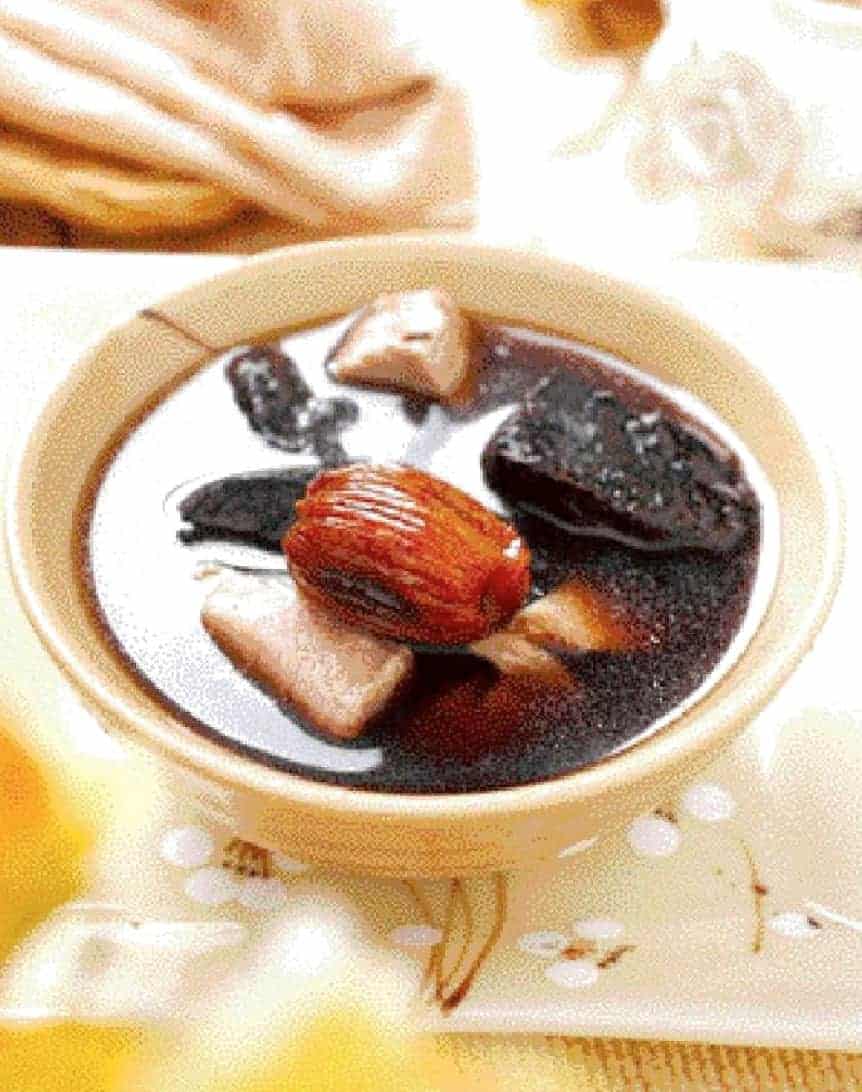 Easy ingredients to make simple fruit and meaty soup. If you like apple's sweet and sour taste, you should definitely try this recipe.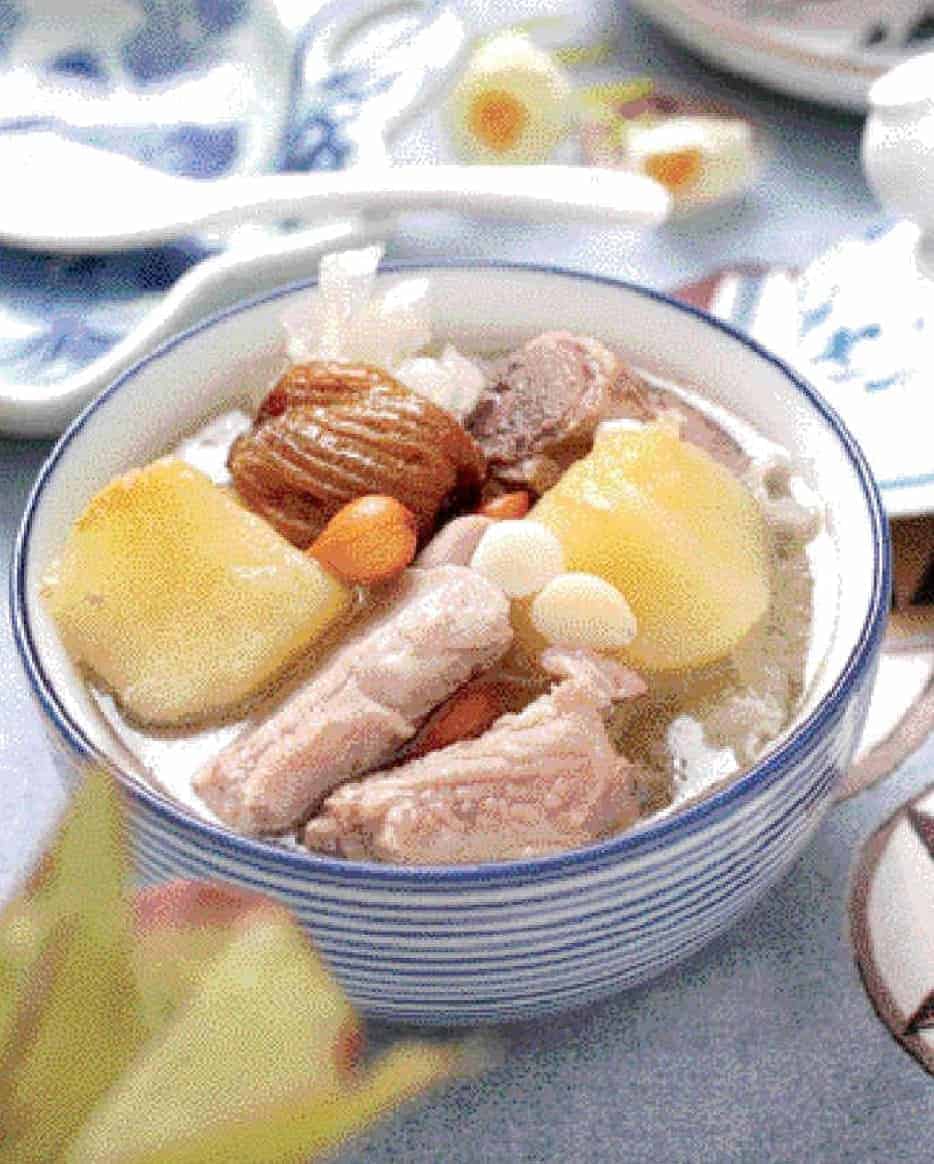 It is an easy apple soup with pork meaty background. You will be surprised by the taste of this fruit soup.
This easy and simple pork trotter soup is good for softening our blood vessels and prevent vascular sclerosis. It can be a daily soup for all ages.
This pork trotter soup combines soybean and pork trotter, which is rich in nutrition. Its benefit is much better than soymilk and contains more collagen.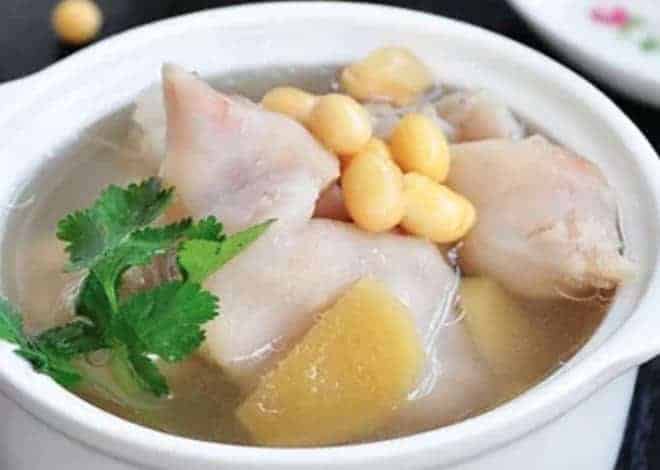 This pork trotter soup is rich in collagen and vitamins. Drinking regularly can make skin smooth and moisturized. The calories are less and the soup has a strong meaty background.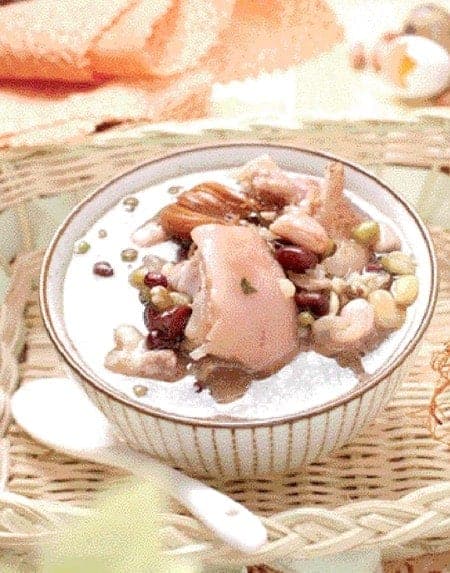 This 3 steps hasma pork soup is an effective supplement for our body. The key ingredient is hasma. Its taste can smoothly melt into the cordyceps flowers and pork soup.
A perfect food combination of fruit, mushroom, and meat. I will amaze you with the taste of this innovative apple pork soup. The soup is suitable for all ages.
This white fungus pork soup is a daily soup in China. The process is easy, ingredients are simple, the taste is sweet, and the meat is not only soft but also tender as well.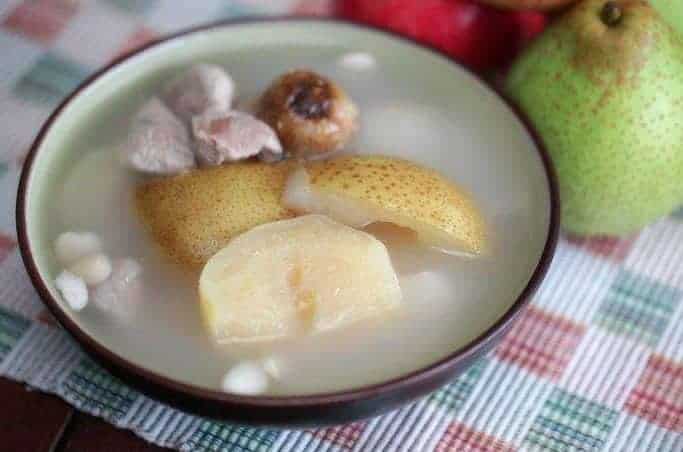 Arrowroot powder is a dietary therapy ingredient that good for heart health. The soup is good for everyday meals that help to mains good health and calorie intake.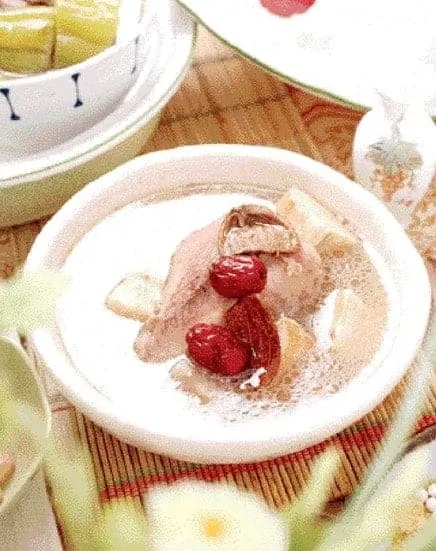 This lotus seed and lily soup is light taste and easy. We wash and add all ingredients for stewing for 3 hours. The ratio of ingredients can produce a perfect balance without any bitter taste of lotus seeds.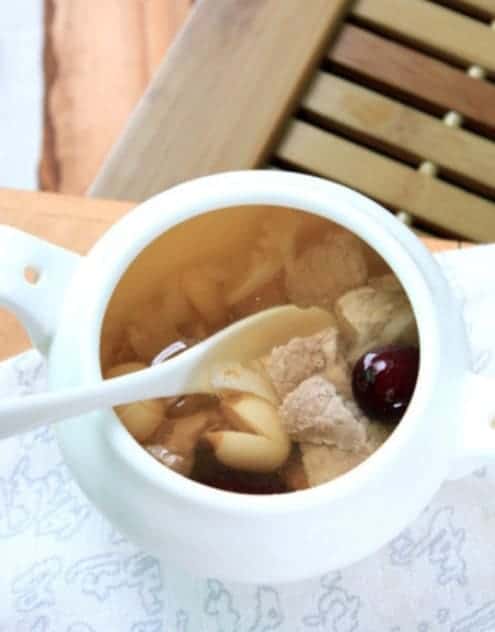 This easy honeydew melon soup combines both fruit and dessert ingredients. The light sweet taste also enhances the freshness of lean pork and make it tender and juicy.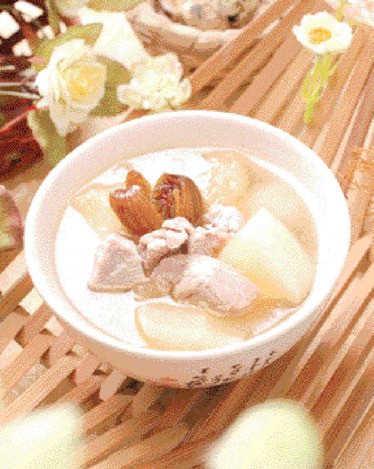 Chinese Noodle with Satay is a special snack in Xiamen. But it is easy to make at home with simple ingredients and seasonings. For sure, satay sauce is the key. After adding white pepper, cooking wine and minced garlic, the sauce is thickly and a strong aroma. The tomatoes and rape flowers are the decoration as well as the ingredients that make it nutritional balanced.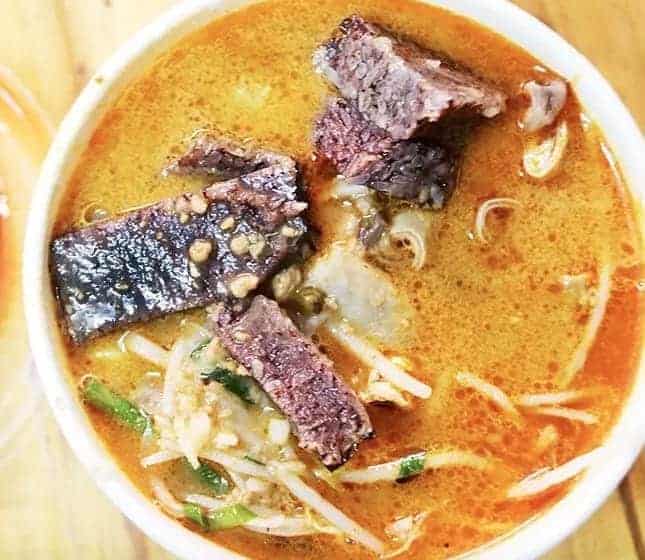 Shandong Pork Buns is special with its big size and sweet taste. Sweet soybean paste is the key that brings light sweet aroma. After mixing with fried pork, the paste fully contains meaty fragrance. With one bite, you can fall in love with its meat juice and a long-last soybean aroma.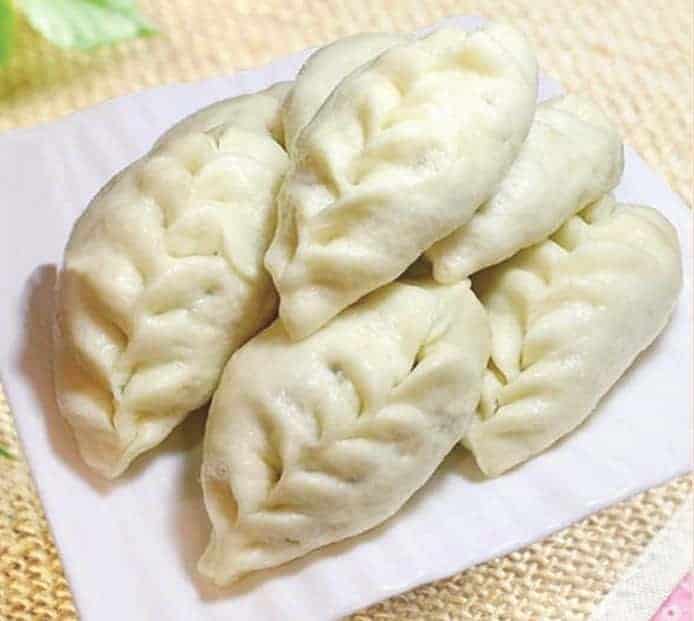 If you like sour and spicy pork, this is a must-have hot pot base. The soup brings out the pickled cabbage taste and mixes it with aroma pork belly. Its meaty backdrop makes picked cabbage more juicy and appetizing.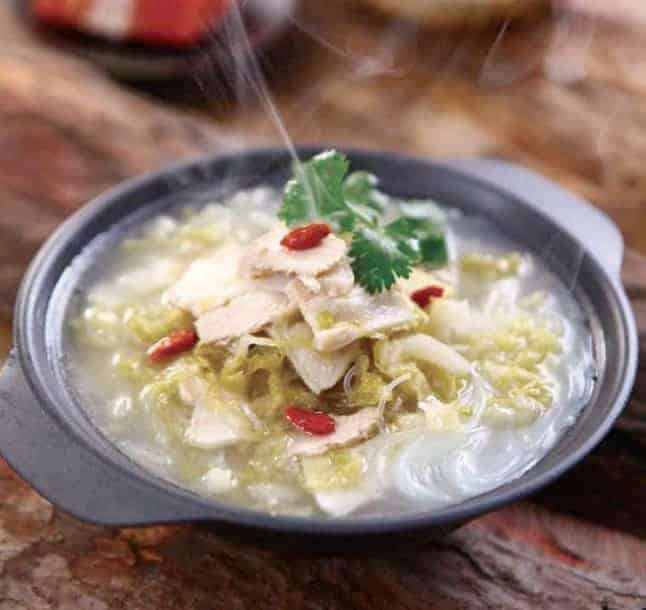 To make a perfect salted meat flavor hot pot, we fried salted pork until oil comes out to fortify the aroma during simmering. Instead of simmering all ingredients, we make a normal stir-fried salted pork dishes first by adding and garlic chili sauce and pepper. Then pour bone soup to absorb salted pork and allow salted pork diffuse its smoked aroma over the soup base.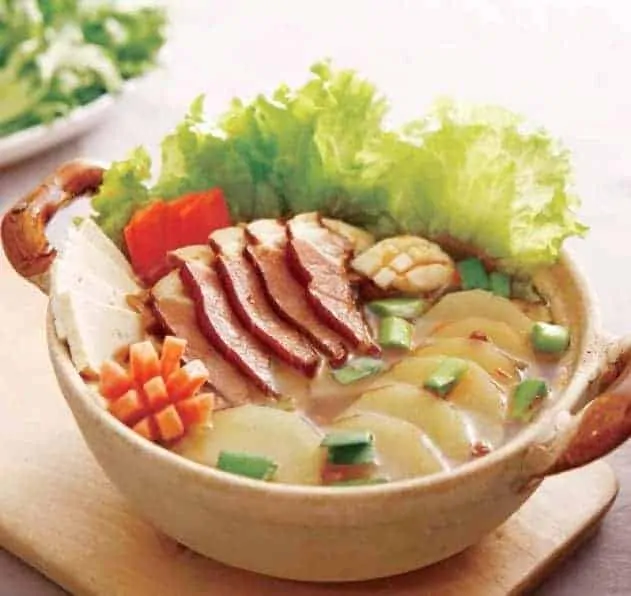 For an aromatic and well-seasoned taste of pork belly hot pot base, we started through frying pork belly to reduce excess oil and moisture. Then stew spice bags with all ingredients to create a heavy hot pot taste. We added a little sugar in the last step to balance the salty and oily taste with an unexpected spun pork favor.
Pork Ribs Soup has a complexity taste. It mixes all ingredients together and balances through cooking wine and ginger taste. To enhance the diffusion of aroma, we started with frying ginger, scallion, garlic, and other seasoning ingredients. Then add pork ribs and simmer for 1 hour to make the soup base. This hot pot base is suitable for everyone, especially spicy lovers.
Pork Bone Hot Pot Base is a foundation of all Chinese hot pot. It is fast and aromatic with the least ingredients. We can add it to almost every hot pot when the soup is not enough. To get a perfect aroma, we have simmered all ingredients for 3 hours. And decorate its taste and appearance with Goji.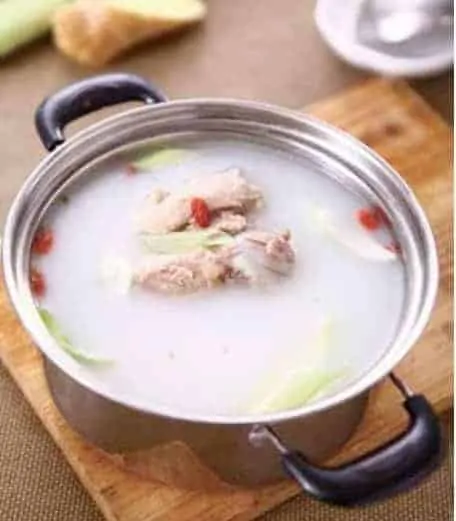 To make soup has a deep aroma, we stew abalone with traditional Chinese dietary therapy ingredients, such as Chinese yam and straight ladybell root. Then seasoning with the only salt to make soup extracts with original ingredients aroma.
This traditional Chinese pork belly recipe should result in seafood taste of juicy pork and tender abalone. We make the pork belly first in traditional ways. Adding abalone brings favor and juicy. When boiling until soup thickens, pork and abalone are coated with a thicken, clean, sweet sauce.
To enhance abalone favor, we adopt pork ribs soup instead of chicken soup. Strong aromatic pork ribs soup cover and improves the seafood taste. Instead of boiling, we use a pressure cooker to speed up the taste diffusion before overcooking the abalones. This recipe softens abalones meat with no fishy taste and losing seafood flavor. It makes abalone juicy and appetizing.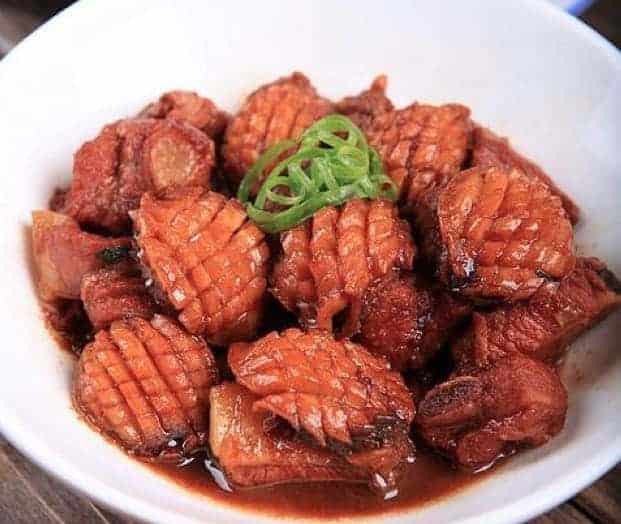 Wax gourd and shiitake mushrooms balance the heavy flavor of the salt-cured pork. It makes this dish more nutritious and appetizing. Chinese medicine these ingredients benefits for our intestines, stomach, and can improve the immunity system.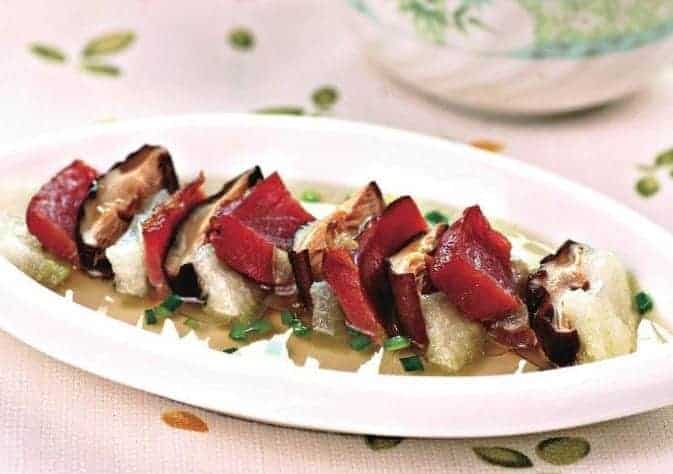 Glutinous rice balls are made of glutinous rice and pork stuffing, season with eggs, soy sauce, salt, garlic, ginger, and water. It is a popular dish that every Chinese love it.
Chinese steam bitter melon with pork is a traditional dish in Hunan Province. Its main food materials are bitter melon and pork. These materials contain protein and a lot of vitamin C. Bitter melon juice contains a protein component. This component enhances the ability of the macrophage which is clinically effective against lymphoma and leukemia. Thus, having this dish regularly can improve our body's immune function.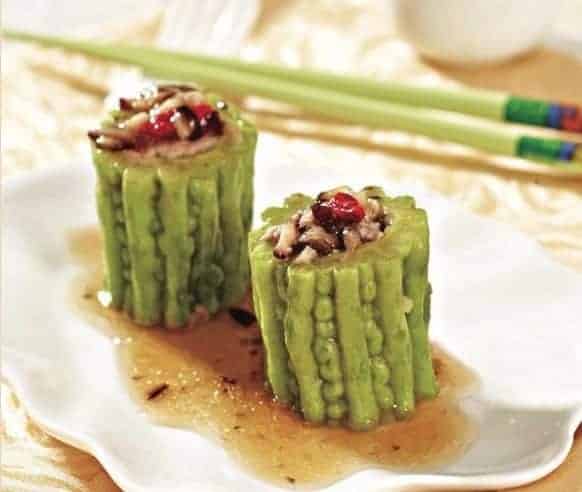 ---
Rate This Article